AUCTION.COM


Our House is Your
Auction House
With eBay

Specializing in 50s era memories...
And some other special goodies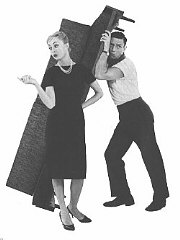 1950-- "Where shall we put it sweetie?"
1970-- "Dear, can we put this old couch in the yard sale?"
2000-- "Hey, look sweetie, there's our old couch on eBay."
2020-- "I'm sure glad we bid on this couch at 50sauction.com!''

Mary, Mike, Ruth, Dan,
Steve, and Elizabeth
Van Nattan
You can pay by PayPal at the
eBay auction site where your
purchase is listed.
Also, you can pay
by Credit Card:
1. Call Toll Free at:
(800) 338-8863

2. Pay by Credit Card

Or, Send a Postal Money Order or Cashier's check. (US dollars only)
Or, Send a personal check.
(US dollars only)
Personal checks take 10 days to clear.
Mail all transactions to:
Stephen Van Nattan
104 Lawson Center road
Kingston, TN 37763
RETURN POLICY:
If we can sell it again, and if you return it within 14 days,
IN THE SAME CONDITION WE SENT IT,
We will credit you back 75% of what you paid.
You pay shipping back to us.
Caution: Try not to buy just to shop and have a look,
We do NOT return your whole payment.
If the product is damaged during shipping, send it back,
and we will refund your money and shipping.
Malicious tricks will be reported to eBay and in feedback,
and your money will NOT be returned. The damaged product
will not be returned-- we will need it for evidence.
If this is not clear, call (800) 338-8863 and ask questions.
We guard you against hackers--
Your information and numbers
are NOT stored on any hard drive.
We use 2000s marketing, and
1950s record keeping :-)
All eBay rules and procedures apply to us and you.


COME AND SEE US AGAIN...
"Take the last train to Clarksville,
And we'll meet you at the station..."
Regarding the background--
Please don't bang your monitor around while visiting our site.
We use old 50s plastic, and you could break the background.
:-)
© Copyright-- Steve Van Nattan 2000,
Especially the background and the train