THE HINDU GODS
ARE FINALLY TALKING TO US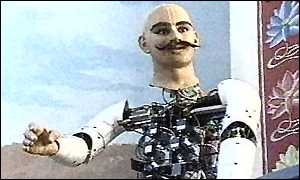 We have always claimed that the pagan gods could not talk to their followers. Well, the Hare Krishna leaders in India have taken care of that. Thanks to Los Angeles movie stars and mechanical experts, the gods DO speak.
The Indian Prime Minister Atal Behari Vajpayee is opened a new multi-million dollar high-tech temple built by the Hare Krishna movement. The Glory of India temple in New Delhi combines ancient teachings with nine "mechanical gods", built by a special effects company. The robots, created by Los Angeles-based Attraction Services, will recite from Hindu scriptures like the Bhagwad Gita and the Vedas.
Hollywood and Indian actors provide the voices for the "gods", which can move their heads, and limbs.
The robots, costing between $4,000 and $50,000, include two of the main proponents of the Mahabharata, the god Krishna, and his friend Arjuna, which enact scenes from the epic. Work on the Glory of India began in 1993 and cost about $6m, all of it raised from Indian donations.
More than three decades after their movement was founded in New York, the Hare Krishnas have come full circle - from exporting Indian spirituality to the West to using modern western technology to promote ancient Indian ideas.
Gopal Krishna Goswami, spiritual leader of the project, said: "Everything can be used in the service of the Lord. We are living in an age where technology is respected."
Psalm 115:4 Their idols are silver and gold, the work of men's hands.
5 They have mouths, but they speak not: eyes have they, but they see not:
6 They have ears, but they hear not: noses have they, but they smell not:
7 They have hands, but they handle not: feet have they, but they walk not: neither speak they through their throat.
8 They that make them are like unto them; so is every one that trusteth in them.
BACK TO WAR ROOM-- GENERAL WICKEDNESS
BACK TO ENTRY PAGE OF THE JOURNAL
ge