THE REST OF THE STORY:



ABOVE: The Thompson rogues...
Short hair, Fundamental Baptist, clean cut....
Eager to apply Daddy's doctrine of discipline....
"The rod enters the soul"
Destiny: The big house
BELOW: Louie Guerrero after
the "good godly" pastors
finished giving him "biblical discipline"
Now, preacher, tell me about the Pope's pedophiles. It is urgent
that we get the beam out of our own eye before we
head for the Vatican to take the mote from their eye.
Both must be done.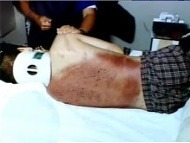 DECEMBER 15, 2003--
A Street Preacher Defends the Thompson Twins
This letter shows how Jackboot Fundamental Baptists defend one another no matter what the offense. This is Adolph Hitler and his goons. There is virtually no difference morally. Nearly killing a Hispanic boy with a vicious beating.... How is that morally on a higher plane than gassing Jews? Jesus called for the drowning of the Thompson twins.
The letter from the KJV only Baptrist Street Preacher:
From: "Street" <____________@comcast.net
To: Steve Van Nattan
Sent: Tuesday, December 16, 2003
Subject: Thompson Boys

In reference to your article (sermon) : http://www.blessedquietness.com/journal/housechu/nazibapt.htm
It's amazing how someone will judge the situation without the facts. (i.e. open mouth insert foot) Independent "NEO-NAZI" Baptists may be leading the way to the Laodicean Age, but religous bigots, and hypocrites such as yourself are leading lost folk down the path to hell.
Did you ever meet the boys parents, or Pastor Hank Thompson, or Joshua or Caleb?
They never once put up a website to parade their "knowledge" and "bash" other Christians, as you do. That makes you a prideful bigot.
I suppose you never once investigated the allegations by the HRS, and several police authorities that Louie Gurrrero's step-father's abused his step-son. Or the police reports that found no blood at the scene of the crime, or in the defendant's car? Or perhaps how the doctor (who is lost) conveniently threw away the boy's shirt with blood all over it? But that probably doesn't matter to you. As long as you remain free, and capable of bashing christians before the world. That makes you a prideful hypocrite.
I suppose you never once practiced the same mercy and compassion Jesus Christ showed sinners, despite the things they were guilty of. Or the brethren for that case...That makes you a religous bigot. As a matter of fact - 1 John 3:14, 15 We know that we have passed from death unto life, because we love the brethren. He that loveth not his brother abideth in death. Whosoever hateth his brother is a murderer: and ye know that no murderer hath eternal life abiding in him - So that makes you a prideful murderer according to the Bible.
I suppose you believe everything you read in secular news "hook, line, and sinker"...regardless of the facts. That would make you a prideful ignoramus, and robot.
One day, the lost, sinful wicked world will come after you. No matter the situation, no matter how you water down Biblical doctrine you will ask for help. I can only hope that other brothers and sisters in Christ show you the same mercy, and compassion you show the Thompson brothers on your "world-wide-web soap box".
Those boys, and that church have done more for Austin Texas, than you can ever imagine. They support over 170-missionaries on the field winning the lost to Christ...that means they are "doers of the word"...not hearers only. They visit the lost in prisons, hospitals, and on the street. They remain a constant witness for Christ in the public square twice a week for at least 15 years. They have successfully raised up over a 100 Bible believing, obedient, law-abiding, soul-winning kids in the past 10 years. But all that doesn't matter to you. The facts (or truth) don't belong to your agenda...What matters is that you have a grudge to bear, and you will destroy (verbally, and literally) anyone who thinks differently than you. You have the same spirit that the Pharisees and Sadducees had when plotting to murder Jesus Christ.
They don't put some website up to "impress the folk" of their Bible knowledge, and stand in judgment of two young men who were prosecuted by Bible-hating, and God-hating lawyers and Juries. Those young men have more honor and dignity than those who prosecuted them, and those who (like cowards) hide behind the "web" (of deceit) and bash them.
Because of the Jury's hatred of God, and because this nation no longer supports Justice...these two men will be going to prison for the better part of their life. While you sit behind your computer and dispense judgment and accusation without the facts. Comfortable, and free. Unlike Joshua and Caleb. But I suppose that makes you superior, doesn't it?
My, oh my...if only you can behold the mote in your own eye...
Because of the nature of the alleged crime, those boys may end up facing more dire circumstances in prison. If they are killed, then all those that sat in "tyranical" judgment will be guilty of their blood. But those boys have something you don't (obvious from this article) and that is peace. According to their lawyer. They know what they really deserve, but Christ has been merciful. And no matter what happens, they will continue to serve Him. Thank God Jesus Christ doesn't practice the same Christianity you do.
"And Cain talked with Abel his brother: and it came to pass, when they were in the field, that Cain rose up against Abel his brother, and slew him. Genesis 4:8" - This is the normal treatment of those trying to do something for Jesus Christ, by the "brethren" such as yourself.
God help you at the judgment seat of Christ. As Paul said in 2 Timothy 1:18 "The Lord grant unto him that he may find mercy of the Lord in that day" of Onesiphorus in regard to that judgment. I wonder if Christ will show us the same mercy we showed others? Hmmm. Where would that put you?
Oh and by the way... I probably wouldn't put you in the same category as "Balaams ass"...but if you wish to designate yourself as an ass, then go right ahead...because your article illustrates that concept perfectly.
Robert G_________
1 Corinthians 8:1 "...knowledge puffeth up and charity edifieth"
My answer to Robert follows:
Robert:
They admitted they beat the boy.
The father clearly distanced himself from them and said they would have to answer for the beating. I watched the Mother and Father of the brutes on the witness stand, and they did not even try to talk like you do. They only expressed shock and dismay at their sons' actions. They believed the boys beat Louie. You better go have a little talk with Preacher Hank. See if he is trying to justify the beating.
I talked to people who investigated.
People like you will always defend their own, even when they are wicked. I get this all the time.
The boys' time in prison is for the crime of beating a boy senseless and nearly killing him. I will NOT answer to God if some Hispanic prisoner snuffs the creeps. They answer. If they had been persecuted, all would be reversed. But, THEY were the attackers, not the devil's crowd. You need to deal with God's justice and the teachings of Jesus Christ about offenses.
I am not impressed with your thoughts.
Exodus 23:7 Keep thee far from a false matter; and the innocent and righteous slay thou not: for I will not justify the wicked.
Friend, because you are a defender of the Word of God, as I have learned surfing your name, that does not mean you can defend the evil actions of people who name Christ and then act like beasts. Many Fundamental Baptist KJV only street preachers these days will justify any of their buddies for any offense. They will not believe that sin could enter the camp. They would defend Akin and ordain him to "minister" over them as he wore his Babylonish garments, especially if he tithed the gold and silver. This is precisely how I see your defense of the beating of Louie Guerrero. I suspect the Thompson twins have gone street preaching with you, and you now think they can do no wrong. If that is true, please consider me your most dedicated enemy, friend. I have no unsaved enemies of any importance. They don't matter much. My most valued enemies are the hirelings who bash children and sheep in the name of the Carpenter of Nazareth. Welcome to the list.
Psalms 139:17 How precious also are thy thoughts unto me, O God! how great is the sum of them!
18 If I should count them, they are more in number than the sand: when I awake, I am still with thee.
19 Surely thou wilt slay the wicked, O God: depart from me therefore, ye bloody men.
20 For they speak against thee wickedly, and thine enemies take thy name in vain.
21 Do not I hate them, O LORD, that hate thee? and am not I grieved with those that rise up against thee?
22 I hate them with perfect hatred: I count them mine enemies.
23 Search me, O God, and know my heart: try me, and know my thoughts:
24 And see if there be any wicked way in me, and lead me in the way everlasting.
In Christ Jesus, who never beat children
Steve Van Nattan
-----------------------------------
LAST THOUGHT:
The above letter from the street preaching Jackboot is the very same format used by Charismatics to defend Benny Hinn, TBN, and the Toronto blessing. Defenders of CS Lewis use the same approach. These self-righteous Baptist mongrels will defend each other no matter how evil the offense.
If you are making friends of such people, do not come begging the saints to pray that Caesar will have mercy on you when you go mad under the possession of devils and do wicked acts.
-----------------------------------
CHILD BEATERS OF AUSTIN, TEXAS DEFEND THEMSELVES
The truth is, godly people are leaving Capital City Baptist Church as they are being deprogrammed by the Holy Spirit. There are claims in Austin that Joshua and Caleb were beaten regularly by their father when they lost first place in preaching contests long ago. The apple indeed does not fall far from the tree.
Someone forgot that the boys' father and mother believed the jury verdict was fair:
For the first time, the jury heard from the brothers' parents, Norma and Hank Thompson. "[This is] nothing like we ever expected. If I would have forseen it, if I would have thought there was anything in those boys like that, I would have absolutely stopped it," Norma Thompson said. Pastor Hank Thompson, lead minister at Capitol City Baptist Church, said his church doesn't approve of corporal punishment. He testified that in the teaching of church, people should be held accountable for their actions. "It's devastating, but I understand exactly why it had to be, why [the jury] came to that. If I was sitting on the jury...I can't begrudge anybody. You heard the facts," he said. As Hank Thompson left the stand, he mouthed the words "I'm sorry" to the boy's family.
I am told that Dr. (ha ha) Sam Gipp is defending the two child beaters.