VATICAN LUST FOR NAKED BODIES
Michelangelo Buonarroti's "Last Judgment"--
Completed between 1535-1541,
commissioned by Pope Paul III.

It hangs above the Main Altar of
the Sistine Chapel to inspire the worshipper:
WAS MICHELANGELO A SODOMITE?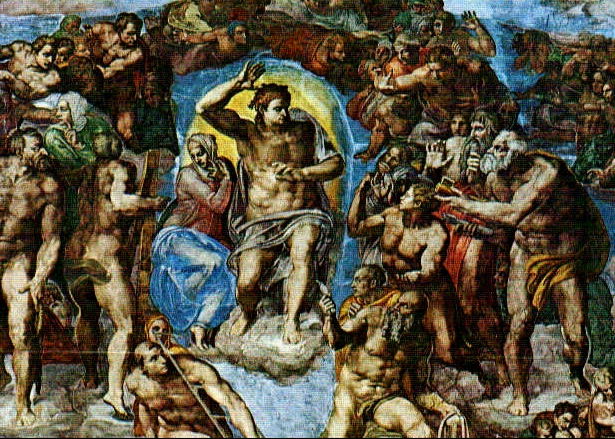 Michel-o had to be a queer. He had all the men naked and Mary dressed. The heterosexual artists in the Vatican Dark Ages Deco gang had the ladies naked and the men dressed-- sometimes. You will notice also that he had to give a peek at the divine phallus-- He was a sicko! But, if you think this is sick, you ought to see the ceiling of the Vatican library-- It would definitely test the dedication of any celebrate.
---
MICHELANGELO HATED JEWS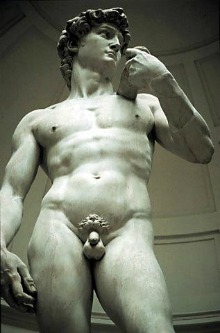 The man did the famous statue of David of the Bible. He made David uncircumcised, a blasphemy of the truth as presented in the Bible.
Micko also gave David huge out of proportion hands.
What does that mean?
It was common thought in Micko's day that sodomites always had huge hands.
That is the ultimate blasphemy. On wonders if Micko was, in fact, a queer, and
he thought he could enlist King David into the sodomite mob with a hammer
and chisel.
Thus, this man was not only perverted with sex, but he was quite willing to make mockery of Jews, David, and the Bible.
---
Now, here is the old pedophile instinct
in the lust for naked babies: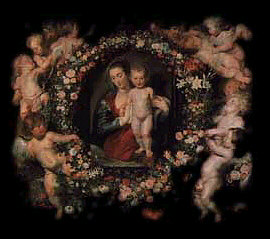 ---
SO, ARE WE SURPRISED TO LEARN THAT
THESE "FATHERS" ARE PATHOLOGICAL?
Church Abuse Cases a 'Terrible Scandal'
The Pope has described the cases of child sex abuse involving priests and members of religious orders in Ireland as a terrible scandal. Pope John Paul said he had suffered because of the terrible scandal caused to the Catholic Church by the cases.
He was speaking during a meeting with the Irish Bishops at the Vatican. On behalf of the bishops, the Catholic Primate Archbishop Sean Brady spoke of the importance of nest week's political talks and appealed for prayers of peace! [BBC Ceefax 26/6/99, page 165]
LINKS:
HERE IS A PAGE WITH MUCH MORE GRAPHICALLY- PG-18
VIDEO:
Notice how the erotically inclined video producers exalts porn in the Vatican.
The Whore of Rome excites the worst in the unrighteous.


PORNOGRAPHY MAKES THE VATICAN GREAT PROFIT
Listen to the fat boy use Jesuit Casuistry to claim investing in porn gives them the
power to convince porn sellers to stop selling porn. The end justifies the means. BAH

BACK TO WAR ROOM-- ROMAN WHORE
GE