KIDS' STORY BOOK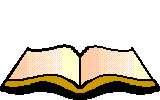 These stories are here to help you grow stronger in the Lord Jesus Christ. Many of them are taken from the lives of missionaries, and some of them will be written by us and our friends, and you cannot find them anywhere but here. Others will be from story books we have found.

Jonah and the Whale
Do you have a friend who should see this Bible story?
Corinth Baptist Church on Vimeo.
The Shrimp Who Became A Whale
William Wilberforce and the Fight Against Slavery

PRECIOUS TREASURE
Untung's love of the Bible.
THE PRICE OF A COCONUT
The Story of O.L. King. A missionary story with a different perspective.


"THE PREACHER'S GOT TO SIT ON THE NAIL KEG"

Story coming soon.
Amos 3:3, Can two walk together, except they be agreed?

Got a story we should publish---?
Or just send E-MAIL



spchk