THE INNER RING AND THE ART OF CLIMBING
It is a wicked social tool used by Satan and fallen man
to call us from duty to Christ to climbing.
No one can escape it.
CHAPTER SIX:
Tiger Slaying- Short Cut to the Inner Ring
I strongly recommend that you go to
Chapter One of this series to get the context and flow right.
JIM CORBETT

Jim Corbett was born to British parents in the foothills of the Himalayan Mountains of India. He grew up in India and entered college in India. At age 19 he dropped out of college and went to work for the Bengal and Northwestern Railway as an inspector. Later, he worked as a contractor managing freight on railways in India.

This was not a startling career up to this point, and it certainly would not have resulted in Jim Corbett being brought to the Inner Ring of the Viceroy and elite of the Indian British Colonial Government of Queen Victoria. But, something changed all of that. In 1907, only six years after the death of Queen Victoria, Jim was called on to go to Champawat and try to kill a man eating tiger that had killed 436 people over a period of time. Jim did just that.
Jim Corbett was not brought up in a wealthy family, indeed the opposite could be said to be true, yet he on one occasion lent his savings 500 Rupees to an Indian man who had lost his business to his partner who stole it when he was on holiday. A year later the man returned with the full amount + 25% interest. Jim accepted his 500R savings refusing the interest saying, "In our country we do not take interest from our friends".
Jim was the called upon to kill 32 more man eating leopards and tigers. He hunted alone, except for his small dog Robin, and he had many close encounters, barely killing the tigers and being stalked on a number of occasions. Most of you reading here will have very little idea what hunting a man eater involves and how utterly deadly it is. Jim was not all about killing tigers. He once built a wall 4.5 miles long around a village to protect the people's gardens from wild animals.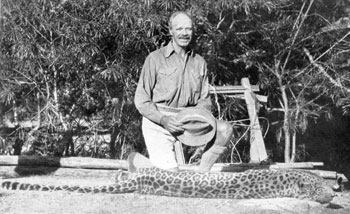 Now, the first Inner Ring Jim Corbett was called into was that of the Indian people where he killed the tigers. They were so in awe of him that many of them considered him a Sadhu, the Hindu version of a saint. Jim's success in killing tigers without being killed by them convinced the Indian people that he had some special supernatural power over the tigers. Indians who had been trembling in their huts in terror would come forth and be transformed into fearless fighters once Jim arrived. Indians who hunted with him reported that he had mastered tiger and leopard calls so well that he killed one man eating leopard by mimicking the mating call of a female leopard.
Jim was a very humble men, but it must have felt good to know that his risking his life for the Indian people had earned him a permanent place in their culture and history. The Indian Government eventually named a game park after Jim Corbett.
But, what about the Inner Ring of Victorian India? As far as I can learn, Jim never received honors officially in the form of titles or rank other than to be made a Colonel in the British Army in India. His only distinction was that the British Indian Government granted him the unique privilege-- "freedom of the forests", meaning he could go anywhere he wanted to in India. But, though not officially honored in high places, Jim was in great demand at gatherings of wildlife societies. Any time Jim walked into a group, everyone was moved in his direction with affection. He was always a humble man until the day he died, but in Kenya, where Jim retired, he was considered the one person to make any cocktail party or formal gathering a success.
Was Jim in THE Inner Ring?
In 1952 Princess Elizabeth of England was visiting Kenya, and on February 5-6 she was at Tree Tops, a game lodge built off of the ground in a huge tree. She was there to watch the elephants and other animals that roamed around the tree. To make her visit a success, she asked for the company of Jim Corbett. His stories and observations became priceless during that visit. The night of the 5th Jim stood guard at the foot of the ladder up into the lodge all night because of concern for the Princess' safety with the wild animals about. On February 6 Princess Elizabeth's father, King George VI died in England, and Princess Elizabeth was at Tree Tops when she received the news.
Jim later commented: "For the first time in the history of the world, a young girl climbed into a tree one day a Princess, and after having what she described as her most thrilling experience, she climbed down from the tree the next day a Queen—God bless her."
Now, what have we learned here?
Jim Corbett never in all his life showed any ambition to climb through the rings to the top. But, in his faithful service to humanity, and in his selfless risking of his life for people to whom he owed nothing, Jim became an icon of the greatness that the British people have exalted for centuries. Jim, once he had killed a few tigers, was brought to the Inner Ring whether he wanted to be there or not.
Proverbs 27:2 Let another man praise thee, and not thine own mouth; a stranger, and not thine own lips.
I am reminded of another man, Japhtha.
Judges 11:1 Now Jephthah the Gileadite was a mighty man of valour, and he was the son of an harlot: and Gilead begat Jephthah.
2 And Gilead's wife bare him sons; and his wife's sons grew up, and they thrust out Jephthah, and said unto him, Thou shalt not inherit in our father's house; for thou art the son of a strange woman.
3 Then Jephthah fled from his brethren, and dwelt in the land of Tob: and there were gathered vain men to Jephthah, and went out with him.
What a terrible way to start life. But, Jephthah was called by the people of Israel to rescue them from the enemy. He did just that, and he became a judge in Israel. He was a mighty leader and comes up for honorable mention in Hebrews 11:32 in a list of men of faith like David and Samuel. By the way, David was included in the Bible in what would have been the Jim Corbett list-- David killed a bear and a lion with his bare hands.
So, as you live your life, stop worrying about what people will think of you, or whether you will ever rise to the Inner Ring. Be faithful to your God, defend the little people, and when the tiger (or the "roaring lion" Satan) is devouring the innocent, defend them selflessly. If no one in this life raises you to the Inner Ring, GOD WILL by and by.
Those who seek the inner ring may get bumped out of the club one day. Those who ignore the ring climbing, who intentionally take an obscure place, may one day be lifted up based on something real they did.
James 4:10 Humble yourselves in the sight of the Lord, and he shall lift you up.
That is a promise.
More on Jim Corbett here -- Wikipedia on Corbett
Online book by Corbett Temple-- Tigers and More Man Eaters of Kumaon
BACK TO NAZI JACKBOOT BAPTIST MENU
BACK TO MORAL ISSUES MENU PAGE
BACK TO ENTRY PAGE OF THE JOURNAL