"We can be very grateful that nothing is taking our Lord by surprise."
Robert Aseltine

Ecclesiastes 4:6
Better is an handful with quietness, than both the hands full with travail and vexation of spirit.
Are you lonely? Been jack booted out the door of the church house?
It is at times like this that you find out how very precious your Savior is. You cannot wear out his love and patience my friend.
Mark 6:31
And he said unto them, Come ye yourselves apart into a desert place, and rest a while: for there were many coming and going, and they had no leisure so much as to eat.
Henceforth I call you not servants; for the servant knoweth not what his lord doeth: but I have called you friends; for all things that I have heard of my Father I have made known unto you. John 15:15
THERE IS THAT QUIET PLACE
WHERE WE HEAR FROM GOD
Adam was created to have fellowship with God, and God clearly craved that fellowship with the man and woman he made in his image.
So, where did God go to find fellowship with Adam?
Answer: Where Adam worked.
Genesis 2:8 And the LORD God planted a garden eastward in Eden; and there he put the man whom he had formed.
Genesis 2:15 And the LORD God took the man, and put him into the garden of Eden to dress it and to keep it.
Adam was God's gardener. God liked his garden, but he created it needing a man to dress it and keep it. Work was not given to man after sin but the other way around. And, God came to the garden looking for his gardener.
Genesis 3:8 And they heard the voice of the LORD God walking in the garden in the cool of the day: and Adam and his wife hid themselves from the presence of the LORD God amongst the trees of the garden.
So, God may be very close to you on the mountain top, or when you are alone in a quiet place where men is nowhere around. That is often the special quiet place where we tend to find God by getting away from our work.
But, and this should help you working men, God well be waiting for you on Monday morning at the office because he wants some fellowship with his friend. Would you know he was just as much there as he was on the mountain top?
So, this page is dark, as are all of the pages in the Quiet Place. The reason is because a dark study seems to me to be a great alternative to the rest of the web with its glitter and glare. And, we hope that you are moved here, no matter where you are actually sitting, to feel that your friend, God Almighty, is right there with you.
God craves fellowship with YOU.
MENU OF SMALL QUIET ADVENTURES
Why haven't you been around for coffee lately. We moved from Arizona to the middle of the USA-- right here in Texas just next door to heaven-- so you could drop in some time. Ain't been narry a sign of ya coming up the drive way. Hmmmmmm
SEND MAIL -- MAPS
3. QUIET OTHER PLACES IN THIS JOURNAL
4. A LITTLE QUIET TALK WITH UNCLE STEVE
6. QUIET WHIPPED PREACHERS-- DON'T GIVE UP
8. QUIET WITH JOY HARDIN ON THE PIANO
10. QUIETNESS WITH WHOLE SCREEN PICTURES
OF GOD'S CREATION-- Long Load-- Graphic intensive.
11. QUIETNESS IN BLACK AND WHITE
God is exalted by ordinary people,
not flashy preachers and in grand ambient palaces.
15. DELIVERANCE FROM GUILT AND GUILT MONGERS
For some reason, many readers find
this page in the evening.
16. QUIET REST
17. HEAVEN
18. THE GOOD SHEPHERD--
Very Special Page by Mary Van Nattan
19. LOOKING BACK--
This is a time when it is OK
21. A QUIET PLACE TO EXALT
THE LORD JESUS CHRIST
22. THE SHIPS THAT WON'T GO DOWN-
By Henry Lawson
23. THE SOP OF THE SAVIOR OR THE SOP?
24. NO GREATER LOVE
25. QUIET DIVERSION
26. WORSHIP AND EXALTATION OF GOD
27. THE PRESENT DISTRESS- WORLD CHAOS
THE CREATOR - PLEASE SEE A VERY SPECIAL PAGE BY MARY
IN JESUS - PEACE, REST, JOY --- A poem by Annie Johnson Flint
THE BLESSING OF QUIETNESS By Brandon Staggs
SING ALONG
MUSIC:
QUIET PLACE
OUR ONLINE RADIO PAGE LISTINGS
BEFORE YOU GO OFF TO BED:
STOP OFF HERE
Ecclesiastes 4:6
Better is an handful with quietness,
than both the hands full with travail
and vexation of spirit.
Acts 28:15
And from thence, when the brethren heard
of us, they came to meet us as far as
Appii forum, and the three taverns:
whom when Paul saw, he thanked God,
and took courage.
"We can easily manage if we will only take, each day,
and the burden appointed to it.
But the load will be too heavy for us if we carry
yesterday's burden over again today,
and then add the burden of the morrow
before we are required to bear it."
John Newton
Who needs a visit from you today?
Come see us again-- Please
Jesus Loves You-- Don't ever doubt it friend.
3 John 1:4 I have no greater joy
than to hear that my children walk in truth.

SEND ME YOUR PHOTO
OF A QUIET STUDY
I WOULD LIKE TO POST IT

THANKS-GIVING IS NOT A HOLIDAY--
IT IS A WAY OF LIFE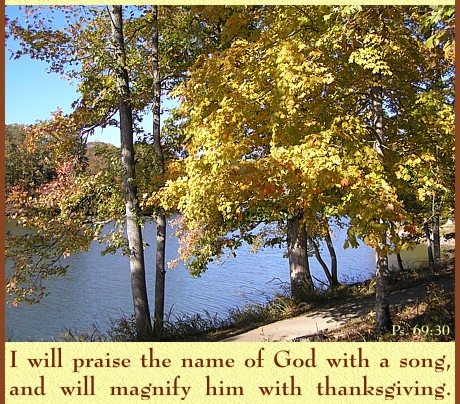 I am getting very little mail from this
section of our journal.
I would dearly love to hear from anyone
who stops here and is blessed and helped.

You need to believe that there is NO section more
important to me, in this journal, than the Quiet Place.
BACK TO ENTRY PAGE OF THE JOURNAL
ge