CULT WATCH

Many of these cults are interlinked.
Promise Keepers, Reconstructionism, "Purpose Driven" folly, The Third Wave, The Toronto Movement, River of Renewal, Kansas City Seven, Freemasonry, and the New Age Movement are clearly bed fellows. It is hard to know where to put some of the groups, so surf around a bit, and you should find some useful information.
WARNING:
Many people are deceived by cults members, TBN leading lights, and gurus of alleged Christian groups. May I introduce you to some persons who named the name of Jesus Christ correctly:

Mark 3:10 For he had healed many; insomuch that they pressed upon him for to touch him, as many as had plagues.
11 And unclean spirits, when they saw him, fell down before him, and cried, saying, Thou art the Son of God.
12 And he straitly charged them that they should not make him known.

Matthew 8:28 And when he was come to the other side into the country of the Gergesenes, there met him two possessed with devils, coming out of the tombs, exceeding fierce, so that no man might pass by that way.
29 And, behold, they cried out, saying, What have we to do with thee, Jesus, thou Son of God? art thou come hither to torment us before the time?

Just because some alleged preacher or Christian names and exalts Jesus Christ, even as the Son of God, does not necessarily mean they are born again and faithful to the Word of God. They may be devils.
This idiocy follows hard on the trendy heals Gothard's big red book, "Each One Reach One," "I Found It," Promise Creepers, and the Prayer of Jabez. This is the next dead end trap to call the saints AWAY from the simple walk in the Word of God. This is the next way idiot pastors will load buses, drag the saints to the nearest rally, and con them into thrashing their souls (and pocket books) weary trying to make the big program prosper.
There are large thinking men, with vast marketing skills, camping all over the White Race world, who are perverting Japhath's zeal to be enlarged. They use the Lord's Church to market growth and success, and you jerk jackass pastors buy that load of manure. Tell me, where is your Bill Gothard big red book? Where? Is it still laying on the coffee table?
Well, this flash in the publishing business pan will go the same way all the previous gimmicks went, and your flock of mangy sheep will be just as malnourished AFTER the frenzy as they were BEFORE the frenzy. Save lots of cash and trouble-- Preach the Word-- Teach sheep-- Feed lambs. Hey, maybe we should patent that-- "Preach, Teach, and Feed". Oh shucks, I think some carpenter from Nazareth may have the copyright on that one already.

A MENU OF CULTS TO STUDY:
HOW TO DESTROY HERETICS
IN CULTIC CHRISTIANITY
By Steve Van Nattan
The cults of Christendom are thriving. But, many of them are reporting poor results in recent days. Your assign-ment is to do battle with cults and heretics to the glory of Jesus Christ.

MARKS OF A CULT Article
Cultic aspects are creeping into Fundamental Bible believing churches. Watch out for them.

MORMONISM Menu

CHURCH OF CHRIST
Steve Van Nattan's modest proposal

SEVENTH DAY ADVENTISM Article

C. S. UPTHEGROVE
A Man With Devils in His Mouth

CHARISMANIA, THE THIRD WAVE,
CHARISMATIC CONFUSION Menu

CHRISTMAS Menu

FREEMASONRY Menu

FUNDAMENTALISTS RUN AMUCK Menu

SHIRLEY GOD This cult infiltrates ALL churches

POSITIVE CONFESSION & SELF-LOVE Article

RECONSTRUCTIONISM Menu

REFORMED MOVEMENT Menu

PSYCHO-COUNSELING CULTS Menu- And Christendom's Shrinkology

VEGETARIANISM - New Age in the Church

"CHRISTIAN" ROCK, HIP HOP, AND SOUTHERN GOSPEL MUSIC CULT
SUSPECT SONGS AND HYMNS- Menu

CS LEWIS-- A One Man Cult That Will Not Go Away

JOHN MAC ARTHUR'S HERETICAL TEACHINGS:

JOHN MAC ARTHUR'S BLOODLESS CULT
Large treatment of Lordship Salvation

JOHN MAC ARTHUR MAKES SAMUEL INTO A DEVIL
This teaching is beyond error, it is gross heresy


JOHN MAC ARTHUR'S HALF A JOB AT EXPOSING CHRISTMAS AS HEATHEN

BY HIS OWN WORDS, JOHN MAC ARTHUR CONDEMNS HIMSELF
In this video Mac Arthur teaches that if you fail to do good works and clean up your life, you will be lost and damned to hell. This is rank heresy, and we may at this point assume that John Mac Arthur is a provocateur for Satan.

MAC ARTHUR PLAYS WORD GAMES AND USES HIGHER CRITICISM TO TEACH LIMITED ATONEMENT
He reads 1 John 2:2 which says Christ died for the sins of the whole world. He ends by making statements which directly contradicts that verse. John missed the truth. Men only die and go to hell for not repenting and believing in Jesus Christ by faith. This teaching is old moldy Calvinism which Mac Arthur teaches since he junped ship on the Truth.

THIS IS WHERE JOHN MAC ARTHUR'S TEACHING LEADS,
AND IT IS A DEADLY ISSUE
There sill be hell to pay of you do not figure this out. You need to understand that John Mac Arthur shows all the signs present in this young man's testimony. If John Mac Arthur keeps blundering around in the maze of John Calvin, a law student and a murderer, John may well find himself in hell. You see, Mac Arthur may simply not know who God really is if he believes God's love comes in pints and quarts.

ODD MISFITS Menu

DENOMINATIONS Menu- Other than ones above

ANGEL CULTIC DECEPTIONS Article

CHILDREN OF GOD Long Article

THIRD WAVE LINKS - At this journal
LINKS ON CULTS WHICH
YOU SHOULD LOOK INTO
This is a massive research tool
Click here to go to WORLD RELIGIONS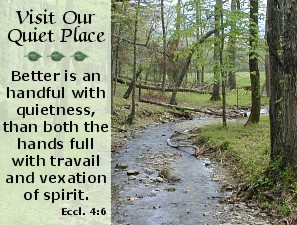 The study of cults
is depressing.
Don't hang around here
too long without
refreshing yourself
at The Quiet Place

BACK TO MORAL ISSUES TABLE OF CONTENTS
BACK TO THE ENTRY PAGE OF THE JOURNAL