OPEN INVITATION TO BURN TORTILLAS
This is to Catholics what a mail order doctorate is to a Fundamental Baptist preacher. For a small investment you can easily fake an apparition. Here is the "Father's" instruction:




In his book Discernment of Apparitions. Marian Apparitions Today. Why So Many?, by Fr. Edward D. O'Connor, C.S.C., (Queenship Publishing Company),
Fr. O'Connor states that: "Some people refuse to give any consideration whatsoever to a reported apparition until it has been officially approved. This is not the attitude which the Church asks of us, and it can deprive us of the graces brought by the apparition.

Grilled Cheese Virgin Mary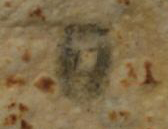 The Church normally waits a long time before issuing a pronouncement about a particular apparition, and about most of them it says nothing. If we refuse to pay any heed to one until it has been approved, the chances are we will never have that opportunity... Moreover, this would actually hinder the action of the Church, which looks especially at the fruits when evaluating such phenomenon.
Tortilla Jesus
If everyone waited for the Church to make a pronouncement,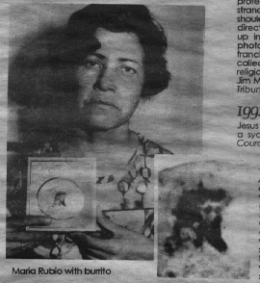 there would be no fruits, and in fact no occasion for the Church to make any judgment at all. If people had waited until the Church pronounced on Lourdes or Fatima, we would not have heard of either of them today. Respect for the pastoral authority of the bishop does not mean denying to lay people any judgment whatsoever, but giving to each the due measure of respect." Pages 106-107

EDITOR'S COMMENT: It will be a long wait, long after hell freezes over, until god approves of the pile of rubbish the Roman Whore calls sacred.




THE ULTIMATE TEST:
Can you find a saint or Madonna in the lump of tortilla dough?
MARY'S CLOAK, WELL, ONE SQUARE CENTIMETER OF IT, IS IN MEXICO
What a hoot! Everyone knows that when Jews in Israel, 2000 years ago, had worn out a cloak, they cut it in itty bitty pieces and passed them out to friends. If you believe that I have a great piece of real estate I would like to sell you. It is located 90 miles east of Miami, Florida, and it includes boat launching rights, unlimited fishing rights, a great view of the ocean, and lots of privacy and solitude.

Thus............... a discussion of the bit of yardage by a gullible Catholic nut case:

A tiny scrap of cloth revered among Catholics for its religious significance will be featured in an upcoming celebration honoring Our Lady of Guadalupe, an icon of the Virgin Mary.

On Monday, local Catholic leaders gave media representatives an exclusive look at the one-centimeter, patterned square from the Tilma, or cloak, in anticipation of a Guadalupe Celebration scheduled for Sunday. "It is a moment of all of us coming together to give thanks to God for the gift of Our Lady of Guadalupe in our lives," said Archbishop José Gomez at a Monday press conference.

"It's very important for us to honor the presence of Our Lady of Guadalupe in this way." The piece will be moved to a new chapel in the cathedral after the chapel's construction is completed in September, said Carolina Guevera, a spokeswoman for the Archdiocese of Los Angeles, which is co-sponsoring the celebration.
OUR LADY OF VAINKANNI- THIS ONE IS PRICELESS-- TAKE A DEEP BREATH
"Not to vorry, ve have special deal in Hindu Mary".

This is the ultimate Mary of Hinduism, the perverse work of John Paul II, former Pope and present resident in Hades. I know from a Catholic priest who was a missionary in India the many Catholics are not charmed by this play up to Hinduism. Hindu god myths are filthy with sexual perversion. Please notice, if you are familiar with Hindu god imagery, that this Marion statue is extremely gaudy, and notice also that Mary and Jesus look very much like Patels or Guptas, not Jewish.

The propaganda of a Roman Catholic site follows. I think this is a very unique Mary indeed, for Jesus came back from the right hand of the Father in heaven to again be a baby for a short time so that he could lay in Mary's arms as a baby for the Hindu boy apparition.

Thus.....................

An hour of prayer a day, until December 31, 2012, to celebrate the 50th anniversary of the consecration of the Basilica Shrine of Our Lady of Health in Vailankanni (Tamil Nadu). At the heart of the intentions are interreligious dialogue and ecumenism, but also the health of parishioners, priests, nuns, bishops and benefactors who have dedicated their lives to the development of the "Lourdes of the East" as John Paul II called the sanctuary in 2002.

"To celebrate this jubilee year - Fr A. Michael, rector of the sanctuary explains to AsiaNews - we decided to build a new, large church, called "Morning Star" and will accommodate over 15 thousand people."

Each year, the "Lourdes of the East" welcomes pilgrims from around the world. After the 2005 tsunami, thousands of people of all religions, not only Catholics go to seek solace in the sanctuary and pay homage to Mary. At that time, the tsunami hit the Marian hard shrine: about 850 people died, 300 others were swept away by the fury of the waves. But those who sought refuge inside the chapel, were unhurt.

From the 16th century, the area surrounding the shrine was the scene of a series of Marian apparitions. The first witness was a Hindu boy carrying milk, of whom Our Lady asked for milk for her son, who she held in her arms. A few years later, following a similar apparition, the Virgin asked him to build a chapel in her honor. Then, in the 17th century, a group of Portuguese sailors cried Mary Star of the Sea, to save them from shipwreck. Once safely landed on the coast of Tamil Nadu, they elevated the Shrine of Our Lady of Health on the foundations of the chapel built about a century before.
SPIRITUAL MAGIC BY INFECTION
You see, if something touched a Catholic Church approved relic, the object that touched the original becomes sacred.

"A 'touched' nail, meaning a nail that has touched a nail from the True Cross (the one Christ was crucified upon). This nail, for sale for $1,800, is part New York City relics dealer Amanda Broomer's vast collection. Other items in her store include pieces of the body of Saint Thérèse (the Little Flower) made into paste; clothing worn by Saint Anthony of Padua; and bone fragments of Saint Francis of Assisi. Broomer believes she is one of only a handful of specialists who deal full time in relics and reliquaries (the vessels that contain relics), though Christie's and other auction houses offer them for sale occasionally."

So, get them while they are hot. Say, do any of you readers want an African drum that is made from an animal that roamed the plains of Kenya where the Masai live who are the descendants of the Pharaohs who ate the corn that came from the storage bin that Joseph of the Bible built for Pharaoh? PRICE: $50,000 dollars. Once you pay for it, the story becomes true. Any number of gullible idiots will believe you. AND, Geshmu the Arab says it is true.

Say now, does anyone know where I can find a cigar butt that C H Spurgeon threw away?
VIDEO:
A CATHOLIC SAINT FROM POLAND, ART BELL,
AND POPE JOHN PAUL II WENT FOR THIS:


All humor aside, this one made me cry. Those pathetic Hindus left the horror
of a million freak gods to kiss a bit of memorabilia of Don Bosco, a Catholic saint.
Damn the Pope.