LATEST SODOMITE PERVERSION
THE "BILLY DOLL"
WILL A "GAY DOLL" SOLVE
A GAY-CAUSED EPIDEMIC? :
Sent By a Correspondent
Disclaimer-- David Wilkerson-- His alleged visions
I remember hearing a sermon by David Wilkerson years ago and he gave a vivid description of the shocking reality of AIDS-infected homosexuals in New York City who, in intense pain, were nevertheless still trying to "score" a "partner" for the night. The "Billy doll benefit" is just as ironically twisted.
The "Billy doll" is a "Ken" type doll that is "gay." Complete with a large sex organ and body piercings, "Billy" sells in both homosexual and doll-collecting circles for $49.95.
Recently (CNN, June 4, 1998) an AIDS benefit was held and "Billy dolls" were auctioned off, each doll sporting a unique outfit designed by a name designer. The benefit raised thousands of dollars!
In spite of what the media and others would have us believe, there is little doubt that the AIDS epidemic would never have reached the shocking proportions that it has apart from the homosexual "community." That is not to say that AIDS is strictly a "gay problem." The facts today of course refute that. However, homosexuality is a principal CAUSE for the epidemic, and homosexuals are still the largest group of AIDS sufferers.
With this in mind, I find it insane that a doll promoting and perpetuating the very lifestyle that originally circulated the virus would be sold to raise money to stop the virus! Only human depravity could originate such a scheme!
In all fairness, I must point out that there is a much larger market for sex toys of unbelievable insane nature. They are promoted in many ways and places. When we were in Amsterdam, the idiotic fair minded Dutch allowed stores selling these perverted toys for heterosexuals to display their inventory in the front window of the store for passers by to view from the street. We had to cross streets a number of times, in the "decent" part of the city, to shield our young daughter from these stores. So, the sexual sins of heterosexual sinners are no cleaner than those of homosexuals.
---
ECCLESIASTES 7:29 still rings true: "Lo, this only have I found, that God hath made man upright;
BUT THEY HAVE SOUGHT OUT MANY INVENTIONS."
---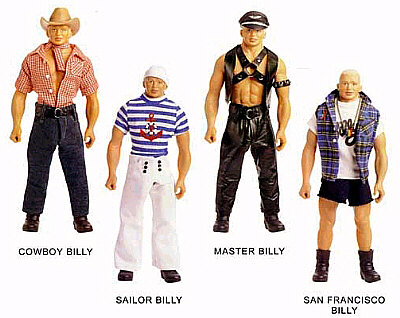 ge