CHURCH SIGNS WHICH "RETURN VOID"
Or, "Shelling corn at the church house"
On this page we will be displaying church signs submitted by our readers from around the world. In the USA in recent years church signs have been dominated by clichés and silly humor and catch phrases. It is, in fact, blasphemy to do this, and while we will all see some humor in this and laugh at these silly signs, it is also tragic to see the crass Laodicean nonsense thrust forth along the wayside. This is the only message many sinners see from the alleged Bride of Christ.
We are showing no favorites here. Mongrelizing of the Truth has become notorious these days on Baptist and Charismatic church signs. The Lutherans, Presbyterians, and Reformed churches are more likely to use the Bible on their signs, though I wish they used the KJV more. I believe that the Reformers instilled a lot more of the fear of God in their followers than did the Anabaptists. Thus, 500 years later, the use of the Bible.
What is the alternative? What is the solution? How can we be (classy new speak word coming, brace yourself, this is HEAVY...) RELEVANT?
Answer in two steps:
John 12:31 Now is the judgment of this world: now shall the prince of this world be cast out.
32 And I, if I be lifted up from the earth, will draw all men unto me.
Isaiah 55:11 So shall my word be that goeth forth out of my mouth: it shall not return unto me void, but it shall accomplish that which I please, and it shall prosper in the thing whereto I sent it.
On your church sign, if you want to be 100% sure God is in charge, post the Word of God, and lift up Jesus Christ. You cannot possibly have one void sign as long as you do this.
How can you help? SEND EMAIL with the words of a church sign you have seen. Send the name of the local church where the sign was seen, and tell us the city and state or province where you saw it. A digital photo attached in email will also be best. Just try to fill the photo frame with the signs and allow a bit of sky and the base mounting to help frame the photo. We can use only .jpg photos please. We are not interested in typos and obvious blunders, only premeditated sloppy agape.
We do give recognition to a few signs with the Bible on them. Send photos of those also. We should commend those who exalt the Word of God.
THUS, HERE ARE CHURCH SIGNS
WHICH WE BELIEVE ARE "RETURNED VOID"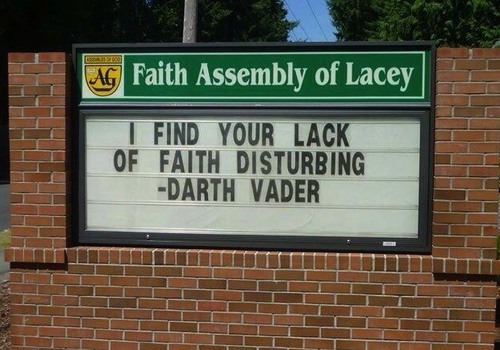 So, we have the gospel of Darth Vader in Lacy, Washington
This shows the mind of the pastor there-- spaced out beyond rescue.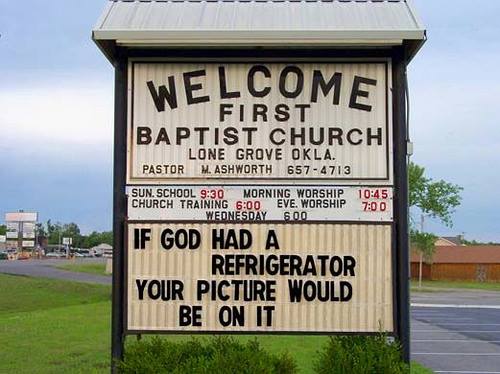 Here are some comments under this on Facebook:
"God help us"
"God does have an oven - Mal 4:1"
"It would be more accurate to say. "If God had a milk carton, your face would be on it."
"There's his phone number. Call him up. Tell him what a dumb marque that is!"
"More like....If God had a Post Office...there'd be a picture of me on the wall!"
Saw a Baptist church in Cape Cod that read "God hung out for you, so the least you could do is hang out with him.""
"Sounds like a mega church pastor in Houston Texas."
"Nothing like humanism!"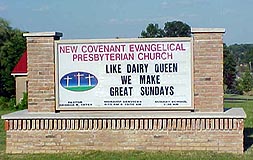 Great! The Christian life is a dripping shot of sugar and milk.
It sounds like these children are getting tired of Manna from God.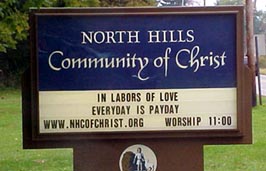 How does this theology fit with:
1 Peter 5:2 (KJV) Feed the flock of God which is among you,
taking the oversight thereof, not by constraint,
but willingly; not for filthy lucre, but of a ready mind;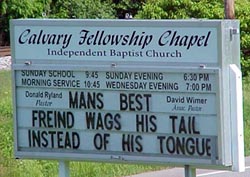 The gospel according to Pluto?
2 Peter 2:22 (KJV)
But it is happened unto them according to the true proverb,
The dog is turned to his own vomit again;
and the sow that was washed to her wallowing in the mire.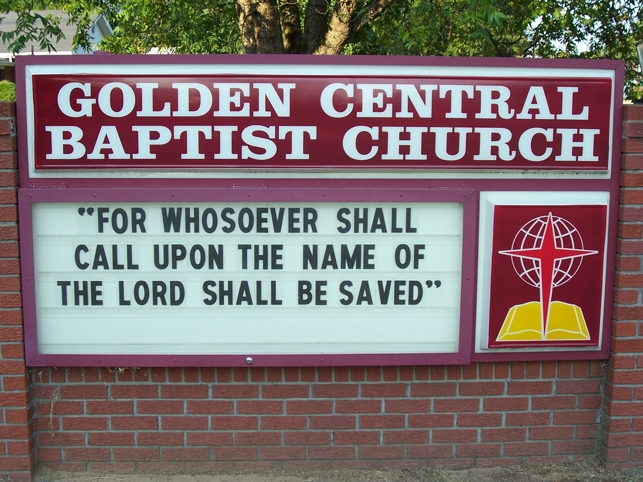 This sign sent in by Bro. Mickey Trammel in Golden, Mississippi
What a revolutionary sign. Who would ever have thought of just using the
Word of God without clichés? And, there is a promise to those
who use the Word of God, which is not made to you who use
your effulgent throbbing imaginations to come up with pointless
blather, blarney, and bombast.....
Isaiah 55:11 (KJV) So shall my word be that goeth forth out of my mouth:
it shall not return unto me void, but it shall accomplish that which I please,
and it shall prosper in the thing whereto I sent it.

Kingston, Tennessee


JESUS HAD A BILL
HE DID NOT OWE

Now, that is clever,
but does it even state a biblical truth accurately?
No, for there are bills which were not the result of sin.
So, the reader has, at best, a light weight notion
of why Jesus died on the cross.
How about....
Isaiah 53:5 But he was wounded for our transgressions,
he was bruised for our iniquities:
the chastisement of our peace was upon him;
and with his stripes we are healed.
But that would not allow the sign people
at the church to show off their creativity to
make puns and clichés.
Stormont Presbyterian Church
Belfast, Ireland




JESUS BRINGS OUT
THE WORST IN YOU
FOR GOOD

Here is an obscure pun of the worst order.
Does Jesus make good things out of evil?
That is blasphemy.
Or, does he remove the evil for good, as in forever?
Many Bible texts would make more sense.
The reader who sent it wrote:
"It makes you see why Paisley
and the Free Presbyterians left them."

Kingston, Tennessee


WHEN YOU ARE THE ZERO
HE IS THE ONE

This makes God only one place away from nothing.
Whereas God is infinite. This illustrates how our wisdom
would be best left out and the Word of God used to declare Truth.

United Congregational Church
GRANT, MICHIGAN



The snake was the first
to suggest autonomy--
Might be a good idea
It seems that the UCC now gets its inspiration from Satan.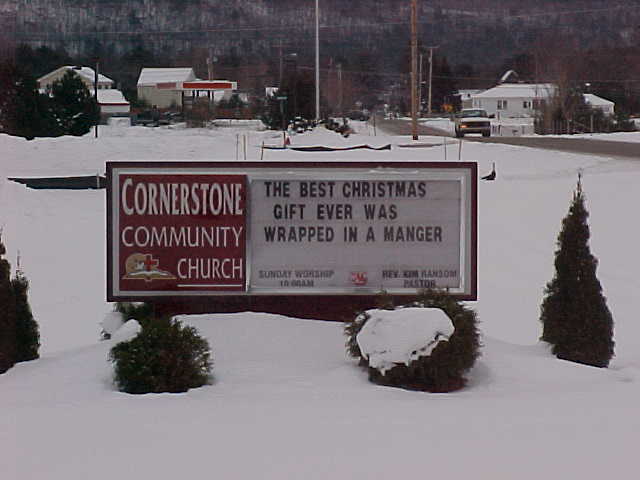 Really? I thought Jesus was wrapped in swaddling clothes.
This is a classic example of how the Bible alone would
have looked a LOT better.
Thanks to Linda D. for sending this one.
Harriman, Tennessee


HAPPINESS IS AN
INSIDE JOB

A cliché from the world of criminal talk.
Happiness comes to the most wicked people.
Which means, there is more than one source of happiness.
Happiness to a Bible believer is NOT an inside job.
It is the work of the Holy Ghost.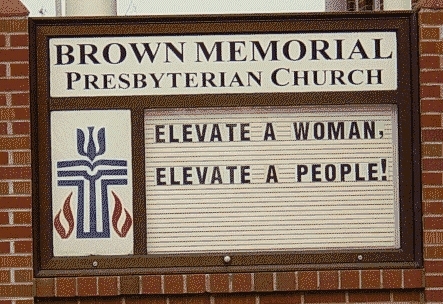 I used to get around some space cadets in this
high browed politically correct mob in Michigan
while tuning pianos. I have always prided myself in my
ability to figure out the secret language of the glowing world.
Folks, I am sorry, but this one is beyond me.
Sometimes I feel like these people actually compete
with each other to see who can make the most meaningless
statements which sound profound and special.
Maybe it is all very simple--
The she bishop needs a step stool?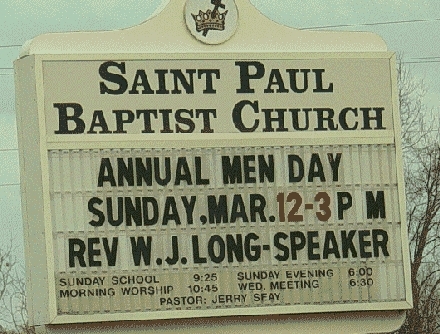 I know what you mean.
I have heard many of these Baptist blow hards
go on and on ad nauseum.
At least this boy is starting in the afternoon,
so the men may get home before midnight.
Four Sqaure Gospel
Kingston, Tennessee




You are not too bad to
come in
You are not too good
to stay out
This message is based on the doctrine that
says unsaved sinners are supposed to gather with the
Lord's Church. This is nowhere taught in the Bible.
This also tells us that this local church has no
standards as to who enters their fellowship.
NEWLAND, NORTH CAROLINA


GOD IS LIKE COCA-COLA
HE'S THE REAL THING

I think this is the most crass one of all.
United Church of Christ
Grant, Michigan


Religion
Without relevance
Is insensible
The reader comments,
"That answers a lot of questions.
The only other one I can think of is
why one sock always disappears when
you put a pair of them in the washing machine.
Maybe the sign will speak next week."

SUNNYLAND, ILLINOIS


Cherish the past;
Dream tomorrow;
Live today;
Worship God always

Banal, totally banal.
KINGSTON, TENNESSEE


LORD, MAKE ME THE KIND OF MAN

MY DOG THINKS I AM

The above theology is definitely going to the dogs, right?
These Baptists do not care what Jesus thinks of them.


KINGSTON, TENNESSEE


JAM WITH JESUS
Saturday night


Jam with toast for me, thank you.
This is a hippy Jesus I do not know.
2 Corinthians 11:4 For if he that cometh preacheth another Jesus,
whom we have not preached,
or if ye receive another spirit, which ye have not received,
or another gospel, which ye have not accepted,
ye might well bear with him.

BETHEL BAPTIST CHURCH


What part of,
"Thou Shalt Not"
don't you understand?

Our reader who sent this in made this comment:
"Boy, I think these folks have never heard the Gospel Paul preached,
or understand that we're not under the Law, but under Grace.....
I see a pattern here of what WE do, nothing about what Jesus Christ
has already DONE. Fear, quilt et al added to get your money
and drain the very life out of you!"
John 19:30 When Jesus therefore had received the vinegar, he said,
It is finished: and he bowed his head, and gave up the ghost.
PENTECOSTAL CHURCH
Kingston, Tennessee

IF YOU CANNOT SEE
THE BRIGHT SIDE
TRY POLISHING
THE DULL SIDE


Works salvation, or old timey Catholic penance?
How about a verse on confession of sin?
Do you Rhema boys ever crack a Bible?

"HICKVILLE," TENNESSEE


THE PURPOSE OF LIFE

IS LIFE WITH A PURPOSE


The social services lady asked little Pedro what he ate for breakfast at home.
"Beans and tortillas" said Pedro.
She asked what he ate for lunch.
"Beans and tortillas" said Pedro.
The lady was upset and asked if that is all he ever had to eat.
"Oh no," said Pedro excitedly, "For supper we have tortillas and BEANS."
And Pedro's life was about as exciting as the Baptists in the woods of Tennessee.
MISSIONARY CHURCH
North Pekin, Illinois


P.U.S.H.
Pray
Until Something Happens

This is not a biblical concept. One of God's choices when
we pray is to tell us that nothing is going to happen.
When Peter asked Christ to depart from him because
he was a sinful man, Jesus did NOT depart from Peter.
Aren't you glad he didn't?

ENSLEY CENTER, MICHIGAN






Do you want to know what
Hell is like?
Come and hear our pastor
this Sunday.

No Comment

EASTSIDE BIBLE CHURCH
North Pekin, Illinois



"IF YOU LOVE ME,
PROVE IT"
God


God never said this. When we claim to quote God,
we are bound to do it directly from the Word of God.
It is blasphemy to tell the world that we humans
are permitted by a dull silly God to quote him
when he never said the thing.
Like God just chuckles and thinks we are cool heads.
HARRIMAN, TENNESSEE


FORBIDDEN FRUITS
MAKE MANY JAMS

Frankly, I like jelly better than jams.
Maybe the fruits are the people who dream these up.
UNITED CHURCH OF CHRIST
Grant, Michigan




Wal-Mart isn't the only
saving place
this Christmas



What a cheezie point of reference to
Jesus Christ.


SOMEWHERE, MISSOURI



I





Yabba dabba doo,
God loves you


This religion belongs in the stoneage
with the Flintstones of Satan.
UNITED CHURCH OF CHRIST
Grant, Michigan





Our faith is 2000 years old-
Our thinking is not



So, tell me why your new thinking is supportive
of Sodomy? I gladly prefer the old time
thinking of Moses on that one.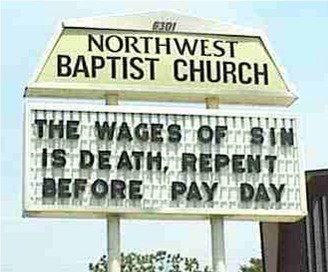 What a crass cliche!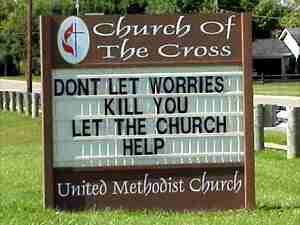 And, it came to pass...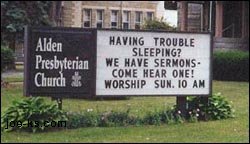 Yawn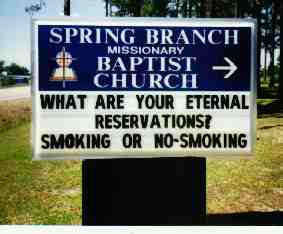 Great! Hell and damnation is
a mere cliche, right?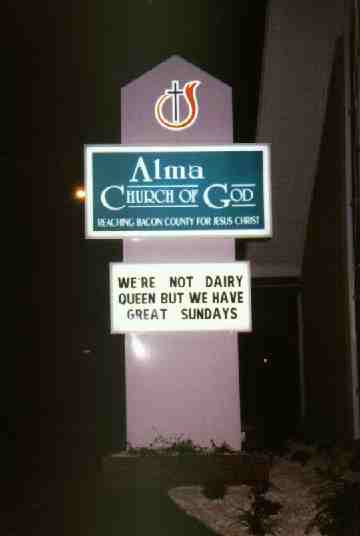 Puns are a lower order of humor
than cliches. A cliche can teach,
but a pun is just a clever joke.
The Church of God ain't.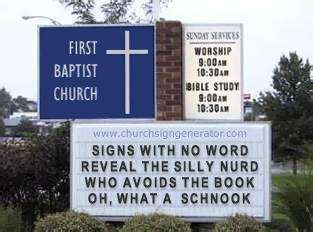 Now, there is one we can believe in.
SLOPPY AGAPE LINKS:

CAN SOMEONE TELL ME WHAT BIBLICAL TRUTH IS TAUGHT WITH THIS?

HURRAH! A BIBLE VERSE, AND FROM ONE OF THE TRITE JOINTS.
I see the Bible all the time on washed out churches, while the Fundamentalists
post silliness and clichés. I believe devils run Fundamental churches these
days, by and large.

FIVE GREAT INCLUSIVE ILLUSIVE WORDS

CLEVER, FUNNY, BUT WHERE IT THE BIBLE ON CREATION?
This is a classic case of blather which will return void in the end.

CORRECT, BUT IT WILL RETURN VOID BY BEING FORGOTTEN QUICKLY

ANOTHER A+ FOR A HICK IN THE WOODS COC CHURCH
I just wish they would leave the water out of the Gospel,
and just be satisfied with the Blood of Jesus.
Now, its your turn--
Watch for signs, and SEND THEM TO US PLEASE