O That will Be Glory
Words and music by Charles H. Gabriel, 1856-1932
From Forty Gospel Hymn Stories by George W. Sanville, 1943, p. 10-11.

"Heaven aflame in the face of a man" is the description given of De Card, "old Glory Face," superintendent of the Sunshine Rescue Mission, St. Louis, Mo. Mr. Charles H. Gabriel says the Glory Song was inspired by the slogan which this man used during the Rescue Mission meetings.

His one and only safety valve for the pent-up enthusiasm, generated in him during the service was his frequent utterance of "Glory!" He praised God, not with many words, but one word many times repeated.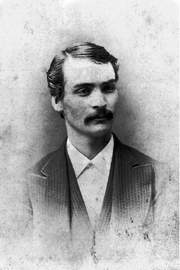 Though he used but this one word, he played with it as a virtuoso with one string on his violin. He sang his song of praise to God with a charm and earnestness that carried a conviction of holy reverence to all who heard...
...In prayer he drew men nearer to the God he served. His prayer invariably ended with, "And that will be glory for me."
"Old Glory Face" now sings his song in the Glory Land. He lived here long enough to sing this Glory Song which he inspired. He came to know his life before men had been a good testimony of the saving grace of the Lord Jesus Christ.
The Glory Song literally burst into popularity. It has been sung around the world in many dialects and languages. millions of copies have been printed, and [69] years of use attest to the deserved popularity of this gospel song.
The author, Charles H. Gabriel, has been called the Prince of Gospel Song Writers. He has given the world a host of songs that will live. He has left us, but the touch of a vanished hand, and the sound of a voice that is still, lives on through his great ministry in song.
2 Corinthians 3:18 But we all, with open face beholding as in a glass the glory of the Lord, are changed into the same image from glory to glory, even as by the Spirit of the LORD.
OH THAT WILL BE GLORY

When all my labors and trials are o'er,
And I am safe on that beautiful shore,
Just to be near the Lord I adore,
Will thro' the ages be glory for me.

CHORUS:
O that will be glory for me,
Glory for me, glory for me;
When by His grace I shall look on His face,
That will be glory, be glory for me.

When, by the gift of His infinite grace,
I am accorded in heaven a place,
Just to be there and to look on His face,
Will thro' the ages be glory for me.

CHORUS

Friends will be there I have loved long ago;
Joy like a river around me will flow;
Yet, just a smile from my Saviour, I know,
Will thro' the ages be glory for me.

CHORUS
BACK TO STORIES OF HYMNS MENU PAGE
BACK TO ENTRY PAGE OF THE JOURNAL