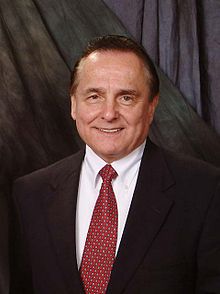 BILL GOTHARD
UPDATED 2017
This man and his ministries have become totally filthy and run through with devils
I am tired of this page. I have reduced it to just a few observations.

If you are fool enough to think your life will be changed by abandoning your local church, and your pastor, and running to the big city to pick up the big red book for, what is it now, $200-- Go for it. I never saw a home where the big red book really changed anyone. In fact, anyone who attended Bill Gothard's Seminars is not welcome in my company unless they burn the big red book.
Gothard's disciples are totally in love with themselves. They are a pain in the neck, and other places, as they keep trying to make themselves better and better, by legalistic and patented processes, as sinners die and go to hell.
As to the big red book, the latest information I have, and by Bill Gothard's admission, is that Bill's brother wrote the book, and his brother is a Romans 1:27 man.
Bill, baby, you are not even worthy, anymore, of serious mention on this journal. Go play in your sandbox and chase your whores.
Pastors, do you have a self-love backslider in your assembly who will not get right? Run them off, especially if they picked up their zeal from Gothard.
_____________________________
I went online to Google Videos to see if there was a discussion of Bill Gothard and his sex scandals. I strange thing happened. I got to page two of Google listings, and the thing was solid porn. The descriptions all had the name Bill Gothard in them. I found the same thing long ago when I Googled Dave Hyles, Jack Hyles' sex perverted son. You see, the porn people know what draws new viewers, and Gothard and Hyles are apparently good key words to reach porn freaks.
And, with that, I rest my case. Bill Gothard has left his flagship organization because of molesting under age teen age girls for many years. This is why he never married. He wants his sex young and fresh every night rather than marry, take care of a wife, and raise children.
If you let this natural brute beast convince you how to raise your kids, you need to repent, confess your sin against your wife and children TO THEM, and get back into ONLY the King James Bible.
And, all over America, and probably on many mission fields of the world, are ministries, either started by Bill Gothard, or based on Gothard's teachings. If you have anything to do with them, you could become possessed of devils. Stick with the local church plus nothing.
_____________________________
UPDATE 2017- THE CULT NEXT DOOR
The following video is well done and very accurate. I am very familiar with the original Basic Youth Conflicts, and all that following that. There is a very real addictive factor to Gothard's programs. I have seen this over and over as families go off the the seminar, and then they spend years trying to live up to the ideals of the guru, Gothard. They never feel satisfied, and when anything goes wrong, like one of their kids rebelling, they internalize it and assume they, the parents, caused the disaster.

The video:
The Cult Next Door (Official Short Film) from Youngman Films on Vimeo.
_____________________________
WHERE CAN THIS GO IF IT IS NOT STOPPED?
Here is a BBC documentary showing how people can be enslaved and remain that way willingly.
_____________________________
COULD THIS HAPPEN IN A FUNDAMENTAL BAPTIST CHURCH?
MORE FUNDAMENTAL BAPTIST ABUSE
LINKS:
HERE IS THE CLUB BILL GOTHARD HAS JOINED

GOOD ANALYSIS OF GOTHARD'S CULT

GOTHARD'S BANAL CONFESSION-- THE SCUM BAG CLAIMS GOD'S MERCY, BUT HE MAKES NO CONFESSION TO HIS VICTIMS

RECOVERING GRACE TELLS THE WHOLE SORDID STORY
This is an organization which formed expressly for the purpose of dealing with Bill Gothard's doctrinal heresies. They were then dragged into the sordid stories of 34 women he molested or sexually assaulted.
BACK TO MORAL ISSUES TABLE OF CONTENTS
BACK TO WARNINGS AND CULTS TABLE OF CONTENTS