THE CULT OF SINLESS PERFECTION OR
ENTIRE SANCTIFICATION
Why is this a cult?
Answer: They blaspheme the Word of God
1 John 1:5 This then is the message which we have heard of him, and declare unto you, that God is light, and in him is no darkness at all.
6 If we say that we have fellowship with him, and walk in darkness, we lie, and do not the truth:
7 But if we walk in the light, as he is in the light, we have fellowship one with another, and the blood of Jesus Christ his Son cleanseth us from all sin.
8 If we say that we have no sin, we deceive ourselves, and the truth is not in us.
9 If we confess our sins, he is faithful and just to forgive us our sins, and to cleanse us from all unrighteousness.
10 If we say that we have not sinned, we make him a liar, and his word is not in us.
When the holiness people, any of them, claim they reach entire sanctification, they are making God a liar. They are arrogantly stand against God himself. This means that, as the text above states, his Word if not in them. The Truth is not in them. They are lost and on the way to hell. You may wonder why I would say this so confidently. Let God speak in his Word again:
Revelation 22:18 For I testify unto every man that heareth the words of the prophecy of this book, If any man shall add unto these things, God shall add unto him the plagues that are written in this book:
19 And if any man shall take away from the words of the book of this prophecy, God shall take away his part out of the book of life, and out of the holy city, and from the things which are written in this book.
These sinless perfection, entire sanctification, people take away the words from the very mouth of God. He says we may NOT claim we are without sin, and they slap his face and say they ARE without sin.
Paul, whom these heretics also insult and mock, makes it clear that he was still in a struggle with sin and the flesh:
Romans 7:14 For we know that the law is spiritual: but I am carnal, sold under sin.
15 For that which I do I allow not: for what I would, that do I not; but what I hate, that do I.
16 If then I do that which I would not, I consent unto the law that it is good.
17 Now then it is no more I that do it, but sin that dwelleth in me.
18 For I know that in me (that is, in my flesh,) dwelleth no good thing: for to will is present with me; but how to perform that which is good I find not.
19 For the good that I would I do not: but the evil which I would not, that I do.
20 Now if I do that I would not, it is no more I that do it, but sin that dwelleth in me.
21 I find then a law, that, when I would do good, evil is present with me.
22 For I delight in the law of God after the inward man: 23 But I see another law in my members, warring against the law of my mind, and bringing me into captivity to the law of sin which is in my members.
24 O wretched man that I am! who shall deliver me from the body of this death?
25 I thank God through Jesus Christ our Lord. So then with the mind I myself serve the law of God; but with the flesh the law of sin.
I have known several allegedly sinless holiness people. Everyone of them was a perfect pest. They were arrogant and quickly insulted other people. They lacked zeal for soul winning.
One lady attended a church I pastored. She assured anyone who would listen that she was sinless. She would interrupt the sermon on Sunday morning and start whining and getting all weepy, and she would ask if she could give a testimony. What followed was 100% self-serving rubbish. She got to gossiping, and I had to ask her to stop it. I told her that the Bible teaches that gossip is sin. Her reply, "It was an error of the head, not the heart." I assume some holiness or Nazarene preacher invented this loop hole. I asked the lady to sit in the pew and just listen for a few Sundays. She took her hen pecked husband and went back to the Nazarene church in a nearby city. The preacher sent word by a friend of mine that he hope I would try to get her to return to our assembly. The lady was as bad a pest in her own denomination as she was for me.
Here is the Nazarene doctrine of sins of the head and sins of the heart hogwash-- their statement:
The Nazarene Church believes and teaches the doctrine of ENTIRE SANCTIFICATION, or SINLESS PERFECTION. The Nazarene Church believes that a person who has been saved and born-again can achieve SINLESS PERFECTION in this lifetime. In an act subsequent to trusting Christ for salvation, which some call the Baptism of the Holy Spirit or SECOND BLESSING, one is said to be cleansed at that moment from ALL inward sin...and it is 'eradicated' when one is baptized with the Holy Spirit.

"this 'sinless' person can still commit 'involuntary and inescapable shortcomings, infirmities, faults, mistakes, failures, or other deviations from a standard of perfect conduct that are RESIDUAL of the fall. However, such INNOCENT effects do not include attitudes or responses contrary to the spirit of Christ, which may be properly called sins of the spirit."
I dear saint, a faithful husband and father, came home one day to learn that his wife had run off with a holiness preacher. The Satanic preacher told the lady that anything she did with him was not sin because he was sinless.
What is at the heart of the entire sanctification doctrine? Answer: Pride. I find that holiness people are arrogant and proud of their status. They talk down to those who do not teach their filthy heresy. You cannot help them. They are also very sinful. They are full of adultery, fornication, greed, covetousness, and general worldliness. Sinless churches lead the way in CCM music and boogie and rock bands at the front of the church house. The sinless kids are sensual dressers, and they are spoiled brats.
Here is what one may suggests we do with these people:
It seems to me this elitist attitude among these holiness types is not unlike that of the religious elite of Jesus' day. If they want to boast about how sinlessly perfect they are, then let them demonstrate it by their behavior. I have yet to personally meet anyone who lives up to their own standards, let alone God's standards. Jesus dealt with such people by simply pointing out their sin. He said concerning the adulterous woman,

John 8:7 So when they continued asking him, he lifted up himself, and said unto them, He that is without sin among you, let him first cast a stone at her.

Not even Jesus' enemies, the religious elite of his day, were so ignorant of their own sinfulness as to willing to claim sinless perfection publicly. For a person to claim that they have achieved sinless perfection is a very very serious thing and must be scrutinized, even in Jesus' case. For Jesus himself encouraged people to scrutinize his own behavior saying,

John 8:46 Which of you convinceth me of sin? And if I say the truth, why do ye not believe me?

If they are "ignorant" of their own sinfulness, then it seems out of love Christian brethren must make them aware of their sinfulness. Notice for example how Jesus dealt with such a person in Matthew 19. A rich man came to his casually using the term "good", just as holiness types casually claim themselves to be sinlessly perfect. Jesus immediately picked up on this and knew that this man didn't have the conviction of sin necessary to come to faith. He first tried to convict him of sin by pointing out the law. But apparently the man thought himself sinlessly perfect claiming to have keep all the law. But he was thinking in a limited sense in terms of the letter rather than the spirit of the law. So Jesus got to the heart of it and gave him a command which pointed out his greed. That's part of Christian ministry - to humiliate those who reckon themselves "good" people.
Here is the Wesleyan version, which is really a lot of double talk. This explanation is designed to make Wesleyans special while leaving them room to sin a little on the side:
Question: What is Entire Sanctification?

Answer: Wesleyans believe that, after conversion, but before death, a believer's heart may be cleansed from all sin.

Question: So, sanctified people can't sin?

Answer: Sanctified people can sin, just like Adam and Eve could sin. However, those who have moved to this level of Christian life and experience are more likely not to sin. Before experiencing entire sanctification, believers often fight losing struggles against strong tendencies toward sinning and selfishness. After the experience, they find themselves most often feeling a tendency toward righteousness.

Question: How perfect is "Christian Perfection"?

Answer: Christian Perfection doesn't mean perfect in the sense that many think. The Bible's word for perfect means that a person is as complete as he or she was designed to be at that moment. A seven-year-old piano player might be able to perform a one-handed version of a song perfectly. When the child finishes, his or her piano teacher might exclaim: "Perfect!" However, as that little musician grows up and reaches his or her mid-twenties, the same teacher will likely expect a great deal more.
Where does this lust for sinlessness come from?
The fall of Satan, as recorded in Eze. 28:2-19 reveals many important facts about free will. Verses 12-14 record the position and status Satan enjoyed as "the anointed cherub that covereth." Satan was given privileges awarded to no other angel. He stood before the creator as the High Priest (vs. 13) of the angelic kingdom. However, no verse is more revealing than verse 15: "Thou wast perfect in thy ways from the day that thou wast created, till iniquity was found in thee."

Free will plus sinlessness resulted in eternal damnation of Satan. The Christian who claims free will, which he DOES have according to the Word of God, PLUS sinlessness, which he does NOT have, will lead an insurrection against God. He will next assert himself to be like The Most High. Only God, as manifested in Jesus Christ, is sinless, so the assertion of sinlessness in man is Luciferian religion.
If you are in one of the following churches, and if you promote the entire sanctification doctrine, you are lost and on your way to hell for calling God a liar:
Holiness Church
Church of God-- Some
United Pentecostal Church
Nazarene Church
Four Square Gospel
Wesleyan Methodist Church
Apostolic Holiness Church
Church of God in Christ
There are many more
If you are truly born again, and if you are in one of these groups, you WILL get out. The Holy Ghost will not leave you in them.
Romans 12:3 For I say, through the grace given unto me, to every man that is among you, not to think of himself more highly than he ought to think; but to think soberly, according as God hath dealt to every man the measure of faith.
Why did I say that this is the most wicked cult?
Answer: Before you can get a lost man saved, and before you can get a saved backslidden man restored, YOU HAVE TO MAKE HIM INTO A SINNER.
This wicked cult immunizes the sinner and back slider from coming under conviction of sin. The very first step to salvation and victory is sabotaged before the get go. So, many are lost and on their way to hell, all the time thinking they are sinless. How much more wicked does it get? Even the Pope, Joseph Smith, the JWs, the SDAs, and almost all cults and pagans agree that man sins. The foundation for preaching the Gospel is to convince men of sin.
John 16:7 Nevertheless I tell you the truth; It is expedient for you that I go away: for if I go not away, the Comforter will not come unto you; but if I depart, I will send him unto you.
8 And when he is come, he will reprove the world of sin, and of righteousness, and of judgment:
Romans 7:7 What shall we say then? Is the law sin? God forbid. Nay, I had not known sin, but by the law: for I had not known lust, except the law had said, Thou shalt not covet.
8 But sin, taking occasion by the commandment, wrought in me all manner of concupiscence. For without the law sin was dead.
9 For I was alive without the law once: but when the commandment came, sin revived, and I died.
Dead men are the only ones who can get saved, and only dead men who KNOW they are dead men will listen. Sinless men will look down their long noses and smile benignly at the soul winner or the preacher. They do not need the Gospel. They do not need revival. They have no sin.
What to do?
Slap them hard-- Tell the holiness people they are lost and damned to hell for making God a liar. See John 1 above.
Here is Dr. Staples' model of the doctrine
Have you ever seen such a mess that has no basis in the Word of God?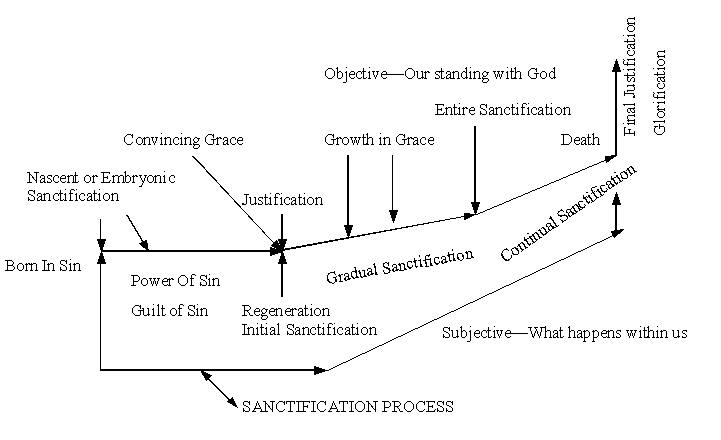 LETTER FROM A READER:
Hi, Steve.
Years ago an old friend was a Church of God (Cleveland, TN) preacher. He got out.
He just couldn't bring himself to teach the "entire sanctification" doctrine, especially because he didn't believe it. He tried and tried just to leave it alone, but a number of older "saints" wouldn't have it. To them he was omitting a glorious gospel truth.
The attitude of one old prune pretty well summed it up right about the time my friend began preaching that entire sanctification was error. She came up to him after the service and BAWLED HIM OUT. And his wife!
The old gal just ranted and raved about how she hadn't sinned in forty years, all the while shouting at the preacher and his wife at the top of her lungs!
Sounds more like entire STUPEFECATION to me!
J
LINKS:
A DEFENSE OF ENTIRE SANCTIFICATION

ge