JERRY FALWELL SPEAKS
AT MOONIE CONFERENCE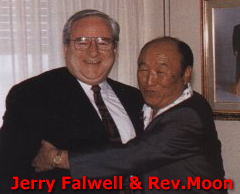 It is astounding to see Falwell slip this bad. We knew he was wandering, but this is weird. Please remember that Sun Myung Ding Dong Moon claims to be Jesus Christ re-incarnated, and Moon and his wife put a few drops of their blood in the Communion juice when they celebrate their pagan Eucharist. This is where Falwell is going friends!


---
http://www.freedomofmind.com/stevehassan/presskit/articles/parry1.htm
BEWARE OF HERETIC JERRY FALWELL
FALWELL FELL FOR CHARISMANIA
A second heading to the one above, says: "Jerry Falwell Now Open to Charismatics." The article comes from the Charisma magazine, the choice magazine for the Charismatic move ment. The article was written by a Stephen Strang, who bad gone to Faiwell's school on a visit. He was elated at what he found: Falwell bad hired a friend of Strang's as a producer of Faiwell's TV program, a man who had been with Pat Robertson at CBN and had produced a film on the Toronto Blessing. Strang wondered why this feliow with such a charismatic background was working for Falwell.
Then he learned that Falwell had recently preached for the Rock Church, a far-out Charismatic group in Virginia Beach, VA. He further learned that integrity Music (another type of shallow music that originated with the Charismatic movement) was going to record a live "praise and worship" album at Liberty University. It all seemed incongruous, said Strang: "Integrity Music and the Old Time Gospel Hour?" Then when Falwell was questioned about this, he told Strang, "Years ago I would not have allowed this type of mu sic in the school." What happened, Jerry, may I ask?
Strang goes on to say, "Liberty is not only co-sponsoring Integrity's live re cording, it is working with Integrity to establish an institute that will train "a new generation of worship leaders at Lynchburg." Strang admits that he went toLiberty to "try to build some bridges between Charismatics and non Charismatics." He must have found his task quite easy at Liberty. He closes his article with, "A revival is breaking out today that can't be contained in any one church." No, no sin-killing, devil-routing, Holy Ghost revival is breaking out. What we are seeing is a revival of compromise and ecumenism.
LIBERTY UNIVERSITY EXALTS THE ECUMENICAL CIRCUIT RIDERS
From Dr. Jerry Faiwell's 4/98 National Liberly Journal we read: "Liberty Baptist Theological Seminary is proud to have Dr. [Howard] Hendricks join our distinguished list of visiting profes sors that includes: Drs. Gary Collins, Woodrow Kroll [Back to the Bible], John Maxwell, Stephen Olford, Jerry Vines and John Walvoord." Falwell is pictured with Kay Arthur and others as a speaker for a Jesus 2000 Holy Land Pilgrimage. His speakers for Super Conference '98 include Dallas Seminary Swindoll and Maxwell (Schuller speaker). All of the above pulpit-share and minister ecumenically. - Calvary Contender
May 2006
Read how Mr Sun Myung Moon exalts Ron S. Godwin:
"Father sees the presence of Dr. Ron Godwin, Dr. Bob Grant and Dr. Don Sills as very precious. Father looks at these precious three collaborators... almost like Jesus' three disciples. By uniting with Reverend Moon's ideology they will become even greater."
Ron Godwin is now taking the position of Executive Vice President and Chief Operating Officer at Jerry Falwell's Liberty University. You will recall that Mr. Moon donated $2.5 million to Falwell to save Liberty U. from bankruptcy.
Our position:
Jerry Falwell is damned to hell, a wolf, and possessed of devils.
FALWELL SPEAKS AT MOON CONFERENCE
Dave Hunt said, "Equally unthinkable was Jerry Falwell's participation as a speaker at a conference last December in Uruguay, sponsored by Sun Myung Moon's Inter Religious Foundation for World Peace and Washington Times Foundation, titled, "Christian Ecumenism in the Americas: Toward One Christian Family Under God."
According to Moon's Unification News, speakers, in addition to Moon and Falwell, included William Cenker (Chair of the Dept. of Religious Studies at Catholic University of America), Dr. Nilson Fanini (president of the Baptist World Alliance), and Michael Cromartie. In his speech, Falwell said, "It is my observation and personal conviction that conferences and seminars like this one can be very beneficial for building bridges of communication."
Reported by the Calvary Contender
________
"Moon, 81, has been accused of bribery, bank fraud, espionage, illegal kickbacks and illegal sales of arms in the United States. He was convicted of tax evasion in 1982, and served 18 months in a U.S. federal prison. Upon his release, several prominent religious leaders from other faiths called unsuccessfully for his pardon, including the Rev. Jerry Falwell."
http://www.cesnur.org/2001/moon/14.htm
________
"Rev. Moon, whose Washington Times is a crown jewel of the conservative media Death Star, offers the essential lessons. He's the last man most Americans would associate with Republican power circles, but is in his own secretive way as important a figure in the Christian Right as Jerry Falwell, who's still in business thanks to a $3.5 million bailout from Moon in 1995, or Tim LaHaye of the Council For National Policy, who took money to serve on the board of a group rehabilitating Moon's image, and once wrote a letter addressing Moon as "the Master."
http://www.alternet.org/mediaculture/34072/
---
Editor: Blessed Quietness Journal: It is very important to understand that Mr. Moon is right on schedule in unifying the world under his Messiahship. Now, you MUST see that Jerry Falwell has joined the Moonie program of unity and ecumenism. It was not a rally to stop taxes or save the babies. It was a UNIFICATION rally. Jerry Falwell has sunk even lower than Jack Van Impe, for Jack at least kept himself in a cult of Christendom in the Roman Catholic Church. Jerry Falwell has joined the mystic Buddhist throw backs of the Far East. Can Jerry Falwell be born again? Answer: NO! He is now hugging the wolf-- NOT the sheep.
Jude 1:11 Woe unto them! for they have gone in the way of Cain, and ran greedily after the error of Balaam for reward, and perished in the gainsaying of Core.
12 These are spots in your feasts of charity, when they feast with you, feeding themselves without fear: clouds they are without water, carried about of winds; trees whose fruit withereth, without fruit, twice dead, plucked up by the roots;
13 Raging waves of the sea, foaming out their own shame; wandering stars, to whom is reserved the blackness of darkness for ever.
14 And Enoch also, the seventh from Adam, prophesied of these, saying, Behold, the Lord cometh with ten thousands of his saints,
15 To execute judgment upon all, and to convince all that are ungodly among them of all their ungodly deeds which they have ungodly committed, and of all their hard speeches which ungodly sinners have spoken against him.
16 These are murmurers, complainers, walking after their own lusts; and their mouth speaketh great swelling words, having men's persons in admiration because of advantage.
BACK TO WAR ROOM- General Wickedness
ge