MSG- Monosodium Glutamate
The world's most pervasive
food additive--
NEW- Video section added below
What is MSG, why is MSG in food of all sorts, and why is it such a big issue with my additive conscious friends?
This food additive explains many ailments in many people. Much legend and myth is being passed around about MSG to make it seem innocent. In fact, it can cause many different reactions, in some people fatal.
There are stimulants, which are approved by the Federal Drug Administration, which always disrupt healthy function of the endocrine system. That is, if you include them in your diet. MSG may be the most pervasive.
At the left is Professor Kikunae Ikeda who isolated MSG from sea weed in Japan in 1908. Since then, the chemical has been mass produced in free form and used by the ton to add to our food. What the professor discovered might have been quite benign, but once big food manufacturers got ahold of it, it has become a virtual poison in stimulant form.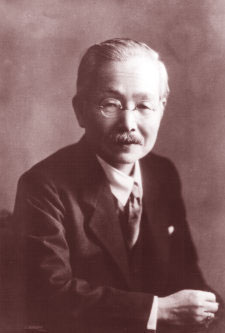 The stimulants which affect health the most are sugar eaten alone, MSG (monosodium glutamate), Aspartame, and high fructose corn syrup. There are many others, but these four are used heavily by most Americans.
Monosodium glutamate (MSG) is something you have to find on food labels because it is hidden by obscure substitute terms in grocery store products. Food producers know very well that, (a) MSG causes physical issues for many people, and (b) many of you know it. They INTENTIONALLY try to hide the fact that MSG is used in the food.
The fact that you feel not symptoms when you eat MSG does NOT mean your system is not reacting. It simply means you FEEL nothing.
MSG is often the cause of insomnia, but it may cause migraine headaches, Alzheimer's disease, temporary blindness, fainting, instant diarrhea, and many other reactions. MSG goes through the brain barrier, which is very rare with most agents and drugs. Once in your brain, it picks at random some area of the brain and turns it on full blast. The result is that some function of your body goes hyper, and you suffer a "reaction."
MSG does not belong in the human body. It can disrupt the normal appetite functions and prevent you from losing weight. http://www.newstarget.com/001975.html
MSG is not added to food of virtually every sort. It enhances flavor, and, without exception, it is added because the food being prepared for sale to the public is of low quality due to cheap ingredients or due to too long shelf life. Some have claimed that it is a fifth taste group of its own, as in sour, bitter, sweet, etc. If this is true, it does not change how it affects people, and the fact that it gives your taste buds a rush is no reason for just letting food producers feed it to you.
The only possibly innocent use of MSG is in the preparation of sausage and other meats. It prevents the sausage from turning brown. Long ago, people simply accepted the fact that sausage turned brown when it sat a while, but it turned a cooked color when fried. MSG treated sausage looks exactly the same as untreated sausage after you fry it. This is purely a cosmetic issue, and it does not justify the risks involved.
There are natural sources of MSG which means they may turn up in your food. The food sources found below in the orange box are technically a food source, and many people who are sensitive to manufactured MSG can tolerate natural sources. The point is, manufactured MSG and naturally found MSG are not the same in the way they affect your body. In fact, your body produces a small quantity of MSG to use in stimulation of normal functions. But, like other chemicals, what the body makes, or gleans from food, and what is added in commercial food preparation, can make the difference between great health and a trip to ER.
MSG is found in sea weed, pectin, gelatin, and other such food sources. When these natural MSG carrying foods are added to the cooked food, the flavor is enhanced. Much Oriental food would taste blah if it were not for natural sources of MSG added to the cooking process.
In India, south Asia, the Middle East, Africa, and Mexico where plenty of aromatic and hot spices are used, MSG is pointless and seldom used.
The problem is, food producers of the world have learned that packaged foods, and restaurant foods, will be more highly sought after if MSG, natural or manufactured, are added. While other nations, like Australia, have banned all use of MSG, the US FDA claims that MSG is harmless. The use of MSG makes people partly sick, and this is a great formula for Big Pharma to come to the rescue. Is it possible that the FDA and Big Pharma are so morally calloused that they would look the other way in order to cause people to have health issues. Why would they do this? If you are a Bible believer, you have the answer:
1 Timothy 6:10 For the love of money is the root of all evil: which while some coveted after, they have erred from the faith, and pierced themselves through with many sorrows.
So, in the absence of real research, YOU are your own laboratory. My son, and friends in Austin, Texas, and myself, are included. We have had to stop using MSG as an experiment. Millions of Americans have learned by this method that they stopped having reactions and complications when they stopped eating food with MSG added. For this reason, the banning of MSG is becoming a populist activity. Thousands of restaurants and food products are advertised as "MSG free." The US Government could not care less about this rather deadly chemical.
So, it is DIY time for you. MSG, like almost all other food additives, is nonessential to your well being and health. You do not NEED MSG to enjoy food, that is, unless you want to eat old stale swill and wish to taste it as fresh and exciting. Self-deception can result in a rush for the moment, but afterward, you suffer for it. The rush may even be to ER.
You need to make a list of symptoms you and your family suffer, especially anywhere from fifteen minutes to twenty four hours after eating MSG laced food. Like marijuana and crack, MSG will turn on some area of your brain, and you will get a corresponding response in just about any kind of physical event.
Diarrhea may follow a dose of MSG in as little as twenty minutes. This is because the MSG is being absorbed through the stomach lining, rushing to the brain, and the brain is telling your plumbing department that it is under new management. The result is that you will have to rush to a restroom immediately or you will totally lose control. Other people do not have this, but severe headache results. Some people have heart related reactions, such as tachecardia or blood pressure spikes for no apparent reason. I personally have a blood pressure spike which is terrifying. I am talking about a systolic of 245 or higher. That is stroke territory.
The problem is, if you have a adrenal or cardio response, you also go into fight and flight mode. This is totally impossible to rationalize with what is happening around you. You don't know what is happening when this first hits you. So, you panic, and that causes the response to MSG to be magnified even more. Twice I have ended up in ER from a MSG reaction.