THE LATEST ON EXTRA TERRESTRIALS
We here at Blessed Quietness Journal believe we have found ETs
living right in out midst, and thousands of them at that, all over the world.
It is quite common these days to see claims of UFOs and ETs in our midst. But, the photos and sound bites are foggy at best, and the stories often play out in a setting of Budweiser or some frolic at the beach.
We have had the good fortune of finding accurate photos and sounds of ETs communicating with our world. The most thrilling, or possibly terrifying, thing about this is that we know of thousands of these ETs found in many nations of the earth. Possibly the most puzzling fact is that these creatures are found largely in Africa and South America.
Please read this page and send us mail giving your observations, especially if you have seen any of these ET creatures in your area.

WE HAVE A REPORT OF
ALIENS SEEN IN TENNESSEE
These two alien creatures were seen at a farm in Tennessee in the United States. They refused to come nearer, and the observers felt that there was some relationship between the creatures and the fence which seemed to actually prevent their approach.

When observers tried to communicate with the creatures, the aliens simply made unintelligible sounds not unlike a person groaning or grumbling. We would like you readers to let us know if you have any further information on theses creatures based on your experience in this area. Are these possibly Yannis or Greys?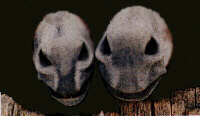 December 1, 2013
We believe we have learned the identity of the above creatures:

We have learned from reliable sources that literally hundreds of thousands of these creatures are prowling the earth. They seem to favor rural and agricultural settings. They have also been seen eating various green growth in pastures and in meadow lands. There is no record of the creatures really being dangerous, though they have been known to bite and kick in self-defense. Otherwise, the creatures seem to present themselves in a rather friendly manner to earthlings.

The greatest concentration of these creatures is in Africa, especially in Ethiopia where people follow them through town beating them with a stick and yelling, "Meungud, Meungud" (get out of the way).

When we were in Ethiopia as missionaries I was walking on a path through the marketplace one Saturday, and a fellow behind me yelled, "meungud, meunged". I had not learned the language indium, so I pondered, "Meungud means road. So what, this is a road? Why yell about it"? At that point one of these aliens banged into my back and nearly knocked me down. The man was letting me know the alien was coming, and I should step aside. You see, once these aliens are moving, they will not stop, especially if they are carrying a heavy load.

Another thing I learned in Ethiopia about these aliens is that they rove the highways and love to cross the road right ahead of you when you are driving. You can honk your horn (hooter in the UK) all you want, the aliens will just keep plodding along. I learned to aim right at the alien, and it would be gone when I arrived at the spot where I first saw it.

A special message was transmitted regarding the creatures a good number of years ago which would have told us the earth was to be inundated with these creatures. But, few if any people were alert enough to decipher the encoded message. This message was released in Nashville, Tennessee, and we now give it to you. One word is missing, so this may be the key to understanding the creatures identity.

Here is the secret message as it was originally transmitted:

I've got the milk 'em in the morning, feed 'em;
Milk 'em in the evening blues.
This old barnyard heifer,
Ain't worth the cud that she chews.
"You put your foot in the bucket,
Kicked over the stool;
Someday I'm gonna trade you for a blue nosed _________;"
I've got the milk 'em in the morning, feed 'em;
Milk 'em in the evening blues.
***
Milk 'em [da da da daaaaa]
In the eeeevning bluuuuuuues
We are very certain that the creature mentioned on the blank line is the clue to identifying the two creatures above. We are told the ascended master, Saint Germaine originally channeled this coded message down to us through Tennessee Ernie Ford. The embedded music is also a secret clue to the identity of the creatures.

You might also be interested to know that your editor has had personal contact with these creatures. In the Ozarks above Siloam Springs, Arkansas, one of these creatures carried me on its back for several hours. I know that this sounds very hard to believe, and I shall be misunderstood and mocked for being so sure of my experiences, but this is the price one has to pay to spread the truth to the masses.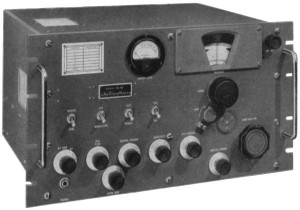 THIS JUST IN:
A friend has sent us a sound bite from the 1950s. Goldstone tracking station in the Mojave Desert had just set up their radio telescope some years ago hoping to hear any rational signals from space. This was what they heard:

EXTRA TERRESTRIAL RADIO SIGNALS
THE TRANSMISSION FROM NASHVILLE,
TENNESSEE HAS BEEN FOUND.
Listen about two thirds of the way through to hear the identity of the ETs.
KIT PEAK IN ARIZONA RECEIVED
A TRANSMISSION OF EXTRATERRESTRIALS
TELLING EARTH THE PLANS FOR OUR DESTINY
And remember-- You heard it first on .


SEND MAIL WITH YOUR EXPERIENCES
BACK TO ENTRY PAGE OF THE JOURNAL
ge