THE DILEMMA
OF THE
DALAI LAMA
The Dalai Lama's completer titles:
Holy Lord, Gentle Glory, Eloquent,
Compassionate, Learned Defender of the Faith,
Ocean of Wisdom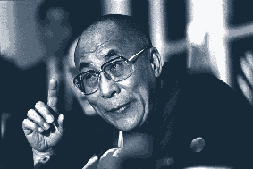 Editor: Steve Van Nattan--
Long ago, as a kid, I saw a movie of the Dalai Lama as he entered India. He was welcomed by Mennonite missionaries who were dull as snot. They bowed and genuflected to the Dodo Lama as he were a god. It was enough to make one vomit. My Dad was saved in a Mennonite church in Los Angeles where the Gospel was the central fact of all things. These Mennonites had the first opportunity to give the Gospel to the Dodo Lama, and they failed. Indeed, they acted like disciples of His Hellishness. This is what he loves, and in his jolly way he absorbs all the adulation he can get.
SEE A SHORT VIDEO CLIP OF THE ARRIVAL
OF THE DALAI LAMA IN INDIA LONG AGO
Finally, you need to understand-- The Dalai Lama believes he is God. That is why he does not recognize any god outside of himself.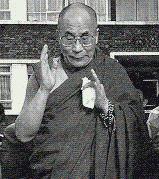 TO READ THIS PAGAN'S SAYINGS, HIT:
http://www.tibet.com
See the Dalai Lama at play
Dec. 15,1999- DALAI LAMA'S 'GOD-FREE RELIGION'
"Tibetan Buddhist leader the Dalai Lama was the keynote speaker at the 1999 Parliament of the World's Religions (12/15 CC). His message of spirituality without a deity is now said to be 'the perfect way to satisfy the spiritual hunger of people living in a scientific and secular age' (12/6 C T). Buddhism, which has 358 million followers world-wide, is nontheistic. A Buddhist teacher says, 'Now it's becoming the in thing to be spiritual. It's more cool, modern, and progressive to be spiritual. But without God'."
(THE CALVARY CONTENDER, January 1, 2000)

SOMEONE THINKS THE DALAI LAMA WILL EDUCATE OUR CHILDREN:
Watch for his rubbish to appear in California curriculum first.
THE DALAI LAMA IS LOSING HIS "DIVINE" GRIP ON TIBET
THE DEVIL HAS HIS OWN SITE ON THE WEB
HERE IS THE TWINKLE TOES DOCTRINE OF THE DALAI LAMA IN ACTION
HERE IS PROOF THAT THE EAST HAS TAKEN HOLD OF THE WEST
THIS CLIP OF THE DALAI LAMA SOUNDS JUST LIKE ROBERT SCHULLER
THIS IS A RIOT-- WHAT A HAM THIS TIN HORNED gOD IS!
HOME COMING WITH COMPLETE VANITY
THE DALAI LAMA'S OFFICIAL PAGE IN EXILE
This site proves that Buddhism is the state religion of Tibet. The jolly fun loving Dalai Lama is really a racist bigot:
http://www.tibet.com/Buddhism/
DALAI LAMA MOVIE:The god image is a piece of tin. The man is the holy thing,
as in all cults and pagan religion.
http://www.archive.org/download/HHDL_Taiwan_97-v1/HHDL_Taiwan_97-v1.mov
LINKS:
BACK TO WAR ROOM- General Wickedness
BACK TO ENTRY PAGE OF THE JOURNAL
ge