MICROSOFT'S IDEA OF THE LORD'S PRAYER
Windows 95 had an encyclopedia which tried to portray
the religions of the world among other things.
To illustrate the Lord's prayer, here is the graphic they chose: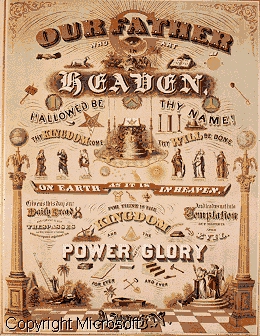 We have to assume that Bill Gates is a Freemason. This choice comes back on him personally.
If you want to see this closer, check it out in Encarta. It is on a CD and is usually included in Windows 95. You can see much of the Masonic symbolism in the above art page. You can see the inverted star of witchcraft, the all seeing eye, "G" which means generative (PHALLIC) power, Jachin and Boaz, the two phallic pillars, and that famous phallic symbol, the square and compass.
There is plenty more scum for the imagination of any dirty old man who rejects the Gospel of Jesus Christ and replaces it with his Male organ (references available from Morals and Dogma, Albert Pike). Check it out.