FREEMASONRY
We include Freemasonry as a cult because it is a religion,
and it claims to honor the God of the Bible.
If you are a Freemason, don't bother to try to straighten us out. We have massive proofs that you are in a pagan cult. if you want to "demit," we would be happy to help you.
Material on this page is rated PG-18.
Albert Pike writes: "If our conceptions of God are those of the ignorant, narrow minded, and vindictive Israelite "we feel that it is an affront and an indignity to [God]" (Morals and Dogma page 223). Freemasonry hates Jews.
In September 1977 an article appeared in the US magazine Esquire regarding the Skull and Bobes initiation. Antony Sutton explains and detailed much of the mumbo-jumbo associated with the Bonesmen. When a new member is initiated into the order "Tonight", he is told, "he will die to the world and be born again into The Order as he will thenceforth refer to it. The Order is a world unto itself in which he will have a new name and fourteen new blood brothers, also with new names."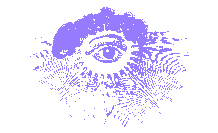 Thus, we know what George W. Bush means when he says he is "born again."
It has been my experience over the years to learn that virtually every Freemason I have known has been a pretty decent good old boy. But, I find that all Freemasons have no zeal for anything, and they don't have a clue what they believe. The ones who claim to be Christians are obsessed with not being a hypocrite, and they are so mellow that you could not stir any emotions from them for Jesus Christ. They are absolute disasters as soul winners. Bob Jones Sr. loaded his board at Bob Jones Unifarsity with Freemasons, and they were dead beats. Some believers who knew Bob Jones Sr. believe that he was also a closet Freemason. The moral and spiritual malaise which has fallen over that university in these present days is the direct result of founding the school on sinking sand.
Is Freemasonry part of US History?
LEARN THE TRUTH

ARTICLES:
REV. CHARLES G. FINNEY ON FREEMASONRY
This is a PDF book read here at this journal site. It is very well researched and hard to find.

FREEMASONRY AND THE NUMBER 33
By Day Williams
The number 33 comes up so many times in world history, and especially in American history and events, that we cannot pass it off as coincidence. This number is also deeply powerful in Freemasonry.

BARAK OBAMA'S DESCENT INTO PAGANISM
President Barak Obama is a man of much bling bling is seems.
Some bling bling is literal, while some is pure idol worship.
We examine the evidence and discuss the rumors of worse.

MORALS AND DOGMA BY ALBERT PIKE
This is a very detailed discussion of Pike's doctrinal teachings in his landmark book, Morals and Dogma. This is the authoritative sacred writing of all of Freemasonry. Any alleged Christian who reads this and refuses to leave Freemasonry must be assumed to be lost and on his way to hell.

FREEMASONRY REVEALED
A very good introduction to the evils of Freemasonry which result in possession and oppression by devils, especially from the oaths taken to move on to each degree

THE MASONIC HERITAGE
OF THE SOUTHERN BAPTIST CONVENTION
Nothing says more about the Southern Baptist Convention than this "prayer tree."
Patriotism and pagan Christmas imagery are mixed to produce a biblically
demonic intrusion into the Church.

ILLUMINATI AS IT IS
The Illumenati is heavily laced from day one with Freemasonry

THE JOHN BIRCH SOCIETY
And other One World Groups- Heavily infiltrated by Freemasonry

"Capitalism and Communism, in terms of power, are merely their twin mechanisms to destroy the sovereignty of Christian nations. They will merge them into the projected super-state, where their financial power will exercise full sway and masterdom through that monopoly of atomic energy which is being sought with such feverish and fiendish persistence. They are selling us into slavery and using our material resources for their own nefarious world-wide purposes. To say that in exposing their plans for world domination we are playing the Kremlin's game is to act as an unconscious agent of Christendom's betrayal." President Woodrow Wilson

THE FUNDAMENTAL BAPTIST LODGE
The Fundamental Baptist Movement is very like the Masonic Lodge

PROOF FREEMASONRY
IS A PHALLIC CULT
Source- Supreme
Pontiff Albert Pike in
Morals and Dogma
Text at right is from page 321 of
Morals and Dogma.

"I HAVE A SECRET"
Religions, conspiracy peddlers, politicians, PhDs by the dozen..... The world is overgrown with people who claim to have a secret. They either want your money in exchange for the secret, or they want you to lap up their pearls of dung like a silly puppy. Freemasonry is treated in this list of secret keepers.

HERE IS A LETTER FROM A READER
WHO BELIEVES URBAN LEGENDS
WITH MY ANSWER AND MANY LINKS
Sir Francis Bacon was a court trouble maker to King James II of England. After King James' death, Bacon started a rumor that the King had been a sodomite. Bacon was the sodomite, as history has proven. This story shows the very evil nature of Freemasons when they set their mind to do harm to the righteous.


BAAL WORSHIP IN NEBRASKA
This letter is from a regular reader. It is far out stuff, I admit. But, this is just the sort of thing we have been finding in many places. So, I feel this letter needs to be put up here for your research. You will see the deep infiltration of Freemasons in American official life.

DEMIT FORM LETTER
For Freemasons who wish to leave the lodge
ASK A FREEMASON WHAT THIS SYMBOL IS.
HE WILL DO A SPIEL ABOUT TUBAL CAIN, THE
INVENTOR OF MUSIC BLAH BLAH BLAH.
IN FACT, THIS IS THE MALE ORGANS,
WHICH ALBERT PIKE SAID IS THE GOD OF FREEMASONRY


WHAT DO FREEMASONS BELIEVE (According to them)?
Although Freemasonry recognizes each man is different, there are certain traits all Masons have in common:

Masons believe in the existence of God. No atheist can become a Mason. Masons do not care what your individual faith is.

Masons include Christians, Jews, Muslims, etc.

Masons believe in responsibility, honor, morality, and ethics.

Masons believe the world should be a better place because they passed through it.

Masons believe a person should strive to be a good citizen and that he has a moral duty to be true to the country in which he lives, and uphold and maintain the principles of good government.

Masons see brotherhood as a form of wisdom, a sort of bond that holds men together. A private friendship that tells him he owes it to each of his fellow Masons to be just in his dealings.

Freemasonry is far from indifferent to religion. Without interfering in religious practice it expects each member to follow his own faith, and to place above all other duties his duty to God by whatever name He is known. Its moral teachings are acceptable to all religions.

A Masonic authority comments on the custom of lodges of displaying a version of the Bible on the lodge altar:
The Bible is not displayed on our altars now and has never been for the reason that Masons are required to believe its teachings. We know that there is a very large element of the Craft the world over who do not believe the teachings of the New Testament. We know that many individual Masons do not believe portions of the Old Testament. Hence, unless we are perpetrating a grim mockery, we do not employ the Bible as as a profession that we as a Society accept all its teachings and doctrines... Masonry as an organized society does not and has never exacted this belief of its members. It can, therefore, have no other place in our lodges than that of a symbol... It is a symbol of Truth, of Divine Truth, of all Truth, whether drawn from some book of Revelation or from the Great Book of Nature.
BILLY GRAHAM AND THE FREEMASONRY QUESTION: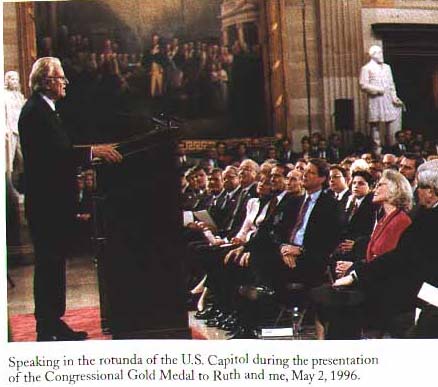 On Thursday 2nd of May 1996 Billy Graham and his wife Ruth received the
Congressional Gold Medal, in the Rotunda of the US Capitol in Washington, D.C.
It is the highest honor which Congress can bestow upon a citizen. The front row
of the photograph below, consisted of powerful 33rd Degree Freemasons.
In the front row of the photo are: House Speaker Newt Gingrich, Vice President Al Gore,
Senator Storm Thurmond, Bob Dole, Senator Jesse Helms and Franklin Graham,
all of them are 33rd Degree Freemasons.
Why did those seating guests put 33rd drgree Freemasons in the front row, the
place of honor, if Billy Graham was not also worthy of that honor?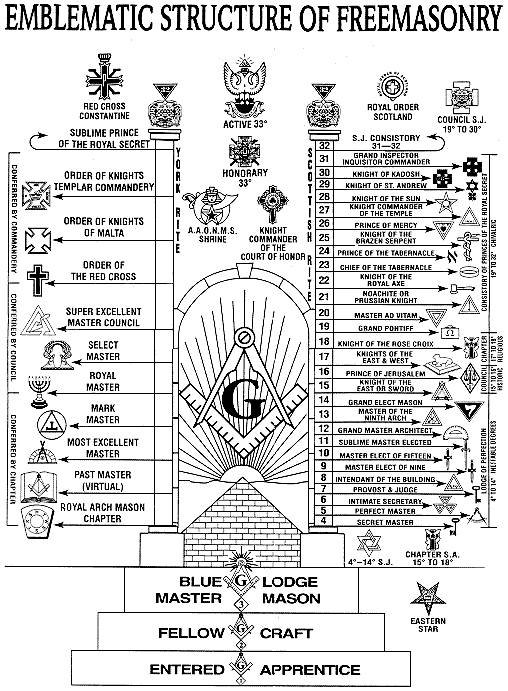 LINKS:






GEORGE W. BUSH'S HERITAGE
OF GRAVE ROBBERS
FOR THE BONESMEN
See Masonic Skull and Bones
club tomb on Yale campus
at right.
ROBERT SCHULER SPEAKS:
This fellow thinks he really hit pay dirt. What Schuler said is very old
stuff and not a bit startling. But, if you want to hear Schuler saying a person can
be a Christian and a Freemason, here it is:
http://www.geocities.com/endtimedeception/robert2.htm
Southern Baptist Pastor Stoney Shaw explains exactly
why he took a stand against Freemasonry.
Would he do it again? Absolutely.
http://www.ephesians5-11.org/audio/impdgos.ram
Militant Masonry
http://www.thelodgeroom.com/contents.html
PLAIN JANE SITE, OBSCURE, BUT POWERFUL INFO:
http://www.redmoonrising.com/tm.htm
"Me thinketh he protesteth too much":
http://www.masonicinfo.com/famousnon.htm
TOP TEN INTERNET SITES
EXPOSING FREEMASONRY

WATCH THE FREEMASON SITE AS THEY SQUIRM :-)
These people talk like the First Amendment has been suspended.
They don't like the power in just our link list, let alone our exposure of their secret works.
http://www.masonicinfo.com/others_pg2.htm
We have learned that a Masonic Lodge changed their page, to which we had linked,
to a Porn page to make fools of us. Our readers caught it, and the fools are these
tender hearted men who claim they are saving the world from evil. Oh Yes!!! :-)
Supreme Pontiff of the Southeastern Jurisdiction of Freemasonry, Albert Pike, was earlier
Confederate Brigadier General Albert Pike. Read how he commended a troop of Indians
and encouraged them to scalp and kill all their prisoners--
This man, in his book, Morals and Dogma, taught that Jehovah is the phallus, Jesus is the vagina,
and the Holy Ghost is the sperm of the Godhead-- What a dog:
http://www.us-civilwar.com/acwd.html
HARRY S. TRUMAN
This site shows that a common sense and, otherwise, decent man, could be suckered into this paganism:
http://www.trumanlibrary.org/places/gv36.htm
OFFICIAL POSITION ON MASONRY BY THE CATHOLIC CHURCH:
This shows that they did get it right long ago, though John Paul II is himself a Freemason:
http://www.staycatholic.com/freemasons.htm
PRINCE HALL WORSHIPFUL MASTER HAS A THANK YOU JAVA. READ IT ALL, AND YOU WILL REALIZE HE HAS NO IDEA WHO GOD IS. THIS IS THE BLACK VERSION OF MASONRY WHICH WAS INVENTED BY WHITE RACIST MASONS TO GET THE BLACKS OUT OF THEIR LODGE.
http://arkphagrandlodge.com/
THE SHRINERS ARE MUSLIMS:
http://www.geocities.com/Pentagon/Bunker/7583/
"The word Islam comes from the name of the Mohammedan religion.
While our order does not serve as a religious sect, the name Islam shows
the relationship of the order to the Near East where it was first instituted."
A VERY REVEALING SITE- Showing Associations of Freemasonry with the Occult in Europe and the UK.
PROOF THAT FREEMASONRY IS SUB-CHRISTIAN AND REJECTS SALVATION: http://www.grandlodge-nc.org/religion.html Update: They dropped this page to hide from me.
LIST OF FAMOUS FREEMASONS, http://www.chrysalis.org/masonry/famous.htm and http://www.chrysalis.org/masonry/default.htm This one is the Masonic Home Page. Here is another of interest: http://mendocinomasons.org/famous.htm and, http://www2.linknet.net/masonic/famous.htm#other Update: They dropped this page to hide from me. It is a blessing to know we hit the target.
HERE IS A GOOD LINK TO DEAL WITH THE ZIONIST CONNECTIONS TO FREEMASONRY: This one disappeared. These guys are really running from us. Why?
REPRINTS OF RECENTLY DISCOVERED WORKS OF ALBERT PIKE AND OTHER MASONS regarding rituals and oaths of Freemasonry: http://diamondsports.com:80/nalybi/NewFreemasonry.html
Update: They dropped this page to hide from me.
EPHESIANS 5:11-- Seems like a good group, and they have some good material, but they won't give the identity of their people, so I have to assume that this means some ecumenism as with anti-abortion ministries:
http://www.ephesians5-11.org/whower.htm
LINKS VIA THE ENEMY'S HARD WORK
Never have we been so well served by our enemies.
Freemasons compiled a large site "exposing" us weird Bible believers
and a number of ungodly people who hate Freemasonry.
So, we have passed the links on to you. The sarcastic and hateful comments
of the editor of the site are left as-is to show how Masons hate Bible believers.
Thanks to Freemasons out there who let the cat out of the bag.
CAUTION: We have to add a disclaimer to the following since several
are odd or heretical regarding the Truth of the Word of God.
We added them since they may have content of use to you.
At the left is Baphomet, the Satanic Masonic symbol of power.

Freemasons worship Satan: http://www.theforbiddenknowledge.com/symbology/1o5.htm
Acacia: http://www.crocker.com/~acacia/index.html
Larry Kunk, Former Freemason: http://www.ephesians5-11.org/
Duane Washum: http://www.ephesians5-11.org/ex_masons_for_jesus/
Cephas Ministries: http://members.aol.com/litetomasn/
Chick Publications-- The Curse of Baphomet:
http://www.chick.com/reading/tracts/0093/0093_1.htm
Cutting Edge: http://www.cuttingedge.org/news/n1084.cfm
Also: http://www.cuttingedge.org/free11.html
Jim Shaw (According to my sources, Shaw claimed he came into Freemasonry
at the highest degree with Ronald Reagan and Billy Graham,
and was later snuffed in a mysterious manner.):
http://www.ephesians5-11.org/document.htm
David Icke: http://www.davidicke.com/icke/articles/rense.html
Bill Schnoebelen (Member of Occult version of Freemasonry):
http://www.withoneaccord.org/
Demonbusters: http://www.demonbuster.com/z6masons.html
Cosmic Christmas-- Birth of the Sun God:
http://www.demonbuster.com/z6masons.htm
William A. BeVier - The president of an organization called 'Religion Analysis Service, Inc.' of Robbinsdale, Minnesota, USA. a supposedly "non-profit interdenominational ministry dedicated to combating false teachings through the printing and distributing of literature covering a large number of cults." Their organization lists anti-Mason Ron Carlson on their 'Board of Reference'. Apparently the business of deceit is profitable for them as their web site
Bishop Fabian Bruskewitz- The evangelical Roman Catholic Bishop of Lincoln, Nebraska who in 1996 threatened mass excommunication of parishioners if they didn't terminate membership in or support of Freemasonry.
Lora Burton- A "former Rainbow girl" supposedly for nine years, she claims that she suffered spiritual and psychological abuse from her membership. She has founded "Rooftop Ministries" to counter cults, especially Freemasonry.
Daniel D. Carlen- An anti-Masonic Baptist who had a bi-vocational ministry. ephesians5-11- here.
Ron Carlson- Pastor Carlson's tape about the 'evils' of Freemasonry achieved widespread distribution in the late 1980s-early 1990s.
Anton Chaitkin- Writing as a correspondent for Lyndon LaRouche, Mr. Chaitkin is described by the LaRouche camp as a "historian and investigative reporter". Here
'Pastor' Tony Ciarlante- Leader of another of the many online 'Ministries', appears to be a strong supporter of Jack Harris. You can find his website here.
John Daniel- here
William Deagle- One of the 'leading lights' of "The Prophecy Club"
Pierce Dodson- here
Ralph Epperson- here
Anthony Grigor-Scott- "Bible Believers" in Australia.
Larry Edw Hall- here
Walton Hannah- Not a 'current' anti-Mason, Hannah's name during the 1950s and 1960s was well recognized for his publication of "Darkness Visible: A Revelation & Interpretation of Freemasonry".
Chuck Helton- here
Michael A. Hoffman, II- website
Stan Johnson- The founder and a director of "The Prophecy Club".
Stan and Elizabeth Madrak- Self-described as "Demon-Busters"-- their web site
Thomas C. McKenney- this page devoted to Jim Shaw to discredit Masonry.
Robert E. Miner- Mr. Miner has written: "I, too, was a Master Mason who had never followed the admonishment given to me when I received the Bible in the lodge: "Masonry admonishes each of its votaries to diligently search the Scriptures, for therein they will find the way to everlasting life." Finally, due to the love and prayers of a friend, and the working of the Holy Spirit as I read the Word of God, I was set free from sin and made alive to Christ! This is no secret! And all the world should about it! I thank God for those who are sharing truth for the unbeliever to find God's intended relationship with Him in Jesus Christ, and for those who are educating the Church about the things done in darkness so that the Church may lead others into the True Light. May God bless this ministry as it seeks to glorify Him and win others to a saving knowledge of Jesus Christ."
Gordon "Jack" Mohr- A 'work' of his can be found here
Dr. Stanley Monteith- This individual has spent some 37 years researching the supposed covert Illuminati movements that he thinks have shaped the twentieth century. He claims to be one of the world's leading authorities on Professor Caroll Quigley - U.S. President Clinton's mentor. He claims to know some "covert motivation" of those working to create world government with special emphasis on the supposed "Rhodes Scholar" secret society which Cecil Rhodes created in 1891. He also claims to know true origin of communism and socialism and ties several groups together including the Federal Reserve System, Int'l. Finance, tax-exempt foundations, the Jesuits, the Lucus Trust, the Masons, the Skull and Bones & Theosophy Society, Ancient Mystical Order of the Rosicrucians, the Council on Foreign Relations, The Bildebergers, the Trilateral Commission, and more.
Michael Jerome Pardo- His 'Universalway' site has his essays.
Rev. David Pawson- During the early 1970's, tape copies of a series of programs about cults, probably in 1969, received wide distribution.
Zander Raines-- Compuserve members will recognize Mr. Raines' posts by his closing signature of "MARANATHA". An employee of a state affiliate of the Christian Coalition
Raybert- An online 'buddy' of Greg Lambert, A Raybert post- "In my research, I have found that the masonic lodge is out to destroy all forms of religion, from within, and bring about a one world religion. Their religion. This I do not agree with. And I will do all I can to prevent it. If masonry wants to be a religion, that's fine with me. But I have seen much evidence that masons are members of say, a Christian Church. Are preacher or elders and yet they admit that they are Witches. They say that the bible is not God's word. They say it is nothing but man's work. They say that what is written in it is not true. Only stories made up by men. Now, a person like this, that is a member and hierarchy of a Christian Church is teaching others religion. What exactly are they teaching them. Not Christianity! In my opinion, the lodge has infiltrated all forms of religions and is pushing the occult, pagan mystery religions, which they are taught and brainwashed into believing in the masonic degree work and the masonic literature. You can pick up any book written by any masonic author and they compare the ancient mystery religions of Egypt with Christianity and tell the readers that these mystery religions are the true religion. They tell the reader that these pagan mystery religions had two worships. One for the masses and one for the initiates. The tell the readers that only the initiates learned the true religion. They tell the reader that masonry teaches the true religion. Most masonic authors admit that masonry is a religion and that it is the true religion. Anyway, you get the point. I am against anyone out to destroy any religion. And that, IMHO, is exactly what the lodge is trying to do. Their agenda. Now the masons will say I am lying and that I am nuts. The problem is that it is all out there for anyone to see if you know where to look. All it takes is the effort to look. Their worst enemy is their own masonic authors. That is why, when I quote one of them, I give the book title and page. That way, anyone that wants the truth, can see for themselves."
Stoney Shaw- A pastor, this individual had a major problem with his first church - He claims he was attacked by 'witchcraft' of Freemasonry. He's found support from the Ephesians5-11.org web site.
Harmon Taylor- This individual was one of the several Grand Chaplains of the Grand Lodge of New York a couple of decades ago and his Testimony circulates on the Internet.
Roger Thibault- A New World Order exposer, Politics, heretical religion; you can find his 'take' on his web site. Freemasonry is, in his mind, also part of the One World plan. His Yellowstone web site
John Whitley- Another of the conspiracy theorists, Whitley has for some time had a web site featuring all sorts of things.
Charles W. (Charlie) Wiley- Given credit by Larry Kunk for having started the "Ministries to Masons" conference.
Matthew Williams- Another of the conspiracy theory group, this individual is from the United Kingdom where he ascribes all sorts of unusual demonic symbology to the crest of the United Grand Lodge of England. On his web site, you can also find out about those World War II bunkers in England!
John Yonge- Believes in 'pre-tribulationism', here is a quote-- "You do realize that Masons are all over the world using these sorts of symbols, and have been for centuries, and while they do in fact reflect the anti-Christ in ways, you cannot use such symbolism to identify the anti-Christ because so many use the same symbols." By the same sort of reasoning, I could proclaim a rock musician to be the anti-Christ just because he has a "666" and a red dragon on his record cover. The Masonic training in Prince Charles might get him to doing things that are quite anti-Christian, but so what? The fellow down your street and around the corner a bit is also a high-level Mason participating in the same sort of occultic ceremonies and training his mind in the same way. I understand that the eagle on the dollar bill has 32 feathers on one side and 33 on the other, where these would represent the highest degrees in Masonry. This sort of thing is wide-spread, so ignore it when it comes to identifying the anti-Christ." Read his thoughts yourself right here.

CAVEAT: By Steve Van Nattan, Editor:
Yonge's view, while it has some merit, does NOT deal with the obvious complicity of groups who share the same symbolic toys. So, Freemasonry IS quite possibly a willing recruit for the Antichrist.
ADDENDUM
The list of Freemasonry Orders includes but is not limited to:
Men
Acacia Fraternity
American Lodge of Research
Ancient and Accepted Scottish Rite of Freemasonry
Ancient Order of Foresters
Ancient Toltec Rite
Ancient Egyptian Order of Sciots
Ancient Arabic Order of Nobles of the Mystic Shrine
Benevolent Protective Order of the Elks
Buffalo Lodge
Druids
Fraternal Order of Eagles
Golden Key International Honour Society
Grand College of Rites of the U.S.A.
Grotto
High Twelve International
Holy Order of Knights Beneficent of the Holy City
Holy Royal Arch Knight Templar Priests
Independent Order of Foresters
Independent Order of Oddfellows
Independent Order of Rechabites
Knights of Columbus
Knights of Pythias
Knights of the Red Cross of Constantine
Legion of Honour
Low Twelve Clubs
Loyal Order of Moose
Masonic Clubs
Masonic Relief Association of the USA
Masonic Service Association of the Mutual Guild
Mystic Order of the Veiled Prophets of the Enchanted Realm
National Sojourners
Orange Lodge (Ireland)
Order of Desoms
Order of Red Men
Order of Knight Masons (of Ireland)
Order of the Golden Chain
Order Templi Orientis
Philalethes Society
Rite of Memphiz and Mitzraim
Royal Arch Mariners
Royal Order of Jesters
Shriners
Tall Cedars of Lebanon
Woodsmen of the World
York Rite
Prince Hall- Masonic order to placate Black men in the USA
Women
Ancient Egyptian Order of Princesses of Sharemkhu
Daughters of Mokanna
Daughters of the Nile and White Shrine
Order of Amaranth
Order of Eastern Star
Order of Golden Dawn
Order of Rebekah lodges
Order of the Ladies Oriental Shrine
White Shrine of Jerusalem
Youth
Baden Powell's Scouts- He started the Boy's and Girl's Scouts
Constellation of Junior Stars
Daughters of the Eastern Star
Order of Builders
Order of Demolay
Order of the Rainbow for Girls
University or college Fraternity or Sorority with Greek and Masonic connections
BACK TO WAR ROOM-- General Wickedness
BACK TO ENTRY PAGE OF THE JOURNAL
ge