AND THE DISH RAN AWAY WITH THE SPOON
The fantasies of a demented and bawdy woman
Ellen White had warned of the plans Satan had in delaying the coming of the Lord. In 1892 she warned that Satan wanted to take the church and "lead them on a long journey" (Letter 19, 1892). Later, in 1896, she saw that if "Satan can come into the very temple of God, and manipulate things as he pleases, the time of preparation will be prolonged" (Letter 83, 1896).

Years later Taylor Bunch claimed that Ellen White had said: "If God's people had gone to work as they should have done right after the Minneapolis meeting in 1888, the world would have been warned in a few years and the Lord would have come."

"Adventists historically have been reluctant to disclose to outsiders the central role of White in their church for fear of being branded a cult with an extra-Biblical source for their beliefs, which is in fact how they are viewed by many mainstream evangelicals and fundamentalists.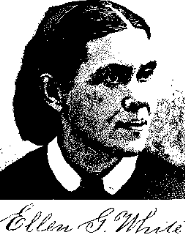 "As a result of this reticence, Ellen G. White, unlike her contemporaries Joseph Smith and Mary Baker Eddy, remains virtually unknown outside Adventist circles. Officially the church teaches that White's writings, while inspired to the same degree as those of Biblical authors, are not to be considered equal in authority to the Bible. Yet in practice this fine, and confusing, distinction is often disregarded. Almost all the unique beliefs that separate Adventism from the rest of Christianity have their basis in the works of Ellen G. White. A great many Adventists, regardless of the official pronouncements of the church hierarchy, consider White's writings to be an infallible authority in which there is no error."
"Then there are the troubling instances in which she was simply wrong, as in her infamous declaration that "if there was one sin above another which called for the destruction of the race by the flood, it was the base crime of amalgamation of man and beast . . . (which produced) the confused species which God did not create," or her claim that virtually every physical malady can be traced to masturbation which is caused by eating meat and other "stimulating" foods?"
"If Prophetess of Health shook up Adventism, the 1982 publication of Walter Rea's The White Lie came like an earthquake. Ellen White had frequently been accused of plagiarism. Just as frequently the accusations were denied to the satisfaction of most Adventists. Rea was a well established Adventist minister and self described devotee of White. In the course of graduate work at a non-Adventist university, he discovered a number of uncanny parallels between the works of other nineteenth century religious writers and White's writings. His attempts to bring the results of his research to the attention of General Conference officials were repeatedly met with statements that more study was needed before the issue could be publicly discussed. Rea, however, refused to keep quiet. After an article on the controversy appeared in the Los Angles Times, he was relieved of his position as an Adventist minister. "
After her death--
"After her death the status of White was enshrined with the White Estate set up as official guardian of her place in Adventism. Despite official statements to the contrary, on a practical level her writings came to be revered as supplemental scriptures. As Adventist scholar Arthur N. Patrick puts it, "Instead of a signpost, many in the church seemed to demand that she become a road. Instead of a sketch map, she was expected to be a contour map. Instead of a descriptive dictionary she was pressed to be an all-encompassing encyclopedia of truth and duty. In place of a blazed trail, the church appeared to want her to give it a highway."
"Let the colored believers be provided with neat, tasteful houses of worship. Let them be shown that this is not done to exclude them form worshipping with the white people because they are black, but in order that the progress of the tnith may be advanced. Let them understand that this plan is to be followed until the Lord shows us a better way (Testimonies for the Church, Vol. 9, pp. 206-207)."
BACK TO SEVENTH DAY ADVENTIST CULT MENU
BACK TO ENTRY PAGE OF THE JOURNAL