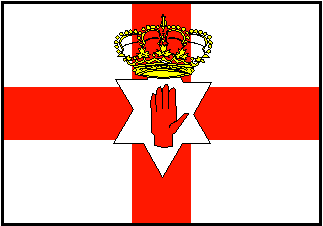 REPORT ON THE BATTLE FOR TRUTH IN NORTHERN IRELAND
AND
DISCUSSION OF IAN PAISLEY
REPORT
FROM NORTHERN IRELAND
Hi again Steve,
You ask about the Rev Ian Paisley. Well he is getting on in years (age in 2013-- 87) but not in speaking out against error in the churches and positively not in decline, in fact, the contrary. He is still standing wholly on the KJV as the only version of Gods Holy, Inerrant Inspired and Infallible Word.
He is (and has been for a very long time) moderator of the Free Presbyterian Church, and ALL those who preach in this church are ALL blood washed and Saved men where the principal of Biblical Doctrine are paramount.
See http://www.freepres.org and http://www.ianpaisley.org for more information.
He is a most hated figure in Northern Ireland both from those in the Roman Catholic tradition, but also from those in the supposed mainstream "Christian Churches." He is also most loved by those who with him take their stand for the Lord Jesus. (I am a member of the Free Presbyterian Church.) Concerning Bob Jones I haven't heard his name mentioned for a long time.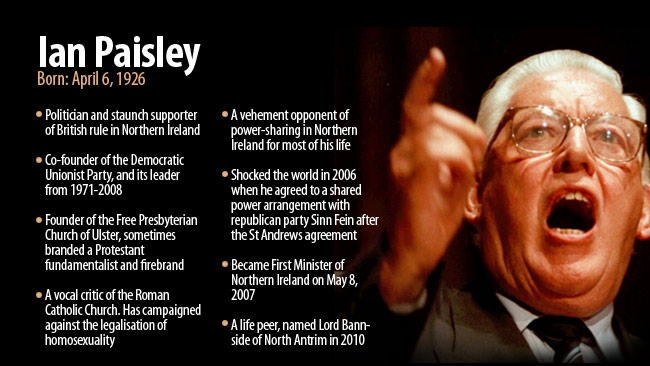 Again in trying to answer your question on the Northern Irish Baptist Union on the whole it is still a very evangelical and bible based church but a few can be seen slipping into a less pure stand. The mainstream Church of Ireland (Anglican) has totally slipped into the ditch regarding preaching the Word and biblical truths. The Archbishop of Armagh Robin Eames is on the top panel of this sodomite issue and has taken a very liberal stand and refuses to speak scripturally about those sodomites who are in the "ministry" and being ordained to higher standing e.g. Gene Robinson and his ilk.
The main stream Presbyterian have this year elected a very ecumenical man as their head and has caused many to stumble and fall into error. The vast percentage of all Protestant "church going" people in Northern Ireland would be either Church Of Ireland or Presbyterian and getting little or no bible teaching. The cry for unity in ALL THINGS and with the Church of Rome is great with items like the ARCIC "Gift of Authority" and "Alpha courses going big time.
Another great Ulsterman for The Lord Jesus is Cecil Andrews who runs "Take Heed Ministries" see http://www.takeheed.net for his work in exposing error.
Also Pastor David Legge see http://www.preachtheword.co.uk/ I believe Satan to be active in destroying the witness here in Northern Ireland but God will always have His remnant.... small maybe but always.
Regarding the Republic of Ireland which once was a bastion of Roman Catholic error and superstition, the Roman Catholic church has lost so much ground due to the sex scandals and the people much more secular it is hard to believe it is the same country.
COMMENT ON IAN PAISLEY:
Editor-- Steve Van Nattan
Ian Paisley is often vilified for being so vocal against Catholic rule and participation in Northern Ireland. This is partly true, but then people tell us he is cruel and wicked in his hatred of Catholics.
So, here is a story the media refused to tell.
There was a demonstration by Protestant Ulstermen some years ago in which some extremist Orangemen caught a Catholic priest and put him in captivity in a house. The word went to the street that the priest would be executed soon.
Ian Paisley heard about it and rushed to the house. He knew everyone involved for good or for evil. He demanded to see the priest, and he was allowed to enter the house. He then took the Catholic priest in tow and, like the bull moose he is, simply forced the mob to back off and let the two exit. Paisley took the priest to his own home and kept him there until the disorder was over.
The lesson a man teaches at such a moment is this: A sinner must not be judged until he stands before Jesus Christ. God said, "vengeance is mine..... I will repay." Though we may stand against the Pope and evil men, taking the battle into our hands physically is wicked. Rather; we ought to seek the lost, even if they are our sworn enemy.
Jude 1:21 Keep yourselves in the love of God, looking for the mercy of our Lord Jesus Christ unto eternal life.
22 And of some have compassion, making a difference:
23 And others save with fear, pulling them out of the fire; hating even the garment spotted by the flesh.
LINKS:
BACK TO GREAT HEROES OF THE FAITH MENU
BACK TO ENTRY PAGE OF THE JOURNAL
ge