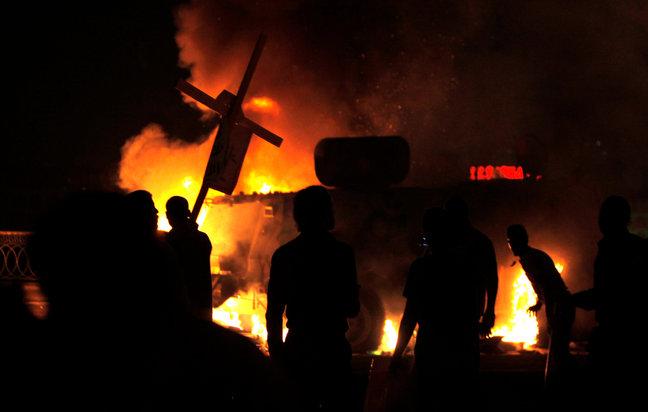 IN CASE YOU MISSED THEM:

PART ONE AND TWO: FOUNDATIONAL PRINCIPLES FOR THIS STUDY and DAILY LIFE IN THE GREAT TRIBULATION

PART THREE: ASSOCIATIONS, RELIGION, EDUCATION, AND SOCIAL NORMS (or, Abnormalities)

PART FOUR: POLITICAL ORGANIZATION AND CONFLICT RESOLUTION, INCLUDING WAR

PART FIVE AND SIX: EXPRESSIVE CULTURE: ARTS AND FOLKLORE and WORLDWIDE DISORDER AND MAN MADE CHAOS

PART SEVEN: WILL ALL OF HUMANITY BE WIPED OUT?
The Great Tribulation-
Extreme Human Behavior And Seven Years of Hell
The Bible prophesies that there will be "Great Tribulation" for those who are "left behind" after
Christ removes all Bible believers from the earth.
PART EIGHT:
DESTINY-
ARE YOU READY FOR IT?
By Steve Van Nattan
All Scripture is quoted from the King James Bible,
original edition, and the Bible text is in red.
TO YOU WHO HAVE NOT YET
CONFESSED FAITH IN JESUS CHRIST
The discussion in the first seven parts of this article tells you your destiny. Because God the Holy Spirit will be totally gone during the Great Tribulation, AND because God sends you strong delusion, you will believe that all of the above evil and revolting behavior is good and decent. You may totally participate in much of the above wickedness and love every moment of it. Oh, I am sure you would not do so now, but that is because God the Holy Spirit is still here, and it is because God has not yet sent you strong delusion. Your conscience is still working pretty good I would think. This sounds a bit arrogant of me, right? So, let me review again what this means.

I trust you recall that the Holy Spirit of God is in all Bible believers, and that the Spirit of God restrains evil in the world. But, once it is only you, your wicked fellow man, and Satan in this earth, you will lose all restraint and become a full participant in the worst wickedness man can invent. The only hint that this era will have started is if you notice that millions of people world wide disappeared. That would be all the true Bible believers. But, God may have already given you and all Christ rejecters strong delusion before that, so you may not even miss us Christians when we are gone. If you do miss your Christian friends the media will come up with a very plausible explanation for what happened to us, and it will sound very reasonable to you by then.

You can avoid this horrible era of Satanic wrath AND the wrath of God combined. The choice is yours. The Gospel is just as available to you as to me or anyone else.

GO HERE TO LEARN THE GOSPEL AND WHAT YOU NEED TO DO ABOUT IT

We talked about famine above, but there is an even worse famine coming:

Amos 8:11 Behold, the days come, saith the Lord GOD, that I will send a famine in the land, not a famine of bread, nor a thirst for water, but of hearing the words of the LORD:

Even if you manage to find food to eat during the Great Tribulation, you will not find anyone to feed your soul and give you the good news of the Gospel of Jesus Christ. All true Bible believers will be gone.

I have no idea whether God will allow you to print this article and file it so that you can read it later. It may be that God will make sure this article is not available to you, or you may read it during the Great Tribulation and just laugh it off. But, I know there will be a small number of converts to faith in Jesus Christ during the Great Tribulation. And, I know the Bible is God's Word with the promise that it is powerful enough to show the reader salvation through Jesus Christ. In fact, the Bible will be virtually the only communication from God to you during the Great Tribulation.

Hebrews 4:12 For the word of God is quick, and powerful, and sharper than any twoedged sword, piercing even to the dividing asunder of soul and spirit, and of the joints and marrow, and is a discerner of the thoughts and intents of the heart.
13 Neither is there any creature that is not manifest in his sight: but all things are naked and opened unto the eyes of him with whom we have to do.
14 Seeing then that we have a great high priest (Jesus Christ), that is passed into the heavens, Jesus the Son of God, let us hold fast our profession.
15 For we have not an high priest which cannot be touched with the feeling of our infirmities; but was in all points tempted like as we are, yet without sin.
16 Let us therefore come boldly unto the throne of grace, that we may obtain mercy, and find grace to help in time of need.

If you do nothing else, please find a King James Bible, and hide it in a place where ONLY YOU know where it is. Better yet, start reading it now. There is absolutely no one whom you can trust with the secret of where you hide a Bible. Satan's Antichrist will make the possession of a Bible a capital offense. Once you find yourself in the Great Tribulation, and if somehow you can reason that the Bible may help you find your way to Jesus Christ, read the whole Bible all the way through, and pray to God to help you understand it. You must believe everything you can understand in the Bible to become a child of God. If there is something you cannot understand, do not be discouraged. God only holds you accountable for what you can understand in the Bible.

You will need to confess your faith in Jesus Christ to be saved spiritually and eternally from hell and the judgment of God. And, you will sooner or later be found to be a Christian by Antichrist followers. At that point you will be executed by Antichrist, but your soul will be saved and taken to God's presence.

Revelation 20:4 And I saw thrones, and they sat upon them, and judgment was given unto them: and I saw the souls of them that were beheaded for the witness of Jesus, and for the word of God, and which had not worshipped the beast, neither his image, neither had received his mark upon their foreheads, or in their hands; and they lived and reigned with Christ a thousand years.

You cannot take the mark of the Beast. Nor can you worship the Antichrist. For this God will condemn you to eternal damnation and hell.

Count the cost. Coming to confess faith in Jesus Christ now is not nearly as troubling as it will be later.

Revelation 7:13 And one of the elders answered, saying unto me, What are these which are arrayed in white robes? and whence came they?
14 And I said unto him, Sir, thou knowest. And he said to me, These are they which came out of great tribulation, and have washed their robes, and made them white in the blood of the Lamb.
15 Therefore are they before the throne of God, and serve him day and night in his temple: and he that sitteth on the throne shall dwell among them.
16 They shall hunger no more, neither thirst any more; neither shall the sun light on them, nor any heat.
17 For the Lamb which is in the midst of the throne shall feed them, and shall lead them unto living fountains of waters: and God shall wipe away all tears from their eyes.

By now you may again be asking, "Why would God want to do this horrible thing to the world?" You missed all the rest of the Bible teaching about what God is like. The Bible teaches that God is love. God wants to give you and all men good things and eternal life. But, you must come to God on his terms. He made us, and in our ancestor Adam we all fell into a sinful state. God has made continuous efforts ever since Adam sinned to bring man back into fellowship with God himself.

2 Peter 3:9 The Lord is not slack concerning his promise, as some men count slackness; but is longsuffering to us-ward, not willing that any should perish, but that all should come to repentance.
10 But the day of the Lord will come as a thief in the night; in the which the heavens shall pass away with a great noise, and the elements shall melt with fervent heat, the earth also and the works that are therein shall be burned up.

The contrast in those two verses is extreme and shows the two sides of God's holiness. He makes every effort to convince you he loves you and wants you as his child, but for those who reject his love, he is obligated to destroy them. How could God have rebels and agnostics hanging around his throne for eternity insulting him by telling him they are not quite sure he is God after all. Suppose these agnostics tell God they want to wait a million years to have some more fun before they submit to faith in Jesus Christ. And, Jesus Christ, God the Son, is the key to this potential relationship which God is seeking with you:

John 3:13 And no man hath ascended up to heaven, but he that came down from heaven, even the Son of man which is in heaven.
14 And as Moses lifted up the serpent in the wilderness, even so must the Son of man be lifted up:
15 That whosoever believeth in him should not perish, but have eternal life.
16 For God so loved the world, that he gave his only begotten Son, that whosoever believeth in him should not perish, but have everlasting life.
17 For God sent not his Son into the world to condemn the world; but that the world through him might be saved.
18 He that believeth on him is not condemned: but he that believeth not is condemned already, because he hath not believed in the name of the only begotten Son of God.
19 And this is the condemnation, that light is come into the world, and men loved darkness rather than light, because their deeds were evil.
20 For every one that doeth evil hateth the light, neither cometh to the light, lest his deeds should be reproved.
21 But he that doeth truth cometh to the light, that his deeds may be made manifest, that they are wrought in God.

Verse 16 is often quoted alone. The whole story is, as I told you, a matter of responding in faith to God's offer of eternal life and fellowship with God on the one hand, or being condemned on the other. Confessing your faith in Jesus Christ, and agreeing with God that you are living in sin, is all you have to do. But, I would not tell you this is a small decision. Rather, this choice will determine whether you spend eternity with God as your Father, and Jesus as your Friend, or you go on as a rebel against God, suffer through the Great Tribulation, and end up in hell for eternity.

God the Father, God the Son, and God the Holy Spirit are three distinct persons who show themselves to us in one God. This is a mystery to us, but it is how we come to know God. When God sent his Son into the world, and when his Son, Jesus Christ, died on the cross, God the Father hurt mightily. Never before had one member of the One God been away from the others, AND never before had a member of the Godhead been ravaged by a raging mob and die. But, in spite of this horror to God the Father as he watched God the Son die horribly, God was pleased to make Jesus' death and resurrection a sacrifice that would buy you out of Satan's slave market. If you find the faith within you to believe Jesus Christ is your substitute, paying for all your sins ever committed in the past or future, then God sees the Blood of Jesus every time he looks at you, and he passes over you when he is going forth to punish the wicked.

There has been a lot going on clear back before time existed as God, knowing the future, and knowing you, set in motion a plan to pay for your sin and set you free in Jesus Christ. Please do not let us hear anymore about "this unloving God."

Here are the words of Jesus speaking of his death and resurrection for you:

John 15:13 Greater love hath no man than this, that a man lay down his life for his friends.
14 Ye are my friends, if ye do whatsoever I command you.

Friend, if you thought reading this article was depressing, consider please the option of LIVING it soon. It is not my responsibility to nag and nanny you into God's favor. It is YOUR responsibility to think for yourself. Stop worrying about what people will think, and think about what it will feel like to to experience the hateful rule of Satan in the earth PLUS the wrath of God at the same time.

Next, I will be talking to Christians who read here suggesting what they should be doing to get ready to be taken from the earth to heaven and eternal life.

One last thought:
You are now waffling about making excuses for putting off God's salvation. You may think that one day soon you will get your life together, or finish having what you imagine is fun, and then you will go make arrangements with God and Jesus Christ. Well, after God sends you strong delusion your procrastination will become wild rebellion. You are a fool if you think you will have second thoughts after Bible believers and God the Holy Spirit are gone. Your deluded mind, the mind God gives you woon, will rage with hate for God and the Gospel of Jesus Christ. IT WILL BE TOO LATE.

But, I would invite you to end your reading here and look into the Gospel for yourself. I have included in this journal a section in which the Bible book of the Gospel according to John the Apostle is printed out. If you want to learn if you are ready to confess Jesus Christ as your Lord and Savior, read each chapter written by John, and answer some questions printed in blue. This is my way of helping you understand, and act upon, what is called the Gospel of Jesus Christ.

GO HERE TO LEARN THE GOSPEL OF JESUS CHRIST
TO YOU IN THE MEGA CHURCH
The reason your mega church has thousands of people is because it is a Laodicean church. More on this in a moment. You see, your pastor does not preach on sin, at least not certain sins. Prosperity is his message, though he may pretend to be humble and sincere. The end of the Church Age is very close, and when Jesus calls his faithful Bible believers up to heaven, YOU WILL BE LEFT BEHIND. Your mega church is a Whore church.

Your Mega church preacher has not deceived you. YOU have deceived yourself into thinking he is a Christian minister, and the reason you rush to his latest message is because he makes you feel good while you keep on sinning and lusting. He promises you that your greedy heart will be filled with good things. And, he uses the name "Jesus" just enough to satisfy your need to be thought of as Christian. You fool. Who do you think you are kidding?

Here is a discussion of the church you attend:

Revelation 3:14 And unto the angel of the church of the Laodiceans write; These things saith the Amen, the faithful and true witness, the beginning of the creation of God;
15 I know thy works, that thou art neither cold nor hot: I would thou wert cold or hot.
16 So then because thou art lukewarm, and neither cold nor hot, I will spue thee out of my mouth.
17 Because thou sayest, I am rich, and increased with goods, and have need of nothing; and knowest not that thou art wretched, and miserable, and poor, and blind, and naked:
18 I counsel thee to buy of me gold tried in the fire, that thou mayest be rich; and white raiment, that thou mayest be clothed, and that the shame of thy nakedness do not appear; and anoint thine eyes with eyesalve, that thou mayest see.
19 As many as I love, I rebuke and chasten: be zealous therefore, and repent.
20 Behold, I stand at the door, and knock: if any man hear my voice, and open the door, I will come in to him, and will sup with him, and he with me.
21 To him that overcometh will I grant to sit with me in my throne, even as I also overcame, and am set down with my Father in his throne.
22 He that hath an ear, let him hear what the Spirit saith unto the churches.

Laodicean- Lao-Dicea- Rule of the people

There are seven church ages dealt with in Revelation Chapters 2-3. Each church was a real local church long ago in Asia Minor, now called Turkey. Each church also represents a church age, and we are now in the Laodicean Age.

We also see that Christ is both commending and rebuking the first six churches. Christ has nothing good to say about the church of the Laodiceans. This is the age of Church history from about 1940 to the present.

This is the era when the church, commonly referred to as Christendom, became neither hot nor cold. It learned to institutionalize the insipid lukewarm pabulum sucking religion of accommodation. Accommodation of sloppy doctrine, and the deletion of the preaching against sin, are the two hallmarks of the Laodicean preachers and church leaders.

This is the Laodicean mega church, and please take notice-- Jesus is standing outside this church trying to get back in. Your church has literally evicted Jesus Christ from your church.

Now, I will show you that this church is a counterfeit Whore.

Revelation 3:14 And unto the angel of the church of the Laodiceans write; These things saith the Amen, the faithful and true witness, the beginning of the creation of God;

When Jesus spoke to the first six churches, he said, "Unto the angel of the church at ______." With this seventh church he says " unto the angel of the church of the Laodiceans...." The first six churches were made up of Bible believers who lived AT a city mentioned. The Laodicean church was made up OF LAODICEANS. This means that the culture of the city of Laodicea entered that church and overwhelmed it.

The city of Laodicea was build by Antiochus II in 260 BC, and it was a classy trendy city of great prosperity. It was a city of culture. It was fabulously rich because the two main trade routes of the Middle East crossed in this city. The city was famous worldwide for its pharmaceutical industry, and the most famous product was their eye salve. It was also the banking capital of Asian Minor, and after it was demolished by an enemy army, Rome offered to help rebuild it, and the Laodicean bankers declined Rome's help and rebuild the city out of their own funds. Thus, the church at Laodicea was rich and proud of it. They undoubtedly were a literal application of your heretic pastor's prosperity doctrine-- "I am rich".

The Laodiceans city planners built at the cross roads wisely to capture commerce from the two trade routes, but they had no water near the city. They built an elevated stone aqueduct and brought the water from far away. When the water arrived at the city it was lukewarm. When Jesus said they were lukewarm they knew very well what he was talking about. And, you? Do you and your mega church friends tell Jesus, ".....I am rich, and increased with goods, and have need of nothing?" You make Jesus puke.
Please watch the mega church pastor approve of sodomy while he tries to claim not to change what the Bible teaches about it. He would go to a gay wedding. THAT IS APPROVAL OF SIN. Joel Osteen is demon possessed, and your pastor is also if he dodges sin issues.
The Laodicean church has "something for everyone in your family," and the Laodiceans have fantastic stage shows and audio visual systems. Their preachers are rich, and these bastard sons preach that if you are not prospering and shouting "HAPPY HALLELUJAH FOR JEEEEEEEEEEEZUS" all the time, it is because you have not claimed your blessings from GAAUUUUUD.
Your Laodicean church may have a pastor who dresses like a thug and preaches on sex. He may have a grin from ear to ear all the time. He may have a Rolls Royce and a jet. He may preach intense sermons that sound like Bible teaching. But, and this is important-- if your church attendance is over 500, you are in a Laodicean church.
But, you do not have to be in a huge mega church to be part of a blasphemous hick burp honky tonk Laodicean church. See the video of demon possessed worship at the right:

Are you insulted that I would say all big churches are Laodicean? The Lord plainly told us that his Church is made up of the few, not the many:

Matthew 7:13 Enter ye in at the strait gate: for wide is the gate, and broad is the way, that leadeth to destruction, and many there be which go in thereat:
14 Because strait is the gate, and narrow is the way, which leadeth unto life, and few there be that find it.

Prophecy teachers have taught that Jesus is presently sitting down in his throne beside his Father in heaven. I have taught that in the past, but I am seeing something I missed. In this text in The Revelation I see another truth. Jesus is standing and knocking at the door of the Laodicean church.

He sat in his throne by the Father from the day of his ascension back to heaven long ago and stayed sitting until about 1940. He then stood, found himself OUTSIDE the Laodicean church, and he is knocking to see if he can get invited back in. He will not be invited in. There will be no revival. This Laodicean church age is the last age, and the Laodiceans will stay "wretched, miserable, poor, and blind, and naked." That is YOU and your mega church, and Jesus says he has puked it out of his mouth.

Rejoice, you are part of the vomit of God. What a miracle, right? You ought to write a book on that for Zondervan to publish--
"I was a Loser until Jesus Puked Me" or, "Holy Vomit-- Your Destiny Stinks".

The message to the Laodicean church is to the individuals in it, like YOU:

Revaluation 3:20 Behold, I stand at the door, and knock: if any man hear my voice, and open the door, I will come in to him, and will sup with him, and he with me.

"Any man" is you! You are in the alleged church, and Jesus is standing outside puking. Does Jesus love you? If he did not love YOU, he would not stand there knocking-- he hates that church as an organization, and he would immediately clear out so he could stop puking. But, he won't leave because he loves you more than he hates your church. Are you listening?

He is knocking at the door of the church, but he is not talking to your pastor, your denominational synod, vestry, presbytery, consistory, stake, or church board. He is talking to "any man"-- YOU. Jesus clearly has no hope of whole mega churches and denominations repenting and opening the door, so he talks to individuals like you. If you open the door, Jesus will come into your heart and sup (have supper, which is a metaphor for fellowship) with you.

You cannot stay in the mega church. You cannot stay in that whore house. Whore? Too rough you say?

Revelation 18:1 And after these things I saw another angel come down from heaven, having great power; and the earth was lightened with his glory.
2 And he cried mightily with a strong voice, saying, Babylon the great is fallen, is fallen, and is become the habitation of devils, and the hold of every foul spirit, and a cage of every unclean and hateful bird.
3 For all nations have drunk of the wine of the wrath of her fornication, and the kings of the earth have committed fornication with her, and the merchants of the earth are waxed rich through the abundance of her delicacies.
4 And I heard another voice from heaven, saying, Come out of her, my people, that ye be not partakers of her sins, and that ye receive not of her plagues.
5 For her sins have reached unto heaven, and God hath remembered her iniquities.

Revelation 19:2 For true and righteous are his judgments: for he hath judged the great whore, which did corrupt the earth with her fornication, and hath avenged the blood of his servants at her hand.
You see, my friend, the monster church you are in-- the jive rock and roll faggot hugging church you are in-- is part of the Babylonian Whore Church of Satan. The Sunday right after the rapture of all true Bible believers, grab hold please, your mega church will meet as usual and scream and shout praises to their alien Jesus. Will you be there?

2 Corinthians 11:4 For if he that cometh preacheth another Jesus, whom we have not preached, or if ye receive another spirit, which ye have not received, or another gospel, which ye have not accepted, ye might well bear with him.

You see, your preacher is preaching another Jesus. This is the Jesus who takes in faggots as they are. This is the Jesus who thinks the sexy girls flipping their legs and breasts around on the big stage up there are helping you worship. This is the Jesus who will make you rich and famous if you will just blab it and grab it. This is not the Jesus who said:

Matthew 11:29 Take my yoke upon you, and learn of me; for I am meek and lowly in heart: and ye shall find rest unto your souls.

Do not kid yourself, friend, you are NOT born again. Your appetite for the big show and the smooth words of the grinning preacher,,,,, your lust for the power of the Houston message-- "I AM GREAT" IS DAMNING YOU TO HELL.

Everything in the above article on the Great Tribulation is FOR YOU. God will soon send you "strong delusion" so that you stay right there in your big Whore Church and worship Antichrist. God wants you destroyed in the Great Tribulation if you will not leave that slop hog church and go outside of it to faith in Jesus Christ alone.

The only hope you have is to repent of your lust for the big show and the ego massage, and, "COME OUT OF HER." There is no other way you can escape the Great Tribulation and hell. Jesus is outside of your church, and he will stay there. It is a whore and will not repent. Only if you go out to him will you be saved and have eternal fellowship with him.

Hebrews 13:12 Wherefore Jesus also, that he might sanctify the people with his own blood, suffered without the gate.
13 Let us go forth therefore unto him without the camp, bearing his reproach.
14 For here have we no continuing city, but we seek one to come.
15 By him therefore let us offer the sacrifice of praise to God continually, that is, the fruit of our lips giving thanks to his name.

Get out of the Whore church, or get left behind.

If all of this discussion is clearly ridiculous to you I must assume God knew you would rebel against his Son and his Gospel, and God has already sent you strong delusion.

Luke 22:48 But Jesus said unto him, Judas, betrayest thou the Son of man with a kiss?

You have betrayed Jesus in your church house kissing sessions. You are entirely worthy of the Great Tribulation if you will not repent. And, you better get used to it.....

THIS IS THE ROAD TO HELL

WARNING TO THOSE WHO TEACH THAT BIBLE BELIEVERS
GO THROUGH THE GREAT TRIBULATION
There are Bible teachers, especially online, who claim that the Bible teaches that born again Christians go through the Great Tribulation. It is time to rightly divide the Word of Truth.

Consider the teaching about the restraining of evil in the world by God the Holy Spirit:

2 Thessalonians 2:1 Now we beseech you, brethren, by the coming of our Lord Jesus Christ, and by our gathering together unto him,
2 That ye be not soon shaken in mind, or be troubled, neither by spirit, nor by word, nor by letter as from us, as that the day of Christ is at hand.
3 Let no man deceive you by any means: for that day shall not come, except there come a falling away first, and that man of sin be revealed, the son of perdition;
4 Who opposeth and exalteth himself above all that is called God, or that is worshipped; so that he as God sitteth in the temple of God, shewing himself that he is God.
5 Remember ye not, that, when I was yet with you, I told you these things?
6 And now ye know what withholdeth that he might be revealed in his time.
7 For the mystery of iniquity doth already work: only he who now letteth will let, until he be taken out of the way.
8 And then shall that Wicked be revealed, whom the Lord shall consume with the spirit of his mouth, and shall destroy with the brightness of his coming:
9 Even him, whose coming is after the working of Satan with all power and signs and lying wonders,

Verse 2 The "day of Christ" will not come (vs. 3) , and our "gathering together" unto him, until AFTER the great falling away, AND the son of perdition is revealed. True, the falling away seems to be upon us now, but the son of perdition has not been revealed. Paul does not teach that you NEED to be able to identify the son of perdition, but it will be possible just before "our gathering together unto him."

Verse 4 makes it very clear that we are talking about the Antichrist dealt with by name elsewhere. This evil ruler will be "after the working of Satan."

Verse 7 indicates that the mystery of iniquity was working clear back in Paul's day, just as John in his Epistle says there are many antichrists at work. But the main man, as it were, will not openly do his big work for Satan worldwide until someone is taken out of the way. Who is THAT? Why is "letting"?

Verse 7- "Letteth" is used here in the sense of restraining evil. This is the work of the Holy Spirit of God who is in the Bible believers, and he acts as a dam holding back the worst Satan can do. So, when the Holy Spirit goes back to heaven, Satan and his Antichrist have full freedom to torment and ravage humanity with every sort of evil invention, and the dam breaks.

So, if you claim that the Holy Spirit leaves and we Bible believers are left behind without him in us, you made a liar of Jesus Christ, who said:

John 14:18 I will not leave you comfortless: I will come to you.

John 14:16 And I will pray the Father, and he shall give you another Comforter, that he may abide with you for ever;

If the Holy Spirit leaves this earth, I leave with him. If the Holy Spirit goes to Jupiter, I go with him. The only way you can stay here and suffer in the name of your bastard son Internet guru is if you are not born again. Tell me, are you teaching God brings his wrath on the Church because your denomination or pastor teach that, and you, a sleazy wimp, are too limp wristed to take a stand on sound doctrine?

Who owns you anyway?

But, some of you could not understand the simple logic of the above discussion, right? Let's see what Jesus says about this:

Matthew 24:14 And this gospel of the kingdom shall be preached in all the world for a witness unto all nations; and then shall the end come.

Matthew 24:21 For then shall be great tribulation, such as was not since the beginning of the world to this time, no, nor ever shall be.

Matthew 24:36 But of that day and hour knoweth no man, no, not the angels of heaven, but my Father only.
37 But as the days of Noe were, so shall also the coming of the Son of man be.
38 For as in the days that were before the flood they were eating and drinking, marrying and giving in marriage, until the day that Noe entered into the ark,
39 And knew not until the flood came, and took them all away; so shall also the coming of the Son of man be.

Luke 17:28 Likewise also as it was in the days of Lot; they did eat, they drank, they bought, they sold, they planted, they builded;
29 But the same day that Lot went out of Sodom it rained fire and brimstone from heaven, and destroyed them all.
30 Even thus shall it be in the day when the Son of man is revealed.

The Gospel has indeed been preached to the whole world. We are ready for the Great Tribulation Jesus prophesied of.

Now, there is a caveat in the time line of events that Jesus meant for YOU to claim as your promise to be removed before the Great Tribulation. It is in the parables of Noah and Lot. Noah was taken OUT OF the wicked world, entered the ark, and God shut the door. Then, and only then, the rain started falling.

Lot was a backslider, but he "vexed his righteous soul day and night" over the sins of Sodom when he lived there (II Peter 2:8). God in mercy removed him because God could not bring his wrath on a righteous man. The fire did not fall until AFTER Lot was out of the city of Sodom.

Here is the discourse between the Lord and Abraham when God was preparing to destroy Sodom:

Genesis 18:23 And Abraham drew near, and said, Wilt thou also destroy the righteous with the wicked?
24 Peradventure there be fifty righteous within the city: wilt thou also destroy and not spare the place for the fifty righteous that are therein?
25 That be far from thee to do after this manner, to slay the righteous with the wicked: and that the righteous should be as the wicked, that be far from thee: Shall not the Judge of all the earth do right?
26 And the LORD said, If I find in Sodom fifty righteous within the city, then I will spare all the place for their sakes.

To claim that the Church, the true Body of Christ, will go through the Great Tribulation borders on blasphemy. Abraham appealed to the nature of God's holiness, in that, God does not bring his wrath on the righteous, neither in Hell nor on earth. I have more tolerance of the theologian who claims there is no literal Tribulation and no Kingdom. But, what can we say about the alleged believer who thinks God will bring his wrath on Bible believers, those who confessed Jesus Christ as Lord?

And, do not tell me God will preserve the Church through the Great Tribulation. All who confess faith in Jesus Christ during the Great Tribulation will be killed for the faith-- beheaded (Revelation 20:4). Only 144,000 Jews will be saved. There is no mention of the Church in any prophecy discussion of the Great Tribulation.

Thus, wrath does not come to the world this next time around until AFTER Christ removes his Bride from the world. God simply will NOT pour wrath on the Bride of Christ. And, damn your prophet or guru who tries to make God breathe out wrath on the Church. That preacher is teaching doctrines of devils.

1 Thessalonians 5:8 But let us, who are of the day, be sober, putting on the breastplate of faith and love; and for an helmet, the hope of salvation.
9 For God hath not appointed us to wrath, but to obtain salvation by our Lord Jesus Christ,

So, you make a liar of Jesus Christ by claiming he would leave his Bride here to be raped by Satan and his Antichrist. Jesus said the Holy Spirit would stay in us forever. He lied if the Holy Spirit can leave us for one second. Jesus said the righteous are taken out of the world when a singular epic event of God's wrath is falling. Jesus is a liar if he leaves his Bride at the mercy of Satan.

Get something straight-- The Church receives persecution from the world and from Satan. The Church is tested and troubled. But, the Church is NEVER tormented or blasted by God's wrath. WE ARE SAVED FROM THAT, MY DEAR DIDDLE HEAD.

Romans 5:8 But God commendeth his love toward us, in that, while we were yet sinners, Christ died for us.
9 Much more then, being now justified by his blood, we shall be saved from wrath through him.

Now, "teach us to pray" said the disciples. If you still cannot understand because of a poison overload from your online guru, try this:

Matthew 6:9 After this manner therefore pray ye: Our Father which art in heaven, Hallowed be thy name.
10 Thy kingdom come. Thy will be done in earth, as it is in heaven.
11 Give us this day our daily bread.
12 And forgive us our debts, as we forgive our debtors.
13 And lead us not into temptation, but deliver us from evil: For thine is the kingdom, and the power, and the glory, for ever. Amen.
14 For if ye forgive men their trespasses, your heavenly Father will also forgive you: 15 But if ye forgive not men their trespasses, neither will your Father forgive your trespasses.

"LEAD US NOT INTO TEMPTATION." How can we pray that God would lead us not into temptation if he leaves us without the Holy Spirit in us and at the mercy of Satan and the Antichrist 24/7? Satan would be cramming lust and filth into our minds and souls with no Holy Spirit to help us resist.

1 Corinthians 10:13 There hath no temptation taken you but such as is common to man: but God is faithful, who will not suffer you to be tempted above that ye are able; but will with the temptation also make a way to escape, that ye may be able to bear it.

Jesus Christ will NOT leave his Bride in the hands of history's most evil Mack Daddy and his pimp, the Antichrist.

Read that again please.

The graphic at the right is an online book which tries to claim all of the events we discussed in this article, events of the Great Tribulation, have already happened. Well, my friend, this Preterist rubbish is all invention. Preterists find various events in past history and try to attach them to the prophecies of the Bible which have not yet happened. I am not sure why they get a rush out of this trick, but I suppose it sells books.

The wrath of God, as described in the Bible, is far and away much worse than anything your Preterist guru finds in past history. The word in the title, "Probably," is classic for the modern prophecy teachers who want to be dogmatic, but they want some insurance in case things do not work out the way they claim. I hope you noticed that this article of mine is not filled with "maybe" and "probably" caveats. I live only by, "Thus saith the Lord."

Now, if you still believe we are going through the Great Tribulation, I have 50 acres of prime property for you just 20 miles due east of Miami, Florida. Great ocean view, free access to the water front, and boat launching rights. Great swimming facilities, and some of the world's best fishing. All you pay me is $300,000.

Finally, here is the promise you better take seriously, unless you are damned to hell and just playing church in order to sell preparedness supplies to gullible Christians:

Hebrews 13:5 Let your conversation be without covetousness; and be content with such things as ye have: for he hath said,
I will never leave thee, nor forsake thee.
6 So that we may boldly say, The Lord is my helper, and I will not fear what man shall do unto me.

My dear big eyed trembling friend, Jesus is not going anywhere-- YOU ARE-- STRAIGHT UP.

Listen to the next thing John the Revelator heard after Jesus ended his description of all the church eras in Revelation 2-3.....
Mind you, right AFTER the Laodicean Whore Church is rebuked, that is, the last church in the Age of Grace.

Did John at once see a dragon, a beast, or a Whore?
Revelation 4:1 After this I looked, and, behold, a door was opened in heaven: and the first voice which I heard was as it were of a trumpet talking with me; which
said,
Come up hither,
and I will shew thee things which must be hereafter.
2 And immediately
I was in the spirit:
and, behold, a throne was set
in heaven,
and one sat on the throne.

"COME UP HITHER!"

Saint, that is the voice of the

KING OF KINGS,

and you may very well hear that same voice which John heard before you die, maybe tonight.

Why are you sitting down?

Why are you not shouting MARANATHA?

1 John 3:2 Beloved, now are we the sons of God, and it doth not yet appear what we shall be:
but we know that, when he shall appear, we shall be like him;
for we shall see him as he is.
3 And every man that hath this hope in him purifieth himself, even as he is pure.

By the way, go fire your Internet prophet of terror and doubt. You have my permission.

THE HYMN OF THOSE WHO CLAIM WE GO THROUGH THE GREAT TRIBULATION
Sung to the tune of Glad Day- chorus.

Sad day, sad day,
It's not the crowning day;
Jesus my Lord's not coming for me,
The Beast and False Prophet soon I'll see;
Sad day, sad day,
It's not the crowning day.
CHALLENGE TO MY BIBLE BELIEVING FRIENDS
The time is short folks. If there is someone you love who is rejecting the Gospel of Jesus Christ, I would simply ask you:

Why do you linger in idle plight,
Won't you go forth and do what's right;
Many are waiting to hear the call,
Won't you say, "Lord, I'll go"?

And, damn your blasted Calvinism.

Calvin gave wimpy Christians a handy way to let the damned stay damned and go to hell. He taught that if you do not give the Gospel to the lost, God will get them anyway, some way, if he really wants them badly enough. In this hellish doctrinal filth, left over from the Roman Whore and Augustine, you find a refuge in which to hang out, mock at the wicked, and virtually damn them to hell yourself.

ARE YOU REALLY BORN AGAIN?

If you can sit on your butt and be content to let your friends and family go straight into the Satanic kingdom as we have presented it, you cannot be born again. YOU will be right there in the horrible Satanic era with the ones you refuse to tell about the Gospel of Christ. You do not have it, so you hide in Calvin's Slough of Despond hoping no one will notice how wicked your soul really is.

To you who refuse to participate in the glorious task of sending the Light to the lost, go to the local Christian book store, buy the latest prophecy book on Blood Moons, or the Mark of the Beast, and soak in fantasy. I have just given you a full load of reality, and I expect I shall soon be told about it by some theological "good godly Christian" rebel.

Bible believer, I have something that will rattle your cage. Here is a brother, an Anglican priest of the Church of England. He is unlike you and me in some ways, but he also reminds me a lot of Jesus.

So, watch the videos, and then ask yourself this question:

Where would I go, and to whom, and with what risk, for Jesus right now?

The Vicar of Baghdad (Part 1/3)

The Vicar of Baghdad (Part 2/3)

So, what are you waiting for? There is hell to pay unless they find the Jesus you say you love.
LETTER FROM A READER:
I looked through the article fairly quickly. It looked to me to be well done and quite comprehensive as to what a person who is "left behind" can expect. Lots of scripture, which is always good. I think it should pique the imagination of those who hadn't given the tribulation much thought, whether they are saved or unsaved. It would be a great "script" for a Hollywood movie--- it's too bad Hollywood wouldn't use its special effects and resources to produce something like this into a movie--- one that was Biblically accurate and incorporated all these examples of modern humanity.

See if you can send it as a script to some movie producer. I'm only half kidding---- I think it would really work, if someone had the moxie to actually do it. This as a script, with all the attending special effects that could be used to simulate life on earth during the Tribulation---- movie theaters would have to be hiring Oprah Winfrey-style "counselors" to deal with all the mental trauma inflicted upon the viewers.

When I was a kid, I remember watching some hokey old horror movie. It would be as tame as warm milk by today's standards. I don't really even remember what it was about. Anyway, you were warned at the start of the movie that when there was a scene coming up where you might want to hide your eyes, the screen would flash, and you had about 5 seconds to cover your eyes and maybe your ears as well. Perhaps Oprah, or Joel Osteen flashing on the screen would take the rough edges off your movie. You'll have to write them into the script and suggest that the studio or the director use their influence to obtain their services.

The only suggestion that I might make is that in the introductory section where you are talking about God sending delusion and deception---- I think it might be appropos to emphasize that a little more. That is a picture of the "God" that most of the world, even Christians, knows little or nothing about. That is the God who will give mankind what mankind wants---- a LIE that man would prefer to believe rather than the truth. Jeremiah 5:31 points out one of the most damning parts of human nature--- the desire to be lied to so that one doesn't have to deal with the truth.

Jeremiah 5:29 Shall I not visit for these things? saith the LORD: shall not my soul be avenged on such a nation as this?
30 A wonderful and horrible thing is committed in the land;
31 The prophets prophesy falsely, and the priests bear rule by their means; and my people love to have it so: and what will ye do in the end thereof?

Also, along the lines of God actually deceiving people Ezekiel 14:1-11

Ezekiel 14:1 Then came certain of the elders of Israel unto me, and sat before me.
2 And the word of the LORD came unto me, saying,
3 Son of man, these men have set up their idols in their heart, and put the stumblingblock of their iniquity before their face: should I be enquired of at all by them?
4 Therefore speak unto them, and say unto them, Thus saith the Lord GOD; Every man of the house of Israel that setteth up his idols in his heart, and putteth the stumblingblock of his iniquity before his face, and cometh to the prophet; I the LORD will answer him that cometh according to the multitude of his idols;
5 That I may take the house of Israel in their own heart, because they are all estranged from me through their idols.
6 Therefore say unto the house of Israel, Thus saith the Lord GOD; Repent, and turn yourselves from your idols; and turn away your faces from all your abominations.
7 For every one of the house of Israel, or of the stranger that sojourneth in Israel, which separateth himself from me, and setteth up his idols in his heart, and putteth the stumblingblock of his iniquity before his face, and cometh to a prophet to enquire of him concerning me; I the LORD will answer him by myself:
8 And I will set my face against that man, and will make him a sign and a proverb, and I will cut him off from the midst of my people; and ye shall know that I am the LORD.
9 And if the prophet be deceived when he hath spoken a thing, I the LORD have deceived that prophet, and I will stretch out my hand upon him, and will destroy him from the midst of my people Israel.
10 And they shall bear the punishment of their iniquity: the punishment of the prophet shall be even as the punishment of him that seeketh unto him;
11 That the house of Israel may go no more astray from me, neither be polluted any more with all their transgressions; but that they may be my people, and I may be their God, saith the Lord GOD..

Anyway, Ezekiel 14:1-11, verse 9 in particular, shows how God will actually, and on purpose, DECEIVE someone who comes to Him in fake reverence and asks God to show him something. Mankind has been playing games with God for so long that this aspect of God's character is going to manifest itself in a huge way. We have been seeing this already.

I think you might emphasize a little more the horror, and I don't think it's understated, of a God who is so fed up (Noah's flood, for example), that He will actually make it nigh on impossible for man to even FIND the truth, since man doesn't want it in the first place. It is no longer going to be a matter of someone who knows the gospel, but wants to "wait" until it "feels right" or until he or she is ready to "settle down and get my life together." God himself, who has been calling man to repentance for 6,000 years now, will finally have had a bellyful, and will fix it so that man will send himself to the Lake of Fire, all the while convincing himself that he is really enjoying the ride on the way to the Lake.

Man has written God out of the equation of human life and history, and has decided that he is going to do things his way, and to hell with God. God saw this and even commented on it in Genesis 11:6. God realizes the incredible potential that man has, even fallen man, and what man is capable of. This is especially true when God looks at man's potential for evil. So, God SCRAMBLES MEN'S BRAINS. The tower of Babel and the tribulation are very similar in that God will step in and pickle man's gray matter to put a stop to man's plans for a world that leaves God out of the picture.

Anyway, just some thoughts on emphasis on God sending strong delusion and why. Somewhat disjointed thoughts, too.

Everything was very well done. It looks like that must have taken a long time.

In Christ,

Art
BACK TO WAR ROOM- WAR AT THE CHURCH HOUSE
BACK TO THE ENTRY PAGE OF THE JOURNAL