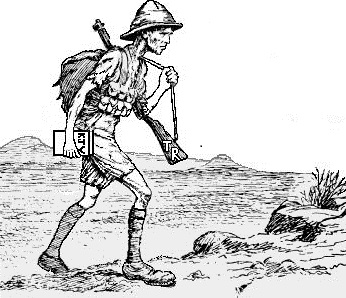 WEAPONIZING YOUR WHITENESS
TO THE GLORY OF GOD
PART ONE
Take the high ground in this warfare for the souls of men.
.
Whites in the USA are being accused, by radical and progressive Liberal racists, of using their race as a weapon. This is the Liberal and Black Racist answer to Whites who reject the extreme positions taken in recent years against White Americans.
The ongoing propaganda line in all universities, including some Christian colleges and universities, is that Whites are the cause of all cultural evil. Whites are defined as the only true racists, and any racism by Blacks and Hispanics is defined as cultural diversity and free speech.
White Christians in America have lost the historic perspective of their race's contribution to the spread of the Gospel of Jesus Christ and the culture of Christianity. It is time to not only take this back, but White Christians in America need to weaponize the truth of the Word of God and force the present social order to take a large dose of historic reality, while we keep preaching the Gospel.
2 Corinthians 10:3 For though we walk in the flesh, we do not war after the flesh:
4 (For the weapons of our warfare are not carnal, but mighty through God to the pulling down of strong holds;)
5 Casting down imaginations, and every high thing that exalteth itself against the knowledge of God, and bringing into captivity every thought to the obedience of Christ;
6 And having in a readiness to revenge all disobedience, when your obedience is fulfilled.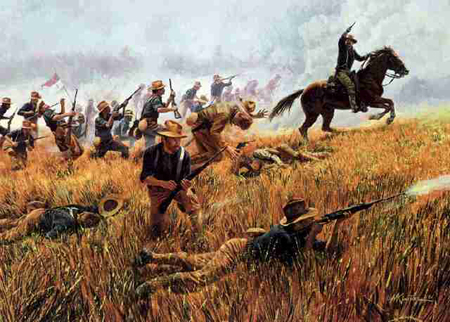 The war we fight is not physical, political, nor fleshly, but it IS a war, and the stakes are high. The Liberal Progressive Christ haters like Bernie Sanders, Hillary Clinton, Nancy Pelosi, Richard Dawkins, Joe Biden, and Barak Obama are actively trying to redefine the liberties in the US Constitution in order to slap Jesus Christ and his Church into a dark corner. These blasphemers love to find nut cases and criminals who claim to be Christians so they can color all Bible believers as racists, and all men as rapists. The war against Christian men is causing a lot of Christian men to abandon the battle, roll over on their backs like a cur dog, and pee on themselves.
It is time to take back the high ground. It is time to take the war to the enemy and thrash them soundly, using the weapons of the Holy Spirit which he has given to us.
This is not about White supremacy, nor is it about any sort of supremacy. We do not want to take power over the world of sinners for our own personal rush. We want to give every member of every tribe and race the opportunity to step out of the dark into the Light of Jesus Christ. Nor do we want to rule the world for Jesus. That is NOT what he told he told his Church to do. He will soon rule the world just fine himself. Someone once said, and it may have been me, "Our battle is to proclaim the Gospel, and to Hell with anyone who tries to stop us." That is a theological statement.

PART ONE: WARRIORS ARE COMMISSIONED
WHERE DID THE WAR COME FROM?
The preaching of the Gospel and Jesus Christ has always been a war, and the Apostles told us we would be at war as the Lord's Church was established in the earth long ago. Here are the Apostle Paul's words:

Ephesians 6:12 For we wrestle not against flesh and blood, but against principalities, against powers, against the rulers of the darkness of this world, against spiritual wickedness in high places.
13 Wherefore take unto you the whole armour of God, that ye may be able to withstand in the evil day, and having done all, to stand.
14 Stand therefore, having your loins girt about with truth, and having on the breastplate of righteousness;
15 And your feet shod with the preparation of the gospel of peace;
16 Above all, taking the shield of faith, wherewith ye shall be able to quench all the fiery darts of the wicked.
17 And take the helmet of salvation, and the sword of the Spirit, which is the word of God:
18 Praying always with all prayer and supplication in the Spirit, and watching thereunto with all perseverance and supplication for all saints;

In Verse 12 we see that our war is not with ordinary sinners. Low ranking spiritual losers are just flunky soldiers and victims of the commanders of evil. We need to avoid battles with low octane deceived servants of Satan. Our priority adversaries are Satan himself, devils, George Soros, Hillary Clinton, Barak Obama, Bernie Sanders, and Satanic power people around the world. Our war is also with the enemy command who are trying to redefine the White Race. The only Blacks whom we must attack are Christ hating Communists like Barak Obama, Eric Holder, Van Jones, and Al Sharpton. Your Black neighbor or coworker may have been maimed by the White hating Black command, but your neighbor is only a candidate for Christlike Love and the Gospel. The ordinary Black needs to be asked, "Where did Jesus teach you to hate Whites?"

There IS one presupposition we must make about Black racists who hate Whites. They are not born again. It is impossible to love Jesus and hate men at the same time.

Leviticus 19:17 Thou shalt not hate thy brother in thine heart: thou shalt in any wise rebuke thy neighbour, and not suffer sin upon him.

When you are hated for being a White Christian by Blacks, or any other race or tribe, understand that the hate comes from a demon possessed source. Racist hate comes from the wicked heart of a damned fool. Damned because Hell is their destiny. The racism being preached from Black churches tells us that those preachers are missionaries for Lucifer. The same applies for White and Hispanic racist preachers.

If you can bomb headquarters, you destroy the command over the whole army. The troops will go home. Are you attacking the leaders of spiritual wickedness, or are you wasting your zeal in the battle on cheap slop hog senators and representatives and their thugs throwing rocks in the streets? Is your inspiration Jesus Christ and the Word of God, or are you a Rush Limbaugh and Infowars "Christian?"

In Verse 13 through 18 above you see the defensive and offensive battle ordinance used to defeat the enemy. This whole passage rules out flesh and blood warfare. You may hear demented pastors and war mongers like David Icke talking about blood flying and battle in the streets with Antifa. The true Bible believer is at war with spiritual evil. These battles are deadly and can result in violence, but the Bible believer never thinks of this in terms of an AK-47. Why settle for taking pot shots at a vile bag lady like Hillary Clinton when you can take out a demon, or do Satan great harm? The cheap political battles of society are just a lazy Christian's way of feeling like he is really a God honoring Christian warrior. Wrong, mister. Political battles are for wimps. Promoting Donald Trump or Nigel Farange is war behind the lines for Christians who are AWOL from Christ. And, remember this: "Patriotism is the last refuge of a scoundrel." Samuel Johnson

Verse 18 makes it clear that the faithful Bible believer, in our discussion about the White Race Christians, feels responsible for all other Bible believers who are in the warfare for Christ. Thus, the White Race Bible believer is praying for, and encouraging, true believers of all races and supporting their battles for Christ.

War story One- When the Black pastors of Philadelphia met to decide their response to AIDS in the 1990s, Pastor David Weeks was present. All of the Black pastors agreed that they should hit the streets with needles and bleach to give to druggies to try to keep them from being infected by AIDS. Not Pastor Weeks. He stood and boldly told the other Black pastors present that he was going to stay on course preaching the Seventh Commandment rather than accommodate sin. This was reported by the media as if Pastor Weeks was some sort of rebel against Human decency. He was the only pastor who took that stand. I realized at once that all those wimpy Black preachers would torment pastor Weeks, so I looked him up on the Internet, and I called him to encourage him. He told me he was getting some serious persecution for his stand, and he broke up while he was talking to me. He said he and his wife were quite discouraged over the thing, and he needed my phone call badly. No soldier in this spiritual warfare should have to stand without his back being covered. Memorial service for Rev. Weeks.

War story Two- A business man who was a Bible believer would set aside a percentage of his profits regularly. When his nest egg reached a certain amount, he bought a load of Christian literature and Bibles, and he bought a ticket to some city in India, Asia, or some other country where he knew the Gospel was being preached. He said he trusted God to lead him to Christians in that nation who needed the Bibles or literature. He reported that God always allowed him to meet someone in these target cities who was zealously serving the Lord and needed the literature. He once arrived in the airport in an Indian city, and as he was wondering where to go to find Christians, he saw Christians praying or witnessing in the airport. He introduced himself, and he soon determined that they were sound in doctrine. He gave them the literature, bought a return ticket, and flew home to the USA. This is an example of how White Race Christian Militants will seek and find other Bible believers, from all races, who are struggling and need encouragement in the battle.

The White Race battle for Christ is meant to be a conquest, and the enemy needs to know we are here, and we will not back down or go away. Bible believers who struggle against the enemy around the world also need to know that there are White Race believers in the Lord's Church who have got their back. No warrior should have to fight alone if there are White Race Christians in the battle who have the battle ethics of our Commander, Jesus Christ.

John 18:8 Jesus answered, I have told you that I am he: if therefore ye seek me, let these go their way:
9 That the saying might be fulfilled, which he spake, Of them which thou gavest me have I lost none.

Whose back are you covering? Is there a Black kid in a school nearby who is being persecuted by a feminazi teacher for his faith in Christ? Why aren't YOU down there defending that kid?

Let me make something 100% clear here. Weaponizing White race Christianity has NOTHING do do with color or race as the vile society we meet on the street sees it. Indeed, the historic progression of the Gospel in the White world resulted historically by the White Race taking the Gospel to Africa. A truly born again White Race Christian is color blind. Non-Christians reading here will very likely not understand what I am talking about. This is because they are all racists deep down in their soul. When they seem to champion other races than their own, it is because they are trying to compensate for their own racist arrogance by taking up the outward cause of some down trodden other race. They are cheap talk-show do-gooders. They cry out for the suffering Blacks in the South Side of Chicago, but they only go there when some White business man buys a block on the South Side and renovates it.

There are thousands of Americans who rise from sleep every morning, look at themselves in the mirror, and ask themselves, "What evil White Race social felony can I blame myself for today?" You who read here who are White Race need to learn that you were specially chosen to bear the Gospel to the rest of the world the day Paul and Barnabas set sail for Crete. If you are REALLY worried about your attitude to some other race, pick a race, like the lost Black souls in Kibera, the slum outside of Nairobi, Kenya, buy a ticket to Nairobi, and go be like Jesus in Kibera for a couple of months. Stop shriveling up your soul by standing around at some social gathering discussing how nasty the White Race is. Self-masochism is not a service to anyone.

The fact is, all races are wicked. All have sinned. The only time any race becomes righteous is when they confess faith in Jesus Christ. The question we must ask every member of every race is, "Have you been changed by Jesus?" If they have not confessed Christ, we must tell them all, no matter which race, that they are wicked, and they need to repent of their own sins, not attack some other race and demand reparations and a free ride.

I KNOW I'VE BEEN CHANGED

The plan in this article is to review the history of the spread of the Gospel TO and BY the White Race, and in so doing to see that God intentionally handed the responsibility of spreading the Christian Truth to "the uttermost parts" to the White Race. We will also make a list of ways modern American Christians can use the Gospel and history as a weapon to destroy Black racism and all other forms of mob rule by American Neo-Marxists, Bernie Communists, and Progressive Liberals. You really should click out of here if you live in a continual feast of your soul consisting of hate and rage for the White Race. This article will ruin your day, and the author does not care diddly how you feel about that. As far as I am concerned, your feelings don't matter.

There is a Whiteness to Christianity in history, and there is a Whiteness to Christianity in modern Christian issues and culture. It may sound pious and theologically cute to say that race has nothing to do with Christian Truth, but that is a totally ridiculous notion. The White Race has had a special responsibility to preach and practice the Gospel since the day Christ commissioned his disciples, even before he died on the Cross to atone for the sins of all races for all time.

White Christians, if they are living in the Sermon on the Mount morally, have no reason to apologize for being White. Indeed, there is much to celebrate in our Whiteness. Does that mean that Black and Brown folks are not allowed to have their own celebrations? That is a stupid question. There is much to be proud of for Black Americans, and other races in America. The question is, did the Black or Brown race bring the Gospel to anyone before the White race showed up in Africa? The answer to that question is an unequivocal NO.

So, let us look at the starting point of the Christian message long ago.
THE GREAT COMMISSION- Circa 30 AD
Mark 16:14 Afterward he appeared unto the eleven as they sat at meat, and upbraided them with their unbelief and hardness of heart, because they believed not them which had seen him after he was risen.
15 And he said unto them, Go ye into all the world, and preach the gospel to every creature.
16 He that believeth and is baptized shall be saved; but he that believeth not shall be damned.

"Every creature" means that the zeal of Christ to build his church must be preached to every tribe and culture worldwide. So, who received the Gospel first? In this order, Jews, Ethiopians, Turks, Cretans, Greeks, Romans, North Africans, Italians, India, Spaniards, Angles, Northern Europeans, Scots, Irish, and then the uttermost parts of the world. Or, the White Race descendants of Japheth.

Acts 1:6 When they therefore were come together, they asked of him, saying, Lord, wilt thou at this time restore again the kingdom to Israel?
7 And he said unto them, It is not for you to know the times or the seasons, which the Father hath put in his own power.
8 But ye shall receive power, after that the Holy Ghost is come upon you: and ye shall be witnesses unto me both in Jerusalem, and in all Judaea, and in Samaria, and unto the uttermost part of the earth.

Romans 1:16 For I am not ashamed of the gospel of Christ: for it is the power of God unto salvation to every one that believeth; to the Jew first, and also to the Greek.

And, the Apostle Paul makes it very clear that the Jews and the Gentiles (the rest of the world) will either be blessed and rewarded for living life by the Gospel, or they will be judged and cursed for defying God's order for the world. Thus, when world leaders try to restrain the Gospel, just as Liberal Democrat Socialists are doing today in America, God brings curses and sorrow on such nations. Witness the destruction of the USSR which ruled religious people the enemy of the state. America is now under a curse from God for attacking the faith of Bible believers. America will soon crash and burn at the hand of God because its leaders have declared that Christ will not build his church in America. The Liberal Democrat lust to encourage the growth of Islam in America will result in rape and blood shed just like in Europe. Democrats, perhaps unknowingly, have been co-opted by devils which drive them on in hate for Christ. Thus, it is impossible to be an engaged Democrat and a born again Christian at the same time. In the warfare of the Christian in America, and in Europe for that matter, Bible believers need to understand that Progressive Liberals are all the adversary in the battle. It is blasphemy to treat them as friends of Christ and friends of the local church.

How then must we deal with people in everyday life who have joined the army of Satan to fight against Christ and his Church? The answer is, treat them as victims of Satan. You do not have to judge them. God will do that soon enough before his throne. We are surrounded by evil men who are lost and on their way to Hell. Do not let one of them get away without offering them the Gospel. That is how we win.

Romans 2:1 Therefore thou art inexcusable, O man, whosoever thou art that judgest: for wherein thou judgest another, thou condemnest thyself; for thou that judgest doest the same things.
2 But we are sure that the judgment of God is according to truth against them which commit such things.
3 And thinkest thou this, O man, that judgest them which do such things, and doest the same, that thou shalt escape the judgment of God?
4 Or despisest thou the riches of his goodness and forbearance and longsuffering; not knowing that the goodness of God leadeth thee to repentance?
5 But after thy hardness and impenitent heart treasurest up unto thyself wrath against the day of wrath and revelation of the righteous judgment of God;
6 Who will render to every man according to his deeds:
7 To them who by patient continuance in well doing seek for glory and honour and immortality, eternal life:
8 But unto them that are contentious, and do not obey the truth, but obey unrighteousness, indignation and wrath,
9 Tribulation and anguish, upon every soul of man that doeth evil, of the Jew first, and also of the Gentile;
10 But glory, honour, and peace, to every man that worketh good, to the Jew first, and also to the Gentile:
11 For there is no respect of persons with God.

It is clear from this text that God has no favorite race or culture. But, the text in Mark, Acts, and Romans show us clearly that the Gospel would be preached in Jerusalem, and then the Gospel would go out into the world to the Greeks and all the Gentiles. Paul, who was a Jew from Greece and a Roman citizen, is the example of how the Gospel should go into the world. Paul felt a fierce zeal to preach the Gospel to other nations, and he spoke of hoping to go to Spain with the Gospel.

Paul preaches to Greek philosophers
on Mars Hill in Athens.

Why not, "To the Jew first and also to the African?" Nor did Christ say, "To the Jew first, and also to Vietnamese." Africans have no instinct to take their religion to anyone. The Kikuyu of Kenya never took the message of their god and goddess, Ngai and Mumbi, to any other tribe. Even today, the African Church has a very hard time to get serious about sending missionaries anywhere. Usually, when they do, it is at the instigation of White missionaries who shame them for failing to take the Gospel to far away places.

Jesus told his disciples to go to the Jews, and then onward to the Greeks. Greeks are the philosophical members of the White Race, and Christ knew that Christianity needed to have a theological base to grow from. After the Greeks, the disciples went on to Asia Minor (Turkey) and Rome. The disciple Thomas went to India. The earliest Jesuit missionaries, when the arrived in India, found in the Karala State thousands of men whose first or last name was Thomas. The Jesuits asked them how this happened, and the Indians in that area claimed that the disciple Thomas had brought the Gospel to India. We will talk more about this later.

And, the Black Church of America is absolutely wicked in their lack of zeal to take the Gospel to the world. Christianity is the private tribal religion of Black Christians, and to Hell with any other race or tribe in the world. I have talked to Black pastors who groaned over this deep offense against Christ and his desire to spread the Gospel by using existing Christians to take the message. In the city of Detroit, the last I knew, there was not one Black church preaching the Gospel to the 500,000 Middle Eastern people in the Detroit metropolitan area.

While it has been fashionable over the years since around 1750 to find fault with British, German, and American missionaries for their blunders with culture and social issues, Africa was virtually opened up to the world by missionaries like David Livingston. Hundreds of missionaries were killed by wild tribes and by tropical disease, but every time one was killed, two went to fill his place. What is it in the White race that drives them into the unknown to discover the world and take the Gospel there?

The answer to this question is found in the words of Noah when, after his family had been saved in the ark, he gave a prophecy of what would set the destiny of his three sons, Ham, Shem, and Japheth.

Genesis 9:24 And Noah awoke from his wine, and knew what his younger son had done unto him.
25 And he said, Cursed be Canaan; a servant of servants shall he be unto his brethren.
26 And he said, Blessed be the LORD God of Shem; and Canaan shall be his servant.
27 God shall enlarge Japheth, and he shall dwell in the tents of Shem; and Canaan shall be his servant.

Noah had drunk wine made after the flood, and he was not aware of how it could ferment. The result was that Noah got drunk and made himself naked. Noah's son Ham made a mockery of Noah for this, but Shem and Japheth covered their father's nakedness rather than make light of it. This is why Canaan was cursed. Canaan was the son of Ham, and the descendant of Ham migrated to Africa except for Nimrod who built the heathen city of Babylon. The African people have descended from Canaan, and they have indeed been carried out of Africa to be slaves around the ancient world and serve the Jews, Arabs, and the White race. There are consequences for actions, and this curse given by God through Noah resulted in much sorrow for Africans.

But, Japheth is the one who was enlarged to fill the earth. Shem, father of the Jews, Arabs, Syrians, and Ethiopians, stayed in the Middle East, and you do not find the Jews or Arabs exploring the whole world like you see with Japheth's White Race. It is important to make clear that, since there are only three races, all Whites, Asians, and several other groups, are White. Devil possessed Atheists and Evolutionists like to come up with a dozen races in order to make the White Race the wicked race.

Genesis 10:1 Now these are the generations of the sons of Noah, Shem, Ham, and Japheth: and unto them were sons born after the flood.
2 The sons of Japheth; Gomer, and Magog, and Madai, and Javan, and Tubal, and Meshech, and Tiras.
3 And the sons of Gomer; Ashkenaz, and Riphath, and Togarmah.
4 And the sons of Javan; Elishah, and Tarshish, Kittim, and Dodanim.
5 By these were the isles of the Gentiles divided in their lands; every one after his tongue, after their families, in their nations.

Japheth is the father of the White race, and that includes the people of Asia and the Orient. These people have an obsession to enlarge themselves. The only explorer who was an exception to this rule was Ibn Batuta who was a Muslim from North Africa who explored Asia all the way to China and served for a few years under the Chinese emperor. The White race is the race in all your history books which went out from Europe into the whole world and "discovered" the peoples and claimed their lands for various European nations and the Pope.

There are many tales of ugly events when these White race explorers arrived, but the truth is that the primitive tribes and nations of the world were not advancing their destiny in any way until the White race arrived. You can belly ache about it all you want to, but you will find NO NATION in Africa, South America, or Asia which wants to go back to eating their neighbor rather than doing business with him. Few people have read as many books about the men who discovered the world as I have. It is an obsession with me. I have learned one clear fact. Life after the White man arrived improved tremendously all over the world. Cannibalism was stopped. Slavery was eradicated by White Race Christian nations like England. Husbands stopped burning their wives up in kitchen fires in India, and husbands stopped beating their wives in British colonies because of new laws against this. Cases of litigation stopped being decided by which way a little bird flew and were settled in courts where evidence had to be delivered in order to convict someone. Tribes were prevented from murdering each other wholesale. Roads were built, and crops were introduced which, for the first time ever, produced surplus, which Africans and Asians could sell to other nations to enrich themselves and add value to their lives.

All of this is outside the results of the missionary's arrival with the Gospel. Once the Church was established an even higher order of society, culture, and survival was introduced based on Christian teaching. And again, you will not find African or Asian Christians whining that they cannot go back to toss the chicken bones instead of hold a prayer meeting for someone who is gravely ill.

The record of the White Race, in spite of the warts, is a monument to the culture of England, Europe, and America which was salted by the Gospel. The landmark example of the power of the Gospel is seen in the astounding efforts of England to stop the slave trade in the World. This was accomplished very much because of Christian men like William Wilberforce who stood on the floor of the British Parliament and blasted away at the evils of slavery in Africa. And, England prevailed. The shame that America still deals with is that we were intransigent and clung to slavery with a lot of warped Calvinism and racist arrogance. For America's arrogance as to slavery, God caused the nation to fall into civil war where many thousands of Americans were slaughtered. Will we do it again as the Progressive Left calls for war in the streets. God often gives people what they ask for.

We saw above in Genesis 9:27 that it was God who enlarged Japheth. You can whine all you want to about colonialism and how the White Race has taken over the world during the past 500 years. But, God wanted this to happen. God did not want the curse of slavery to continue, so he sent David Livingston off to Africa. Livingston agitated the British government to step up and stop slavery. God, in the words of Jesus Christ, also wanted the descendants of Japheth to receive the Gospel along with the Jews, and God then used these White Christians to spread the Gospel to the world. The only people who hate this picture are Atheists, Socialists, and Democrats.

Hate White people if you want to, but God has chosen the White Race to spread the Gospel to the world, and hundreds of millions of people of color would do well to thank God for that strange zeal that White folks have to go tell someone about the Gospel of Jesus Christ. The vast bulk of financial giving that has been raised around Europe and America for the preaching of the Gospel in the world is almost all White cash. Deal with it, friend.

I will quote Charles Darwin here. "In traveling among the Pacific Islands, the difference between whether you are invited to dinner or you ARE dinner will depend entirely on whether a Christian missionary got there before you." Darwin gave these words to a gathering of Atheists who were having a conference to discuss how wicked Christianity was in preaching the Gospel and mucking up pagan cultures.
ON TO PART TWO: HISTORY OF THE CHRISTIAN CHURCH,
FROM CHRIST TO THE PRESENT, IS A WHITE RACE EVENT
LINKS:

HERE IS A MESSAGE ON MILITANT AGGRESSIVE CHRISTIANITY

EVEN SOME CATHOLICS ARE CALLING FOR A RETURN TO WARFARE CHRISTIANITY
If these heretics can figure it out, what is your excuse?

THIS IS THE ANTHEM OF THE DAMNED
Are they going to whip you, or are you armed and dangerous to Satan's mob?

SEND MAIL What is your situation? Can I help?

BACK TO TABLE OF CONTENTS OF THE CULTURE

BACK TO MORAL ISSUES TABLE OF CONTENTS

BACK TO WAR ROOM TABLE OF CONTENTS- Christian Living
ge