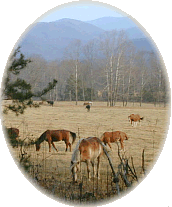 VISITORS TO OUR HOME
We would be delighted to have a visit from our readers.
When we moved from Arizona to Tennessee, we hoped that we would
be able to have an occasional visit from you readers.
This page will help you find your way here.
Please phone ahead so we can be sure to be here.
We are unable to put you up overnight, but there are two good
motels in Kingston 4 miles away. RV parking could be found in the area also.
We would be pleased if you were to spend a weekend and fellowship with us
at one of the Baptist churches in the area. Please try to let us know if you are
coming so we can clean the cat fur off of the sofa :-)
(Actually, Steve hates cats in the house. No pest here to cause allergy)
MAPS TO OUR HOME:
The whole general area-- The red tack is us.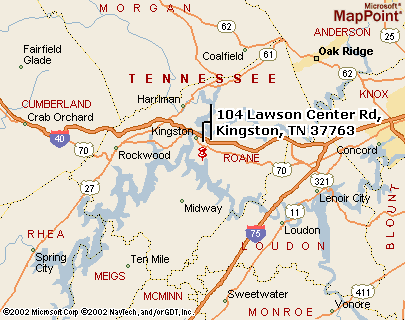 Hwy. 58 comes up through Ten Mile and Midway from the south.
The map above does not show Hwy. 58. See the next map below.
Hwy. 40 comes from Crossville west of the map.
Knoxville is east of the map.
Knoxville is pronounced "Knoxvul"-- Get it right, Yankee :-
Hwy. 27 from the south is an option if you are coming from Chattanooga.
In that case, when you hit Hwy. 70 in Rockwood, stay on it all the way
to Kingston, and see further maps below.
If you are coming in on Hwy. 62 you are a hick from Kentucky who got
lost trying to find the American Legion. Do a U-Turn now and try again :-)
Try to avoid traveling through Knoxville during rush traffic hours.
The doubling up of I-40 and I-75 makes for some very tense driving
during the rush hours.
Coming from the South on I-75, you can exit onto Hwy. 321 and come west
to Hwy. 70 and proceed to Bailley Road on Hwy. 70. This is a very scenic
drive. It would be a bit slow in an RV though.
Also, if you get off at the I-75 and Hwy. 321 interchange, you can go south
(sort of) on Hwy. 321 and find WalMart, Homo Depot, and many other
shopping choices and eating places. There have to be motel choices there,
but I have forgotten the names. The Italian restaurant on the west side of
321 is exceptional. Big Lots is down the way, on the west side, where you can
load up on junk you don't need but which is too cheap to pass up.
Hwy. 58 from the South and Chattanooga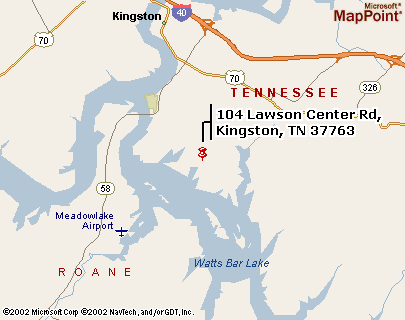 This map shows Hwy. 70 coming out of Kingston. Hwy. 58 becomes
Kentucky Street when it enters Kingston. Turn left at the intersection
of Hwy. 58 and Race Street, which is Hwy. 70.
The map is in error. Kingston should be on 58 between 70 and I-40.
After you cross the bridge, there is a pleasant park on the left.
Traveling on I-40, you can also see the perspective of getting onto
Hwy. 70 from either Kingston, Exit 352, or Gallaher at Exit 356.
If you fly into Meadowlake Airport, we will be happy to come and
pick you up. Be sure they have the cows off of the runway before
you land though :-)
Coming from the West-- on I-40: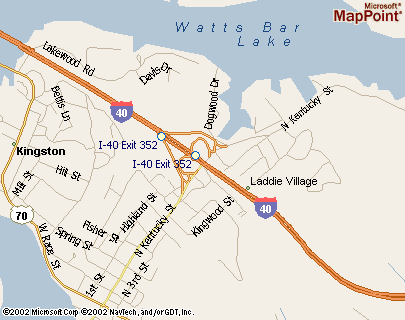 Exit 352-- Go south on Kentucky until you come to Hwy. 70.
Turn left, or approximately east.

Motels:
Knights Inn is north of I-40, on Kentucky Street, after you get off at Exit 352
Comfort Inn is south of I-40 on Kentucky Street near Hardee's Restaurant.
Nearby is a very luxurious restaurant where you can get a Big Mac, fries,
and a chocolate shake for a very reasonable price :-)
Food City Market-- Highly recommended for groceries-- Is on north of the
Knights Inn on Kentucky Street.
Piggly Wiggly food market is on Kentucky Street south of I-40.
A good drug store is found at the intersection of Kentucky Street and
Hwy. 70 (Race Street).
Very nice home town cafe, Handy Burger, near the bottom of Kingston on
Kentucky Street. Closes at 4 PM though.
If you crave grease, McDonald's is on your left soon after you go south from
the Interstate. Hardee's promises a full menu of tallow and shakes.
Bank of America is in the middle of Kingston south of I-40.
The best gas is on Hwy. 70 east of town, up the hill (Race Street is 70 until
the city limits)-- At the top of the hill on the right. Also, at the Food City mall.
Ace Hardware is also next to Food City.
The Post Office is in the center of town on Kentucky Street.
The sheriff is not at the donut shop-- Try Bob's Burgers on Hwy. 70 in Mid Town.
Auto repair-- please call us at (865) 717-0962-- There are Christians in the trade.
Medical emergencies-- Go to Methodist Hospital in Oakridge instead of to the
Harriman Hospital. One substantial medical clinic is available on Kentucky Street
not far south of I-40 on the east side of the street.
If you are from north of the Mason Dixon Line, be polite, act dumb, and
Kingston local folks will have mercy on you-- they will actually feel sorry for you :-)
Tennessee folks think that anyone who has to live outside of Tennessee is deprived
of the real joys of life-- Some of them really believe that. After you see the Smoky
Mountains and absorb a warm Tennessee night, you may agree with them.
Now, if you are from California, you need to understand that in Tennessee folks
may have the idea that you are very likely to be deranged.
Wear a bolo tie from Arizona, and dirty up your license plate :-)
Racial feeling is almost a non issue in this area, but don't talk about it.
People here assume that outsiders will never understand their feelings.
Blacks don't care to hear your sympathy either, life is too good to meddle with it.
Everyone here knows the North is far more racist than the South ever was.
The only Blacks or Whites who are in Tennessee against their will are in jail.
Do we have an attitude? No-- It's easy to be humble about it when you live next
door to heaven.
:-)
Coming from the East or South-- on I-40 or I-75:
For I-75 see the map at the top of the page for perspective.
Exit 356-- Take Gallaher Rd. under the interstate left on Hwy. 326.
At the gas station, Norman's, turn right onto Hwy. 70.
This is the easiest way to come if you are coming from the east and
you don't need to check into a motel or make purchases before coming
to our home. If you need to find a motel first, go to Exit 352 for Kingston.
Gas and eating are available on the north side of Exit 356 interchange.
First Phase of Entry into Our Acre: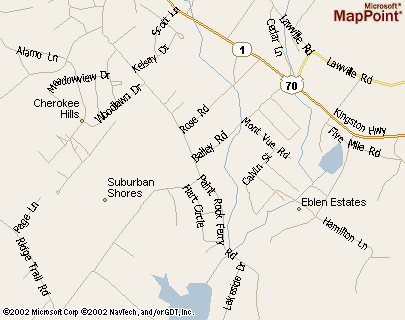 Take Hwy. 70 to Bailey Road, which "T"s into Hwy. 70.
The school is just east of this junction on Hwy. 70.
Follow Bailey Road south to Paint Rock Ferry, into a "T".
Turn left on Paint Rock Ferry and go about 150 feet to Ridge Trial Road.
Check out the exceptional flower garden at the intersection.
Turn right onto Ridge Trail Road and stay on it. Ridge Trail Road winds
sharp right and then left soon after you get on it.
You are Getting Closer: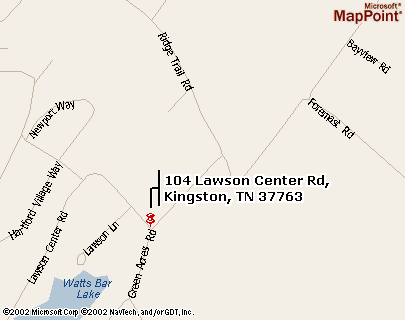 Ridge Trail Road runs on for maybe a mile and a half. It turns very sharp to
the right finally. Beware of meeting a car on this curve if you are in an RV or
large vehicle. After the sharp right, go about 150 feet to Green Acres Road
which is a "T" also.
Turn left on Green Acres, and continue to Lawson Center Road which is a
"T" on your right. Slow way down and start around the curve onto Lawson
Center Road. Almost like part of the the intersection you will see a gravel
driveway leaving off to the right. This is our driveway.
Our home is light gray with dark gray trim-- Two buildings.
The guy with the cow tail holding up his britches-- That is me.
If you Come By Boat: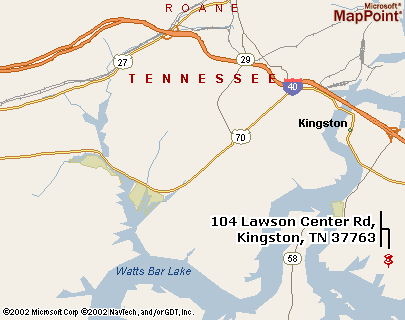 The Marina is about 12 miles from our home. It is right between the two
green areas at left center above. There is plenty of docking. Don't know
phone numbers yet, and don't know fees. Security should be pretty good.
Shopping is not too good right near the marina.
We would be happy to pick you up for a visit and return you for sleeping
or to travel on.
Do not swim in the river or eat any fish you catch. Some folks do, but they
glow in the dark later.
:-)
CAFE WE LIKE,
Along Highway 70, Kingston Pike, there is a great little produce market and
cafe. It is The Great Smoky Mountain Produce Company. They specialize in
preserved jams, jellies, and honey, as well as a good selection of fresh produce
from the area and points south. They have a food service counter where Bob
and Marilyn Martini, (right, southern Italian :-) serve up the most unusual treats. Bob
says, "We never open a can." He offers an Italian hot dog, Italian steak sandwich,
Polish sausage hot dog, kraut and chili dogs, and his pride and joy and unique
invention, the Bahama Mamma hot dog. All onions and peppers are fresh in the
morning and sautéed by Bob personally. His Bahama Mamma has tropical fruit,
peppers, onions, tomatoes, and fresh herbs. All hot dogs are beef only and not
a rubbish cheap brand.
There is a 24 seat sit down area, and if Bob or Marilyn are there, they will fill you
in on the local area. Great place to start a visit to our area. They don't have an
attitude about "Yankees." Every day they have a different home cooked special
of the day, and you can call (865) 882-7121 to ask what it is.
Bob's sign our front says, "Bahama Mamma Hot Dog-- The best hot dog in
Midtown, Maybe the world-- .0000075 hot dogs sold"
Get off of I-40 at Exit 350 and go south to the stop light on Highway 70.
Turn right, or southwest, and drive until you come to the stop light in
Midtown. Bob and Marilyn are on the southwest corner of the intersection
next to the Merita Bread Story.
Here is a map to their store and eatery (Correction-- Since they moved
recently, note the name, Midtown, to the right of the star below):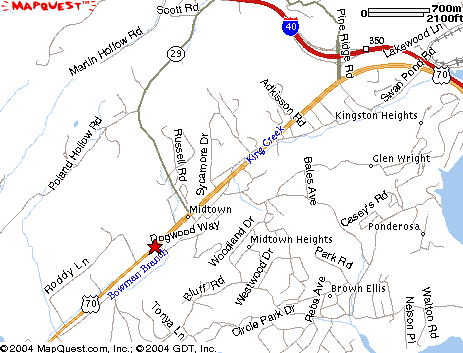 Keep going on down the road about two miles, and on the left you will find
Bob's Hamburgers. This is not the same "Bob." This is a very friendly local
eating place where southern dishes are served. I recommend the beans and
corn bread.
CONTACT:
Phone: (865) 717-0962 or (800) 338-8863 (No faxing please)

E-Mail: steve@balaams-ass.com
GPS COORDINATES:
The Van Nattan home-- 35º 50.626 North by 084º 30.641 West

Down Town Kingston (bottom of town)
Intersection of Kentucky Street and Hwy. 70,
which is Race Street-- 35º 52.285 North by 084º 30.990 West

Comfort Inn, Kingston--

Knights Inn, Kingston--

Food City Market, Ace Hardware, and gas--

Handy Burger, Kingston--

I-40-- Exit 352-- Coming from the West to Kingston and our home--

I-40-- Exit 356-- Coming East to visit our home without going
through Kingston-- Gallaher Road Exit--

Marina on the river, as in map above--

Be sure to realize that our coordinates are the actual location, and you will
want to alter the reading a bit to plan ahead for interstate exits.

The area has some challenging GPS geo-caching points. Mike and Dan both like
to find GPS caches and leave Gospel tracts.
POINTS OF INTEREST IN THE AREA:
The Great Smoky Mountains-- About an hour and a half from us

Gatlinburg, including a very good aquarium-- About and hour and a half from us

Pigeon Forge-- A real idiot attraction for the Disney mind-- Just over an hour away

Crossville-- Great Saturday night auction-- $300,000 worth a night goes through this one.
Old Time Country store and monster Flea Market during the summer. Factory outlet.
Exceptional Chinese Restaurant. Hwy. 127 is the longest yard sale in the world. It runs from
way up north down into Alabama. Check with us for the weekend this year.

A Bearing Precious Seed church is in the area-- They will put you to work helping if you desire.

University of Tennessee-- In Knoxville-- Bring an orange and white tie to wear please.

Oakridge Federal Facility-- Visit the US operations there-- Leaves you glowing in the dark :-)
There are parts of the Oakridge area where deer hunters are required to have their kills checked
by a Geiger counter to see if they are contaminated! Honest.

Pikeville, Kentucky-- About three hours away--
Home of the McCoys and the Hatfields-- Still fighting-- Bring a .357 please to qualify for admission :-)

Several other parks and water attractions are in the area. Eastern Tennessee has hundreds of miles of narrow
country roads which wander through old mountain villages. Surprises abound. You may want to wander north from
Kingston, Tennessee into Kentucky and see a very pretty part of America, as well as thousands of Mom and Pop
businesses and cafes along the way.
BEFORE YOU COME:
Be sure we are one mind in the Lord.
If you want to come by and straighten us out on something you read in the online journal,
we will send you right back where you came from.
We DO want to have your fellowship, but we are not looking for unwanted distraction
from our adversaries. This does not imply that you may not disagree with us.
The whole thing is an attitude issue really.

DO NOT come to our home towing something, especially behind an RV. You will have
nowhere to park, and there are no shoulders along the streets. You may want to leave a
towed vehicle in Kingston while visiting our home.

If you are in a great hurry, but you have time for a visit in a cafe near the Interstate,
please call. We may very well come to visit with you for a while there. The ideal Exit for this
is the Kingston Exit 352. Call (865) 717-0962, and we will make a place and time.
But, remember please, we are Baptists, and coffee is Baptist Holy Water.
So, be careful, yaheeea?

Please give us warning that you are coming. It would be a very sad thing to arrive
unannounced and find we are not home. We may assign you something to bring to
add to a meal time during your stay. Steve is always blessed with any kind of pie :-)
If you are a large family, please give us details.

Let me say this--
Many of our readers in the journal assume that we hate Catholics, Muslims, and others
whose teachings we question and examine by the Word of God. Not so. If you are in a spirit
to inquire, NOT in a spirit of debate and attack, you are very welcome to stop by. We like people.
It is heresy, and the violation of the teachings of Jesus Christ, which we hate.
We try very hard to avoid resenting the people caught up in these errors.

There is one person who is NOT welcome here-- Anyone who wants to defend CS Lewis.
I am not sure why, but no Muslim, Catholic priest, sodomite, nor Hindu ever hated us more
than the followers of CS Lewis and the Narnia cult.