DAILY VITAMINS:
FROM THE KING JAMES BIBLE
Top items are the most recent.

ARE WOMEN IN THE CHURCH INFERIOR IN ANY WAY?
1 Peter 3:1 Likewise, ye wives, be in subjection to your own husbands; that, if any obey not the word, they also may without the word be won by the conversation of the wives;
2 While they behold your chaste conversation coupled with fear.
3 Whose adorning let it not be that outward adorning of plaiting the hair, and of wearing of gold, or of putting on of apparel;
4 But let it be the hidden man of the heart, in that which is not corruptible, even the ornament of a meek and quiet spirit, which is in the sight of God of great price.
There is no male or female as regards our spirits. That is why Paul forbids a distinction between male and female in the assembly. As regards husband and wife in the assembly, the wife is to be subject to her husband, but in her spirit she is to be seen as just as much a candidate for teaching, by the preacher AND the Holy Ghost, as is her husband.
It is coming to be understood in Fundamental Baptist churches, and many others, that wives, or women, are spiritually stupid. They are even relegated to the kitchen at some meetings. This is wicked. This was NOT the way of the early Apostolic Church. Paul had two friends in particular who were women and very quick witted and zealous. One was Lydia whose prayer meeting became the core group for a new church. The other was Priscilla, wife of Aquilla, and these two ministered together and brought Apollos into complete understanding of the truth.
Here is the way of a wise husband who cares about his wife's place spiritually:
1 Peter 3:7 Likewise, ye husbands, dwell with them according to knowledge, giving honour unto the wife, as unto the weaker vessel, and as being heirs together of the grace of life; that your prayers be not hindered.
The wife as a vessel, the physical, is weak, but the spirit, the seat of knowledge, is to be held in high respect by the husband. You preachers better start teaching this right, or you will have dead head women in your church who think they cannot learn the deeper things of the Word of God. Or, maybe that is what YOU think. If so, you are a slimy boor and should go sell insurance. I know a preacher in Tennessee who thinks women in the Church cannot teach the Word or understand it as well as the men. This is some sort of sub-Christian Teutonic idiocy which the Apostle Paul would hate, as would the Lord who taught woman and encouraged women to leave puttering in the kitchen and seek the Truth.

BACK TO THE HOME
The Lord Jesus Christ spent very little time in the temple or the synagogues. He spent many thousands of hours in the homes of the godly AND in homes of publicans and sinners. The Lord's Church today has moved to alien real estate, and hireling pastors rufuse to visit the homes. Homes are cursed as meeting and fellowship places. If the saints do not go back home and seek one another there, they will dry up and become Laodicean. It is a virtual crisis.

"The Church started in the home, and I believe it will end up back in the homes just before Christ returns for his Church." J. Vernon McGee
Colossians 4:15 Salute the brethren which are in Laodicea, and Nymphas, and the church which is in his house.
1 Corinthians 16:19 The churches of Asia salute you. Aquila and Priscilla salute you much in the Lord, with the church that is in their house.
1 Corinthians 1:11 For it hath been declared unto me of you, my brethren, by them which are of the house of Chloe, that there are contentions among you.
Romans 16:3 Greet Priscilla and Aquila my helpers in Christ Jesus: 4 Who have for my life laid down their own necks: unto whom not only I give thanks, but also all the churches of the Gentiles. 5 Likewise greet the church that is in their house. Salute my wellbeloved Epaenetus, who is the firstfruits of Achaia unto Christ.
Acts 20:18 And when they were come to him, he said unto them, Ye know, from the first day that I came into Asia, after what manner I have been with you at all seasons, 19 Serving the Lord with all humility of mind, and with many tears, and temptations, which befell me by the lying in wait of the Jews: 20 And how I kept back nothing that was profitable unto you, but have shewed you, and have taught you publickly, and from house to house,
If your alleged pastor will not visit the homes of the saints, he is a wolf who is "in the minitry" for only one thing:
2 Peter 2:15 Which have forsaken the right way, and are gone astray, following the way of Balaam the son of Bosor, who loved the wages of unrighteousness;
Revelation 2:14 But I have a few things against thee, because thou hast there them that hold the doctrine of Balaam, who taught Balac to cast a stumblingblock before the children of Israel, to eat things sacrificed unto idols, and to commit fornication. 15 So hast thou also them that hold the doctrine of the Nicolaitans, which thing I hate.
These Balaams who claim to be "the man of God" are damned to hell if they do not seek out sheep between Sundays. Sheep have one very universal trait-- they seek each other out and want each other's company. If your pastor will not come to your home or drink coffee with you at the local cafe you are under the power of Satan in that preacher. Start a House Church, or find a real local church and a real pastor who loves sheep.
If that was not blunt enough, let me say this:
A house church centered on Christ and the Word of God, but lacking an official pastor, is a safer and happier place of fellowship than a church house with a steeple lead by a bastard son for a preacher who is "called to preach," ordained, and waving a King James Bible. Please see Hebrews 12:7-8

HOW CLOSE TO JESUS ARE WE?
Luke 24:44 And he said unto them, These are the words which I spake unto you, while I was yet with you, that all things must be fulfilled, which were written in the law of Moses, and in the prophets, and in the psalms, concerning me.
The Old Testament is absolutely essential to understanding who Jesus Christ is. Do you want to walk close with the Lord? Study the WHOLE Bible, not just your favorite books, the Epistles, or the Gospels. All 66 books reveal who Jesus Christ is.
Hebrews 5:13 For every one that useth milk is unskilful in the word of righteousness: for he is a babe.
14 But strong meat belongeth to them that are of full age, even those who by reason of use have their senses exercised to discern both good and evil.
Either you USE the whole Book, or you lose your relationship with Jesus.

QUIET
2 Thessalonians 3:12 Now them that are such we command and exhort by our Lord Jesus Christ, that with quietness they work, and eat their own bread.
13 But ye, brethren, be not weary in well doing.
The hallmark of Fundamentalism, especially the Baptist variety, is that we do not know how to be quiet. Preachers will not let the saints rest. They make it quite clear that if you are not frantic with activity, especially promoting the preacher's pet agendas, you are probably not even born again.
These preachers are the ones whose salvation is suspect. They refuse to be quiet, as the Apostle suggested. There is more on this subject:
Proverbs 17:1 Better is a dry morsel, and quietness therewith, than an house full of sacrifices with strife.
Ecclesiastes 4:6 Better is an handful with quietness, than both the hands full with travail and vexation of spirit.
Some of you preachers have a house full, and you don't give a fig whose peace is destroyed in the process.
Judges 8:28 Thus was Midian subdued before the children of Israel, so that they lifted up their heads no more. And the country was in quietness forty years in the days of Gideon.
A real leader, including a present day pastor, will lead his people into times of quietness. I realize this is terrifying to some of you jack boot hyperactive pests, but it is a fact that Gideon was commended for bringing a long era of quietness to Israel.
John 14:26 But the Comforter, which is the Holy Ghost, whom the Father will send in my name, he shall teach you all things, and bring all things to your remembrance, whatsoever I have said unto you.
27 Peace I leave with you, my peace I give unto you: not as the world giveth, give I unto you. Let not your heart be troubled, neither let it be afraid.
James 3:17 But the wisdom that is from above is first pure, then peaceable, gentle, and easy to be intreated, full of mercy and good fruits, without partiality, and without hypocrisy.
18 And the fruit of righteousness is sown in peace of them that make peace.
Peace is not noisy and busy-- it is quiet and gentle. It feels safe and comfortable.

DEAD MEN WHO PREACH WELL
Matthew 7:28 And it came to pass, when Jesus had ended these sayings, the people were astonished at his doctrine:
The doctrine of Jesus astonished the listener. No one was ever astonished when he read the law of Moses, as he did in the synagogue. Any Jew over 13 years of age could read the law. But, Jesus' doctrine was food for the mind and a challenge to know the Lord.
John 7:16 Jesus answered them, and said, My doctrine is not mine, but his that sent me.
We advance the thought. The doctrine of Jesus was not his own private interpretation. It was the eternal revelation of the Godhead. We now come to the point. Fundamental preachers wax verbose and read a few proof texts. They then wander off into Baptist standards, church attendance, or tithing, and they rage at the sheep, "Give, Give," or, "you're wicked." These men are of the flesh or the devil.
There should be NO place in Bible teaching for the authority of the preacher-- only the authority of the Word of God. Read that last line again please. Elocution which wanders off into the back forty of Baptistism is damned to hell. Preaching which causes awe of the preacher is horse manure and should be pitched out the dung gate.
2 John 1:9 Whosoever transgresseth, and abideth not in the doctrine of Christ, hath not God. He that abideth in the doctrine of Christ, he hath both the Father and the Son.
There are only TWO kinds of Bible teaching or preaching-- That which points directly to Jesus, the eternal Word of God, and that which does not. I don't give a fig how sincere or learned it is, and I don't give diddly if the Amen corner is raging and roaring. If it is not about Jesus, to hell with it.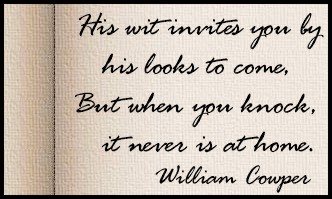 When you see a lot of Charles Spurgeon on a pastor's bookshelf, you can bet he is a good talker. But is he even saved? One pastor told a friend of mine that he had this burden- he said he did not really understand how salvation worked. But, when I heard that same preacher, he sounded like he DID know all about salvation. So, he was a great talker in the pulpit, and he shelled the corn the way the listener anticipated it, but he was on his way to hell.
1 Timothy 4:1 Now the Spirit speaketh expressly, that in the latter times some shall depart from the faith, giving heed to seducing spirits, and doctrines of devils;
2 Speaking lies in hypocrisy; having their conscience seared with a hot iron;
That is talking about leaders in Christendom-- preachers and evangelists. If you follow one of them, you will spiritually starve and dry up. There was a cowboy who dropped his watch in the horse's feed bag one day, and the horse ate it. The cowboy had to ride his horse backwards for three days to find it. Are you riding a horse backwards waiting for a blessing? How about just buying a new watch?
ARE YOU GIVING THIS WAY?
Here is a passage from Nehemiah that terrifies the average Jack Boot preacher in Baptist land. Happy people are very hard to intimidate into double giving to sustain the fat preacher's belly. Let us covenant to ignore these hirelings and go forth in the spirit of Nehemiah:
Nehemiah 8:10 Then he said unto them, Go your way, eat the fat, and drink the sweet, and send portions unto them for whom nothing is prepared: for this day is holy unto our Lord: neither be ye sorry; for the joy of the LORD is your strength.
11 So the Levites stilled all the people, saying, Hold your peace, for the day is holy; neither be ye grieved.
12 And all the people went their way to eat, and to drink, and to send portions, and to make great mirth, because they had understood the words that were declared unto them.
GIVE, GIVE, GIVE-- It is biblical, and you are to send portions to those who do not have anything. That is NOT accomplished by dumping a check into a round wooden dish on Sunday morning.
1 Corinthians 16:1 Now concerning the collection for the saints, as I have given order to the churches of Galatia, even so do ye.
2 Upon the first day of the week let every one of you lay by him in store, as God hath prospered him, that there be no gatherings when I come.
When we DO give on Sunday, it is all supposed to be "for the saints." That means those saints in need. If a widow or fatherless child has need, and the preacher has a big belly, something is not equal:
2 Corinthians 8:14 But by an equality, that now at this time your abundance may be a supply for their want, that their abundance also may be a supply for your want: that there may be equality:
For the record, tithing is not in the Apostolic teaching to the Lord's Church. If your pastor takes you to the teachings of Jesus to teach tithing, then he better be a Jew from the other side of the cross.
Now, go eat and drink and send portions-- to those who have nothing with which to celebrate, not to the hireling Big Mac addict who jerks on your wallet every other sermon. Your preacher should be in line for a hand out AFTER all the widows and fatherless kids and strangers.
IT IS OK TO ENJOY THE LORD. JESUS WAS ACCUSED OF EATING AND DRINKING WITH PUBLICANS AND SINNERS. HAS ANYONE ACCUSED YOU OF THAT? IF NOT, WHY NOT?

I HAVE A MODEST PROPOSAL
a revolutionary scary idea....

How about going to the super market tomorrow, and as you shop, select a treat-- a pie, some donuts, something really rich and fun. Then, after you go through the check out line, hang around the front of the store, and stop someone, anyone, and tell them God wants Christians to share with strangers. Pick up the treat and set it in the cart of someone on their way out. If they say they don't need it, tell them to give it to the next person behind them and walk off. Or, you could stop by a shop along the road where you don't know the people, and hand them the treat for coffee break. And, please don't let some timid hide bound fool from the church house tell you that this is somehow wrong. Just DO IT!
Some of you working men could grab someone's check at the restaurant, a perfect stranger, and pay it. When they ask why, tell them, "You are a qualifying stranger," and tell them that the Bible said you should give to strangers.
What is really choice is to catch a poor looking kid, in the store aisle, asking his Mom to buy him something to eat, or a toy, and buy it for him.
SEND MAIL, and tell me what happened. Better yet, don't tell anyone, and get all your reward in heaven by and by. Now, go have some fun :-)
Oh, I almost forgot-- The Holy Ghost may arrange something very surprising-- Something neither you nor I can predict. I must warn you to be ready to tell someone of the hope that you have in Jesus Christ. God has a long record of using generous people to spread the Good News. After all, salvation is a GIFT, right?

HE LOVES ME, HE LOVES ME NOT:
Many hirelings these days want to take your salvation away from you. It is not only the Pentecostals and Nazarenes who do this. We have more and more Fundamental Baptists who are saying, "I don't know if you are born again." And, "If you are in deep sin how do you know you are born again?"
The purpose of this is to get people to walk the aisle so the hot shot hireling can carve notches on his gun and hype his resumé for the next "call" to a bigger church.
Here is what brother Jeremiah said to the Hebrew backsliders:
Jeremiah 2:19 Thine own wickedness shall correct thee, and thy backslidings shall reprove thee: know therefore and see that it is an evil thing and bitter, that thou hast forsaken the LORD thy God, and that my fear is not in thee, saith the Lord GOD of hosts.
God did not tell the Hebrew backsliders that they would go to hell, or that he had damned them for offending him. So, when the hireling preacher tries to rob you of your assurance, destroy your confidence in Christ, and damn you to hell, tell the fellow he is NOT God, and he has no knowledge of your heart.
BUT, you ARE backslidden, right? That is not cute, and you can count on it-- God is NOT throwing you away-- God will cause you to be miserable and smitten with monumental guilt until you repent and confess you sin. God wants to keep you, but he does not intend to leave you dirty from the hog pen you have returned to.
So, your assurance of salvation is NOT a ticket to live like a spiritual dog and eat your own vomit forever. Get Right!

HAS SOMEONE BETRAYED YOUR LOVE?
Regarding love, the Bible says that charity:
1 Corinthians 13:7 Beareth all things, believeth all things, hopeth all things, endureth all things.
I want you to watch a video from Las Vegas News
These people believed in this man.
This employee used the trust of his employers as a tool to kill and rob those who trusted him. What a terrible test of the soul this must be.
Now, another man loved his friends:
John 13:1 Now before the feast of the passover, when Jesus knew that his hour was come that he should depart out of this world unto the Father, having loved his own which were in the world, he loved them unto the end.
Judas was one of those whom Jesus loved to the end. Jesus never told the other disciples what Judas' heart was like. He gave Judas every opportunity to believe in him. Judas could have written a Gospel one day after Jesus returned to heaven. Judas was permitted to see, hear, and believe the message of Messiah in person.
Judas used his place as a disciple to turn some quick silver to satisfy his greed to wealth. His kiss was the arrest warrant of the Son of God.
Now, who has betrayed you? We all experience it. How are you dealing with it? There is nothing that says being betrayed by your close friend is an easy thing to take. But, are you consumed with hate? Have you stopped trusting people? Have you launched a vendetta to destroy the one who betrayed you?
A clever question has recently come into vogue, "What would Jesus do?" It is very marketable. But, who applies it when they are abused and mistreated-- when the body, soul, and spirit ache from betrayal and pain?
Psalms 139:23-24 Search me, O God, and know my heart: try me, and know my thoughts: And see if there be any wicked way in me, and lead me in the way everlasting.

ARE YOU TRYING TO GET MORE?
Hebrews 13:4-5 Marriage is honourable in all, and the bed undefiled: but whoremongers and adulterers God will judge. Let your conversation be without covetousness; and be content with such things as ye have: for he hath said, I will never leave thee, nor forsake thee.
Are you content with such things as have you? Most Americans are not, and most people, worldwide, are not. It is the nature of fallen sinful man to be looking for a new thing:
Acts 17:21 (For all the Athenians and strangers which were there spent their time in nothing else, but either to tell, or to hear some new thing.)
These men lusted for new ideas. Some people lust for boats, RVs, faster computers, classy cars, influence with high toned people.... what is it that you dream of?
The Bible believer comes into Christ, but does he come to live like Christ?
Philippians 2:5-7 Let this mind be in you, which was also in Christ Jesus: Who, being in the form of God, thought it not robbery to be equal with God: But made himself of no reputation, and took upon him the form of a servant, and was made in the likeness of men:
The God of the universe, by whom all things live and move and have their being, owned little else than the clothes he wore.
Matthew 8:20 And Jesus saith unto him, The foxes have holes, and the birds of the air have nests; but the Son of man hath not where to lay his head.
So, how is it with you and me? Do we always have a new thing on the schedule? We look at the wicked, and we see their toys, and we think that is covetousness. Let us look at ourselves. What do we say about the preacher who is virtually always wanting more numbers, more buildings, more fame, and more acclaim? What shall we say about the Fundamental Baptist colleges these days where the leaders lust for grander buildings. They claim these glittering monuments are to glorify Jesus, but for the cost of one square foot in one of these hippodromes I could build a bush church in Kenya or Bangladesh.
The key word here is lust. Lust is the emotion that leads into avarice and greed. This then breeds discontent. When a preacher cannot raise anymore funds to build more, and when the sheep cry in pain from being shorn too close, this fat Balaam resigns and tries to get a larger place to start over.
The average Christian spends most of his days and life trying to "get ahead." What does that mean? It means trying to get more, and he is never quite satisfied. You don't agree? Well, were you not just talking about having a garage sale? Were you just talking about buying a storage shed from Home Depot? How many of you have a storage unit across town packed full of stuff you cannot fit into your home?
Do you feel poor? I have learned that poor people can be the most covetous people on earth. They envy the wealth of the rich rather than rejoice in the fellowship they have in being poor like Jesus was. Little do you know how miserable the riches of the wealthy make them.
What shall we do?
Philippians 4:11-13 Not that I speak in respect of want: for I have learned, in whatsoever state I am, therewith to be content. I know both how to be abased, and I know how to abound: every where and in all things I am instructed both to be full and to be hungry, both to abound and to suffer need. I can do all things through Christ which strengtheneth me.
1 Timothy 6:6-8 But godliness with contentment is great gain. For we brought nothing into this world, and it is certain we can carry nothing out. And having food and raiment let us be therewith content.

SILENT TYPES GO TO HELL
Romans 10:8 But what saith it? The word is nigh thee, even in thy mouth, and in thy heart: that is, the word of faith, which we preach;
9 That if thou shalt confess with thy mouth the Lord Jesus, and shalt believe in thine heart that God hath raised him from the dead, thou shalt be saved.
10 For with the heart man believeth unto righteousness; and with the mouth confession is made unto salvation.
11 For the scripture saith, Whosoever believeth on him shall not be ashamed.
The "word of faith" has been patented by Benny Hinn and the Rhema boys. Sorry, you silly fools, but every true Bible believer has the "word of faith" in his heart and mouth.
Saint, look here now, when is the last time you CONFESSED with your mouth the Lord Jesus? God knows your heart, but I don't, and your friends don't. The only thing I know about your faith is what you say. What did Jesus say?
Matthew 10:32 Whosoever therefore shall confess me before men, him will I confess also before my Father which is in heaven.
33 But whosoever shall deny me before men, him will I also deny before my Father which is in heaven.
Do you want Jesus do speak for you before God the Father? You have to then SPEAK with YOUR mouth. Are you the silent type? Well, you better ask God to open your mouth soon, for your salvation depends on you speaking it, not just thinking it. Romans 10:10 above.
And, saying the Apostle's Creed every Sunday in the church gathering is not YOUR mouth "before men."
Matthew 12:37 For by thy words thou shalt be justified, and by thy words thou shalt be condemned.
So you are born again. Praise the Lord. But, why don't you tell anyone? Why don't you bring Jesus into your daily conversation "before men"? This means the righteous and the wicked, daily, not just on Sunday-- any time you can figure a way to bring Jesus into the conversation.
You know, let me tell you...
Jesus is the sweetest name I know;
And he's just the same,
As his lovely name;
And, that's the reason why I love him so,
For, Jesus is the sweetest name I know.
It takes a real man to let angry men nail him to an old rugged cross, lift him up naked in shame before the mob, and die, saying, "Father, forgive them, for they know not what they do." That is my friend, Jesus... your friend. What a small thing it is for me to return the favor and to speak of him to those around me from time to time. But, pride sometimes prevents me-- I am enough of a Calvinist to know that God knows my heart and will not send me to hell. At age seven I confessed with my mouth the Lord Jesus in whom my heart believed. But, so many times I have failed to speak of him.
Do you want a creed? Make it up yourself, Monday morning in WalMart, at The Barras, riding the tube to work, or at the office-- to the sinners and saints you know-- a simple creed about your precious Savior-- from your heart to someone.
Now, send me mail, and tell me about you and Jesus :-)
That way, at least I will know you are a real born again saint. Then make Jesus a promise that if he will give you an opportunity, you will talk about him tomorrow, right out loud. Start with your Mom or Dad, or your son or daughter. "They already know it?" So What? Jesus won't ever get tired of hearing you talk about him :-)

IS YOUR MISSION SO URGENT THAT YOU CAN DISOBEY GOD?
The old prophet was a man of God who longed for fellowship. Israel was dead spiritually, and the old prophet needed fellowship from the younger prophet of Judah. Please note how the old prophet lied and made up a vision to get fellowship. Please remember this the next time you are tempted to compromise your separation to have fellowship. Beware also of visions which violate the Word of God.
1 Kings 13:11 Now there dwelt an old prophet in Bethel; and his sons came and told him all the works that the man of God had done that day in Bethel: the words which he had spoken unto the king, them they told also to their father.
12 And their father said unto them, What way went he? For his sons had seen what way the man of God went, which came from Judah.
13 And he said unto his sons, Saddle me the ass. So they saddled him the ass: and he rode thereon,
14 And went after the man of God, and found him sitting under an oak: and he said unto him, Art thou the man of God that camest from Judah? And he said, I am.
15 Then he said unto him, Come home with me, and eat bread.
16 And he said, I may not return with thee, nor go in with thee: neither will I eat bread nor drink water with thee in this place:

17 For it was said to me by the word of the LORD, Thou shalt eat no bread nor drink water there, nor turn again to go by the way that thou camest.
18 He said unto him, I am a prophet also as thou art; and an angel spake unto me by the word of the LORD, saying, Bring him back with thee into thine house, that he may eat bread and drink water. But he lied unto him.
19 So he went back with him, and did eat bread in his house, and drank water.
20 And it came to pass, as they sat at the table, that the word of the LORD came unto the prophet that brought him back:
21 And he cried unto the man of God that came from Judah, saying, Thus saith the LORD, Forasmuch as thou hast disobeyed the mouth of the LORD, and hast not kept the commandment which the LORD thy God commanded thee,
22 But camest back, and hast eaten bread and drunk water in the place, of the which the LORD did say to thee, Eat no bread, and drink no water; thy carcase shall not come unto the sepulchre of thy fathers.
23 And it came to pass, after he had eaten bread, and after he had drunk, that he saddled for him the ass, to wit, for the prophet whom he had brought back.
24 And when he was gone, a lion met him by the way, and slew him: and his carcase was cast in the way, and the ass stood by it, the lion also stood by the carcase.
25 And, behold, men passed by, and saw the carcase cast in the way, and the lion standing by the carcase: and they came and told it in the city where the old prophet dwelt.
26 And when the prophet that brought him back from the way heard thereof, he said, It is the man of God, who was disobedient unto the word of the LORD: therefore the LORD hath delivered him unto the lion, which hath torn him, and slain him, according to the word of the LORD, which he spake unto him.
27 And he spake to his sons, saying, Saddle me the ass. And they saddled him.
28 And he went and found his carcase cast in the way, and the ass and the lion standing by the carcase: the lion had not eaten the carcase, nor torn the ass.
29 And the prophet took up the carcase of the man of God, and laid it upon the ass, and brought it back: and the old prophet came to the city, to mourn and to bury him.
30 And he laid his carcase in his own grave; and they mourned over him, saying, Alas, my brother!
31 And it came to pass, after he had buried him, that he spake to his sons, saying, When I am dead, then bury me in the sepulchre wherein the man of God is buried; lay my bones beside his bones:
32 For the saying which he cried by the word of the LORD against the altar in Bethel, and against all the houses of the high places which are in the cities of Samaria, shall surely come to pass.
Was there any way the younger prophet could give fellowship to the old lonely prophet? Of course there was. He could have said, "I must return home without stopping or eating, but please come and visit me in Judah in my home soon. I would like to make you welcome."
How sad that a man of such fire and zeal came to such a sorry end, even though the altar later broke in half just as the prophet prophesied. You can do the right thing, show the mighty power of God, and then blow the whole thing for a plate of beans and a cup of water. Let us learn a lesson.
Acts 9:31 Then had the churches rest throughout all Judaea and Galilee and Samaria, and were edified; and walking in the fear of the Lord, and in the comfort of the Holy Ghost, were multiplied.
I marvel at these Charismatic churches with all the frenzy and chaos. They claim the Holy Ghost is showing power in their assemblies, yet I see no picture of comfort. I see a baboon convention-- a fool's quorum.
I note also that the church "multiplied" in quietness and at rest. What does this say about Fundamental Baptist circus act evangelism and hype? Is it possible to be still, quiet, and calm and still grow?
Answer: "Men will see your good works and glorify your Father which is in heaven." Some of you Baptist preachers don't have a clue what I am getting at because you are in such a perpetual frantic state. You could NOT prove Jesus was like you if you tried. Where is YOUR kind of frenzy in the Gospels? Not there, buster!
So, let us examine ourselves to see if we are aware of the comfort of the Holy Ghost, for this is one of the "signs" that a person is truly born again. Many people lust for a sign or manifestation. Others want to see people "walk the aisle." How about a quiet spirit when things go wrong? How about growing a church that is able to rest and be comforted? How about saints who fear the Lord?
I still think a bunch of preachers will not have a clue with this one. Let me put it this way-- The most effective soul winner I ever knew was also one of the most secure and quiet Christians I ever knew, and this will sound strange, but he had a great "fear of the Lord." Do you?

DO NOT WASTE YOUR TIME WITH PEOPLE AT THE EXTREMES
Psalm 62:9 Surely men of low degree are vanity, and men of high degree are a lie: to be laid in the balance, they are altogether lighter than vanity.
David certainly hit both extremes there. Men of low degree are vanity simply because their heads are empty. They do nothing to distinguish themselves, and they have too little initiative to advance themselves. They are just plain dull. No one should think he is clever because he is an empty headed good old boy and flat broke all the time.
On the other hand, look at the folks in the high degree. Notice that they are even less than vanity, which means they are even more dull than the men of low degree. Why is this? Well just think of all the stories of Prince Charles and the rich elite of the world, in which some twinkle toed newspaper reported is just gushing beyond measure about these high toned folks. Why, they even tie their own shoes (which you did at age two), and they can check the oil in the Rolls Royce (which your ten year old does every time you leave for town).
When a crowned head blows his nose, everyone is supposed to be startled and jump for joy. He is one of us. Now, tell me, do you show any delight when your friend at work blows his nose? So, why all this fuss over the high of degree? Simple answer-- They are some of the most ingrown retarded throwbacks in the earth.
Thus, if you have a choice of vanity, or less than vanity, who should you chose? Answer: The men of low degree. Men of high degree are the powers of the earth, and when you spend enough time with them, you get to where any little bug under the chip just thrills you, and you start to think you are one of the special people.
So, the implied lesson is this.
Don't spend you life seeing if you can BE one-- either one. The verse just before the above verse is where you want to be:
Psalm 62:8 Trust in him at all times; ye people, pour out your heart before him: God is a refuge for us. Selah.

ARE YOU AWOL FROM THE WAR?
Psalm 45:4 And in thy majesty ride prosperously because of truth and meekness and righteousness; and thy right hand shall teach thee terrible things.
The right hand is the fighting hand of the ordinary warrior. It is about time Christian men were taught a few "terrible" things by their right hand in warfare with Satan. We have too many careful, thoughtful, tactful, wimps running around the average Bible believing church. The ministry of Gail Riplinger is a real blessing to us all, but it is a peculiar thing to realize that she has to take the heat and rage of KJV haters, like Bob Ross, while perfectly healthy men stand around and count how many baptisms and busses they have.
Get back into the war buster.

Paul asked the saints to pray for him...
Ephesians 6:18 Praying always with all prayer and supplication...;
19 And for me, that utterance may be given unto me, that I may open my mouth boldly, to make known the mystery of the gospel,
20 For which I am an ambassador in bonds: that therein I may speak boldly, as I ought to speak.
You ARE an ambassador, and the embassy is open wherever you are, at work or at home. So, based on the above text:
1. Who is praying for you to open your mouth and talk about Jesus? If Paul needed prayer to get going, so do you and I !

2. When is the last time you told someone you are a Christian... I mean boldly, with zeal, and with grace?
If you are born again, why are you hiding it? Ashamed of your Lord?

Psalm 16:5 The LORD is the portion of mine inheritance and of my cup: thou maintainest my lot.
6 The lines are fallen unto me in pleasant places; yea, I have a goodly heritage.
Is it enough to inherit God in person? We may not have an inheritance in this life for one reason or another. Some people leave little or nothing to their children. What consolation is there if we do not have the Lord as our inheritance?
Let us always keep a light touch on the things of this life and keep out heart eager to see the Lord in person one day soon.

DO YOU HAVE A FRIEND GOOD ENOUGH TO REBUKE YOU?
Proverbs 17:17 A friend loveth at all times, and a brother is born for adversity.
Proverbs 18:24 A man that hath friends must shew himself friendly: and there is a friend that sticketh closer than a brother.
Proverbs 27:6 Faithful are the wounds of a friend; but the kisses of an enemy are deceitful.
It is common today for men to have few friends. This is because of the pace of life, lust for technological toys, and the terror of being thought a sodomite. Sodomy is so rampant that many men are very distant and impersonal with other men.
What happens? A man who has no friends has no one to "wound" or rebuke him. Accountability is only to the boss at work and to be faithful to the wife. This makes for a great void of companionship where a man can be examined by someone who checks him out in love.
Let us be always ready to make a friend of any man on the narrow way who has real zeal for the Lord and a close relationship with the Word of God.

REBUKE CAREFULLY
Proverbs 15:1 A soft answer turneth away wrath: but grievous words stir up anger.
My Dad used to quote that one when my brother and I would get into a fight and start yelling at each other. Is there any use for grievous words? Well, there IS a time to rebuke the wicked, and there is a time to rebuke a fellow saint.
So how should we do that?
Proverbs 9:8 Reprove not a scorner, lest he hate thee: rebuke a wise man, and he will love thee.
So, pick carefully whom you will rebuke. Make sure the person is a wise man or lady. Let the others go on in their folly and suffer. You owe them nothing.

BLESSED ARE THOSE WHO WEEP
John 11:35 Jesus wept.
The shortest verse in the Bible is about our Lord weeping. And, what caused Him to weep?
This happened at the grave of Jesus' friend Lazarus. Jesus had been told that Lazarus was sick, and the man's sisters asked Jesus to hurry to them so He could heal Lazarus. Jesus did not hurry there, and it seemed He missed an opportunity to heal His friend, for Lazarus had died and was buried.
Jesus knew, as sovereign God in human flesh, that He would raise Lazerus from death to live again. So, why did Jesus stop to weep?
Answer:
Hebrews 4:15 For we have not an high priest which cannot be touched with the feeling of our infirmities; but was in all points tempted like as we are, yet without sin.
Jesus felt everything we feel at one time or other. So, here stands the Creator of the universe in the dust of Galilee. What He faces is as unnatural a thing as the Godhead can face-- death. Jesus would never die as God, though He would die humanly later. Even in this human death later thought, Jesus would not stay dead. Death is the lot of those who sin, and there is not coming back for anyone who is not either God or who has received the salvation God provides.
So, confronted with death and the consequences of sin in his good friend, Jesus wept, and we also read that He groaned in His spirit.
Now, when you are confronted with the consequences of sin and death, what do YOU do? Pass judgment? Declare they deserved it? Start preaching and warning the survivors?
When Charlie Smith's boy wiped out into a telephone pole, I was asked by the family to do the funeral. I agreed, and when I arrived at the funeral home, Charlie was wandering all over the parking lot bawling and moaning for his lost son. I didn't know what to do because the funeral director could not start the service without Charlie and me. But, I just felt I could not drag Charlie inside right then.
I put my arm around Charlie's shoulders, and we walked together around and around. We cried, and Charlie wailed as he told me his son had never accepted Christ as his Savior. "He's in hell isn't he pastor Steve?" What could I say. It was too late to save the boy. So, we just walked and cried some more. I felt so useless to Charlie, but I could at least weep with him.
The funeral ended, and I thought that was the end of it. Many months later, after some terrible troubles in his life, Charlie came to church one Sunday morning. He was ready to repent, and he told me that he promised God he would "repent at Pastor Steve's church."
You have no idea how you can minister to someone when you stop to weep with them. I fear some of you preachers think that weeping shows weakness in a man. Well, by the grace of God, Jesus didn't.
S

DAMN THOSE WHO LIFT THEMJSELVES UP
Proverbs 16:2 All the ways of a man are clean in his own eyes; but the LORD weigheth the spirits.
This is a fault we all deal with. The men who have the worst time with this are the intellectuals and high degreed men. They have invested years in study and research, and if they didn't get a mail order degree, it cost them a bundle. They cannot tolerate some flatlander knowing more than they do on some topic.
Also, these hot shot preachers with mail order doctorates are even worse. They make a minimum effort, receive "credit for life experience" which can mean an engineering degree for changing their own oil, and they write a 5 page "research paper" or a "doctoral thesis" copied from the Wayback Machine. They are VERY defensive about anyone questioning their authority, and they like to have the last word on everything. "Consult" them, and they positively glow.
I have noticed that the men who have become confidant in their knowledge, and who have put it to the test in real life, tend to be pretty restrained about giving the final verdict on any topic. The older I get, the less I trust my brainy presuppositions, and some of you would eagerly agree, right :-) ?
Proverbs 16:19 Better it is to be of an humble spirit with the lowly, than to divide the spoil with the proud.
Some of you just do NOT believe that. You cannot stand to spend time with the lowly and humble folks. I assure you of this friend-- Your pride is patently open and well known to the lowly. They are NOT fools. Their quietness is due to their fear of becoming like you.
Proverbs 30:13 There is a generation, O how lofty are their eyes! and their eyelids are lifted up.
Let us all examine ourselves to see if we have lowly friends or haughty snobs who pamper our self-love. If you are the type who cannot get right without the customary "trip to the front," I invite you, I plead with you brother (how am I doing :-), to "go forward" to chapter one of Proverbs. Read a chapter a day for the next 30 days.
If you are not brain dead, I promise you that at the end of 30 days you will have heard from the Holy Ghost. I don't hear from the Lord any more from any other Bible book than from Proverbs. It came from the heart of a loving father to his boisterous son. If that went over you head, go look in the mirror. Hey preacher, have you ever preached from Proverbs?
Here is an idea. I won't even charge you for it, and you don't have to buy the seminar notebook. "Reserve" one seat in the front row of the church house to always be empty. Put your name on the top of the seat, and when you wonder who needs the sermon most, look at that seat. Go on now, I dare you :-) It will be a blessing to YOU as well as the folks you try to teach. Let me hear about it, OK? If even one preacher out there got sweet and humble out of this little moment, why I do believe all the late nights here at this one eyed beast would be worth it.

FAITH BASED GAY TEA ROOMS
Deuteronomy 23:17 There shall be no whore of the daughters of Israel, nor a sodomite of the sons of Israel.
18 Thou shalt not bring the hire of a whore, or the price of a dog, into the house of the LORD thy God for any vow: for even both these are abomination unto the LORD thy God.
Historians tell us that "dog," or in Hebrew "goy," was the name given to sodomites in Israel. The parallel in the context seems to indicate that God agrees.
Verse 17- Whore / sodomite, and Verse 18- Whore / dog.
2 Kings 23:6 And he brought out the grove from the house of the LORD, without Jerusalem, unto the brook Kidron, and burned it at the brook Kidron, and stamped it small to powder, and cast the powder thereof upon the graves of the children of the people.
7 And he brake down the houses of the sodomites, that were by the house of the LORD, where the women wove hangings for the grove.

Mark it down. "King" George Bush and "King" Barak Obama are doing two things which will be used to bring sodomites into Christendom. They are using "Faith Based" organizations to distribute welfare funds, AND they are giving dignity to sodomy. The day WILL come when the State Department, with the IRS, will inform ALL churches in the welfare program that they have to bring sodomites to dwell "by the house of the LORD."
It WILL happen friends.
Now, will your church participate in the "Faith Based" scam?

ARE YOU BEING GOOD TO GOD?
Psalm 16:1 Preserve me, O God: for in thee do I put my trust.
2 O my soul, thou hast said unto the LORD, Thou art my Lord: my goodness extendeth not to thee;
3 But to the saints that are in the earth, and to the excellent, in whom is all my delight.
Do we need to be good to God?
Answer: NO!
Why?
Answer: Romans 7:18 For I know that in me (that is, in my flesh,) dwelleth no good thing: for to will is present with me; but how to perform that which is good I find not.
When we are born again and come into Christ, he adds His goodness to us:
Ephesians 2:10 For we are his workmanship, created in Christ Jesus unto good works, which God hath before ordained that we should walk in them.
So, David understood that he had no need to be good to God. God is the source of our goodness, and He doesn't need our efforts to be good to Him.
John 13:35 By this shall all men know that ye are my disciples, if ye have love one to another.
But, David said he would be good to the saints in the earth. It is about time some believers stopped trying to impress God and show some consideration to the saints around them. This is a treacherous disease in the Roman Catholic Church, where the faithful go to great lengths to add something to God by their zeal. What a waste of time.
But, many other saints do the same by puttering around the church house fussing over "God's House" while other church members live in shabby surroundings and suffer needs unmet. Wake up saints!

HAVE YOU QUIT YET?
1 Corinthians 16:13 Watch ye, stand fast in the faith, quit you like men, be strong.
What does this mean? It means to get off your fanny and get to doing something for the Lord. The vast majority of alleged Christians today are looking for a blessing, waiting to be massaged with good feelings, and generally doing nothing to distinguish themselves for Christ.
The word "quit" in the verse is old English meaning to quit where you are and get going.
If you were put on trial for being a Christian today, would there be enough evidence to prosecute you and find you guilty?
2 Tim 2:3 Thou therefore endure hardness, as a good soldier of Jesus Christ.
4 No man that warreth entangleth himself with the affairs of this life; that he may please him who hath chosen him to be a soldier.
It is time to get toughened up for the Lord and be strong in faith and zeal. God shows in the life of men like Jehu and David that He will use a man who gets his zeal wrong from time to time. But the church tramp who pan handles good feelings off of the program is NOT in the Bible.
Of course, you can buy a ticket to Tarshish like Jonah, and God will then FORCE you back into line. I just wonder if you really want that kind of "anointing"-- That is, you can be a part of the fish's vomit.

WHAT ARE YOUR MOTIVES WHEN YOU GIVE?
Matthew 26:6 Now when Jesus was in Bethany, in the house of Simon the leper,
7 There came unto him a woman having an alabaster box of very precious ointment, and poured it on his head, as he sat at meat.
8 But when his disciples saw it, they had indignation, saying, To what purpose is this waste?
9 For this ointment might have been sold for much, and given to the poor.
10 When Jesus understood it, he said unto them, Why trouble ye the woman? for she hath wrought a good work upon me.
11 For ye have the poor always with you; but me ye have not always.
12 For in that she hath poured this ointment on my body, she did it for my burial.
13 Verily I say unto you, Wheresoever this gospel shall be preached in the whole world, there shall also this, that this woman hath done, be told for a memorial of her.
There are a bunch of saints, pastors possibly the most guilty, who are very expert at deciding what other saints should do with their money and their dedication. And, what is the factor they use in judging or blessing one another? Answer: good works and money's worth.
The disciples above also thought in terms of good works. Who wouldn't agree with them in wanting to feed the poor?
Answer: Jesus.
Was Jesus being heartless with the poor?
Answer: No.
Jesus was poor Himself, for He owned nothing of His own on earth.
So, was He, in His poverty, claiming His right to the gift of the woman?
Answer: No.
So, why did Jesus rebuke the disciples for their philanthropic zeal?
Answer: Jesus was using the zeal of the woman to show the disciples, and now you and me and you money crazed preachers, that the priority is NOT getting the most bang for your giving buck. The priority is this... You and I are to waste ourselves and our wealth on Jesus Christ and anoint HIM.
It is about time a bunch of diddle head Charismatics learn that "anointing" is not a bribe or buy back. You waste your substance on Jesus Christ, and stop trying to get the payback. This "seed faith" heresy is from the pit of Hell, for it is an effort to buy God off and get a dividend on the investment. How utterly heretical and unlike the women in the story above.
Let us be perfectly blunt. When a preacher rebukes a saint for giving to some needy person rather than in the almighty offering plate..... THAT PREACHER HAS A JUDAS SPIRIT. Mark it down-- one day you will see him betray Jesus.

GRIPING IS NOT A SPIRITUAL GIFT
1 Timothy 2:1 I exhort therefore, that, first of all, supplications, prayers, intercessions, and giving of thanks, be made for all men;
2 For kings, and for all that are in authority; that we may lead a quiet and peaceable life in all godliness and honesty.
3 For this is good and acceptable in the sight of God our Saviour;
4 Who will have all men to be saved, and to come unto the knowledge of the truth.
It is so common these day to bellyache and complain about men in authority. I think of the people at Indianapolis Baptist Temple and many other fellowships around the USA. Pastors lead their people in griping about the nation's leaders.
You will notice in the above text that living a godly and peaceful life is tied to your praying and thanking God for the leaders He gave you. We are not told to approve of our leaders' policies or religious qualities, but we ARE told to be thankful. Note please:
Romans 13:1 Let every soul be subject unto the higher powers. For there is no power but of God: the powers that be are ordained of God.
As hard as this may be to understand in the case of such men as Adolph Hitler, Saddam Hussein, and Al Qaeda, we are told that God, in His sovereignty, allowed these men to rule for a reason. Being "subject" to them does not require us to approve of their evil acts, but it is very clear that we are NOT to rebel against human government.
When a Christian plots rebellion against the leaders over him, he is in rebellion against God and is telling the world he does not believe God is in control.
Proverbs 21:1 The king's heart is in the hand of the LORD, as the rivers of water: he turneth it whithersoever he will.
If God is not turning the king the way you like, then you better stay out of the matter. Be a good subject, and you will have peace.

DO YOU HAVE A MAD PREACHER?
Psalm 30:4 Sing unto the LORD, O ye saints of his, and give thanks at the remembrance of his holiness.
5 For his anger endureth but a moment; in his favour is life: weeping may endure for a night, but joy cometh in the morning.
Is your pastor convincing you God is mad at you most of the time? That is a lie. God has tried all through the Bible to convince those who worship Him that he loves them.
Jesus spent His whole ministry with a group of twelve men who did all sorts of dumb things, denied Him, betrayed Him, interrupted Him, used His power as an excuse to exalt themselves, and generally didn't have a clue why He even came to this earth.
How did Jesus respond to these men who followed Him?
John 13:1 Now before the feast of the passover, when Jesus knew that his hour was come that he should depart out of this world unto the Father, having loved his own which were in the world, he loved them unto the end.
Please don't hang around these churches and pastors who spend most of their time trying to make the saints feel guilty. That is a trick of gurus and Nazis to keep the troops paranoid so they will submit to man instead of following Jesus.

IS IT A SIN TO BE HAPPY?
Psalm 146:5 Happy is he that hath the God of Jacob for his help, whose hope is in the LORD his God:
Proverbs 16:20He that handleth a matter wisely shall find good: and whoso trusteth in the LORD, happy is he.
Proverbs 29:18 Where there is no vision, the people perish: but he that keepeth the law, happy is he.
Romans 14:22 Hast thou faith? have it to thyself before God. Happy is he that condemneth not himself in that thing which he alloweth.
1 Peter 4:14 If ye be reproached for the name of Christ, happy are ye; for the spirit of glory and of God resteth upon you: on their part he is evil spoken of, but on your part he is glorified.
So, when you think you cannot be happy, check out these verses, for they tell us how to be happy.

ABIDING IN CHRIST, OR ABIDING IN SIN?
John 15:5 I am the vine, ye are the branches: He that abideth in me, and I in him, the same bringeth forth much fruit: for without me ye can do nothing.
Many saints learned to abide in Christ and bear fruit somewhere in their past days, but they have allowed Satan to "spoil" the fruit.
Song of Solomon 2:15 Take us the foxes, the little foxes, that spoil the vines: for our vines have tender grapes.
Samson also had days of great power as he destroyed the Philistines and defended Israel. But, he let the little foxes of lust and self-will come in and spoil the vines. He thought he was the same old Samson, but he had lost something essential:
Judges 16:20 ...... And he awoke out of his sleep, and said, I will go out as at other times before, and shake myself. And he wist not that the LORD was departed from him.
Have YOU lost the power of God in your life and "wist not" that God's Spirit has departed from you? Are the foxes of Satan spoiling the vines and eating the fruit of your life? Preacher, why is there no fruit, and why have you lost your love for the sheep of Christ?
Let me tell you what it is-- SIN. You have regarded sin in your life and you don't intend to do one diddly thing about it. Well, Samson tried to bluff his way out of it, and so will you, but it won't work. How about getting right with God NOW instead of having to be pruned severely by the Lord Jesus?

THE ABOMINATION CHRISTMAS TREE
Jeremiah 10:2 Thus saith the LORD, Learn not the way of the heathen, and be not dismayed at the signs of heaven; for the heathen are dismayed at them.
3 For the customs of the people are vain: for one cutteth a tree out of the forest, the work of the hands of the workman, with the axe.
4 They deck it with silver and with gold; they fasten it with nails and with hammers, that it move not.
5 They are upright as the palm tree, but speak not: they must needs be borne, because they cannot go. Be not afraid of them; for they cannot do evil, neither also is it in them to do good.
The Christmass tree is an abomination to God, for it follows the many ancient pagan customs of tree worship. The fact that you are born again and don't hold the Christmass tree in spiritual honor is a silly as if you had an eight foot brass Buddha in the corner of your living room but claimed it was only an ornament of the Holiday Season.

THE CHRISTMAS STORY FROM THE BIBLE
God is speaking to His prophet Ezekiel:
Ezekiel 8:13 He said also unto me, Turn thee yet again, and thou shalt see greater abominations that they do.
14 Then he brought me to the door of the gate of the LORD'S house which was toward the north; and, behold, there sat women weeping for Tammuz.
At the summer solstice, the Jewish women were weeping for the pagan god Tammuz, aka Gilgamesh and Marduk in Babylon. Tammuz would die and go to hell on that day, and the days would start getting shorter.
15 Then said he unto me, Hast thou seen this, O son of man? turn thee yet again, and thou shalt see greater abominations than these.
16 And he brought me into the inner court of the LORD'S house, and, behold, at the door of the temple of the LORD, between the porch and the altar, were about five and twenty men, with their backs toward the temple of the LORD, and their faces toward the east; and they worshipped the sun toward the east.

At the winter solstice, in Babylon, the priests would watch the sunrise (as in Easter sunrise service in our day), and they would announce that the sun stayed up longer on about December 24 or 25. This meant that Tammuz, or Marduk, was reborn and back in earth, and the days would get longer.
Researchers have learned that on December 25th the residents of Babylon would then give each other presents, light candles and put them in windows, and run through the street carrying a baby god, calling out, "The goddess Ishtar has given birth to a son-- rejoice." 1500 BC This is the real "Christmas Story," and you have NO business trying to dignify it with the person of Jesus Christ. READ MORE
17 Then he said unto me, Hast thou seen this, O son of man? Is it a light thing to the house of Judah that they commit the abominations which they commit here? for they have filled the land with violence, and have returned to provoke me to anger: and, lo, they put the branch to their nose.

Mistletoe.
18 Therefore will I also deal in fury: mine eye shall not spare, neither will I have pity: and though they cry in mine ears with a loud voice, yet will I not hear them.

ARE YOU A LARGE FAMILY BIGOT?
Psalm 127:3 Lo, children are an heritage of the LORD: and the fruit of the womb is his reward.
4 As arrows are in the hand of a mighty man; so are children of the youth.
5 Happy is the man that hath his quiver full of them: they shall not be ashamed, but they shall speak with the enemies in the gate.
Are you one of those ungodly bigots who complain when they see a large family go by? Children are a great blessing according to the Lord, and those who have many children and raise them in the Truth are tipping the balance in God's direction. The wicked often kill their babies. We will one day get ahead of them. What a great thought.

DO YOU HAVE AN INSTINCT TO COMFORT?
Romans 15:4 For whatsoever things were written aforetime were written for our learning, that we through patience and comfort of the scriptures might have hope.
Many Bible believers rejoice in the comfort the Word of God gives them only when they are in deep waters. When a preacher dares to preach a sermon of comfort, these same folks think the man is going soft or wimpy. When a pastor sees fit to forgive and encourage a sinner, he is asking for the boot. "The pastor is going soft on sin." This has hatched a bunch of pastors who are rough on rats with the wicked, backsliders, and anyone in general who is no "one of ours."
Who have YOU comforted lately? Who have you recently forgiven.... who didn't deserve it? Do you only comfort those who are 100% right with God? Listen to the comfort from the ultimate authority on sin and righteousness and judgment-- One who, of all men, would be in all His right and authority to rebuke and judge:
John 8:10 When Jesus had lifted up himself, and saw none but the woman, he said unto her, Woman, where are those thine accusers? hath no man condemned thee?
11 She said, No man, Lord. And Jesus said unto her, Neither do I condemn thee: go, and sin no more.
Not one word of rebuke-- What a wimp, right? Here is a woman who was caught in the act of adultery. Not at all like you and your jackboot tough boys yonder at the Holymost Baptist Church. I bet your women's missionary society would know what to do with her, eh? What a lovely topic for a telephone marathon. You would have "churched" the slut right on the spot, right. What a inappropriate time for comfort and forgiveness!
Go over there to John 8, and see if you can figure out who YOU are in that story. Are you "without sin"? Yes? Well, you are a damnable liar!

DO YOU TRUST YOUR OWN UNDERSTANDING?
Proverbs 3:5 Trust in the LORD with all thine heart; and lean not unto thine own understanding.
Did you ever feel like you were going mad? Well, lots of saints have experienced this at one time or other. The alleged strong ones laugh at the alleged weak ones. I find that the alleged strong ones are those who one day dive right over the edge into gross sin or heresy. They think they have sound understanding. We are wisest when we don't trust our own notions.
Jeremiah 17:9 The heart is deceitful above all things, and desperately wicked: who can know it?

ARE YOUR ETHICS EVOLVING?
Proverbs 11:1 A false balance is abomination to the LORD: but a just weight is his delight.
We live in a nation and in a time when men are eager to rip each other off and cheap for gain. We now see that both the Republicans and the Democrats have been trying to steal the election.
So, in everyday life we must not adapt to this treachery which is rampant in all levels of life. Environmentalists lie about global warming and cook the stats in their favor, while the Militia and Baptist preachers lie about their accomplishments in soul winning and faithfulness to Christ.
Brethren, these things ought not to be.

THANKSGIVING DAY TEXT
Psalm 116:1 I love the LORD, because he hath heard my voice and my supplications.
2 Because he hath inclined his ear unto me, therefore will I call upon him as long as I live.
3 The sorrows of death compassed me, and the pains of hell gat hold upon me: I found trouble and sorrow.
4 Then called I upon the name of the LORD; O LORD, I beseech thee, deliver my soul.
5 Gracious is the LORD, and righteous; yea, our God is merciful.
6 The LORD preserveth the simple: I was brought low, and he helped me.
7 Return unto thy rest, O my soul; for the LORD hath dealt bountifully with thee.
8 For thou hast delivered my soul from death, mine eyes from tears, and my feet from falling.
9 I will walk before the LORD in the land of the living.
This is our Thanksgiving Day text. During this time of chaos in the election process, let us not become so obsessed with the evil empire that we forget who our God is and what He has for us.

ARE YOU A DRAFT DODGER?
2 Timothy 2:3 Thou therefore endure hardness, as a good soldier of Jesus Christ.
4 No man that warreth entangleth himself with the affairs of this life; that he may please him who hath chosen him to be a soldier.
Just as we rebuked draft dodgers during the Vietnam War era, the Word of God rebukes saints who allow the cares of this life to interfere with the calling of God in their lives. What calling did you once start and never finish? Do you really believe that the present rewards of your life are better than hearing, "Well done, thou good and faithful servant..." from Jesus Christ.

FEAR-- IS IT CRIPPLING YOU?
2 Timothy 1:7 For God hath not given us the spirit of fear; but of power, and of love, and of a sound mind.
In these last times before Christ's return for His Church, we will be very tempted to enter into fear with those who are already living in anticipation of terror. This is not God's will for us. Lot vexed his righteous soul day and night over the sins of Sodom, and that is another story. We should be vexed over the sins of Sodom today as well.
But it is not right for us to allow the nation's and world's movements and powers to drive us to fear and terror. If we show the peace that passes understanding during these last days, men will see our peace, and some may come to repentance and salvation.

HOW DID AMERICA'S LEADERS GET TO BE FOOLS?
Proverbs 26:2 As the bird by wandering, as the swallow by flying, so the curse causeless shall not come.
The mocking of the world's nations is coming down on the USA. We have not gotten this new and embarrassing image without a "cause." The cause is that we have men in this nation who have played the fool too long, and God has arranged a way for them to make perfect fools of themselves. No one, worldwide, can miss the point that the USA is bonkers. Why have we reached this ugly point?
Proverbs 14:33 Wisdom resteth in the heart of him that hath understanding: but that which is in the midst of fools is made known.
34 Righteousness exalteth a nation: but sin is a reproach to any people.
These two texts are strangely nestled together in seemingly distinct context, but I think our national degraded behavior is seen here. The fools have been made known, especially the fool named Al Gore who is playing every trick he can think of to drive the nation into terror and insecurity. One wonders if he has actually been coached from above, as an agent provocateur, to do this in order to wreck the nation.
Verse 34 then tells us that sin is a reproach.

Psalm 72:1 Give the king thy judgments, O God, and thy righteousness unto the king's son.
2 He shall judge thy people with righteousness, and thy poor with judgment.
3 The mountains shall bring peace to the people, and the little hills, by righteousness.
4 He shall judge the poor of the people, he shall save the children of the needy, and shall break in pieces the oppressor.
5 They shall fear thee as long as the sun and moon endure, throughout all generations.
6 He shall come down like rain upon the mown grass: as showers that water the earth.
7 In his days shall the righteous flourish; and abundance of peace so long as the moon endureth.
8 He shall have dominion also from sea to sea, and from the river unto the ends of the earth.
9 They that dwell in the wilderness shall bow before him; and his enemies shall lick the dust.
There will be no real peace on earth and goodwill toward man until Messiah is ruling from Mount Zion. Regardless of who wins the US election, and who rules in your country, wherever you are around the world, if you know Jesus Christ as your Savior, you can look forward to a day of righteousness. I hope you have an anchor of the soul in Jesus Christ and not in one of these egomaniac world leaders, or even worst, in some big mouthed guru or Charismatic slow belly.
I recall seeing Heile Sallassie, Emperor of Ethiopia pass through the airport in Addis Ababa one day while I was waiting for someone to arrive. Everyone, including our party, bowed. This is not in worship but in respect. It is the way men respond to the king of any nation. I was amused to see a couple of potentates drop all the way down on their knees and kiss the floor as the Emperor passed. These men had some special reason for this extreme genuflection, which only they and the Emperor understood. Perhaps in the past they had rebelled, and Heile Sallassie showed them mercy. Perhaps they hoped to receive an appointment to some better position. Perhaps they were simply grateful because he had been particularly generous to them of a family member. The Emperor was well known for quiet acts of tender generosity to the needy.

I INVITE MYSELF TO THE VATICAN
Matthew 23:9 And call no man your father upon the earth: for one is your Father, which is in heaven.
Dear Mr. Frincis:
I would like to volunteer to visit the Vatican this year and represent Fundamental Baptists and the King James Bible Only clan. I would insist on preaching at the Sunday Mass on the above text from the King James Bible. I would also expect the Vatican to pay all my expenses since Mr. Francisl is so concerned with sharing his wealth with the poor. I am no beggar, but next to his budget, mine pales.
I would also insist on staying in the palace rather than some local hotel so I can visit with the folks there and get to know Franko in a more casual setting. I have no interest in ecumenical notions of course, but I would be more than happy to spend a week there and dig around in the basement in my spare time. I might get to spend ten minutes browsing the Vaticanus text, and then for the rest of my life I could pass myself off as an expert on the Alexandrian texts, mildew and all.
I would ask only one last favor. Would Cardinal in charge of entertaining be good enough to replace the hooch on the menu with cappuccino as long as I am visiting. I don't want to be demanding of course, but I would think this would be a small sacrifice by the village inebriates for just one week.
Fac ut vivas

DO YOUR WORKS SPEAK?
John 5:36 But I have greater witness than that of John: for the works which the Father hath given me to finish, the same works that I do, bear witness of me, that the Father hath sent me.
The best witness of what you THINK you have done for the Lord and His Church are your past works. What came of them? I don't mean in numbers. I mean in lives changed, battles won, righteousness exalted, and verdicts from the lost for or against the Gospel.
What men SAY about you is pointless. What your works SAY about you means everything about you.
John 15:16 Ye have not chosen me, but I have chosen you, and ordained you, that ye should go and bring forth fruit, and that your fruit should remain: that whatsoever ye shall ask of the Father in my name, he may give it you.

PRAISE YOUR WAY OUT OF SORROWS
Psalm 103:1 Bless the LORD, O my soul: and all that is within me, bless his holy name.
2 Bless the LORD, O my soul, and forget not all his benefits:
3 Who forgiveth all thine iniquities; who healeth all thy diseases;
4 Who redeemeth thy life from destruction; who crowneth thee with lovingkindness and tender mercies;
5 Who satisfieth thy mouth with good things; so that thy youth is renewed like the eagle's.
There are times when we are like Noah or Elijah-- Busy for the Lord, and no one listens. Those we think are friends accuse us and tell us our trials are caused by our own sins. They would love to destroy us, for they would feel so much larger in their own eyes.
Shall we allow such small people to destroy our peace, for that is what they want. They will deny this and say they only want our good. Their words betray them but sound so pious, like Job's friends.
What is our way of escape? Attack? No, that will only drag us on down where they are. When you wrestle with a pig in the mud, the pig likes it, and you go away all dirty.
So, shall we ignore them? Satan, their master, makes sure they have plenty of ammunition so that we cannot totally evade them.
The above Psalm is how we escape the snare of the wicked. We praise our way out of the thing. Praise the Lord for all His good acts toward us, and rejoice in the smallest blessings. This will replace the profane accusations of the wicked with joy in our own soul, and God honors that. Don't answer those who attack you-- Praise God for your blessings. This is so illogical and powerful against your enemies that they will be totally at a loss. It is nearly impossible to distract a praising saint.

THE LORD HATH A CONTROVERSY
Hosea 4:1 Hear the word of the LORD, ye children of Israel: for the LORD hath a controversy with the inhabitants of the land, because there is no truth, nor mercy, nor knowledge of God in the land.
And that goes for both the hate drenched Muslim Palestinians and for the Zionists who are now grouping to wreck revenge on their Arab half brothers. Would father Abraham be proud of his boys right now?
And, do you suppose the Lord hat a controversy with a fallen nation like America?

GET YOUR BIBLE PROPHECY RIGHT
Titus 2:11 For the grace of God that bringeth salvation hath appeared to all men,
12 Teaching us that, denying ungodliness and worldly lusts, we should live soberly, righteously, and godly, in this present world;
13 Looking for that blessed hope, and the glorious appearing of the great God and our Saviour Jesus Christ;
14 Who gave himself for us, that he might redeem us from all iniquity, and purify unto himself a peculiar people, zealous of good works.
Those who are looking for the Antichrist do not have much motive to stay pure and holy. Those who are preoccupied with the mark of the Beast are more interested in being shocked and horrified than in staying holy. Have you noticed how the Mid and Post-trib position draws people into lazy Christian living and novel investigation.
It is a lot more cleansing to look for Jesus Christ RIGHT NOW! For, he that hath this hope in him purifieth himself. If Jesus is not coming until after we all meet the Beast and have to refuse the mark, well then, we can live like the devil himself, for we won't get caught. Mid and Post Trib doctrine falls apart in this one factor alone.

THE ARABS HAVE A DESTINY WITH MESSIAH
Isaiah 62:6 I have set watchmen upon thy walls, O Jerusalem, which shall never hold their peace day nor night: ye that make mention of the LORD, keep not silence,
Ezekiel 13:16 To wit, the prophets of Israel which prophesy concerning Jerusalem, and which see visions of peace for her, and there is no peace, saith the Lord GOD.
Zechariah 9:10 And I will cut off the chariot from Ephraim, and the horse from Jerusalem, and the battle bow shall be cut off: and he shall speak peace unto the heathen: and his dominion shall be from sea even to sea, and from the river even to the ends of the earth.
Isaiah 60:1 Arise, shine; for thy light is come, and the glory of the LORD is risen upon thee.
2 For, behold, the darkness shall cover the earth, and gross darkness the people: but the LORD shall arise upon thee, and his glory shall be seen upon thee.
3 And the Gentiles shall come to thy light, and kings to the brightness of thy rising.
4 Lift up thine eyes round about, and see: all they gather themselves together, they come to thee: thy sons shall come from far, and thy daughters shall be nursed at thy side.
5 Then thou shalt see, and flow together, and thine heart shall fear, and be enlarged; because the abundance of the sea shall be converted unto thee, the forces of the Gentiles shall come unto thee.
6 The multitude of camels shall cover thee, the dromedaries of Midian [ ARABS ] and Ephah; [ ARABS ] all they from Sheba [ ARABS ] shall come: they shall bring gold and incense; and they shall shew forth the praises of the LORD.
7 All the flocks of Kedar [ ARABS ] shall be gathered together unto thee, the rams of Nebaioth [ ARABS ] shall minister unto thee: they shall come up with acceptance on mine altar, and I will glorify the house of my glory.
8 Who are these that fly as a cloud, and as the doves to their windows?
Messiah will ACCEPT the worship of Arabs, at His altar, in Jerusalem, in His Kingdom. Get used to it friend.

THE SECRET PLACE OF THE MOST HIGH
Psalm 91:1 He that dwelleth in the secret place of the most High shall abide under the shadow of the Almighty.
2 I will say of the LORD, He is my refuge and my fortress: my God; in him will I trust.
3 Surely he shall deliver thee from the snare of the fowler, and from the noisome pestilence.
4 He shall cover thee with his feathers, and under his wings shalt thou trust: his truth shall be thy shield and buckler.
5 Thou shalt not be afraid for the terror by night; nor for the arrow that flieth by day;
6 Nor for the pestilence that walketh in darkness; nor for the destruction that wasteth at noonday.
Where is the "secret place of the Most High?" I have to admit that I don't have the final answer on this, but it has to be more than geographical or a building. In the Age of Grace, we are not told to seek out a location, and even the Psalmist did not relate this place to the temple or Israel.
So, I have to assume that we can enter this place anytime and in all situations. It has to have something to do with prayer and devotion. Not "devotions" as we often refer to a time in the day when we read our Bible and pray. That could be included, but we Fundamentalists are terrified of dealing with the mystical aspect of our relationship with the Lord. There is a state of mind, as in "pray without ceasing", where we are WITH the Lord as we go through he day and through the good times and the bad.
Many Bible believers never learn this. God is still with them and loves them, but they fail to take time apart and "be still and know that I am God." How about you? When is the last time you went aside, spent some time in Bible reading and prayer, and then just leaned back and communed with God and "be still"? If this sounds strange to you, then you have missed a special blessing, and God may not have ever had your full attention. He can get you attention of course, and that is one reason He sends us trouble and testing-- to see if we will come running to Father. Better to go looking for Him, for early shall ye find Him.

CAN YOU LOSE YOUR SALVATION?
Psalm 89:31 If they break my statutes, and keep not my commandments; 32 Then will I visit their transgression with the rod, and their iniquity with stripes. 33 Nevertheless my lovingkindness will I not utterly take from him, nor suffer my faithfulness to fail. 34 My covenant will I not break, nor alter the thing that is gone out of my lips.
God says He will punish the Israelites who walk in sin, BUT God will never revoke a covenant He has made with them.
After the rod comes the hugs.
It is common today, among some Christian groups to help a saint doubt his salvation. This is wicked, and it violates a primal eternal characteristic of God-- He cannot tell a lie. Please read the above verse again, and then read the one just below. If Jesus is God, and He is, then you cannot get saved, and then find a way to get unsaved. God will become a liar the day you lose your salvation. Now, if you live in perpetual sin, and if you get no "rod" and "stripes" from God, you never were born again, and you better get saved real quick.
John 10:27 My sheep hear my voice, and I know them, and they follow me: 28 And I give unto them eternal life; and they shall never perish, neither shall any man pluck them out of my hand. 29 My Father, which gave them me, is greater than all; and no man is able to pluck them out of my Father's hand.
I don't want to hear any of this trash about, "No, someone else cannot pluck us out of Jesus hand, but we can take ourselves out of His hand." LIE! That is NOT a thought found anywhere in the Bible. It is found in the pulpits of preachers who steal the joy of the saints. You are your worst enemy. If Jesus could not keep YOU from losing YOUR salvation, He was a pretty weak excuse for God.
God will not suffer His faithfulness to fail, even if yours fails!
By the way, you earthly fathers, do you discipline your children-- It is deadly not to. But, after you tan their britches, give them a hug so they know your rod is one of mercy and love. Make sure the hug is longer than the discipline too.
Withholding love is NOT a form of discipline-- it is Satanic.
GE