CALVINISM

An Alien, Cruel, and Violent Religion
Long ago, a seminary theologian, trying to help a very unscholarly Black preacher make some progress in the deep thought, gave a one volume commentary to the preacher.
Some time later, the seminary PhD asked the Black preacher what he thought of the commentary.
The Black preacher said, "De Bible sho do shed some light on dat book."
Selah.
Not the other way around.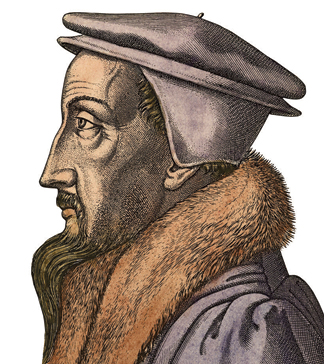 We are the Lord's elected few,
Let all the rest be damned;
There's room enough in hell for you,
We won't have Heaven crammed.
Old English Peculiar Baptist hymn of hate for other Baptists
The modern obsession with Calvinism is not a return to orthodoxy, it is a flight from the Word of God.
MENU OF ARTICLES:
Proverbs 14:16 (KJV) A wise man feareth, and departeth from evil: but the fool rageth, and is confident.

Proverbs 14:8 (KJV) The wisdom of the prudent is to understand his way: but the folly of fools is deceit.

Proverbs 26:11 (KJV) As a dog returneth to his vomit, so a fool returneth to his folly.

1 Corinthians 3:18 (KJV) Let no man deceive himself. If any man among you seemeth to be wise in this world, let him become a fool, that he may be wise.
19 For the wisdom of this world is foolishness with God. For it is written, He taketh the wise in their own craftiness.
20 And again, The Lord knoweth the thoughts of the wise, that they are vain.
LETTER FROM A READER
Dear Brother Van Nattan, I want to thank you so much for your Calvinism page; the article you uploaded by Brother Cloud, and the videos also. All the information has been such a blessing to me. I've been a Christian for almost 30 years, and spent 4 or 5 of those in the wilderness of Calvinism. It's discouraging to see Calvinism experience a resurgance.

As a homeschooling parent, I can tell you they are very influential in homeschool circles, especially the brand of Calvinism that embraces Reconstructionism and anything having to do with the Scottish Covenenters. (Why am I writing this? You must know this of course.)

Their love affair with all things Reformation has led them to publish a great deal for the homeschool market, especially through Veritas Press, Covenant, Logos, and now especially from the folks at Vision Forum. There is much deception out there. Thank you for making the truth available. God bless you.

Sincerely,
Ana
_______________
If you would like to comment on this article to Steve Van Nattan,
Editor of Blessed Quietness Journal, go to the Send Mail page to send email.

BACK TO RECONSTRUCTIONISM MENU PAGE
BACK TO ENTRY PAGE OF THE JOURNAL
ge