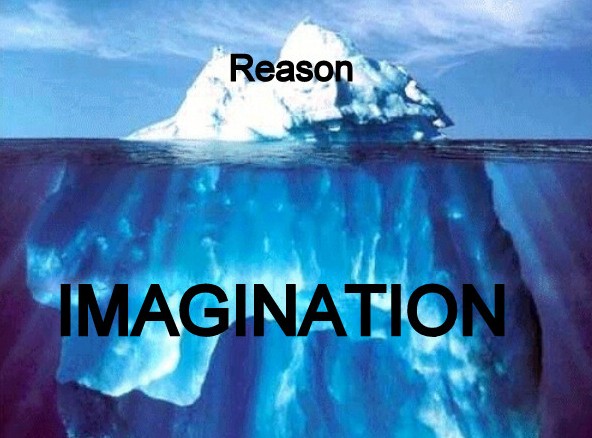 CAN WE HEAR VOICES
OR SEE THINGS FROM
THE OTHER SIDE?
Are voices from Satan or evil men tormenting you? Let's see what is evil, what is benign, and what is of God.
By Steve Van Nattan
PART FIVE:
CONCLUSION TO THE STUDY OF VOICES FROM THE OTHER SIDE.....
DID YOU MISS PART ONE AND PART TWO
AND PART THREE AND PART FOUR


Imagination-- we all have one, and we all win in the battle to control our imaginations..... sometimes. At other times we give way to an evil imagination. And, Satan knows we are vulnerable in this, so he sends us many voices to seduce us and send us off of the Narrow Way into the Slough of Despond.

Thankfully, there is virtually no admonition in the Bible where we are told to tell anyone but God when we lose it and let our imagination run to evil fantasies or morbid suspicions. We confess our detour into sinful fantasies to Christ, and we force our mind to head in a new direction. God gives us many resources to help us control our imaginations-- The Holy Spirit in us, the Bible, godly friends, and his magnificent creation around us.

So, the trick seems to be to interrupt our evil thoughts with godly distractions until those worthy distractions actually dominate our imagination. As we have learned in the four previous parts of this study, vulgar and seductive voices are always present to drive us into evil thoughts, but God the Holy Spirit is also in us pressing us toward noble and God fearing thoughts.
Our courts find it hard to convict a criminal until they find, in the person accused, what is called "intent." Where there is no intent established, the court and jury must consider the possibility that what appears to be a crime was actually an accident. Evil acts run back to evil intentions, and evil intentions are hatched in the imagination. This is very serious business indeed.
The Apostle Paul spoke of this struggle in himself as a war that he could not win on his own. But, he also found hope:
Romans 7:18 For I know that in me (that is, in my flesh,) dwelleth no good thing: for to will is present with me; but how to perform that which is good I find not.
19 For the good that I would I do not: but the evil which I would not, that I do.
20 Now if I do that I would not, it is no more I that do it, but sin that dwelleth in me.
21 I find then a law, that, when I would do good, evil is present with me.
22 For I delight in the law of God after the inward man:
23 But I see another law in my members, warring against the law of my mind, and bringing me into captivity to the law of sin which is in my members.
24 O wretched man that I am! who shall deliver me from the body of this death?
25 I thank God through Jesus Christ our Lord. So then with the mind I myself serve the law of God; but with the flesh the law of sin.
This seems to be both a sweet and a bitter conclusion. Paul speaks of Jesus Christ in verse 25 as his deliverer, but the end of that verse seems to leave the war unfinished. And, so it is. As long as we are in this world, we have stimulations of the mind hammering us every day. Satan and his followers are very good at seeing to it that we are tempted to mentally wander into morbidity, lust, arrogance, and a hundred other disturbances to our peace of mind in Christ. Then, we give way again, willfully, and we camp in the land of evil imaginations.
It would be very discouraging to end there. But, praise God Chapter Eight of Romans follows right on the heels of Chapter Seven:
Romans 8:1 There is therefore now no condemnation to them which are in Christ Jesus, who walk not after the flesh, but after the Spirit.
2 For the law of the Spirit of life in Christ Jesus hath made me free from the law of sin and death.
3 For what the law could not do, in that it was weak through the flesh, God sending his own Son in the likeness of sinful flesh, and for sin, condemned sin in the flesh:
4 That the righteousness of the law might be fulfilled in us, who walk not after the flesh, but after the Spirit.
That is the good news. When our good intentions and zeal to be like Jesus Christ run off the rails, we can come home to our Lord, and he never says, "This is getting to be too much. When are you going to stop running off mentally into your own nasty thoughts?"
There is no condemnation. Your pastor may condemn you, your spouse may mock you, and the world will roar with laughter when a child of God is caught thinking and speaking like a drill sergeant or a pervert. But, Jesus is eagerly waiting for his sheep to mentally come back to the fold.
THE MOST DANGEROUS OCCUPATION ON EARTH
There is perpetual war on earth. Here is why:

Psalms 24:1 The earth is the LORD'S, and the fulness thereof; the world, and they that dwell therein.

So, God is the final authority in the earth and always will be. But, we have a problem. There is another authority in the earth in a perpetual contest with God for the souls of men. He also desires to trash God's garden, the natural creation which God said is "good" and turn it into a city dump.

Ephesians 2:1 And you hath he quickened, who were dead in trespasses and sins;
2 Wherein in time past ye walked according to the course of this world, according to the prince of the power of the air, the spirit that now worketh in the children of disobedience:

So, all the power of God's fallen angel, and his children of disobedience, are brought to bear on God's good earth and the people of the earth. God wages war through the Holy Spirit against Satan, and God restrains Satan. Later, Satan will be bound in the Pit for a thousand years, and Messiah Christ will rule in person. Until then, the war rages 24/7 in the whole earth.

So, who is at the center of this horrific battle for earth?

Answer: Christ

There is absolutely no way you could prevail against Satan without Jesus Christ. There are many alleged Bible teachers these days who twist various Bible verses until they will convince you that it is all about you. They are damned to hell liars. Jesus Christ is the great "I AM," not you, and not Joel "The Teeth" Osteen.

So, you are God's soldier serving under the Captain of your salvation, Jesus Christ. He is not present in physical form as he was 2000 years ago in Galilee. He is in YOU, and you will win in this battle, but only if you fight in this battle by Christ's rules and with his power.

1 John 4:4 Ye are of God, little children, and have overcome them: because greater is he that is in you, than he that is in the world.
5 They are of the world: therefore speak they of the world, and the world heareth them.
6 We are of God: he that knoweth God heareth us; he that is not of God heareth not us. Hereby know we the spirit of truth, and the spirit of error.

Romans 8:35 Who shall separate us from the love of Christ? shall tribulation, or distress, or persecution, or famine, or nakedness, or peril, or sword?
36 As it is written, For thy sake we are killed all the day long; we are accounted as sheep for the slaughter.
37 Nay, in all these things we are more than conquerors through him that loved us.
38 For I am persuaded, that neither death, nor life, nor angels, nor principalities, nor powers, nor things present, nor things to come,
39 Nor height, nor depth, nor any other creature, shall be able to separate us from the love of God, which is in Christ Jesus our Lord.

So, while you chase voices from the other side, and while you listen to the seductive voices of false prophets and bully little brats in wayward pulpits, you are not in the real war. The safest place for you to be is in the battle Jesus has given you. It is a deadly battle, but you are promised victory if you fight this war by Jesus' orders and strategy.

The most dangerous human vocation-- what is it?

I had an older man in the church which I pastored in the California High Desert long ago, and he had worked for Chicago Bridge and Steel. They gave Ed some very dangerous jobs because he had nerves of steel and he always followed the rules. One job he had was to put new gold leaf on crosses on tall steeples on old churches. This meant climbing the inside of the steeple, opening a hatch near the top, clip his boson's chair to a ring on the bottom of the cross, swing out over space, and then layer on extremely thin sheets of gold onto the cross using shellac. All this in the fierce winds of Chicago. That has to be one of the most dangerous jobs in the world.

But, having grown up in Africa, I believe the most deadly job any man can have is to be a gun bearer of a big game hunter in Africa. The gun bearer's job is very complex. He must read sign and track animals, he must clean the guns at the end of the day and have them in perfect working order for the next hunt. He must skin animals so that they can be mounted later as trophies.

But, the most deadly part of the gun bearer's job is this. He must stay right at the elbow of the hunter at all times when stalking, AND, he must not react to the deadly situations which can happen when hunting dangerous big game. The gun bearer is there to have ammo ready after the hunter fires both barrels. We are now talking about a double barrel Holland and Holland 500 magnum rifle, the biggest hunting rifle made. The gun bearer will learn to hold two shells in his fingers so that when the hunter breaks the gun to reload, over the hunter's shoulder, the gun bearer will pop the two shells into the breach in a fraction of a second.

The gun bearer holds a second rifle in his hands in case the hunter's rifle misfires, and the gun bearer never uses this second gun to defend himself. In fact, the gun bearer disciplines himself so that he totally trusts the hunter to defend both of them. To run and climb a tree is total disgrace, and his career will come to an end right there. The other disgraceful error a gun bearer must resist is to listen to the voices of other hunters nearby. He only listens to the voice of the hunter he works for. The only fear the gun bearer has is the displeasure of his hunter master. He never wants to hear that he failed to do his job well.

When back at home visiting with other local Africans, the gun bearer knows he is of another breed. Everyone knows he is the only man the hunter trusts to back him up. He keeps himself separate from other men, he never gets drunk, and he always brags on the hunter for whom he serves. And, the gun bearer seldom is found wearing anything but hunting clothes.

When the hunter makes a record kill while the gun bearer was assigned to track game elsewhere, that is, when the gun bearer was not with the hunter, the gun bearer has no jealousy of some other gun bearer who was there with the hunter. Any successful hunt by the hunter is an exciting victory to the gun bearer, even if he was not there at the time, and he will brag on that trophy just as much as the ones killed when he was with the hunter. In other words, the success of the hunter is absolutely everything to the gun bearer, and the only liberty he ever takes is to use the word "we" when telling of a conquest. Everyone around knows that the gun bearer is one with the hunter.

Are you getting the point?

Remember, the gun bearer's job, time after time, is to go where lions, elephants, and rhinos are found, and make sure the hunter kills one. But, all the credit will end up going to the hunter. The gun bearer is famous for one thing-- he is faithful to the hunter. For THAT, the gun bearer will become a legend, first among his African friends, but also at the hunting lodge where White hunters tell their stories. The hunter will brag on his gun bearer, and the other White hunters hear the affection in his voice as he tells of the loyalty of his gun bearer. Other hunters will seek out the gun bearer when he is not actually hunting with his master. Many a big game hunter has been killed because he failed to vet his gun bearer well enough.

The gun bearer's African friends may never get to know the hunter personally, but through the gun bearer they will learn of his fame, wisdom, and the goodness of the hunter. Young African boys will listen to the tales of the great hunter and think, "I want to be a gun bearer to such a White Man."

So, how is it with you my friend? Do you go into battle to find fame for yourself? Do you use Jesus and the Holy Sprit as tools to conquer and become famous? You fool. That is why you keep hearing voices from Satan and making a jerk of yourself. Your job is deadly. You are hunting for souls who belong to the most vicious angel in all of cosmic history. He knows who you are, and he lusts to destroy you because that is as close as he will ever get to touching the eye of God the Divine Hunter of lost souls.

1 Peter 5:8 Be sober, be vigilant; because your adversary the devil, as a roaring lion, walketh about, seeking whom he may devour:

So, under these circumstances, you need to understand that you cannot turn back. When you confessed your faith in Jesus Christ you were joining the age-old war between Christ and Satan. Winning the war, at least for you, depends entirely on whether you stay at the elbow of the Divine Hunter. Surviving an attack by the lion will happen only if you are serving Jesus Christ and hearing his voice from his Word. The Word of God is the ammunition in this war, and as you pass it to out, the Divine Hunter, the Holy Spirit, sends it home to destroy the adversary, or to convince some sinner of his need for salvation. If you stand around chattering about prophecies you heard on TBN or at the mega church, you are worse than worthless to the Holy Spirit.

2 Corinthians 10:3 For though we walk in the flesh, we do not war after the flesh:
4 (For the weapons of our warfare are not carnal, but mighty through God to the pulling down of strong holds;)
5 Casting down imaginations, and every high thing that exalteth itself against the knowledge of God, and bringing into captivity every thought to the obedience of Christ;

1 Timothy 6:11 But thou, O man of God, flee these things; and follow after righteousness, godliness, faith, love, patience, meekness.
12 Fight the good fight of faith, lay hold on eternal life, whereunto thou art also called, and hast professed a good profession before many witnesses.
13 I give thee charge in the sight of God, who quickeneth all things, and before Christ Jesus, who before Pontius Pilate witnessed a good confession;
14 That thou keep this commandment without spot, unrebukeable, until the appearing of our Lord Jesus Christ:
15 Which in his times he shall shew, who is the blessed and only Potentate, the King of kings, and Lord of lords;

So, you are, like the gun bearer in Africa, supposed to be at the elbow of Jesus Christ in a deadly battle for the souls of men. This battle has gone on since Adam and Eve fell in the Garden of Eden. And, how did they fall? Answer: They listened to the voice of God's enemy, Satan. They let their imaginations tell them lies about being like God and knowing good and evil.

Who are YOU listening to?

You are one of the elite of God, as are all born again Bible believers. Can Jesus count on you to do anything he wants you to do? Will you only listen for his commands, FOR HIS VOICE, commanding and comforting you through his voice in his Word? Or, will you keep craving ...............

............ those voices from the other side?
THE BAD NEWS
I hate to end with a threat, but the evidence is in. It has been proven that people who were nannied by TV, Game Boys, Drudge, mobile phones, and Virtual Reality lose the use of their imagination. That part of the brain atrophies. This means some of you who read here are already maimed in your brain and mental functions.

You have two choices:

Abandon technology except for only the very basic uses, and then keep your time in the world of technology limited. And thus, return to the world where your mind relates to people, creation, and your God.

If you work in technology, you MUST box in your work hours so that you do not spend the whole day in bit mania, and then go home and dive into computer games or Facebook for hours. If you really have found an old friend on social media, and IF THEY ARE TOO FAR AWAY TO VISIT IN PERSON, then keep Facebook for only a few of these friends, and resist the urge to camp in the artificial world of social media.

Beware of Facebook Groups. These people are almost all warped in some aspect of their mind or personality. They do not take their zeal to the cafe or to IHOP over coffee and pie with a friend. They hammer one another with topics and gripes and are obsessed with seeing their wisdom being bandied about by strangers. My experience with groups proves me correct. They are a massive distraction, and little of nothing is resolved in Facebook groups.

Draw the line between you and Virtual Reality. This alleged "reality" is NOT real as Christ thinks of reality. There comes a time with all advances in science and technology when you have to say, "This is too far for me to go and still feel right with my Lord, my family, and my friends."

OR

Stay addicted, jump into every new Virtual Reality toy that comes along, and totally lose your ability to be moved by the smell of roses and the twinkle of the stars. In fact, the smell of your sweaty socks may one day not be real to you because you did not smell them online. Go ahead, laugh it off, but do not expect me to leave the Texas Hill Country and chase the Beast with you.

You have a disease called FOMO- Fear Of Missing Out. WATCH THIS TED TALK and repent.

We are at the crossroads as Bible believers. Satan's servants in world commerce of technology will do anything with your mind and imagination that turns a Dollar, Euro, or Yen. Oh, let us not forget the Yuan.

This juggernaut of technology will keep coming and coming, and one day squash you under its wooden wheels. Now, do you see what I mean? You have no idea what I am talking about. So, I have included a juggernaut video from India. The most dedicated Hindu idiots to the god Juggernaut would cast themselves under the wheels of the monster carriage, and they would be squashed to death.

That is you if you do not get you fanny, and mind, out of cyberspace and into reality as God intended it for you. You are a slave of alien voices.

1 Timothy 4:7 But refuse profane and old wives' fables, and exercise thyself rather unto godliness.

DO YOU EXERCISE YOURSELF UNTO GODLINESS,
OR WILL THE TECHNOLOGY JUGGERNAUT SQUASH YOU?

LOOK AT THE GULLIBLE CROWDS, AND THINK, ARE YOU ONE OF
THE MODERN FOOLS WHO SWOON AT THE SHRINE OF THE TECHNOLOGY GOD?
TEACHING TIP:
REVIEW
As teacher, you need to go back over all the topics presented. Try to draw all of them together in one panorama for a vision of the need to understand where all the voices come from, AND what to do about them.
FINALLY, THOSE VOICES
This whole study in five parts was about voices from the other side. There are many voices. Some are from people, good or evil. Some are from Satan or his helpers. Some are from Hollywood and the entertainment world. Some are from friends, both Christian and unconverted. Some voices are from our own imagination chasing good and evil fantasies. There are even voices from the creation and the heavens declaring the glory of God. Then there is the voice of the Holy Spirit trying to teach and guide us.

The only voice we can most certainly trust every time is that of the Holy Spirit. If we consider the Word of God a voice, we can also absolutely trust the King James Bible's voice to us as we read it. The problem is, most Christians never read their Bible between Sundays, so Satan has a hay day with them.

Isaiah 30:21 And thine ears shall hear a word behind thee, saying, This is the way, walk ye in it, when ye turn to the right hand, and when ye turn to the left.

I would suggest you open all of the parts in this series again if you closed them. Review the topics, and meditate on them as you scroll through them. What did you feel good about, that is, you have already dealt with that voice? Then ask your self which topic made you uncomfortable. Was it because you need to deal with it, or did it make you mad because it contradicted your preconceptions? Or, did it actually frighten you?

The voices are getting louder and more aggressive for two large reasons:

1. Technology drives sound and sight faster, louder, and more seductively these days. When I was a kid, the radio was all we had. TVs were astoundingly expensive. And, the radio was driven by vacuum tubes. When you turned on the radio, it took up to two minutes for the tubes to heat up and start passing the signal through. Contrast this with the total lack of lag time in everything today. Waiting is being eliminated, and people now are impatient to get something in seconds which I waited a week for to come in the mail.

This tsunami of technology is a wretched impostor which we must have, and those who decline are threatened with dire consequences, especially in employment. Many jobs today force the employee to be "on call" 24 hours a day. The cell phone is like a leash from we the people to a thousands masters. And, the masters no longer wait to be invited into our lives.

Do not underestimate the effect of all these voices on your peace of mind. Research has proven that it is becoming a critical issue for mental health. I make my own arrangements by which I run loose off my leash. I am down to my connection to my wife as to 24 hours, but I do not always jump when the cell phone goes off. The critical issue though is not what the world is doing to you-- it is the question of what you are willingly grabbing hold of and the load of voices and rubbish Satan can layer in on your mind via the toys YOU bought and asked for.

2. It is the End of the Age, the end of the Times of the Gentiles, and the Gentiles are going mad. To drug and tobacco addiction is added food addiction. To food addiction is added technology toys, and to technology toys is added strong delusion. God said he would send the last generation of this age "strong delusion" so that they would believe the big lie.

2 Thessalonians 2:7 (KJV) For the mystery of iniquity doth already work: only he who now letteth will let, until he be taken out of the way.
8 And then shall that Wicked be revealed, whom the Lord shall consume with the spirit of his mouth, and shall destroy with the brightness of his coming:
9 Even him, whose coming is after the working of Satan with all power and signs and lying wonders,
10 And with all deceivableness of unrighteousness in them that perish; because they received not the love of the truth, that they might be saved.
11 And for this cause God shall send them strong delusion, that they should believe a lie:
12 That they all might be damned who believed not the truth, but had pleasure in unrighteousness.

This strong delusion seems to me to be well under way. In all my life I have never seen so many utterly senseless and stuck-on-stupid people in the US Government and other governments of the world. There seem to be no noble men anymore in world leadership. This also seems to apply in business, education, and the arts. Pure rubbish is being hawked as art and good music. Dissonance is exalted. Education is producing people unable to perform in the work place. If there is no button to push, the job does not get done.

Thus, the voices which come at you, even from church pulpits, may seem irrational, and you need to start turning them off, or you will become like them. I am not joking. We tend to drift into language use and social and cultural choices as a result of the people and sources of data input which we tolerate.

Those voices from the other side must be fiercely resisted.
LINKS RELATING TO ALL PARTS OF THIS STUDY ON VOICES:



REPRESENTATION OF MENTAL ILLNESS WHERE VOICES ARE HEARD IN ONE'S HEAD
This is really devil possession, and this is what can happen to you if you persist in the fantasy that God, or some other entity, speaks audibly in your head. The voices are devils, and the mental hospitals are full of these poor victims. I had a friend who worked in a mental hospital, and he said he believed the vast majority of the people there were devil possessed and could have been delivered if someone could get past the godless staff and help them.

HERE IS A TED TALK-- A LADY TELLS OF HEARING VOICES AND THE TROUBLE OF IT ALL
You need to understand that this lady was very likely hearing the voices of devils. Once she responded to the voices, they left her alone. Why? My take is that the devils were content to use her to validate hearing voices as normal so that they could expand into the minds of the people she thought she helped. If she were to walk away from the present as she knows it, I greatly suspect the voices would return. Please note- TED Talks are produced by highly intelligent people. Devils DO play games with the elite of the world.

CHARISMATIC VOICES AND DEMONIC ACTIVITY
This is a list of articles at this journal.

DEPRESSION AND ANXIETY AND THE PSALMS

VOICES OF JACKBOOT FUNDAMENTAL BAPTIST PREACHERS SERVING SATAN
This is a list of articles at this journal.

TALKING TO THE DEAD, EVEN BY UNGODLY PEOPLE, IS CLEARLY FRAUD

COMMUNICATION FROM THE OTHER SIDE TO US IS OF DEVILS

CHRISTIANS WHO "TALK TO THE DEAD" BECOME SPACE CADETS.
This lady shows all the signs of being devil possessed-- the deception, the craving for secrets, and the absolutely stupid gullibility found in all who enter the world of mediumistic power. These characteristics can also be see in Christians who claim they talk to dead family members and to angels. Same mysticism, same gullibility, and same devils blinding them to the Word of God.

EXTREME SEDUCTION DOCUMENTARY WHICH SHOWS DEVILS PASSING ON HOPE
This hope is from devils, and the damned are screaming for water while this alleged hope is passed on to the living victims. Along the way, you hear from a man who was taken in and gives counterfeit duplication of much prophecy from the Bible, but spirit beings are given the glory instead of Christ. Finally, channeling is presented, which is 100% of Satan. Please watch this because there are powerful people in world leadership who are reported to be preparing for a grand entrance of devils manifesting physically as another superior race from some distant point in the universe who will demand that humanity join all religions and live in peace. This, if it happens, will again be 100% devilish. If this happens before the Rapture of the Church, will you be suckered into it? Matthew 24:24 For there shall arise false Christs, and false prophets, and shall shew great signs and wonders; insomuch that, if it were possible, they shall deceive the very elect.

Johanna Michaelson lived life thinking she was a Christian as well as a New Age Occultist. Then, she understood the Gospel and her own rebellion, and she was genuinely born again. She herself was a false prophet and channeler of Satanic messages before she was born again. She has a very good basis for examining the modern church and all the false prophets and false Christs.

Thus, the video:

1 Corinthians 10:21 Ye cannot drink the cup of the Lord, and the cup of devils: ye cannot be partakers of the Lord's table, and of the table of devils.
22 Do we provoke the Lord to jealousy? are we stronger than he?
SEND MAIL IF YOU HAVE QUESTIONS OR SUGGESTIONS