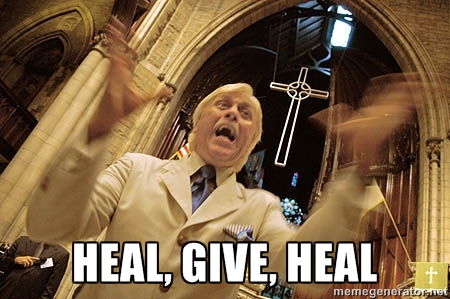 CHARISMATIC CHAOS
and THIRD WAVE CHRISTIANITY

I believe this is one of the most complete reviews of satanic christianity in the Charismatic Movement and what is knwon as Third Wave Christianity.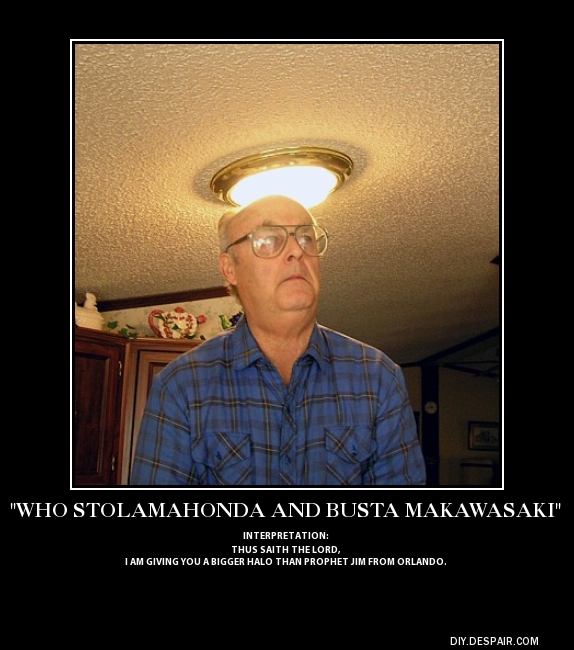 ABOVE: Prophet Steve Van Nattan reporting a revelation
I received last night while munching oregano.
INTRODUCTION
The movements (oh yes) discussed here are obviously cultic to many believers, but, out of love for those caught up in Charismania, we have to consider them.

I want to add an observation after being on the Web since late 1995 and exposing this cultic mess. There are a good number of old time Pentecostal saints who love the KJV and hate the devilish counterfeits. They have stayed on the narrow way, and though we still do not agree with them in the areas of tongues speaking and some healing teachings, we thank God for their letters and encouragement in this ministry.

Revelation 3:14 And unto the angel of the church of the Laodiceans write; These things saith the Amen, the faithful and true witness, the beginning of the creation of God;
15 I know thy works, that thou art neither cold nor hot: I would thou wert cold or hot.
16 So then because thou art lukewarm, and neither cold nor hot, I will spue thee out of my mouth.

Those who arrogantly follow after the Charismatic cultist leaders and justify the manifestations of lust and folly are damned to hell. It is highly note worthy that the Lord Jesus only describes himself as standing OUTSIDE knocking, trying to get in, with the last age of the Church, the Laodiceans. Follow on, follow Benny Hinn, Hagin, Crouch, and all the other fools, and you will go straight to hell. You are God's puke! Or, repent and:

Revelation 18:4 And I heard another voice from heaven, saying, Come out of her, my people, that ye be not partakers of her sins, and that ye receive not of her plagues. CHARISMANIA VOCABULARY

GENERAL ARTICLES
EXPOSING CHARISMATIC CHAOS
VIDEO: THE YOUNG TURKS SITE DEALS WITH FAITH HEALERS WHO DEMAND THEIR FOLLOWERS DONATE TO BUY THEM A JET.
If there is one thing totally unlike Jesus about Copeland, Creflo Dollar, and other faith headers, it is the jet issue. Jesus walked everywhere he went unless he was in a boat that belonged to one of his disciples, or when he borrowed a donkey to ride into Jerusalem. If you have donated to anything like these devil possessed faith healers, you are a blithering idiot. You need to see how the world sees these men, and you need to realize you are seen also as a giant sucker. And..... YOU ARE!

DELUDED DEVIL POSSESSED PREACHERS
By Steve Van Nattan
Proverbs 5:22 His own iniquities shall take the wicked himself, and he shall be holden with the cords of his sins.
There has been a migration of devils from the dark shadows of witchcraft to the church house. During the 1970s, while I pastored in the High Desert of California, we were in constant combat with devils. Witchcraft was rampant all over the Desert.Over the ensuing years, I have become aware that the picture has vastly changed. I hear very little about witchcraft, though individual instances are certainly still with us. But, I am now certain that the devils of the 1970s abandoned their black hearted friends and have "gone to church" and "gotten religion."

GOD HAS HORRIBLE SYNTAX AND GRAMMAR
God gives prophetic messages to Charismatic preachers in bad grammar and bad syntax. This was never the case in past revelations, but it seems the Pentecostal mind is so dumbed down that God has had to accommodate the hick burp scholars of Charismania.

BLASPHEMOUS CHARISMATIC VISION OF THE RAPTURE OF THE LORD'S CHURCH
This dream appears to be given to many Charismatics by devils. Many are claiming this is their personal dream. There is virtually NO resemblance of the biblical teaching of the Rapture of the Church in this demonic vision. This person is possessed of devils, and they seem to have gotten them from reading Steve Hill's book.

TV PREACHERS EXPOSED
This is a dreadful video full of terrifying evil tricks by alleged preachers, most of them Charismatic and Pentecostal. If you approve of such alleged "ministries," there is a very good chance that you are devil possessed also. The only way you can break the Satanic grip these men hold on your mind and soul is to publicly renounce them, confess your faith in Jesus Christ, and never return to a Charismatic environment.


In recognition of Kenneth Copeland's contribution to unity in Christendom, we at Blessed Quietness Journal, with no reservations, wish to award Kenneth Copeland.........
THE DEAD SKUNK AWARD OF STINK


HILLSONG MONEY MACHINE IN AUSTRALIA
Whatever good messages seem to come from Hillsong, they are not about any message other than money.

BOLD BLASPHEMY OF F. NOLAN BALL
This man claims to be a more potent prophet and Apostle than the Apostle Paul. He claims that he prophecies are of higher authority than the Bible itself. Listen to him claim you must have the same faith in him that you have in Jesus. He, like all Charismatics, mocks at the teaching of doctrine, which the Apostle Paul commanded Timothy to do.
1 Timothy 1:2 Unto Timothy, my own son in the faith: Grace, mercy, and peace, from God our Father and Jesus Christ our Lord.
3 As I besought thee to abide still at Ephesus, when I went into Macedonia, that thou mightest charge some that they teach no other doctrine,
4 Neither give heed to fables and endless genealogies, which minister questions, rather than godly edifying which is in faith: so do.
Web page discussing Nolan Ball

How do you manifestation junkies like the way God is mocked because of your gullible mindless folly? See the fake web site used to do this experiment.

JAN (JUSTICE) BOSHOFF
This man is an online holiness guru who claims local church gathering places are so defective that you might lose your salvation if you attend one. He rejects the whole Bible as the Word of God, calling it only "the Scriptures." He claims the Holy Spirit tells us which parts of the Bible are from God since many parts are only human conjecture. His teachings area a form of mysticism which calls to the inner voice for truth rather than the external revelation in the Bible. Boshoff is a Dutchman from South Africa.

GIVE SERIOUS ATTENTION TO
ONE MAN'S POWERFUL APOLOGY TO THE NATIONS! - By Sandy Shaw
Permission has been given to share this powerful apology. Be prepared to be shocked. Some may even become angry. Others may not be overly surprised as they have known and been aware that this has been going on and so many have remained silent.

IS THIS THE BEGINNING OF THE END?
Kansas City Seven (Fellowship) Guru, Bob Jones gives PROPHECY ON PK AND THE WORLD UNITY OF CHARISMANIA AND PROMISE KEEPERS.

SIGN OF BAPHOMET, A SALUTE TO SATAN
TO BRING POWER AND PLEDGE ALLEGIANCE

C S UPTHEGROVE EXPOSED
The devil is in his mouth, not the Holy Ghost

SIGNS AND WONDERS-- SIGNS THAT A CHARISMATIC CHURCH IS SICK
By Steve Van Nattan
This is an update on the Charismatic Movement looking in particular at the damned Word of Faith Movement.

LONG DISCUSSION OF ONENESS PENTECOSTAL TEACHING
This is from a former minister in the Oneness movement.

DISCERNMENT
We discuss the alleged ministry of discernment as a spiritual gift. Much chaos and pain is suffered by believers when a "prophetic word" is laid on them by a self-possessed guru inside the Church.

Read one person's experience in a Hagin service.

1000% MOTHER GOOSE RUBBISH
ON FAITH HEALING AND MANIFESTATIONS


THE GIFT OF DISCERNMENT--
As Practiced in 99% of Charismatic and many Baptist churches

SCOTT NORVELL AND HIS BIBLE
MUTILATION-- TERRAFORMING
By Kent Treadwell-- Kent critiques the teaching of this heretic. This is perhaps the most vile invention to ever come out of Neo-Charismatic men.

TERRA FORMING
This is a new cult that reaches around the world. It is Charismatic in nature, but it also draws from the militant Roman Catholic sources, as well as alchemy's vicious side. It is pure Satanism.
Article by Steve Van Nattan

ANDREW STROM EXPOSES THE KUNDALINI
AND OCCULT NATURE OF THE
CHARISMATIC MOVEMENT
Andrew was deeply into this, and he has come clean on manifestations, but we must add a strong disclaimer-- See the article just after this one on Andrew Strom.

1- False spirits invade the church - KUNDALINI WARNING - Andrew Strom

2- False spirits invade the church - KUNDALINI WARNING - Andrew Strom
Watch Todd Bentley's hand gesture as he speaks. He is sending devils out with his hand, just like Rodney Howard Browne did with his index finger over and over.

3- False spirits invade the church - KUNDALINI WARNING - Andrew Strom

John Crowder Part One and Part Two-- This is damned to hell demon worship.

Connie Williams-- Motor mouth for Satan

DISCLAIMER: ANDREW STROM
While we have used his material above, he remains a Charismatic cultic guru. If any reader can prove he has repented of the errors in the following article, send mail with URLs.
THE MOST SATANIC DISPLAY
I HAVE EVER SEEN IN CHARISMANIA
NO CHILDREN PLEASE

NORTH AFRICAN DEVIL DANCE WITH ISLAMIC BLASPHEMY
(No Children watching this please) More on the Manifest Sons of God
Rick Perry and Sarah Palin have ties to these people via Rodney Howard Browne and The Kansas City Seven.
ONLY HERE:

I have found something I suspect no one has figured out.

In this video, the woman goes into a singing trance mode. The drums in the background are clearly in a Middle Eastern genre.

At about the 2:13 minute point, she repeats the word, "yah" several times. What follows SHOULD BE something about Yahweh, Jehovah.

What you just saw and listened to is far more wicked than anything else I have exposed on this journal. It is the virtual and official recitation which makes a person into a full fledged Muslim.

What the girl says is, "A shadu la ilaha illa Allah."
This is the Islamic declaration of faith called Al Shahada-- "There is no god but Allah."
The devil in the woman is declaring that Jehovah is really Allah.
After the Islamic declaration of faith, you hear the word.....
..........................................................................."Ha'llah" which means, "I swear to Allah"
Then the "ha'llah" is repeated over and over.
Is this Dajjal, the arch demon of Islam, in an alleged Christian church service?

Please listen to the clip several times, and read the words above. I have studied Islam for many years, and I know very well exactly what I heard. This statement is called forth from the minaret of a million mosques around the world every day at prayer time.

Sufi dance that reminds me of this Chrismatic chaos....... And, another

This proves, beyond any doubt, that this Charismatic event was managed by a demon exalting Allah and blaspheming Jesus Christ. If you neglect this warning, you will be damned to hell.

Matthew 6:24 No man can serve two masters: for either he will hate the one, and love the other; or else he will hold to the one, and despise the other. Ye cannot serve God and mammon.

So, you want to know if God will destroy America? Will he show mercy for the elect's sake?
WHAT ELECT?

YOU JUST WATCHED A FULLY DEMONIC PERFORMANCE, AND ALL WHO PARTICIPATED ARE DAMMED TO HELL PAGANS.

A Bible believer at that event would have heard the Holy Ghost crying out in wrath in their minds against the platform activities. How can I be so vehement with such things? Answer: I hate God's enemies with perfect hatred, at least I try, as did David:

Psalms 139:19 Surely thou wilt slay the wicked, O God: depart from me therefore, ye bloody men.
20 For they speak against thee wickedly, and thine enemies take thy name in vain.
21 Do not I hate them, O LORD, that hate thee? and am not I grieved with those that rise up against thee?
22 I hate them with perfect hatred: I count them mine enemies.
MORE LINKS TO CHARISMAINA HERETICS
THURMAN SCRIVNER-- Murder by faith?

READ HIS CONFESS AND POSSESS NOTIONS--
This is the old blab it and grab it routine in new trappings.

LISTEN TO THIS NUT CARE LOAD THE WOMAN WITH INTERPRETATIONS
AND, these are "private interpretations"

ALL SICKNESS IS DUE TO SIN
This blasphemy defies the care of Job who did not sin as a cause of his suffering.

THE GHOST OF A. B. SIMPSON STRIKES AGAIN

HISTORY REPEATS ITSELF WITH QUACK HEALERS
This is exactly what happened in Barstow, California in about 1974
The creep Assembly of God preacher there, who called in the faith healer, said the parents, "Had the wrong kind of faith." News to me-- how many kinds of faith are there? These faith healers tell people to throw their medications away. They are murderers. I suppose, by Scrivner's doctrine, someone in the girl's family had unconfessed sin which stopped the faith healing process.

TIM AND BARB AHO HAVE FALLEN OVER THE EDGE

OBVIOUS DEMONIC POSSESSION, CHARISMATIC STYLE, ANALYZED BY A PASTOR

The song sung was a worldly song adapted.
CLICK HERE TO LISTEN TO THE ORIGINAL

DEVILS OBVOUSLY BUSY IN SOUTH KOREA

MIND VACATES, DEMONS ENTER, AND HANDS ALL OVER THE PLACE SENSUALLY

EVEN FALSE PROPHET, DAVID WILKERSON, QUESTIONS THE CHAOS

RODNEY HOWARD BROWNE THEME SONG

I, me, wonderful ME.... Are you not lucky to have me?
Here is a page exposing John Paul Jackson -- LINK
Here is JPJ's web site-- Pure Satanic New Age blather
This is the new Dream Interpretation cult in Charismania

Junk Yard Pentecostal Church -- LINK

VIPERS-- Beware

IS PAUL CROUCH, THE TBN GURU, A SODOMITE?

KIM CLEMENT-- FALSE PROPHET DEFINES HIMESELF

CREFLO DOLLAR PROMOTES A SODOMITE BISHOP EDDY LONG

CREFLO DEFENDS THE GOSPEL OF THE BLING BLING

REVIEW OF RICK JOYNER'S BOOK, "FINAL QUEST"

FULL DISCUSSION OF RICK JOYNER

HINDU CHANTING AT BROWNSVILLE -- LINK
Please notice the slurred voice to off key, the endless repetition of the instruments,
and the unfinished meter. The instruments mimic the sitar sound.

END TIMES HANDMAIDENS AND SERVANTS-- UPDATED

THE MYSTERY HAS BEEN SOLVED:
I have been wondering why no new Charismatic ministries lately.
They are being imported from Africa!

PROPHECY AND DIVINATION AT THE CHURCH HOUSE

JOEL 2 CONTROVERSY-- Letter to Steve Van Nattan and his response

FLATTERY: SATAN'S GOOD HELPERS USE A TRICKY TOOL TO SNAG SAINTS

THE EPIDEMIC OF RHEMA IS SPREADING

MORRIS CERULLO EXPOSED-- By John Davies
This article has been updated to include a discussion of many of the
Word of Faith ministries, as well as Billy and Ned Graham.
The facts presented are researched by John Davies--
We are taking his word for it.

AND THE FARMER HAULED ANOTHER LOAD AWAY--
100 million souls saved in ten years--
All by laughing and barfing their heads off-- Link

It seems that "Carlos" of South Africa can cure anything.
Does this remind you of Jesus Christ?
Since when do we need an appointment with the Holy Ghost?
Could it be that a "generous freewill offering" is anticipated?


EVERYBODY GOT SAVED-- CARLTON PEARSON TEACHES EVERYONE IS BORN AGAIN
They just don't know it yet.
This is Process Christianity in a thin candy shell of Charismatic hubris.

ROBERTS LAIRDON-- Joins Bakker and Swaggert's Club- He admits to sodomy

"SPUED" VOMIT AND PART TWO OF VOMIT John Scotland-- Pure Satanic Rubbish

HOLY LAUGHTER AND CHARISMATIC PUKE

CINDY JACOBS (LINK)-- This lady is the very personification of Jezebel.
DISCLAIMER: Author Joseph Chambers is Holiness and not in fellowship with us
in regard to some of his teachings. VIDEO

"I BIND YOU, BLAH... BLAH.... BLAH"

THE MESSAGE OF "GOD TV" IN EUROPE-- Belfast Berean

VISIONS, And "Button, Button, Who's Got the Button?"

WE DROP THE BOMB ON THE MANIFEST SONS OF GOD
Research by our concealed correspondent

LETTER TO THE ASSEMBLY OF GOD From a Pentecostal Pastor

EYE WITNESS REPORT-- Kathryn Kuhlman's tricks

DAVID WILKERSON-- By Chris Klippert-- Is this man promoting a New Age agenda?

GOLD DUST-- Letter and articles from readers

TRES DIES-- New Damnable Secret Church Busting Cult

SOMETHING MORE-- Gnosticism, as it is today

HINN AND CROUCH PREDICT RESURRECTIONS

VISION OF THE WIZARD OF OZ AS REVELATION!

Kansas City Seven (Fellowsip) Guru, Bob Jones gives
PROPHECY ON PK AND THE WORLD UNITY OF CHARISMANIA AND PROMISE KEEPERS.


HEAR KENNETH COPELAND CALLS A MAN TO THE
ALTAR TO "TAKE THE MARK OF THE BEAST" (88 K)

HEAR BENNY HINN SAY HE WISHES HE COULD KILL US
Hinn, "Lord Jesus, give them sin...."

BENNY HINN DRUNK IN THE SPIRIT (A SPIRIT OF SATAN)- Video

DERISION OF BENNY HINN BY KSISK VIDEO

HEAR BENNY HINN'S WIFE TELL US " WE NEED A HOLY GHOST ENEMA"

RODNEY HOWARD BROWNE'S LAUGHTER BLASPHEMY

Kenneth Copeland slays RHB-- Listen to known language-- If you write down the words Copeland says, and check them in many dictionaries, you will find they are wicked. I have done this.

Copeland laugh fest-- "Dad Hagen" assists in the folly

NEW-- Drunk scene by Kenneth Hagin and passing on devils
Hagin "ministers" and occult trance

MOCKERY OF CHRIST AS MEDIA HIGHLIGHTS THIS CHAOS

HOLY TRINITY BROMPTON ALPHA COURSE-- Charming many Evangelicals

The Mystic Shrine at Sunderland Chapel in the UK,
and Heaven Opened above it, a la Great White Brotherhood

COMPLETE DOCTRINAL DISCUSSION OF TONGUES, Foundation to all Charismatic Activity
By Harold Mackay-- By David McAllister

THE ONE WORLD EVOLUTION FROM CIRCA 1600 TO BROWNSVILLE
AND PROMISE KEEPERS: Exposing the mystical, political, and Masonic history behind the Charismatic Movement. This is why Pat Roberston has full support, including financial, from his old pals from Yale and Skull and Bones.

PRAYER CIRCLES-- A Study by Ed Tarkowski-- We add some of our own thoughts.

REGARDING THE LAYING ON OF HANDS-- By Shirley Ann Miller

IT IS GETTING NASTY IN THE RIVER OF RENEWAL-- Rated- R

CASEY TREAT-- Who is he, and why is he drawing the masses to himself?

PAUL CROUCH (TBN) CLAIMS GOD ORDERED HIM TO KILL HIS ENEMIES.

RICK JOYNER-- He uses his vision To Justify War AGAINST the rest of us.

I TOLD YOU NUDITY WAS COMING ! --
Just like the Hebrews at the golden calf-- "Holy Nakedness".

EDWARD IRVING-- The first Brownsville was in Scotland in 1830

CALVARY CHAPEL-- Caught between Pentecostalism and Fundamentalism

BENNY HINN-- Numerous articles

RHEMA, BLAB IT AND GRAB IT-- BY A GRUMPY ZEALOUSCHARISMATIC
Useful, but disclaimer of Bible versions.

HOLY LAUGHTER OR WHOLLY LUDICROUS Editor: Steve Van Nattan

DERBYSHIRE, ENGLAND-- A Testimony Proving theat Witchcraft and Druidism
are at the Foundation of the Toronto "Blessing".

HOW JOHN WESLEY DEALT WITH HOLY LAUGHTER This is dynamite folks!

PROPHET OR GURU? Editor: Steve Van Nattan

MANIFEST SONS OF GOD -- Updated Apr. 2011
THE WHOLE HISTORY AND STORY BY Al Dager

RODNEY HOWARD-BROWNE- A retrospect from 1994 sheds light today.

CHARLIE IN ORLANDO-- A man who goes ON SITE to check it out

THE BIBLICAL TEACHING OF "ANOINTING" VERSUS CHARISMATIC ANOINTING

SHOFAR CULT IN BROWNSVILLE, ISRAEL, AND MAITREYA EXPECTATION
A BIBLE STUDY
The Lamb of God is Jesus Christ. He finished his earthly ministry and told his disciples:
John 13:14 If I then, your Lord and Master, have washed your feet;
ye also ought to wash one another's feet.
15 For I have given you an example, that ye should do
as I have done to you.
So, the Lamb of God will begat lambs, not lions. The Lamb of God served, He lived in poverty. So, when a man demands great mountains of cash to do the Lamb's work, that man is a lion, not a lamb.
1 Peter 5:8 Be sober, be vigilant; because your adversary the devil, as a roaring lion, walketh about, seeking whom he may devour:
Sheep beget lambs. This section of this journal is here to show you that some alleged sheep are lions and wolves. Only a fool would leave the Lamb of God to follow a wolf or a lion. Why?
Matthew 7:15 Beware of false prophets, which come to you in
sheep's clothing, but inwardly they are ravening wolves.
"But," you say, "We want something more.... We want the fire."
Hebrews 12:28 Wherefore we receiving a kingdom which cannot be moved, let us have grace, whereby we may serve God acceptably with reverence and godly fear:
29 For our God is a consuming fire.
And all the people screamed, "Let the fire fall!"

Dante's Inferno
CHARISMANIAC REVIVAL MOVEMENT
SATANIC TREASURE HUNT FOR REINHARD BONNKE
THE SATANIC HERITAGE OF PENTECOSTALISM -- Menu
This is one of the biggest bombs we have dropped-- Not on YOU the reader, but on Anti-Christian Pentecostalism worldwide.

I AM GRIEVED AND VERY ANGRY -- Article Review of Toronto, Brownsville, and modern Charismania-- By Steve Van Nattan, Editor, Balaam's Ass Speaks TIMOTHY AND BARB AHO
The Ahos have been accused of being closet tongues speakers. The jury is still out.


REPORT ON THIRD WAVE, TORONTO BLESSING,
AND PROMISE KEEPERS ACTIVITIES Article

MARTY BEE: Article
RESEARCH INTO THE SATANIC AND PHILOSOPHICAL
ORIGINS OF THE THIRD WAVE AND ITS CLONES
This will be a bomb blast at Toronto Blessing and Wimber/Wagner et al

STRATEGIC LEVEL SPIRITUAL WARFARE Long Article
Here we go again folks. Just when I thought we had all the bases covered, Satan
popped up with a new counterfeit of biblical Truth. Read and weep.

HINDUISM: THE FOUNDATION OF MODERN CHARISMATIC ACTIVITY --
Very Long Article -- Very urgent read !!

I have come to see that the wave of Hindu "evangelism" of the USA around 1966 has now come to roost in the modern Charismatic Movement as seen in Brownsville and Promise Keepers. This will soon continue on into Fundamental Bible believing churches, so I will note all of it that I have already detected.

MAITREYA PAGE -- Copy of a page under the Bonnke menu.
You will find that Charismatic frenzy is directly tied to Maitreya. This may be the most urgent page in this journal for our Charismatic friends.
LETTERS ON CHARISMATIC
CHAOS FROM READERS:
This letter is from a man who was inside TBN and on hand where many of the "word of faith" Rhema scum were bilking the sheep. I asked him how he felt about the past, now that he has been cleansed of his days of folly:

Steve > I can see some of the memories must be ugly...

To me, memories are mostly like scars: they don't hurt.

I'm just glad that God in his infinite mercy and grace got me OUTTA THERE!

Steve > I suspect you feel like you wasted some time on these people...

God meant it for good, though. I have personally steered numerous souls away from TBN with my eyewitness accounts, a few of them very dear friends. To me it is no different than the time I discovered to my horror that my dearest, life-long friend had begun studying with the Jehovah's Witnesses. I immediately shipped him a carton full of documentation, tapes, Christian Bible studies and everything else I could think of to extricate him from their clutches.

Thanks be to God, he saw the light and told the JW's to get lost. Not a couple of months later I attended his baptism at a solid Baptist church in S____________!

Steering someone away from TBN to me is nothing short of being used to deliver them from a CULT. (As my father used to say, "PERIOD!")

Steve > That is the terrible thing about hirelings-- they leave people depressed once they catch on, and Satan loves that too.

Yes. It reminds me of the two fellas watching the parade. The one turns to the other and says, "Boy, I LOVE a parade!" To which the other guy responds, "Yeah? Well, I HATE parades!"

"You HATE parades? How in the world can you HATE parades?"

"Because I am the guy who has to clean up the mess when they're over!"

That's where I am.

I have seen (and, indeed, EXPERIENCED) firsthand the devastation left in the wake of these new "prophets" and "healers."

Any time I can do them [Word of Faith men] a disservice, cost them a convert, cost them a donation, I am so much the better for it!

The sad thing about the above chart is that it needed not
include the Reformed Churches. But, as we come to the
Age of the New World Order Church, almost all of the
Reformed Churches are joining with the Whore Church
of Rome in official and unofficial communion.
Soon, most Baptist churches will follow.
The Pope's Pimp, Jack Van Impe, has lead the way.
The seduction is indeed powerful.

Roberts Liardon's experience:

"Jesus and I visited a branch of the River of Life. This branch was knee deep and crystal clear. We took off our shoes and got in. And do you know the first thing Jesus did to me? He dunked me! I got back up and splashed Him, and we had a water fight. We splashed each other and laughed."
______________________________________

"People have even argued about whether God is male or female. But the Bible itself tells us that He's both! That's right. In the Hebrew language, all words have gender. They're either male or female. But the Hebrew word "Jehovah" is both masculine and feminine. He's as much female as He is male and as much male as He is female. "Originally, mankind was that way too. When God first made "man," he was as much female as he was male. Then God separated the female part out and made "wo-man" or, "the man with the womb." After that, man and woman had to come together to be perfectly whole." ("Viva la Difference," From Faith To Faith, by Kenneth and Gloria Copeland, Published by Kenneth Copeland Publications, 1982, June 28.)

This is the teaching of Supreme Pontiff of world Freemasonry, Albert Pike, author of Morals and Dogma, Royal Arch Degree.

Another of Copeland's heritical teachings is his belief that God was gang raped and sodomised by homosexual Roman soldiers. If so then God's blood would be inpure and unable to redeem.

"Let me tell you something folks. Anybody in here that's ever been sexually abused, listen to me right now. Listen to me very carefully. The bible's very careful about the way it says these things. But down there in that dungeon, Romans, ungodly men, ungodly men, put him (Jesus) to every kind of abuse that you can think of. There is no sin that Jesus didn't bare. There is no thing, there is no such thing as a sexual abuse on somebody that Jesus doesn't know firsthand what it's all about. He's been where you are, I don't care what you've been through, Jesus has been through it. And everything's done to him that we we couldn't even speak of." The Resurrection TruthButchering Andrew Murray and the Word of God:


Being aware of Brother Hunt's special appreciation of Andrew Murray's work, I thought you should be made aware of a recent "abridged edition" of The Holiest of All for Kenneth Copeland Ministries. Mrs. Copeland wrote in her foreword,"As we prepared this abridged edition I requested to delete three chapters and one paragraph from the original text, because they centered on suffering being the will of God.This was prevalent thinking when Andrew Murray first published the book in 1894. Even today many are still held captive by this belief. Light has come to the church through the years, and we have more understanding from God's Word concerning the events and circumstances of life. We recognize that we have an enemy and his name is Satan."Kenneth Copeland
______________________________________

The article you link to by Billy E. Blankenship brought to memory (I am sorry to say)

THE HAPPY HUNTERS.

They came out with ANGELS ON ASSIGNMENT when I was working for Walter Martin at the original CHRISTIAN RESEARCH INSTITUTE. Walter personally contacted the Hunters and instructed them very carefully as to what was wrong with that book. (Everything!)

He pointed out that the Idaho pastor, ROLAND BUCK, who supposedly had these "visions" was being treated for a lethal heart condition. The name of the medication escapes me (digitalis), but whence it is derived does not: it is made from the foxglove plant, a powerful hypnotic. One of the principal side-effects of that medication is HALLUCINATIONS.

Anyway, the HUNTERS, who had to have known it was baloney going in, were now apprised by the leading authority on cults that their book was a fake and they should pull it. They kept right on publishing the thing anyway. I hope they're happy.From a friend of this journal
______________________________________

"Although the Pentecostal movement began in the United States, itself a significant fact, its theological and intellectual origins were British. The basic premises of the movement's theology were constructed by John Wesley in the Eighteenth century. As a product of Methodism, the holiness-Pentecostal movement traces its lineage through the Wesleys to Anglicanism and from thence to Roman Catholicism. This theological heritage places the Pentecostals outside the Calvinistic, Reformed tradition which culminated in the Baptist and Presbyterian movements in the United States. The basic Pentecostal theological position might be described as Arminian, perfectionistic, premillennial, and charismatic."
Pentecostal historian, Vinson Synan

Like the Roman Catholic Church, Charismatics and Pentecostals teach that the condition of you life is entirely up to you to maintain by works of penance and zeal to rid yourself of sin. Deliverance is not primarily the work of the Holy Ghost-- It is the work or "praying through" and seeking "something more."The Apostle Paul stated, in


Romans 7:18 "For I know that in me (that is, in my flesh,) dwelleth no good thing: for to will is present with me; but how to perform that which is good I find not. 19 For the good that I would I do not: but the evil which I would not, that I do. 20 Now if I do that I would not, it is no more I that do it, but sin that dwelleth in me. 21 I find then a law, that, when I would do good, evil is present with me."

The Apostle John stated, in


1 John 1:8 "If we say that we have no sin, we deceive ourselves, and the truth is not in us. 9 If we confess our sins, he is faithful and just to forgive us our sins, and to cleanse us from all unrighteousness. 10 If we say that we have not sinned, we make him a liar, and his word is not in us."

The problem with the holy rollin insane demonic displays on the big stage is that these Balaams teach that they have become sinless. Thus, any fool damnable thing they do, to public nakedness, sexual acts, and vomiting on themselves, is the work of the Holy Ghost in a sinless vessel. What crass blasphemy. Only Satan could author this doctrine.
______________________________________

"The taproot of all Arminian error is that sin is not really understood for what it is. The Arminian estimation of sin is kept low enough for one to get 'victory' over it by self-effort."
Miles J. Stanford
LINKS:

THE CHARISMATIC MOVEMENT AT ITS TYPICALLYGREATEST HOUR
Killing a kid for Jesus. The counter-feit "Jesus" of Charismania is
a devil named Jesus who loves to kill people and drive them mad.

FANTASTIC RESOURCE OF AUDIO FILES OF CHARISMATIC FOLLY
FROM LIVE SERVICES
MY CULT WATCH PAGE AT THIS SITE

MARKS OF A CULT- ARTICLE AT THIS SITE

ARE YOU DOING RESEARCH?
GO STRAIGHT TO MY LINKS PAGE

STEVE MUNSEY
MAD MAN, BLOWHARD, CIRCUS CLOWN, DEMON POSSESSED, OR ALL OF THE ABOVE?
CAN YOU VISUALIZE JESUS DOING THIS?
CHARISMANIA GENEALOGY CHART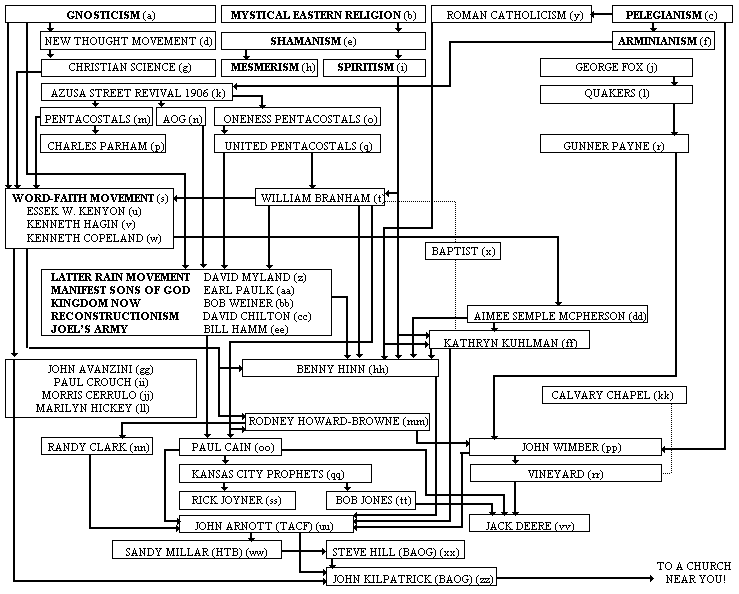 BACK TO THE ENTRY PAGE OF THE JOURNAL
ge