Dwight L. Moody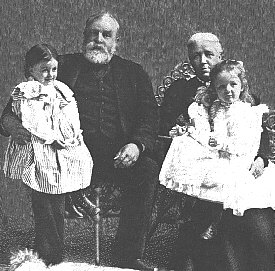 Mr. and Mrs. Moody with their granddaughters.
Proverbs 17:6 Children's children are the crown of old men...
We read about Mr. Moody's early ministry in The Life of Dwight L. Moody by His Son, William R. Moody.
"Gospels meetings were conducted during the week in a room formerly used for a saloon, but which had been made over unto a mission hall, and here Dwight L. Moody received the practice and training in preaching that were of such incalculable value in later years.
" And it seems that he needed this training, for he attained his powers of extempore speaking only gradually. It is of interest in this connection to know that when he first rose to speak in prayer-meeting one of the deacons assured him that he would, in his opinion, serve God best by keeping still!
Another critic, who commended his zeal in filling the pews he had hired in Plymouth Church, suggested that he should realize the limitations of his vocation and not attempt to speak in public.
" ' You make too many mistakes in grammar,' he complained.
" ' I know I make mistakes,' was the reply, 'and I lack a great many things, but I'm doing the best I can with what I've got.'
He paused and looked at the man searchingly, adding with his own irresistible manner:
" ' Look here, friend, you've got grammar enough--what are you doing with it for the Master?' "
Luke 12:48 ...For unto whomsoever much is given, of him shall be much required: and to whom men have committed much, of him they will ask the more.
(B.F.)Westcott loved to talk about missions, but that's where it ended. It was perhaps a sore spot to him that two of the century's most productive missionaries, C.T. Studd and Dr. W.T. Grenfell, were saved and called to the field right out from under his nose at Cambridge--and through the instrumentality of D.L. Moody, no less. Studd gave away an inheritance to take the Gospel to China, India and Africa while Grenfell decided against a lucrative medical practice to become a missionary to Labrador. In his autobiography, Grenfell said that he had been converted through Moody's common sense. After a young minister turned the opening prayer into an "oratorical effort," young Grenfell grew bored and restless and decided to sneak out. Moody spotted him and interrupted the prayer with, "Let us sing a hymn while our brother finishes his prayer." Delighted at the remark, the Cambridge student dashed back to his seat and was soundly converted at the sermon's close.
From Final Authority by William P. Grady, p.239.
Proverbs 11:30 The fruit of the righteous is a tree of life; and he that winneth souls is wise.
"In the very midst of one discourse, and the height of its interest, two or three quickly succeeding shrieks came from the centre of the audience. Mr. Moody stopped as if at a signal, and, with Sheridan-like promptness, said: 'We'll stand and sing, "Rock of ages, cleft for me," and the ushers will please help that friend out of the hall. She's hysterical.' There were no more 'hysterical' demonstrations during the evening, and the congregation scarcely realized that there had been any interruption in the service."
pp.238-239, The Life of Dwight L. Moody by His Son, William R. Moody
1 Corinthians 14:40 Let all things be done decently and in order.
Plain "Mr. Moody"
In 1867 Mrs. Moody was suffering from asthma and her doctor recommended a sea voyage and change of location to help her. This was a good excuse for Moody and so he planned his first trip to Great Brittain. Their son writes:
There were two men in England who Mr. Moody had a great desire to hear and meet -- Charles H. Spurgeon and George Muller, and with the twofold purpose of affording a beneficial trip for Mrs. Moody and making the acquaintance of these leaders in the Christian work, he went abroad.
At that time he was unknown in England except to a few who had visited America. Among these were Fountain J. Hartly, secretary on the London Sunday-school Union, who invited Mr. Moody to speak at an anniversary meeting in Exeter Hall. It was customary for a speaker on such an occasion to be connected with a resolution, as its mover or seconder, in order to give him a right to the flor. Mr. Moody was therefore assigned to move a vote of thanks to the chairman of the evening, who in this instance was the well-known Earl of Shaftesbury.
"Towards the end of the meeting," says Dr. Henry Clay Trumbill in relating this incident, of which he was a witness, "the chairman yielded his chair to the vice-chairman, in order that such a resolution could be offered. The vice-chairman announced that they were glad to welcome their 'American cousin, the Rev. Mr. Moody, of Chicago,' who would now 'move a vote of thanks to the noble Earl' who had presided on this occasion. With refreshing frankness and an utter disregard for conventionalities and mere compliments, Mr. Moody burst upon the audience with the bold announcement:
"'The chairman has made two mistakes. To begin with, I'm not the "Reverend" Mr. Moody at all. I', plain Dwight L. Moody, a Sabbath-school worker. And them I'm not your "American cousin"! By the grace of God I'm you brother, who is interested with you in our Father's work for His children.
"'And now about this vote of thanks to "the noble Earl" for being our chairman this evening. I don't see why we should thank him, any more than he should than us. When at one time they offered to thank our Mr. Lincoln for presiding over a meeting in Illinois, he stopped it. He said he's tried to do his duty, and they'd tried to do theirs. He thought it was an even thing all around.'
"That opening fairly took the breath away from Mr. Moody's hearers. Such talk could not be gaged by any standard. Its novelty was delightful, and Mr. Moody carried his English hearers from that time on."
pp. 131-132, The Life of Dwight L. Moody by His Son, William R. Moody
Psalm 111:9 He sent redemption unto his people: he hath commanded his covenant for ever: holy and reverend is his name.
2 Corinthians 10:12 For we dare not make ourselves of the number, or compare ourselves with some that commend themselves: but they measuring themselves by themselves, and comparing themselves among themselves, are not wise.
13 But we will not boast of things without our measure, but according to the measure of the rule which God hath distributed to us, a measure to reach even unto you.
From Cambridge the evangelists went to Oxford. The mission opened on Monday evening, November 13th, with a general meeting in the Corn Exchange. The crowd speedily overflowed that building and more than filled the hall close by. As Moody began to read a chapter from the book of Ezekiel, some of the audience began to stamp and shout "Hear, hear!" Mr. Moody immediately closed his Bible, and rebuked them sharply.
"You had better play with forked lightning or meddle with the most deadly disease," he said, "than trifle with the Word of God."
He then asked those gentlemen to rise who wished him to continue, and the whole assembly, with the exception of a few young men, instantly did so. The result was striking and effective, and there were no more interruptions during the evening....
From The Life of Dwight L. Moody by His Son, William R. Moody, p.353.
Psalms 119:53 Horror hath taken hold upon me because of the wicked that forsake thy law.
In a few meetings that followed a heavy cold that he had taken became more pronounced, and on arriving in London to conduct a ten-day mission in Spurgeon's Tabernacle his voice almost entirely failed him. At this time he was accompanied by Mr. Stebbins and his son, and, yielding to their urgent solicitation, consented to see a physician. It was then that Mr. Moody first learned of the heart difficulty to which he finally succumbed. Writing of this occasion, Mr. Stebbins says:
"The third time that I went to assist Mr. Moody was in the fall of 1892. He had engagements to visit several of the larger cities of England, and afterward to hold an eight-day mission in Spurgeon's Tabernacle. He had been suffering for several days with a throat trouble which gave him considerable anxiety lest it should interfere with his work, so on our arrival in London, with his consent, I sent for Dr. Haberson, a prominent young doctor, afterwards one of Mr. Gladstone's physicians, who made a careful examination of his throat and lungs, and incidentally the action of his heart. Before leaving us the doctor took me aside and told me that he had discovered an irregularity in the action of the heart, asking me if he should tell Mr. Moody.
" 'Certainly,'" I said; 'he would wish to know of any trouble of that kind.' He informed Mr. Moody of his discovery, and after assuring him that there was no occasion for alarm, but simply necessity for caution lest he should over-exert himself, he expressed the wish that Mr. Moody would allow him to make an appointment for a consultation with Sir Andrew Clarke, one of the most celebrated authorities on such diseases, as he did not wish his own judgment to be relied on wholly in the matter.
"Shortly before leaving London Mr. Moody saw Sir Andrew Clarke, driving immediately to the latter's office from a farewell breakfast given by Sir George Williams and a large number of other friends. After a thorough examination the physician confirmed the opinion of his friend regarding Mr. Moody's condition.
"In reply to Mr. Moody's inquiry regarding what he had done to bring on the difficulty, and how he should avoid increased trouble in the future, the celebrated doctor inquired how many times a day Mr. Moody was in the habit of speaking.
" 'Oh, I usually preach three times a day.'
" 'How many days in the week?'
" 'Five days in the week, and on Sundays four or five times.'
" 'You're a fool, sir; you're a fool!' was the brusque response. 'You're killing yourself.'
" 'Well, Doctor,' said Mr. Moody, 'I take Saturday to rest. But may I ask you how many hours a day you work?'
" 'Oh, I work sixteen or seventeen.'
" 'How many days a week?'
" 'Every day, sir; every day.'
" 'Then, Doctor, I think you're a bigger fool than I am, and you'll kill yourself first.'
"And with these pleasantries the two men parted, the celebrated physician to continue his wonderful ministry of healing for little more than a year, while Mr. Moody was permitted to work for seven years, although with the consciousness that his summons might come at any moment."
From The Life of Dwight L. Moody by His Son, William R. Moody, pp. 397-399.

VIDEO:
Well done sermon on the life of DL Moody

BACK TO STORIES OF GREAL CHRISTIANS
BACK TO ENTRY PAGE OF THE JOURNAL
GE