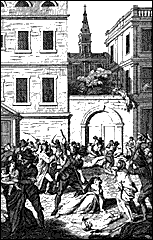 OPUS DEI
Updated March 2014

Deadly Force allegedly for God are really
Servants of the Whore of Rome

Their next target, even as you read here, are Fundamental
Christian churches

Edited by Steve Van Nattan from many contributors
Graphic: St. Bartholomew's Day Massacre--
It COULD happen again!

OPUS DEI-- AN INTRODUCTION
The Vatican has infiltrated, or neutered and spayed, virtually every denomination and organization in Christendom. Various means have been used, but Opus Dei has played a major role in this.
What is left for the Vatican to dilute and destroy?
Answer: Fundamental Baptists, and a few Brethren, Pentecostals, some Wesleyans, Bible churches, Orthodox Presbyterian, some Brethren, and all Fundamental Bible colleges.
If your church is not mentioned here, it certainly is targeted if you use the King James Bible. Rick Warren is very likely an agent of change for the Whore of Rome in his Purpose Driven Cheese et al.
Virtually 100% of the world's seminaries are in the pocket of the Roman Whore in that they use her Bible via the Alexandrian Gnostic Greek texts.
I am fully persuaded that Opus Dei and the Jesuits have already planted many of their agents in Baptist and Fundamental churches and schools.
Jack Hyles boasted that he prayed to his mother, and Hyles Anderson College accepted credits from Catholic Universities like Xavier U, but Hyles Anderson rejected Bible credits from many Fundamental schools. Hyles taught that your works for God would pay for your sins, a very old Catholic doctrine. Bill Gothard has added many aspects of the Whore's monastic machinations. We have many Catholic doctrines morphing into the Baptist movement as preachers exalt works, attendance, and the altar call as the place to meet God.
I am convinced that many Fundamental Baptist churches are NOW pastored by Jesuits and Opus Dei agents. Many deacons and Sunday School teachers are now inside the Baptist movement teaching doctrines of Rome. You need to read the following articles so that you can watch for the signs that you too have an hireling planted in your church by the Vatican.
WHY THE COLOR OF THE BACKGROUND?
ANSWER: Revelation 17:6, And I saw the woman (Roman Catholic Whore system)
drunken with the blood of the saints, and with the blood of the martyrs of Jesus: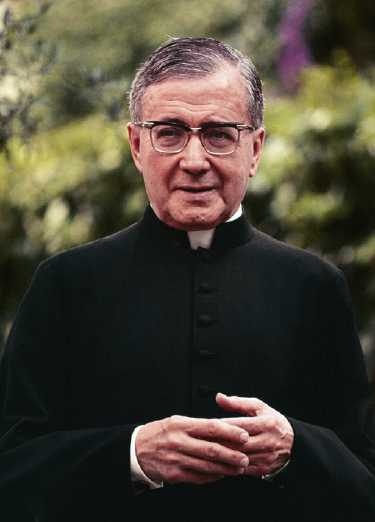 AT THE RIGHT:
Josemaria Escriva de Balaguer,
Founder of Opus Dei.
"Blessed by pain. Loved by pain. Sanctified by pain.
Glorified by pain!"
(The Way, p. 208)
"... Deny yourself. It is so beautiful to be a victim."
(Ibid., p. 175)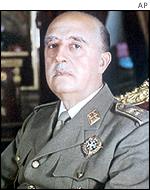 At left is Father Escriva de Balaguer in uniform under the fascist leader,
Franco, in Spain.
Like most Spanish churchmen, Josemaria Escriva de Balaguer sided with the Nationalist uprising against the Spanish Republic in the 1930s. He has also been quoted as saying that Hitler would save Christianity from Communism. A number of the Franco regime's senior officials later became members of Opus Dei. Critics inside the Catholic Church describe it as a sort of Catholic freemasonry - accusing it of being secretive and manipulative.
Regarding the photos above, I have not posted two different men. Follow the links, and you will see my sources are very solid-- the BBC and the Vatican. Why do the photos look so much different? Why do they also portray such different temperaments? I cannot tell, but I have to wonder if some sort of wickedness or foul play resulted in these two images. If someone was snuffed and replaced by another man it would be very much in line with the devilish methods of Opus Dei.
How did Balaguer's Fascist and Franco heritage affect Opus Dei, his creation?
THIS ARICLE WILL HELP YOU UNDERSTAND THE ENEMY WE HAVE IN THE ROMAN WHORE.
Opus Dei Maxim 941: "Obey your superiors blindly. This is the way to holiness".
December 2004
It has become clear that two potential situations look a lot like Opus Dei, though they are not such:
1. Crack dealers, meth lab owners, and Mafia operatives have used every conceivable cover to look like upstanding and honorable citizens. What better cover than to start a House Church or Bible study? If the Mafioso has no ability to really open the Word, he can simply gather a number of gripers from area churches and let them take turns playing with their proof texts from the Bible. The resulting "Bible study" would have a semblance of credibility without the criminal ever being detected as a spiritually dead person.
2. All over the world, Catholic priests have been falling into lust, and this has been the case for hundreds of years. Sometimes the sin is swept under the carpet, sometimes the priest is moved half way around the world, sometimes the priest is shuttled to the Vatican and becomes a Pope. More often than not, the priest who gets into a relationship with a local lady in, let us say, Mexico, it told by the Bishop that his serviced are no longer needed by the Vatican. He is not excommunicated, but he is an instant loser.
Some of these priests leave the Whore of Rome and lead a godless life, hating all things Christian. Others, feeling the sting of their fallen state, offer to do anything for the Old Mother Whore in order to atone for their sins. They are given simple assignments, called "brother," and putter about helping some priest with logistics. But, there are others who serve the Whore as agents provocateur. They never amount to much in the hierarchy, but they serve a very useful purpose in destroying the peace of Bible believing churches where they live.
3. Masonic Lodges in some areas make direct attacks on local churches, but especially their pastors. I know a pastor who has been attacked viciously because of his stand on the Lodge. Freemasons seem to be trying to virtually destroy the church he pastors in order to put the fear of the Lodge into other area pastors. I do not think this is a trend at the high levels of Masonry, but it is a very real threat to the peace of some local churches.
4. Lastly, there are Baptists and other denominational people who have "converted" from their original zeal to the Roman Catholic Church. I have known a number of them, and they are almost always arrogantly zealous to promote the Roman Whore. There are famous converts from the Baptist and Lutheran denominations who were pastors. They are some of the favorite men to be used by the Roman Whore to promote the Catholic cause. Their treasonous defection accuses them, and they throw themselves into the warfare to destroy the faith of Bible believers and win converts to the Pope. Such a person would easily fit the pattern we are discussing in this section of the journal.
5. (2005) I am now convinced that there are among Fundamental Baptists, KJV Only, pastors who are criminals or Jesuit plants. Their main objective is to destroy churches which were once strong for the Word of God and the narrow way. After all, all other denominations have been diluted to hog slop by the Catholic Whore, so all that is left to destroy are Fundamentalists. Bible believers must be very careful to avoid and leave churches where the pastor is wandering and justifying vile living.
So, if the Opus Dei image does not seem to fit your local situation, you must still be on guard for the four above possibilities.
ARTICLES ON OPUS DEI:
CHAPTERS FROM OPUS DEI CONSTITUTIONS
The Pope has forbid this translation into English.
You got it first here, courtesy of the translator--
Andre Van Bosbeke
Regarding the spy Robert Hanssen
OPUS DEI AND THE POPE
ARE TRYING TO DESTROY THE U.S.A.
The following item will be left on this page, Lord willing, until the Rapture comes. We will add to it as we hear from you who have been attacked by Opus Dei and the Jesuits. Tell pastors and church leaders about this exposé. Copy it and distribute it. It is based upon the experiences of many who have been attacked by the Whore of Rome.
I have told you the stealth and purpose of Opus Dei is to take over the world for the Pope.

May I say, "I told you so"? Circa 1997

A reader writes:

Found this while browsing today's on-line version of "The American Spectator." I thought you would find this MOST interesting....

Regarding: Hanssen's Conservative Catholic Connection

"Suspected spy Robert Hanssen was many things, including a devout Catholic. He was a member of an organization, Opus Dei, a religious group of lay men (some of whom take a vow of chastity) and priests that has a strong following in Washington.

"Fifteen years ago, at the height of the Reagan administration, dozens of Opus Dei members held prominent jobs in the White House, on Capitol Hill, and throughout the government. Now that group, which meets regularly in a large house in Washington, is coming under scrutiny by the FBI.

"If Hanssen was active in this group, who's to say what he heard, what he saw, or whether there might be others who inadvertently and unknowingly aided him over the years," says an FBI source. "It's troubling because this is such a high-profile group.

"We don't believe anyone knowingly aided Hanssen, but he was very good at manipulating people, and we have to check it out."Opus Dei is a beloved organization of Pope John Paul II. It is known for its good works, particularly in the areas of education. While it is often referred to as "secretive", there has never been a whiff of scandal about the group."

Editor: I know for a fact that Opus Dei members swear absolute obedience to the Pope personally. They have NO authority between the members and the Pope who can pull rank on them. They are about 98% laymen, and priests are not invited to join. They vow to do anything the Pope tells them to do.

I believe that Robert Hanssen was doing exactly what the Pope told him to do-- destroy the United States. The Vatican has had a policy of destruction for the USA since long before the days of Abraham Lincoln, whom they assassinated. So, let's not go all soft headed-- The Vatican is in absolute control of ALL Opus Dei members. They take an oath inviting death on themselves if they betray the Pope. I fully expect George Bush and the FBI to wimp out on this one just like the Feds wimped out on Abraham Lincoln.

We will NEVER have a man who will stand up to the Pope. Lincoln was the last. John Kennedy also made it very clear that he would not obey the Vatican but seek the good of the USA. Are you catching on yet bunky?
WAR
Pastors and Christian warriors: You must learn what these people are doing in your area. See if you can infiltrate them with the help of newly friends newly saved our of the Whore of Rome in your fellowship. Send someone, or go yourself if they don't know you, to any meetings where they are recruiting, and tell people there what Opus Dei is all about.

Try to identify Opus Dei members, and draw them away from the power base of it, and give them the Gospel. Warn other pastors in your area if you learn of Opus Dei acrivity nearby.

If you know of Opus Dei priests or supernumeraries in your area, go to them alone, and challenge them. Let them know that you are going to destroy their works as God permits you. Take the high ground.
INFILTRATION OF US GOVERNMENT AND THE FBI
Question from audience member to Gore Vidal:
In your article in Vanity Fair, you mentioned Opus Dei. Could you tell us just a little bit about them?

Gore Vidal: I wish I could tell you a lot about Opus Dei but I don't know that much about it. Opus Dei is a right-wing Catholic organization, started in the 1930s in Spain by a Spanish priest who was just beatified by our current pope, and the godfather of it was Francisco Franco, a bona fide fascist leader. It's a right-wing group with about forty or fifty thousand members around the world. They infiltrate in governments, the clergy, the corporate world. They believe in helping each other, a bit like the Masonic Lodge. They go in for self-flagellation. There's a group up at Columbia University in Manhattan, and I know some students who had to move out of their building due to the screams of the Opus Dei people next door who were beating themselves to pieces morning noon and night. So we can say they have a certain nuisance value.

Where they entered my piece on McVeigh, well the villain of the piece is pretty much the FBI out of control. For eight years the director of the FBI has been a man called Lewis Freeh, and it has been revealed in the last year or so that he's a member of Opus Dei. Now we are essentially a protestant Jewish country. So when I found out about Freeh being Opus Dei I thought "now there's something that's odd here, how did he get into our secret police, who are the most powerful thing in the country?" Coincidentally, they caught a man, an FBI agent called Hanson, who'd been spying for the Soviet Union for something like 22 years. This is how they make money at the FBI; a Soviet was always there to pay. Then we learned that Mr Hanson the FBI agent who'd been a double agent for the Soviet was also Opus Dei.

Now wait a minute, Opus Dei is Soviet Union? I mean, if nothing makes any sense you know you're in America. So there they are - Director Freeh and Hanson attend the same Catholic Church in nearby Virginia and according to Newsweek they belong to the same lodge in Washington DC of Opus Dei. Well I don't want to go back to the know-nothing days of 'send the pope back to Rome', but you get suspicious. You may have noticed we had a difficult election last November. Although Al Gore won the election, the popular vote, due to the Supreme Court's intervention and denying the Florida court's prominence, they gave the election to the actual loser, George Bush (for which we are all grateful). Now in addition to Freeh and Mr Hanson of the FBI we now discover that Justice Scallia is Opus Dei. His son is a priest who converted Clarence Thomas, the black Justice to Catholicism about five years ago, and is probably Opus Dei too. Now two members of the court are Opus Dei, I mean this is enough to remind me of my protestant roots you know, Suddenly there I am - I'm ready to post something on the door of the church!

We're all conspiratorial minded in America because there are so many conspiracies. We saw the Supreme Court conspiring to deny the presidency to the popular winner, it pulled every trick in the book and in full view of the world. We have big tobacco lying about the effects of nicotine, that's also a conspiracy. What is a political party but a conspiracy?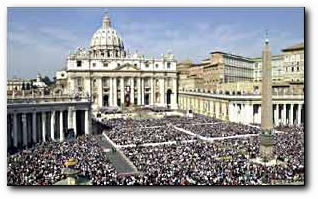 LINKS:
SUPREME COURT JUSTICE SCALIA
His conflict with Pope Francis promises to be interesting, especially since Scalia is thought to be a member of Opus Dei.

It is a queer legion, and I think, from Gaderra

They also have a devilish way of passing the
offering plate

Are these the Moonies or the Roman Whore?

The Pope and Cardinal Ratzinger (who is now Pope) cover for the
founder and his pedophile and sodomite adventures.

This is a deadly cult. I believe this order will one day, with Opus Dei, reign terror on true Bible believers, and like the Dominicans of the Inquisition, they will terrorize Catholics just as eagerly as Fundamental Baptists. You Bible believers need to be VERY careful about Catholics, indeed anyone, who comes to be born again these day. If you only lust for numbers at all costs, you may one day be run out of your church and town by deacons sent to you from the Whore of Rome.

The Whore takes the high place-- Legionaire strategy in Mexico. It is very obvious to the alert minded that this mob rule will spill over into USA politics and policy. How long will it be before law suits are brought by these beasts against Bible believers over our exposure of the Whore's vices?

Connection with The Passion of Chirst film

It is time to note that Pope John Paul II has been accused of molesting little boys in the confessional long ago as a priest in Poland. It is reported that the mechanics of the city would throw their dirty rags out the door of their shops to land behind him as he walked along. This ongoing scandal as to the boy-loving ways of the Whore's pimps will NOT be resolved, for the vast majority of Catholic priests are pedophiles. This monastic self-flagulational cult, The Legion of Christ, is typical of priests who are trying to sublimate their raging libidos. They fail of course, and they then dive unrestrained into all manner of filthy sexual activity. The Vatican is the premier sex parlor of the whole earth. The Vatican is where priests have been sent, for hundreds of years, when they were sexually troubled. The Vatican has the status of a nation, with the Pope as a head of state, so once the sex pervert is there, no one can touch him. Thus, Pope John Paul II was kicked upstairs into the Vatican, long ago, to hide him from the wrath of the Poles. The Pope has a plan

LETTER FROM A READER

Steve,

I hope things are going well. I just read your article on Fundamental Baptist Devilment and couldn't agree more, but I'd like to add that the same sort of thing happens in non-denominational, Wesleyan, Southern Baptist and "Rick Warren/Purpose(Profit) Driven" churches.

On the Opus Dei issue - I think I remember you once saying that you felt Bill Gothard was a Jesuit plant. Based upon his doctrine, monastic lifestyle, failure to marry (though I have heard rumors to the contrary), there's a lot to support that belief, but the more I think about this stuff, the more it seems that he merely plugged into a natural human inclination to desire legalism - the same desire that spawned so much of Catholicism. Opus Dei, De Colores, Charismania, Masonicism do the same thing for the flesh's inherent desire for mysticism and gnostism. And unlike other cults that are mystic or gnostic, they wear "Christian-ized" clothes. And it's all the same - the ways of man vs. the ways of God. Works, knowledge, mystic experiences, vs. total dependency upon the work of the cross.

I'm glad to see you're writing again and pray for the best for you and your family,

John Miller


OPUS DEI'S HOME PAGE--
This is sweet and mushy, and it totally hides the infiltration of Protestant churches, but it is of interest nonetheless.

What are the negative things in Opus Dei?

* The Fascist ideology in Escriva's teachings. The fundamentalism.
* Intolerance towards other religions.
* The dishonesty.
* The danger inherent in the undemocratic structure of blindly following orders.
* The danger inherent in the psychological control they have of their members due to the ``weekly chat'' where they have to tell the innermost details of their souls to their spiritual leaders.
* The aggressive and manipulative way in which they try to catch new members.
* The evil character of the founder.
* The fact that they do not reveal their true goals and keep a lot of material
secret from the public.
* The smug thinking of belonging to an elite.

"Opus Dei and the Jesuits are two groups within the Catholic Church that work systematically to infiltrate other churches, denominations, schools and so on. In the complete Jesuit oath we read about how these specially trained Catholics are encouraged to "among the Calvinists to be a Calvinist, among the Protestants generally to be a Protestant... and even to descend so low as to become a Jew among the Jews, that you might be able to gather together all information, for the benefit of your order (the Pope's) as a faithful soldier of the Pope."

(Disclaimer: This fellow is an SDA, so only use his facts for information. His doctrine is damnation warmed over)

Opus Dei is a very mystical, occult secret society within the Catholic Church. They regularly practice self-mutilation and infliction of pain. They use several methods to "mortify the flesh", only two of which have a bearing on this bloody Gibson film. 1) Cilice - a spiked chain worn around the upper thigh for two hours each day ... generally Opus Dei members are extremely hesitant to admit that they use them. It is a painful mortification which leaves small prick holes in the flesh; 2) Discipline - a cord-like whip ... used on the buttocks or back once a week. Opus Dei members must ask permission to use it often, which many do ... the Founder was so zealous in using the discipline he splattered the bathroom walls with streaks of blood ... The real point is that even if the cilice and the discipline are acceptable forms of penance, their use shows that Opus Dei members are NOT ordinary people, not free agents." [www.odan.org/corporal_mortification.htm]
VIDEOS:
RICK SANTORUM IS OPUS DEO
What if he had won the Republican nomination for 2012? Would you have voted for him? A lot of conservative Bible believers are so badly informed, and they will vote Republican in lock step like stupid lambs, that I fear we in the USA could have and Opus Dei President. The worst pagan Democrat would be better for the cause of Christ and his Church.


IT IS HISTORIC THAT ORDERS AND RELIGIONS THAT SLASH AND ABUSE THEMSELVES PHYSICALLY WILL TURN IN VIOLENCE ON ANYONE WHO GETS IN THE WAY OF THEIR FANATICAL RELIGIOUS ZEAL.
If they ever get power over government, and they DO have such power now, they will preside over a new Inquisition by and by. Mark it down.

The Jesus Opus Deo claims to follow said, John 6:63 It is the spirit that quickeneth; the flesh profiteth nothing: the words that I speak unto you, they are spirit, and they are life.

Romans 8:13 For if ye live after the flesh, ye shall die: but if ye through the Spirit do mortify the deeds of the body, ye shall live.

Colossians 3:5 Mortify therefore your members which are upon the earth; fornication, uncleanness, inordinate affection, evil concupiscence, and covetousness, which is idolatry:

Paul did NOT tell Christians to physically torture themselves. These two verses talk (A) about DEEDS of the body, not the body itself, and (B) our members, when they produce sins. There is NO Scripture that says that we become holy by abusing our flesh. That is 100% doctrine of devils.

ACCORDING TO THIS FORMER PRIEST, THE INQUISITION HAS BEEN
RENEWED AND IS IN OPERATION NOW. OPUS DEI IS AT THE HEART OF IT.

This information tells us that the US Government is very likely heavily infiltrated by Opus Dei.
Understand please, I do not share all the opinions of this Episcopal priest.

THIS IS DYNAMITE
Canon Lawyer admits Opus Dei & Josemaria Escriva linked to Communism!
Published on Jun 27, 2013 The speaker is Father Gregory Hesse, S.T.D., J.C.D. who was ordained in 1981 in St. Peter's Basilica. He held doctorates in both Thomistic theology and Canon Law. From 1986-88 he served as Secretary to Cardinal Stickler at the Vatican. He died of complications due to diabetes on Jan 25, 2006 (RIP). In this short clip, Fr. Hesse reveals some very damning information about the Opus Dei and their founder, Josemaria Escriva's connection to communism.


THE SECRETS OF OPUS DEI


WATCH ALL OF THIS, NOT THE BEGINNING ONLY

Footnote: Jesus did NOT cut off his parents. Joseph seems to disappear, but Mary is at the Cross when Jesus died, and he turned her over to the care of his brother John. THAT is not abandonment of family. Rather, his act of passing on responsibility for Mary implies that he cared for her as the eldest son for 30 years. And, Mary was at the prayer meeting for the release of Peter from prison. If caring for your parents distracts from doing God's work, then Jesus sinned in remaining connected with his mother, Mary. THINK

Also, did you catch the lady's remarks where she had to record all the activities of her friends. With computers and data crunching as it is today, this reservoir of information on the contacts it has and what those people do and think is a great potential for wickedness and manipulation, especially given the secrecy factor. Why do they need to know all about such strangers?
BACK TO WAR ROOM-- Roman Whore Menu
BACK TO WAR ROOM-- Roman Catholic Whore Church
BACK TO OPENING PAGE OF THE JOURNAL
GE