AN INTRODUCTION TO TECHNOFEUDALISM ASCENDING
SOURCE FOR THIS ARTICLE- 12160
Learn how we arrived at a world dominated by treacherous leaders and corporations, and learn how to resist this tyranny, and how it will soon collapse.
The future of the planetary "Reign of Terror" has never been clearer. The pattern for global governance has been set into motion and operates under a model that has been used throughout much of history.
The modern day version of command and control can be effectively described as Technofeudalism.
The purpose of this introduction is to provide an outline of the arguments used by Steven Yates, Ph.D.The link to this significant treatise is provided below.
In addition News With Views maintains an extensive archives of Dr. Yates' work. Invest the time to read the entire essay for a full understanding of the linkage behind Technofeudalis and the course for top down dominance.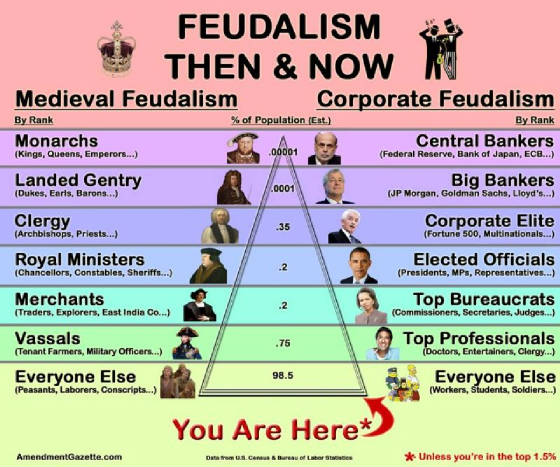 Technofeudalism Ascending comprises nine sections. Dr. Yates provides the following preface.
My book Four Cardinal Errors (2011) introduced the idea of technofeudalism. Though a bit of a mouthful, this is the best term for the political economy towards which an intergenerational superelite has been directing as much of the world as possible for at least a century. This existence of this group, I argue, is the foremost political-economic reality of our times.
Their goal, I argued in Four Cardinal Errors, is to institute corporate controlled global governance: de facto world government, managed for private profit and for control over national governments and populations. Technofeudalism is the resulting political economy. While preserving some of the vocabulary and outward features of market capitalism, technofeudalism has almost nothing to do with free markets, or free enterprise, as generally understood. It is about instituting whatever policies, instigating whatever wars, bringing about whatever revolutions, and causing whatever levels of misery are deemed necessary for enforced mass compliance. Its tools include both neoliberal and neoconservative ideology, artificial scarcity, education reduced to job training, and fear induction through constant pontificating about "terrorism" amidst random and often-depraved acts of violence, reducing as many as possible to a status of permanently cash-strapped, mentally paralyzed subjects — living amidst the most advanced technology in human history, but equivalent to serfs ("owned" as de facto property by "their" governments, employers, etc., as in medieval feudal systems of old). Hence, the term technofeudalism.
Introduction: Why Technofeudalism? (Technofeudalism is the best term for a kind of political economy that has been coming together very gradually for much of the past century, but accelerating in recent decades: it is technologically advanced but populations are controlled by various means and, in effect, made into serfs who are tied to whatever work they can find and to government programs. Technofeudalism is driven by those I call the superelite—a group of globalist-minded extended families whose primary motivation is wealth and power. It illustrates the primary problem of practical political philosophy and strategy: how to contain that minority in our midst that is drawn to power.)
1. The End of History? (The collapse of the Soviet Union seemed to leave the world at a major turning point; Communism was dead, the combination of market capitalism and liberal democracy seemed to be catching on everywhere, and the U.S. was the sole superpower. It seemed conceivable that it really was, as Francis Fukuyama described, the end of history.)
2. The Neoliberal Illusion. (Things began to unravel almost at once, as trade deals such as NAFTA began to put an end to the largest financially independent middle class in history. Neoliberal ideology proved to have a dark side, as wealth began to be redistributed upward and millions of people ended up out of work.)
3. Precariatization and the Destruction of the American Mind. (Higher education faced multiple crises: rising radical left "scholarship" in the humanities, a rising corporate or business mindset in expanding administrations, the collapse of the academic job market creating conditions where control was possible, and the impoverishing of faculty via adjunctification, one species of the creation of a precariat — workers in an environment of part-time, temporary, and short term work. Liberal arts learning itself came under assault, as the thinking skills it provides threaten a political economy of power, domination, precarity, and corruption.)
4. The Empire of Corruption. (Ensuing decades have seen rising corruption and financial manipulation which eventually caused the 2008 meltdown and have brought about a steadily lowering of the standard of living in the U.S. Supreme Court decisions such as Citizens United ensure a bought-and-paid-for political class, and articles now appear in refereed journals indicating that the U.S. is now a plutocratic oligarchy.)
5. The Global Corporatist Leviathan. (If the present political system is plutocratic oligarchy, the correct term for the present economy is corporatism, with technofeudalism its broader political-economic-technocratic instrument. Poor education ensures a systematic confusion between capitalism and corporatism. Under corporatism, corporations are in the driver's seat behind governments, as we can see from their latest effort to dominate a section of the world's economy: the Trans-Pacific Partnership.)
6. The New Serfdom. (You are living in a feudal system when there is one set of rules for those with power and another set of rules for those without power, with only token representation. Technofeudalism emerges in that its subjects are technologically advanced serfs — surrounded by technology but tied to low-wage work or to a government-based support system.)
7. "What Can We Do?" (You can educate yourself on issues ranging from the possibilities of expatriation to that of peoples separating politically from empires, which may become possible as a very severe downturn, worse than the Great Recession — a Greater Depression — is almost certainly inevitable.)
8. Preparing for the Greater Depression. (The world is on the verge of having to face the realities of financialization that will bring on the Greater Depression. You can prepare by building proper skills now. It is conceivable that the global superelite is planning on a Greater Depression. You should prepare anyway.)
9. Grounds for Hope: Real Sustainability and the Cycles of History. (Technofeudalism will prove unsustainable. It may be put in place, but its structure and the mindset that gave rise to it will cause it to decay and eventually disintegrate. We have come this way before, as empires have risen and fallen before. This provides hope, in that with the collapse of the technofeudalist state, separation and the building of a world of small states will become possible — again if we begin to prepare now.)
This summary outline attempts to persuade the compelling case to review the entire critique. Filling in the connections and relationships to achieve the eternal objective of worldwide ascendancy in an age of technological supremacy, means that the return to a feudal society becomes the undeniable 21th century danger.
Technofeudalism is based upon herding marginal and unneeded humans into ghettos of subsistent serfdom existence. The technocrats who administer the process of dehumanization become the executioners of civilization. Utopia for the select, built on the misery of the masses is a future not worth living. This fact is exactly the objective of the globalist. Destroying resistance through marginalizing survival rules a feudal society. However, building the achievement of a renaissance culture is based upon the liberation of the human spirit and decentralization of authority.
The global elites depend on acquiesce of the masses to accept and adopt the tyrannical systems and indoctrination methods propagated by the technocratic matrix. Liberty is despised by authoritarians. Technofeudalism is the enemy of all human beings. Once armed with the knowledge of this threat, what will be the response of the populace targeted for slavery or extinction?
TECHNOFEUDALISM EXAMINED BY DR. DENNIS CUDDY
This compilation of topical articles by this Christian author features organization by subject, plus an extensive index for research purposes. The principles put forth in these articles are relevant in light of today`s political, economic, and moral environment. There are a wide variety of subjects covered, as well as in-depth analyses of topics such as Barack Obama, religion, education, world government, the Rockefellers, population control, and the Power Elite and the secret Nazi plan for today. It contains something for everyone. Dennis Laurence Cuddy, historian and political analyst, received a Ph.D. from the University of North Carolina at Chapel Hill, has taught at the university level, and has been a political and economic risk analyst for an international consulting firm. He has authored or edited 22 books and booklets and written hundreds of articles.
LINKS:
HERE ARE SOME SATIRE VIDEOS

Campaign video by Richard Curtis and Bill Nighy, about the Robin Hood Tax, a tiny tax on bank transactions that could raise hundreds of billions for public services and to tackle poverty and climate change at home and around the world. Add your own voice to the campaign at http://www.robinhoodtax.org.uk
The Banker Airs His Views On The Right Of The Elite To Control Everyones Lives. A Must Watch For Anyone Who Is Angry About The Current Finanacial Situation! This Is What Is Really Going On!
An easy to understand video of how the financial system works
John Clarke and Brian Dawe from Australia
John Clarke and Brian Dawe on the European and world financial collapse.
When America Bankrupts What Happens To You?
John Clarke and Bryan Dawe are laughing all the way to the bank.
MORE TUTORIALS FROM CLARKE AND DAWE:

OIL TANKER- THE FRONT FELL OFF

THE WAY THE MEDIA DOCTORS THE "NEWS"

YOUR LUCKY ROLE IN THE WORLD ECONOMY

QUANTITATIVE EASING MADE REASONABLE

OTHER VIDEOS EXPOSING THE LOW LIFES IN HIGH PLACES:

CLASSIC FAST TALK ARTIST, PRIME MINISTER MALCOLM TURNBULL, SLINGS THE BULL TO TRY TO CONVINCE US THAT AUSTRALIA REALLY DOES NOT HAVE VIOLENCE (IN SPITE OF THE DEAD BODIES) BECAUSE THEY FIGHT TERROR WITH "MUTUAL RESPECT."
In Texas we have a problem. We have not yet learned that "mutual respect" stops rapists and murderers. This sounds great, but until we find a way to make it work, we will have to settle for a Colt 45.

BRITISH PRIME MINISTER AIDE FOR PREVENTING CHILD PORN ARRESTED FOR HIS PERSONAL USE OF CHILD PORN.
This is what the leaders of this world are like. David Cameron also destroyed the evidence wanted by the London Metropolitan Police in the investigation into the sexual abuse and murder of orphaned boys by Jimmy Saville and former Prime Minister Ted Heath. It is not possible to respect and take seriously such creeps.

VERY OLD MILITARY TRAINING MOVIE SHOWING CRASS PRIDE IN AMERICA'S PLANS TO USE BIOLOGICAL WARFARE.
The lesson is, they will do this to Americans if they need to in order to subdue the masses.

NASA, THE POPE, AND OTHER DECEIVE YOU ABOUT SPACE EXPLORATION AND ALIENS
It is just a matter of time before NASA, China, Russia, and the Pope agree that they have all found alien space men traveling our way or running about in our back yards. These are devils, and that is why the Pope is so interested. He is possessed of devils.
I hope these videos help understand how "we the people" need to mock and satirize these world class balmy egg heads and elite. We need to laugh at them just the way God does.
Psalms 2:1 Why do the heathen rage, and the people imagine a vain thing?
2 The kings of the earth set themselves, and the rulers take counsel together, against the LORD, and against his anointed, saying,
3 Let us break their bands asunder, and cast away their cords from us.
4 He that sitteth in the heavens shall laugh: the Lord shall have them in derision.
5 Then shall he speak unto them in his wrath, and vex them in his sore displeasure.
Laugh at them,
Deride them on the Internet and to their faces,
Speak to them in wrath, AND
Vex them according to the vexation they gave you, and add a bit.

More on this topic:
http://www.batr.org/terror/101315.html
BACK TO NEW WORLD ORDER TABLE OF CONTENTS
BACK TO WORLD AFFAIRS TABLE OF CONTENTS
ge