DEVILISH MIXTURE IN CHRISTIAN MUSIC
Using the hymn Joyful, Joyful, We Adore Thee as an example
Presenter: Steve Van Nattan
From the Hill Country of Texas, with an attitude
What do you think about this clever innovation in Christian music? They start out with a classical piece, and then intertwine a Christian hymn with it. The classical piece may be by the moral animal Mozart, but never mind, it is SO clever, right?

Wrong. It is mixture.

Hosea 7:8 (KJV) Ephraim, he hath mixed himself among the people (God's people); Ephraim is a cake not turned.

God does not like mixture in his people.

Daniel 2:43 (KJV) And whereas thou sawest iron mixed with miry clay, they shall mingle themselves with the seed of men: but they shall not cleave one to another, even as iron is not mixed with clay.
We are in the Last Days of this dispensation, and the world craves mixture.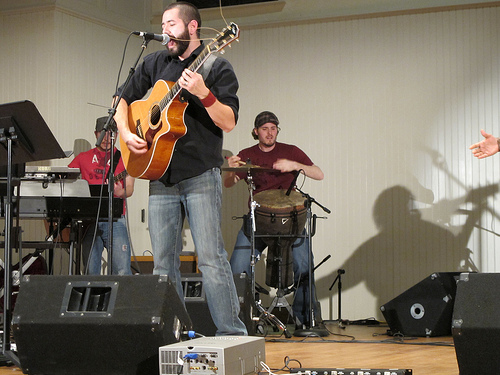 Christendom craves mixture also. Sunday morning in most churches includes a "Praise and Worship" time in which the musical beat and trap set of Boubon Street is mixed up with the Gospel. The salt is only very lightly added, and it is done in the most mild dose of doctrine, and with much "vain repetition." The fact that it makes you FEEL good only proves that your brain is gone out of gear, and your emotions are ruling.
There is one piece of classical music that I think is the most dead boring music ever written-- "Canon in Duh" by Johann Pachelbum. On an ordinarily very good online Christian radio station I just heard a godly hymn all mixed up with Packelbum. What a bunch of rubbish!
Philippians 4:8 (KJV) Finally, brethren, whatsoever things are true, whatsoever things are honest, whatsoever things are just, whatsoever things are pure, whatsoever things are lovely, whatsoever things are of good report; if there be any virtue, and if there be any praise, think on these things.
Why mix the world's profane slop with the good things of God?
"Ah, well now," you say, "Are you saying we should not listen to classical music?"
I am not saying that at all. Enjoy Pachelbum and Mozart if you like. And, if you get the warn fuzzies out of Benny Goodman, Glenn Miller, and Alabama, so be it. But, do not MIX these products of worldly men with the holy things of God. For example, it is mixture and blasphemy to tolerate Glenn Miller playing "Amazing Grace."
Ezekiel 44:23 (KJV) And they shall teach my people the difference between the holy and profane, and cause them to discern between the unclean and the clean.
PROFANE
"Profane" in King James 1611 English (Hebrew- Chol- common, or exposed by contrast with the holy), does not always imply something sinful. But, profane means something that is of man, earthy, common, and distinct from the holy. If you have liberty in some earthy things, and most of us do, just do not MIX them with the holy and pretend that the rest of us will be blessed with your little trick.
Charles Spurgeon smoked cigars, but not in the pulpit and not in the church house.
HERE ARE TWO EXAMPLES OF VERY OLD MIXTURE:
1. Deutchland, Deutchland, Uber Alles
Now, I will make someone very angry, but here is a point of blasphemy. I hear a hymn sung to this music, Deutchland, Deutchland, Unber Alles. What do YOU say to using Hilter's national anthem with Christian words--
The original tune is by Joseph Haydn-- It was called the Kaiserquartett I.E. Emperor Quartet.
"Haydn was a devout Catholic who often turned to his rosary when he had trouble composing, a practice that he usually found to be effective."
Hymn poetry was written to the tune later, and the German national anthem came after that. In fact, several hymns are set to the tune, and the oldest is said to be Roman Catholic.
The issue is, it was the national anthem of Nazi Germany, and Germans and older Americans, know that. This makes the hymn offensive because of flashbacks. I KNOW there are Germans and other people who have bad feelings when the hymn is played or sung.
2. JOYFUL, JOYFUL, WE ADORE THEE
Here is the national anthem of the EU. It is Ode to Joy to which Beethoven wrote his jackboot 9th Symphony.
Schiller wrote what he believed:
"Mankind is made great or little by its own will."
Friedrech Schiller
Listen and Watch-- In German with Supreme Arrogance

Listen-- Anthem of the EU
If you think this is cute, I suggest you find a Bible believing German, and ask them what THEY think.
Schiller's "father" is not my Father. They mix the goddess, mother nature, daughter of Elysium, the beer garden, and other pagan imagery with their "father."
Here is the punch line--
This anthem is the music to which Joyful, Joyful, We Adore Thee is sung.
Please notice how VERY suspect the "Christian" lyrics are--
It seems to be a message TO God,
"If you don't like it this way, God, get out of our way-- here we come."
Christ gets passing mention in the early stanzas, but later, MAN is declaring his jackboot intentions.
Blasphemy! Damnation on the traitor who invented this mixture.
Will you sing it again?
James 4:17 (KJV) Therefore to him that knoweth to do good, and doeth it not, to him it is sin.
Hosea 7:8 (KJV) Ephraim, he hath mixed himself among the people; Ephraim is a cake not turned.
And, so are modern Christians who mix the profane and the holy. Half baked !!
Related Articles in this Journal
REASON, PROGRESS, AND MAN IN GOD'S IMAGE

WORDS WE USE- Part One -- WORDS WE USE- Part Two

Other "Christian Songs" and "Hymns" which are remakes from the world:

Search Me O God--
This is a rework of the original: Now is The Hour sung by Marty Robins

My God and I Go in the Field Together-- This is a Russian tavern song. Old Mennonites who fled from Russia after the 1917 revolution found it very revolting when the tune was used with Christian lyrics in the USA.

Londonderry Air, used in Irish love songs, is the tune of I Cannot Tell and another Christian chorus. Anyone with the worldly lyrics in their memory will be quite distracted trying to sing the hymn. The most famous rendition of the Lontonderry Air is Oh, Danny Boy. with Roman Catholic overtones.

Blessed Assurance sung to the tune of Beautiful Dreamer-- This came and went in the 1960s, and let us hope it never returns.
LINKS:
Dr. Peter Masters on Church music mixed with worldly music

Dr. Peter Masters on Worship and the Emotions
BACK TO WAR ROOM-- AT THE CHURCH HOUSE
BACK TO OPENING PAGE OF JOURNAL