QUIET IN THE BIG CITY
We have cast this page in a "brown study" for a reason. Along with the noise of modern life, I find that
we often are offended by bright lights. They are everywhere. Darkness is not safe because wicked
men hide in the dark. So, sometimes it is nice to be alone in the dark, IF it is safe.
I have tried to make this page safe, quiet, and comfortable.
Try leaving this page up at the office when you go on break :-) Hit F11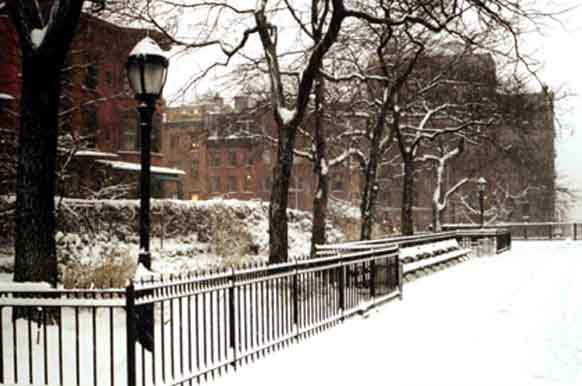 Psalm 40:1 I waited patiently for the LORD;
and he inclined unto me, and heard my cry.
2 He brought me up also out of an horrible
pit, out of the miry clay, and set my feet
upon a rock, and established my goings.
3 And he hath put a new song in my mouth,
even praise unto our God: many shall see it,
and fear, and shall trust in the LORD.
4 Blessed is that man that maketh the LORD
his trust, and respecteth not the proud,
nor such as turn aside to lies.
5 Many, O LORD my God, are thy wonderful
works which thou hast done, and thy
thoughts which are to us-ward: they cannot
be reckoned up in order unto thee: if I would
declare and speak of them, they are more
than can be numbered.

No one recognized this quiet place. It is a Promenade along the Hudson River in Brooklyn, NYC.
All I can tell you is that it is about two blocks west of Henry Street. One of our readers
finds peace and quiet here, especially in the winter. This shows that the hungry
soul will be satisfied if that soul is focused on the Lord Jesus Christ.
Psalm 107:8 Oh that men would praise the LORD for his goodness,
and for his wonderful works to the children of men! 9 For he satisfieth the longing soul,
and filleth the hungry soul with goodness.
Our God is standing right there next to you. Are you hungry, lonely, or troubled?
Just turn and talk to him. He already knows what you need. He is living in the
future-- your future. Whatever he just allowed to happen to you today, he knew
what the end would be, and he planned for you to bear it and get the victory.
Go on, just tell him. Ask HIM the tough question, and see what he says.
Psalm 107:2 Let the redeemed of the LORD say so,
whom he hath redeemed from the hand of the enemy;
I would be delighted to hear you say so by e-mail.
One sentence--
That you believe that Jesus Christ is the ONLY Way.
BEFORE MOVING TO THE NEXT PAGE,
READ OF OTHERS WHO FOUND A QUIET PLACE WITH GOD
Just so you know my quiet place is staying up late at night (we live in the city)
and enjoying the quiet while looking up at the heavens.
Jen

Love this site and this corner.
There is so much to see on your site I think I might be found browsing it when
The Lord comes for us! Thanks for all the work that goes into it and may God continue
to use it to His glory.
With much love in The LORD
Peter ( Manchester, England )

Dear Steve, "Be still and know that I am Lord" ......... has kept me alive these long years.
Thanks bro,
Shane
Brisbane, Australia

Jesus Christ is The Only Way. Our Hope of Glory. Amen. Let the redeemed of the LORD say so,
Amen.
Sandy D________

Jesus is the way, the truth, and the life, and no man cometh unto the Father but by him!
He has redeemed me from the pit and set my feet upon the solid Rock.
Hallelujah, Amen! -
CR, Ontario

Yes as a long, long time X- Roman Catholic-- I say this- Jesus Christ is the only way. Larry

Hey there Blessedquietness: I believe that Jesus Christ is the only way.
Nice site... interesting 66 progression of belief, kind of thing an
English major appreciates... thorough, purposefully written.
monique t b______

Me and my family are saved by the blood of our Savior, Jesus Christ.
There's no other way.
D. Sanchez

Jesus Christ is the only way to be saved!
Nick E________

Jesus is Lord-- Peace, Just another wondering, wandering sinner.

It's "Nothing But the Blood of Jesus" that has saved me! Maranatha!
Come Lord Jesus!--
JJ-- Ohio

Jesus saved me from the agents of Satan sent to kill me; He is the truth and the
only way to eternal life in paradise.
PC

I believe that Jesus Christ is the ONLY Way.


"Neither is there salvation in any other: for there is none other name under heaven
given among men, whereby we must be saved."
Acts 4:12 - -
REA

"Glory to GOD in the highest, My wife and I are redeemed by the blood of the LAMB !"

"I'm glad to oblige: I believe that Jesus Christ is the only way."
Mike R______ 2 Tim. 3:15

Jesus is the way. He said so in John 14.6. There is a way that seemeth right
unto a man but the end thereof is the way of death.

AMEN!I believe that Jesus Christ is the ONLY Way.
Rae
You asked for an email from this area of your website and here it is.
I am done making my 2 key lime pies, setting the table for tomorow, etc., etc.,
and after checking the "news" of the day before bedtime, I needed something to calm my spirit.
I knew I could come to the "Quiet Place" and redirect my thoughts.

Things are so incredibly bad and crazy in the world I want to cry.
However, the Lord showed me very deeply and personally Psalm 32 this afternoon.
What a wonderful series of promises He made me today...

Good Night,
Libby

================

Just wanted to drop you a note to say....

Stumbling over your website tonight, has been a true found-blessing.
I savor every moment when I can be alone with the Lord in a quiet place.
I am thankful for the Lord drawing me into this website like a magnet.

Will be back again soon.
Have a blessed evening.

[ Editor: I am getting a lot of mail in the evening. I think many of us get down
from the sorrows and struggles of the day, and the evening can become
very depressing. Please bookmark us and stop by later this evening. :-) ]

================

Hi Steve,

My quiet place I use now is in the cab of my pickup.
In the mornings that I arrive work in my pickup and I usually stay in for a few minutes of quiet time,
read my Bible, or just plain thinking about something.
I have five young kids (ages 8 months to 9 years old) so you know how crazy that gets :-).
During the summer when it is not raining I use my motorbike to commute
so I have to find somewhere else for a quiet place. Oh well... Take care and God bless,

Richard

================

I love to sit and read in my husbands recliner.
It's the most comfortable spot in the house. Couple that with a cup of coffee and
quiet peaceful morning hours ( before children are awake! ) and its the perfect spot.

[ Editor: Jamie's husband is in Iraq with the US Marines ]

================

My favorite quiet place is sitting next to my window. From there I can watch the
squirls playing, eating, sunnying themselves on the shed roof, and burying their nuts.
I've seen a rabbit eating clover and a rat jumping or crawling through the grass. I've
seen numerous bugs and butterflies. I've seen a mother mocking bird stuffing her baby
with wild strawberries, and wren chicks learning to look for their own bugs. I've seen
birds bathing in the lawn mower cover after there'd been rain. I can see the beautiful
trees and blue sky and clouds. The violets color the grass with white and purple in early
spring, and the bleeding heart blooms below in early summer.

I've watched tiny, gray-blue gnat catchers gleaning bugs on the cedar tree, and seen
the wood pile grow and dwindle. I've watched a robin listening for worms and seen
cardinals and blue jays gathering food along the hedge. This year I had a beautiful
display of morning glories as well. It is a sweet place to read my Bible and pray, write
or just think and ponder. I don't need a window on the world. God has given me a window
on His creation.

Isaiah 25:9 And it shall be said in that day, Lo, this is our God; we have waited for him,
and he will save us: this is the LORD; we have waited for him, we will be glad and
rejoice in his salvation.
SEND ME YOUR PHOTO
OF A QUIET STUDY
I WOULD LIKE TO POST IT
1. QUIET IN THE BIG CITY
3. QUIET OTHER PLACES IN THIS JOURNAL
4. A LITTLE QUIET TALK WITH UNCLE STEVE
6. QUIET WHIPPED PREACHERS-- DON'T GIVE UP
8. QUIET WITH JOY HARDIN ON THE PIANO
10. QUIETNESS WITH WHOLE SCREEN PICTURES OF GOD'S CREATION-- Long Load-- Graphic intensive.
11. QUIETNESS IN BLACK AND WHITE
15. DELIVERANCE FROM GUILT AND GUILT MONGERS
16. QUIET REST
17. HEAVEN
18. THE GOOD SHEPHERD-- Very Special Page by Mary Van Nattan
19. LOOKING BACK-- This is a time when it is OK
21. A QUIET PLACE TO EXALT THE LORD JESUS CHRIST
22. THE SHIPS THAT WON'T GO DOWN- By Henry Lawson
23. THE SOP OF THE SAVIOR OR THE SOP?
24. NO GREATER LOVE
25. QUIET DIVERSION
26. WORSHIP AND EXALTATION OF GOD
27. THE PRESENT DISTRESS- WORLD CHAOS - NEW
PLEASE SEE A VERY SPECIAL PAGE BY MARY AT THIS SITE
IN JESUS - PEACE, REST, JOY --- A poem by Annie Johnson Flint

I am getting very little mail from this section of our journal.
I would dearly love to hear from anyone who stops here and
is blessed and helped. You need to believe that there is NO
section more important to me, in this journal, than the Quiet Place.
BACK TO ENTRY PAGE OF THE JOURNAL
ge