LOOKING BACK
This is a time when it is OK
Ephesians 1:3 Blessed be the God and Father of our Lord Jesus Christ, who hath blessed us with all spiritual blessings in heavenly places in Christ:
4 According as he hath chosen us in him before the foundation of the world, that we should be holy and without blame before him in love:
5 Having predestinated us unto the adoption of children by Jesus Christ to himself, according to the good pleasure of his will,
It is a cruel and wicked hireling who would rob a saint of the joy of looking back...
Look back a few days, weeks, months, or years. What do you see? You see yourself in the gutter of the universe, filthy, covered with sin. You see that day when you were without hope and without power over your lusts and appetites. Do not dwell on this my friend, but do not lightly consider the depths from which you were lifted.
Look back beyond that troubling day of yours to a day in about 33 AD when a Rabbi, a man who chose poverty, was thinking of YOU. At that point time froze and all nature groaned. For the maker of heaven and earth submitted to the rage of evil men and allowed them to hang him between heaven, his home, and earth, his creation. And in exquisite agony, this man died, thinking of YOU...
John 17:6 I have manifested thy name unto the men which thou gavest me out of the world: thine they were, and thou gavest them me; and they have kept thy word.
John 19:30 When Jesus therefore had received the vinegar, he said, It is finished: and he bowed his head, and gave up the ghost.
FOR YOU!
Look back now, past the punisimous silly Arminian doubters, to the day when Jehovah God contemplated YOU and all mankind, fallen, lost, without hope. And worst of all, Jehovah saw that his friends, from Adam down to YOU, could no longer walk with him in the cool of the evening as eternal friends. How the heart of God hurt. But the strangest thing, which you and I cannot comprehend, is that this point in the heart of God, in heaven, in eternity past, predates the day of creation itself...
This is then the greatest mystery of our faith...
YOU were not there, but again, you WERE there...
Look again, my friend... God has turned to his Son, before the day of creation, and he is asking him if he will die for YOU. Not just Adam and Eve-- God is asking his Son if he will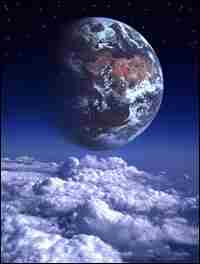 partake of your life to the full and experience your death and judgment to the full-- will he take Adam's sin, and YOUR sin, all man's sin, on himself. Will he go to hell instead of YOU and me.
"My Son, will you go?"
Listen to the answer: "O my Father, if it be possible, let this cup pass from me: nevertheless not as I will, but as thou wilt."
Listen, now, to Jehovah God in eternity past making you this promise-- "Thus, I choose YOU-- You are elected to be my son, joint heir with my only begotten Son. I will one day adopt you, and you will inherit all things in my Son, your Savior.

1 Corinthians 2:9 But as it is written, Eye hath not seen, nor ear heard, neither have entered into the heart of man, the things which God hath prepared for them that love him.
YOU are chosen. "Behold how he loved him!" That is, YOU.
Now, no more looking back at YOU. Look back at Jehovah God, yonder in eternity past, and tell me, what should you be saying to him right now? And what can you say to that sinless suffering Rabbi who was the Son of God himself? He stands there at your side, never to leave YOU alone, waiting for the day when Father lets his Son snatch you out of this life into the Glory.
Jesus, the very thought of Thee,
With sweetness fills my breast;
Praise the Lord, Praise the Lord,
Let the earth hear his voice...
To God be the glory...
(Immortal, invisible, God only wise...)
And give him the Glory,
Great things he hath done.
What will be...
Our wonder...
Our transport...
When Jesus we see?
Let's finish the thought in the opening text:
Ephesians 1:6 To the praise of the glory of his grace, wherein he hath made us accepted in the beloved.
7 In whom we have redemption through his blood, the forgiveness of sins, according to the riches of his grace;
8 Wherein he hath abounded toward us in all wisdom and prudence;
9 Having made known unto us the mystery of his will, according to his good pleasure which he hath purposed in himself:
10 That in the dispensation of the fulness of times he might gather together in one all things in Christ, both which are in heaven, and which are on earth; even in him:
11 In whom also we have obtained an inheritance, being predestinated according to the purpose of him who worketh all things after the counsel of his own will:
12 That we should be to the praise of his glory, who first trusted in Christ.
Never again, NEVER, NEVER, NEVER, let any small cheap flake, preacher, or hireling bring your salvation under question. Stand up and shout you zeal and love for Jesus Christ. It is high time we break up these sermons of doubt and infernal insecurity foisted on the Lord's Bride, the Church eternal. No man, no matter how famous or lofty, has the right to destroy the joy of your salvation.
These Eritreans have not denied Christ. Do you think Christ would deny them? So, why should he deny you? He took Peter back after he denied him.
2 Thessalonians 2:16 Now our Lord Jesus Christ himself, and God, even our Father, which hath loved us, and hath given us everlasting consolation and good hope through grace,
Never let Satan, or any man, make you feel small before God, your friend.
3. QUIET OTHER PLACES IN THIS JOURNAL
4. A LITTLE QUIET TALK WITH UNCLE STEVE
6. QUIET WHIPPED PREACHERS-- DON'T GIVE UP
8. QUIET WITH JOY HARDIN ON THE PIANO
9. NEVER GIVE UP
10. QUIETNESS WITH WHOLE SCREEN PICTURES OF GOD'S CREATION-- Long Load-- Graphic intensive.
11. QUIETNESS IN BLACK AND WHITE
15. DELIVERANCE FROM GUILT AND GUILT MONGERS
16. QUIET REST
17. HEAVEN
18. THE GOOD SHEPHERD-- Very Special Page by Mary Van Nattan
19. LOOKING BACK-- This is a time when it is OK
21. A QUIET PLACE TO EXALT THE LORD JESUS CHRIST
22. THE SHIPS THAT WON'T GO DOWN- By Henry Lawson
23. THE SOP OR THE SAVIOR OF THE SOP?
24. NO GREATER LOVE
25. QUIET DIVERSION
26. WORSHIP AND EXALTATION OF GOD
27. THE PRESENT DISTRESS- WORLD CHAOS - NEW
THE CREATOR - PLEASE SEE A VERY SPECIAL PAGE BY MARY

I am getting very little mail from this section of our journal.
I would dearly love to hear from anyone who stops here and
is blessed and helped. You need to believe that there is NO
section more important to me, in this journal, than the Quiet Place.
BACK TO THE ENTRY PAGE OF THE JOURNAL
ge