MORMONISM-
The Slop Hog Cult
I consider Mormonism the single most blasphemous cult
claiming to be based on Christian and Bible truth.

Recently updated, each article has new material in it, and
media have been abundantely added. It is our desire to
make this discussion one of the dedliest on the Internet.
We have no mercy on the system Mormonism and its leaders,
BUT we have a genuine burden for those caught up in Mormonism. Also, we are enraged with Bible believers who refuse to be informed on the filthiest cult in Christendom.
If you have contributions to this page regarding Mormon doctrine, or if you have a testimony of deliverance from Mormondom, please send it by E-Mail.
THE CHRIST OF MORMONISM
Most Mormon homes have this picture of Jesus, if they have one at all. ALL Mormon homes have pictures of the temple in Salt Lake and usually another temple from some other place they lived.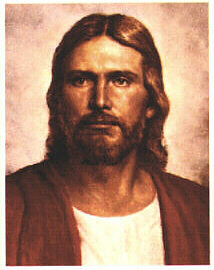 NOT a Jew-- Rather, this counterfeit Jesus looks like a leather faced German Gringo. The artist gave him the worn out look of a 45 to 50 year old truck farmer with six nagging wives out back. Also, the artist fell for the hippy "Nazarite" notion of long hair. Jesus was a Nazarene, NOT a Nazarite !!!!

ARTICLES:
NEW COVENANT CHURCH OF GOD:
I feel this Mormon clone needs to be identified,
for this group wants to be thought of as almost
Baptist or Methodist. Thus....

MORMON MILITIA HAS SALT LAKE POLICE UNDER SIEGE

UTAH LIGHTHOUSE MINISTRY
This is a selection of topics from Shadow or Reality by
Jerald and Sandra Tanner, former higly placed Mormons.

MORONI IS THE GOLD PLATED ANGEL OF MORMONISM,
PLAGIARIZING THE APOSTLE PAUL.

LINKS-- PRO AND CON--
What happened to Mitt Romney's high water pants?
He is walking around so carefully.
I think they shrunk, and he is feeling it, well......
you check it out.

Maybe it is the silly......
sacred Mormon underwear tights.
See why Romney would not need the Secret Service to protect him.

I know I have seen those slacks somewhere before......
Here they are on the original owner !!!!
Only seen at the very end of the video.
BE CAREFUL SINCE SOME OF THESE LINKS ARE
AGAINST MORMONISM-- BUT NOT BIBLICALLY NARROW:



CHRISTIAN / MORMON VIDEOS- Disclaimer some aspects, but a great series to show how Mormons think

LETTER ASKING TO BE TAKEN OFF THE MORMON MEMBERSHIP ROLE--
No Mormon can read this and say he does not understand the issues:
http://exmormon.org/whylft12.htm

THE LIFE AND CONFESSIONS Of The Late Mormon Bishop,
JOHN D. LEE; ALSO THE TRUE HISTORY OF THE HORRIBLE BUTCHERY KNOWN
AS THE MOUNTAIN MEADOWS MASSACRE:
http://www.xmission.com/~country/reason/lee_mm2.htm

CHECK THIS MIDDLE OF THE ROAD PAGE
The temple ceremonies are pretty well exposed.
Someone tried to bury this one-- We got it back, and it is powerful.
The man is NOT born again:
http://members.aol.com/VeilWorker/endowment.index.html
BACK TO WAR ROOM- GENERAL WICKEDNESS
ge