WITCHCRAFT
WICCA
HALLOWEEN
PAGANISM
AND THE NEW AGE
EXPOSED
Here, we report on the activities of witches, Pagans, and the New Age.

Some of these are right in the pulpits of churches, while, on the other extreme, we have Druids dancing naked in the woods.
Our chief objective should always be to see if we can give these folks the Gospel of The Lord Jesus Christ.
LIAR ATTACKS US:
http://www.witchvox.com/whs/kerr_dbq1.html
The author of this site notes that the former version of this site was www.balaams-ass.com. He then goes on to rather correctly show that Balaam was a wicked Bible character and is related to Satan worship today. The site author then claims that we named our former journal site after Balaam.
This is the way Wiccans and Satanists twist the truth. We named the former journal BALAAM'S ASS SPEAKS. We are the "ass" in the Bible who speaks back and rebukes the Balaams and witches. This man tries to pervert what he very well knows is a lie to make fools of us. Will he retract this? No. Wiccans, witches, and Satanists hate Jesus Christ, they hate us, and they never admit they are wrong.
The author of the site then adds the next paragraph claiming things I said:
Elsewhere in the web site Van Nattan reports that he "first began writing about the New Age Movement in 1985, as an outgrowth of a research project on destructive cults. At the time I was working in tandem with two groups, The American Family Foundation and The Christian Research Center, headed by the late Dr. Walter Martin."
LIE! And, he is a cop !!
This quote was taken from a article by S.L. Goldman which I posted on my site. These were NOT my words. I don't even agree with every last word someone uses in articles I post. So, again, the Wiccan author lied about me. At that point I was too bored to read more of his site. Wiccans and Satanists are all tarred with the same stick-- they lie. And, why not, for their father, Satan, was a liar from the beginning.
I want to thank the author of the site for doing his work there, for many witches and Wiccans are coming to our site because of his work. God uses even our adversaries to work for his glory.
We are in good company
Attack on Mike Ramey
NOTICE:
Some clever Wiccan is sending coven members here to read and then send gripe email.
So be it-- It is a free country.
The interesting thing is this-- You Wiccans use the most filthy and hateful language I ever receive in email. Wiccans used to write and try to be restrained and polite. Not anymore.
Take notice-- You will get back the sword of the Spirit, the Word of God, and the rebuke you ask for with your filthy mouth. Some of you whine when I reply directly. You seem to feel that I am to read your potty mouth and then answer you politely.
I am at war with you in the Spirit. If you cannot take the heat, get out of the kitchen.
Also, I have done my research, including in Africa where witchcraft is primal, so you will NOT convince me to change my opinions of Wicca and witchcraft.
You also need to understand that I don't need you to tell me what love is about. I would not post this page if I did not care. The point is, people who let Satan lead their lives need some blunt treatment. They are conditioned not to reason, only to follow.
All of the above, as usual, charitably. If you want deliverance from the Satanic mess you are in, send mail, and I shall put you in contact with a Bible believing pastor in your area who can help.
ARTICLES:
TRANSHUMANISM AS SALVATION
Juan Enriquez: The next species of human. The driving force that will convince humanity to bow to science and technology (mark of the Beast) will be, "We must save the economy (the Dollar).
POKEMON-- Satanic witchcraft promoter
YOU ASKED FOR EVIDENCES OF RITUAL KILLING AND HUMAN SACRIFICE-- HERE THEY ARE
CHRISTIAN WITCH- IS THERE SUCH A THING?
The testimony of a Wiccan Witch who was truly born again,
and a look at alleged "Christian Witches" and deliverance
HALLOWEEN MESSAGE TO THOSE DECEIVED
BY THE PAGAN DAY
THE NEW AGE MIND
Editor: Blessed Quietness Journal: Steve Van Nattan
HALLOWEEN
When are the saints going to leave this day 100% to Lucifer?
WICCA AND SATANISM--
Satan is their common lord and master. This is a duplicate opening page for this page, but with much more teaching and content.
---
LETTER FROM A READER
Hello there....
I was just looking at your page about Wicca, and from a non bible point of view I came to the same conclusion from talking to a Wiccan if that's the right term. Actually I met this person in a chat room and they were more than happy to give me any information I wanted and were perfectly friendly.
Anyway I asked about the gods that she worshipped, and one of them was called Hel (El). Hel is their keeper of the underworld or something similar, and it's interesting to note that Satanists seem to be obsessed with the way things sound. So, if an entity has a similar name to another entity then there's a good chance they could be the same spirit or entity. Another way of identifying these `gods` is by what type of things they are associated with. For instance, the Wiccan Hel is associated with, or represented by, water or an island, the same as the Satanic El.
I hope this makes some sense to you because I am writing this off the top of my head, so I am sorry if it seems a bit vague. One last thing I'd like to point out is that I am sure that not all Wiccans realize they are in fact Satanists and are being used. This would fit perfectly with my understanding of the way Satan works in that his power are lies and deceit. It would also seem that there is only room for one within his structure of power, so any Satanists should be prepared to be used and then thrown away once they have no use.
I have to go now
___________________________________
Editor: We agree with the writer that many Wiccans are at the lower levels of Wicca and have no idea that Satan is the object of Wiccan and Witchcraft from ancient times to the present. Wiccan leaders conceal this. In fact, many of the leaders have more or less cleansed the craft of the Satan imagery per se. The problem remains that ALL people who do not worship Jesus Christ alone are under the complete control of the Prince of Darkness, Satan. Every cult and religion on earth, with rare exceptions, gives lip service to Jesus Christ. Why? Answer: They hope to placate him so they will not be too closely associated with Satan in the coming Great White Throne Judgment.


LINKS

TO SATANIC AND NEW AGE SITES ON THE Web:

We suggest only researchers use these links. This is a very select list, but you will easily find some explicit filth here. Also, from time to time, filthy witches change their Home Page to a porn forwarding page just to spite me. They prove who the real warrior is, and that Jesus Christ is the one who is winning. But, do not assume I have put up these links to porn pages. Rather; send E-Mail to let me know what you found please.

We have learned how to bring back Web sites which have been taken off the Web. The links below have been revived for research purposes.

If you end up at a 404 page, or a link leads to something unrelated, GO TO THE WAYBACK MACHINE, and enter the URL of the page you are trying to reach. Go back to distant past listings, and you should find what you are looking for.



SPIRIT WEB-- Michael the Archangel is channeled as well as other insane notions:
http://www.spiritweb.org/index.html

Theosophical live online programs:
This is the occult Satanic system promoted by Madam Blavatsky and Freemason Albert Pike.
http://www.ult.org/index2.html
GERMAN HALLOWEEN TRADITION:
What is Walpurgis Night?
For those curious about Walpurgis Night, here is an article I wrote last year. It was supposed to appear in Dawn Kroma's "Boo News", but up until now it has just been gathering dust on my computer. Anyone know what happened to Boo News and its famous editor? It was one of my favorite Halloween magazines!
Jim
Hartz Mountains and the Brocken - the Other End of the Spectrum
by Jim Howard
Everyone reading this magazine knows of October 31st, and of all the lore and tradition associated with it. October 31st was associated with Samhain, the summer's end festival of the Celts, and the Celtic new year. It had such an importance in many parts of Europe that we still celebrate the remnants of this holiday today in America.
Many of you may know that there was another festival that the Celts celebrated, which today falls exactly 6 months after Halloween, on the night of April 30th - this festival was called Beltane, celebrating the end of winter. Imagine, if you will, that in another place in Europe, another culture celebrates, not Halloween on October 31st, as we do in the States, but a holiday on April 30th, with all the traditional witches and festivities of the holiday. Well, in central Germany, in the Hartz mountains, there is just such a holiday, Walpurgis Night, celebrated on April 30.
Although "Walpurgis cards" have been known to collectors of Halloween postcards for some time, the vast folklore of the Hartz mountains seems to be a well-kept secret from outsiders. Collectors also from time to time hear of an item called a "kitchen witch", which apparently was popular in the States a few decades ago - it was supposed to be hung in the kitchen to bring good luck in cooking. While the rest of the world may know of these as "kitchen witches", they are far too prevalent in the Hartz mountains to deserve such a commonplace name.
For in the Hartz mountains, there are these witches everywhere, in every village, from Braunlage in the west, to Thale in the east, and in every place in between. Not only are there witches hanging from the ceiling flying on their broomsticks, there are also hand-made witches standing in storefronts, and a huge variety of collectible items, all featuring flying witches, and witches on their way to the Brocken, or celebrating in the festivities.
And what is the Brocken, you may ask? Well, in the very center of all of those mountains and small villages throughout the Hartz, rises up one mountain taller than all the rest - the Brocken, the central meeting place for all of the witches of the Hartz. On Walpurgis Night, according to the legends, all of the witches get out their broomsticks and fly to the Brocken to celebrate their special night. (You may have heard of this well-known mountain from the musical work, "Night on Bald Mountain", or from many other works.)
It is only natural, as one travels through the villages of the Hartz, that the closer one gets to the Brocken, the more witches will be seen. We found this to be just the case - Schierke, the last village arrived at before proceeding to the Brocken, also has one very special restaurant. This restaurant isn't in the village itself, however. It is a ways above the village, at the Schierke train station - the last stop of the Brocken train before it reaches the peak of the mountain (still quite a ways off). This restaurant houses perhaps the largest collection of witches to be seen anywhere in the Hartz - there are hundreds of witches hanging throughout the restaurant, from very small to almost life-size.
We have tried to give a general description of what may await the visitor to the Hartz mountains - but there is so much that has been left out - such as Wurmburg mountain, the twin peak of the Brocken, which has on its peak actual remains of a stone circle used in ancient ceremonies. Or Thale in the east, where at the "Hexentanzplatz" ("Witches-Dancing-Place"), they still have the biggest and most publicized Walpurgis Night party in the Hartz mountains - not to mention the Walpurgis Hall museum. There are also the many books of legends and history of the Hartz mountains. And of course, throughout the Hartz, there are many wonderful inns to house visitors to these bewitchingly beautiful mountains.
(For a further description Walpurgis Night in the Hartz, visit the web site: http://home.t-online.de/home/jhoward/Hartz.htm)
jhoward@t-online.de
HARTZ MOUNTAINS, GERMANY:

PLACE OF PAGAN SACRIFICES:
http://www.fellowshipofisis.com/jc/jcapr.pdf
Type "WALPURGIS" into your browser find feature to find the
discussion of the Hartz Mountains.

DOCTRINAIRE NEW AGE WRITINGS:
http://www.spiritweb.org/
This one went away, but we got it back for you.

GODDESS WORSHIP AND WITCHCRAFT:

Isis
Witches webring
Goddess webring
The Goddess
Goddess/feminist links
Goddesses of the World
The Goddess Homepage

VIDEOS

GIRL RAPED OVER 1800 TIMES IN SATANIC RITUAL CULT.
The sleazy looking people are typical of the occult. They eagerly exalt the most wretched filthy people to be their leaders. This is obviously to be an affront to cultural decency encouraged by Christian teaching.

HORROR OF SATANIC CHILD ABUSE
The lady was totally delivered after years of abuse. Her testimony in Christ is startling, and her final urge to forgive here father and lead him to salvation is amazing.

WITCHCRAFT, SATANISM, PEDOPHILIA, IN HOLLYWOOD AND THE US GOVERNMENT
This is why our government officials have become such pansies in recent years. Other people control them and reward or destroy them by ritual Satanic evil. "Make America great again?????" Donald Trump will never succeed unless he is "in" with the Satanists. If nothing else stops him, they will kill him. The elite want America dirty, not great. So, God will destroy America in order to be just and faithful to his righteousness.

Links validated up to here Dec. 2016. Links below may come up 404 or dead. Copy link and paste it into the Wayback Machine where it will probably be archived.

ROBERT GILLETTE SUPPLIES US WITH THE MOST USEFUL LINK SELECTION
I HAVE SEEN ON THE ILLUMINATI: You should visit his page to read his views on the subject. He is right on target and not extremist:
http://members.tripod.com/~RobertGillette/Illuminati.html

Now, here are Robert's LINKS:

ILLUMINATI RESEARCH HELPS:

Bavarian Illuminati:
HELPFUL BOOKS:
Illuminism Worldwide:
Secret Magical Societies:
Priests of the Network:
More Network:
Illuminism Continued:
Pagan Gnostics:
The Plot:
Blavatsky's Illuminism:
Network Directory :
Myron Fagan is WRONG about the Jews:
This is off the Web, but we have ways.....
Illuminati Links:
Scottish Rite:
Thelema: This is off the Web, but we have ways.....
Illuminist Networking:
Essay on Secret Societies:
Occult Network:
Illuminism:
The Evil Network:
Official Temple of Set Satanist Website:
The Gnostic Pagan Tradition:
A Claim of a Scientology Connection to Satanism:
Satanic Search Engine:
A Claim of Satanist Infiltration of the Vatican:
The Illuminati:
Cutting Edge Transcripts:
Phoenix Links:
Sympnia Pantheon:
The Gnostic Society:
Other Zoroastrians:
THE KABBALAH:
Wing of the Network:

Wiccan promoters Gavin and Yvonne Frost http://www.drleisure.com/mta1.html




EXAMPLES OF ILLUMINATI INVASION OF THE CULTURE


CAUTION: The clip of President George W Bush giving a hand sign is NOT Satanic. This is the hand sign of the Longhorns Football Team of the University of Texas. Bush and his wife almost always gave this sign to crowds where there were Texans present. This is an example of how careful we must be with information provided from people we do not know well. Much of their work will be useful, but we must not assign guilt to people who are not guilty just because it makes the narrative interesting.

NON-WITCHCRAFT SITE EXPOSING THE OCCULT AND FREEMASONRY IN EUROPE
http://www.cyberlink.ch/~koenig/

CHURCH OF SATAN http://www.churchofsatan.com/ Anton LaVey

ECCLESIA GNOSTIC CATHOLICA http://www.crl.com/~thelema/egc.html

THELEMA http://www.crystalinks.com/crowley.html Alister Crowley's cult.

THE GOLDEN DAWN http://www.hermeticgoldendawn.org/index.shtml

THE SABBATS OF WICCA http://www.feri.com/frand/Wicca4.html

KABBALAH HOME PAGE http://www.io.org/~vma/kabbalah.html
Pagan Babylonian Jewish filth-- Was taken off the Web, but, Wallah, here it is.....


HELENA PETROVNA BLAVATSKY AND LUCIS TRUST AND ALBERT PIKE:
http://www.conspiracyarchive.com/NewAge/Lucis_Trust.htm

OCCULT CONNECTIONS IN FREEMASONRY SOURCE:
http://freemasonry.bcy.ca/sitemap.html


FINDHORN FOUNDATION http://www.findhorn.org/ Nutty as a fruit cake.

NEW AGE DIRECTORY http://www.newage-directory.com/

NEW AGE JOURNAL http://www.newage.com/Journal/

SETI INSTITUTE http://www.seti-inst.edu/ Search for Extraterrestrial Intelligence

SUMERIA http://www.livelinks.com/sumeria/
Alternative ideas in health, science, and spirituality.
AND: http://pubpages.unh.edu/~cbsiren/sumer-faq.html Useful for information

AGE OF AQUARIUS: http://www.aquarian-age.net/

UTNE READER http://www.utne.com/ Very strange and sometimes useful information.

WITCHES OF THE WEST http://www.mcs.net/~woad/home.html

OCCULTISTS UNDER PAIN: http://www.theescapist.com/darkdungeons.htm

ORDO TEMPLI ORIENTIS http://otohq.org/oto/

ATTACKING THE RELIGIOUS RIGHT AND FUNDAMENTALISTS-
http://ftp.tcp.com/qrd/www/FTR/tblcntnt.html

Many of the above links have further links to other occult and New Age pages. Be cautious, and only venture here if you NEED some research items. This is NOT an area to look for amusement. Pray first, pleading the Blood of The Lord Jesus Christ over yourself. Have a friend with you to discipline yourself against evil curiosity.

LINKS TO SAINTS WHO ARE EXPOSING THE NEW AGE:

NEW AGE AS THE FOUNDATION OF NEW CULTS AND RELIGIONS:
I am sorry about the background, but the content is useful
https://web.archive.org/web/19981203110423/http://www.religion-cults.com/Secret/New-Age/New_Age.htm
The page format is poor as to color issues. So, copy and paste the text into a text editor to read it.

NEVER CONVERSE WITH DEMONS:
http://www.fivedoves.com/letters/apr2001/frankm42.htm
This does not imply they cannot be commanded to come out of people. The problem is, some pastors in "deliverance ministries" chatter and talk with devils. This is folly and could result in the deliverer being possessed.

David Bay, Director of Old Paths Ministries, a ministry of
Grace Baptist Church on Witchcraft and the Roman Catholic Church:
http://www.cuttingedge.org/ce1059.html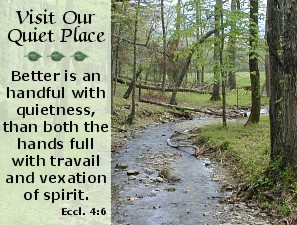 BACK TO WAR ROOM- General Wickedness
BACK TO ASYMMETRIC CHRISTIAN WARFARE


ge